Teriyaki Chicken Wings Recipe w/ fresh Teriyaki Sauce
Three cheers for these delicious homemade teriyaki chicken wings! It all started with a good sauce, then ideas started to churn in our heads about more options with some of our other sauce recipes. Things got a little carried away in the kitchen.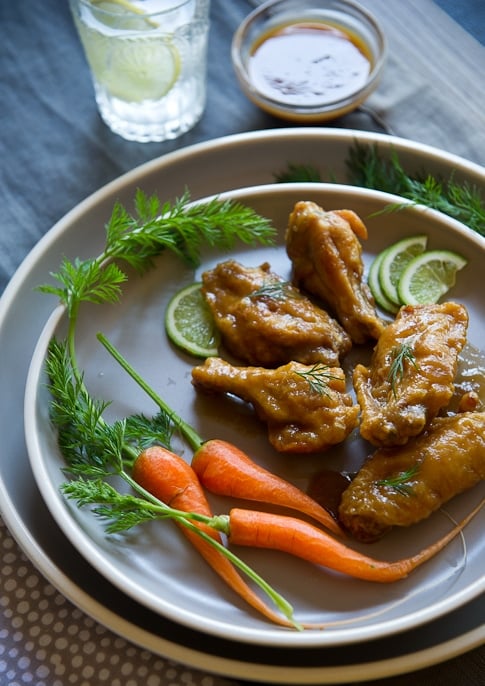 Homemade Teriyaki Chicken Wings and Sauce
A while back I shared a recipe for homemade teriyaki sauce for Good Bite. I enjoy developing fresh sauces and thinking outside the jar. Don't get me wrong, I have a huge admiration for many quality bottled sauces and stock and champion those brands whole heartedly. But I'm rather sensitive to sauces that are too sweet.
Teriyaki sauce is so versatile. I adore it because it ads so much great, quick flavor to grilled dishes, burgers, vegetables. Even a simple, bowl of white steamed rice with a drizzle of good teriyaki sauce is a satisfying meal.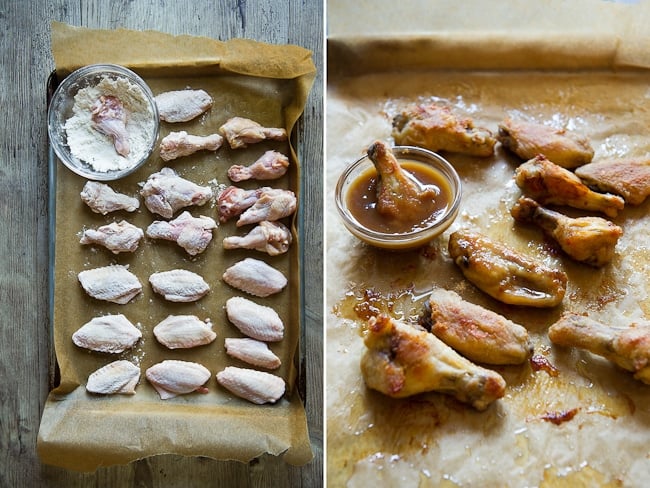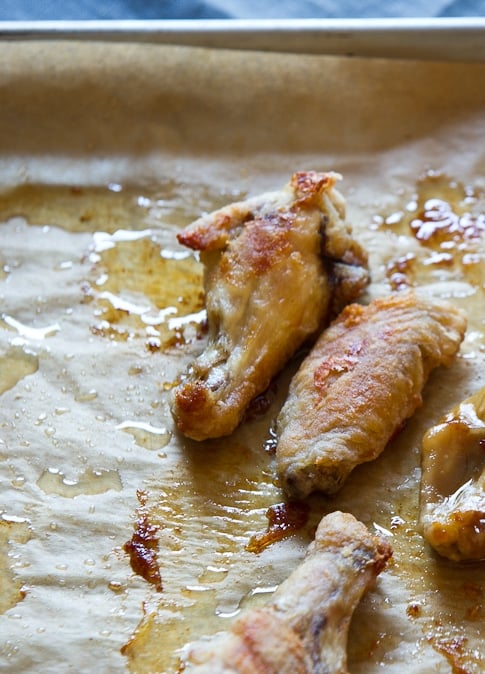 Not Too Sweet Teriyaki Sauce (Fresh Pineapple Taste)
I wanted to create a teriyaki sauce that was less sweet than most that I tried. I also wanted to have a teriyaki sauce that had more of the bright pop of pineapple. Gosh, I love my pineapple and although pineapple isn't local, sustainable and probably not organic, I'm eating it anyways. I'm not perfect!
This sauce for the teriyaki chicken wings is a variation off my original recipe, with just a touch of Mirin. It's still not too sweet, still very fresh and better yet, very adaptable to your personal taste buds.
Simply whip up this quick, fresh sauce and toss it on your chicken wings. These will be a hit at your next party and will be a trusted appetizer recipe in your archives!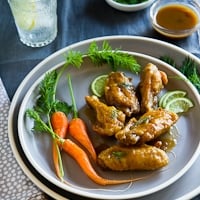 Teriyaki Chicken Wings Recipe
This teriyaki sauce is an adaption off of our Teriyaki Burgers recipe. It is tweaked to give the chicken wings a bit more punch. Like all of our chicken wings recipes, feel free to cook the wings using your preferred method.
Chicken wings can be prepared in different ways to achieve their crispness: fried or baked, with flour or not. To make them extra crisp, you can pre-poach (or pre-boil) them first to render off any excess fat. Visit this write up on different ways to prepare chicken wings. This recipe shows a baked technique, but you can certainly fry or air-fry the wings to make them crispy.
Ingredients
2 pounds Chicken Wings (910-1365g), rinsed, and patted dry
Teriyaki Sauce
1/2 cup fresh, minced Pineapple (or drained canned pineapple) (120ml)
1/4 cup Soy Sauce (60ml)
2 Tablespoons Mirin (30ml)
1/2 inch knob Ginger , minced
1 clove Garlic
2 tablespoons Brown Sugar (30ml)
1/2 teaspoon Rice Vinegar (2.5ml) , or apple cider vinegar
1/2 teaspoon Sesame Oil (2.5ml)
2 teaspoons Cornstarch (10ml)
2 teaspoons cold Water (10ml)
Instructions
For the sauce:
In a blender combine pineapple, soy sauce, mirin, ginger, garlic, brown sugar, rice vinegar, and sesame oil. Blend all ingredients until well combined and sauce is smooth. At this stage, you can decide if you want a finer sauce by straining with a fine mesh sieve.

In small bowl, mix cornstarch and cold water. With fork, break apart all the cornstarch clumps until liquid is smooth and cornstarch is fully incorporated into water (cornstarch slurry).

Transfer teriyaki liquid to sauce pan. Heat up for about 1 minutes or until hot and bubbly. Remove sauce pan from heat and immediately stir in cornstarch water mixture. Stir rapidly till sauce thickens. Allow to cool.
Cook the Chicken Wings
Preheat oven to 425° F. Line a baking sheet pan with parchment paper.

On prepared baking sheet pan, spread chicken wings out in one even layer (we don't coat our wings with oil before baking, but you can if you want. We find that the oil just makes the wings greasier. The wings release enough fat already). Season chicken wings with salt and pepper.

Bake for about 45-50 minutes until golden brown, flipping the wings halfway through baking, after the first 25 minutes or so.

Toss chicken wings in teriyaki sauce and serve. Or serve chicken wings with teriyaki sauce on the side for dipping.
Notes
Crispy Wing Alternate Cooking Methods
Traditional Fry in Oil (uses about 1/2-3/4 cup of cornstarch to coat wings).
Toss the wings in cornstarch to coat, shaking off excess cornstarch.
Heat about 2-inches of oil in a large pot to 375°F. Fry in batches for about 8 minutes per batch, or until golden and cooked through. Make sure to turn the wings a couple times while cooking so they cook evenly. Season with salt & pepper.
Air Fryer Chicken Wings
(here's our favorite
Air Fryer
)
Season wings with salt & pepper.
Air Fry at 400°F for 25-30 minutes, flipping 2-3 times while cooking.
Toss with a little sauce, and then air fry for another 4 minutes. Different models and sizes of air fryers cook quicker than others. So adjust times accordingly.
Nutrition Information per Serving
Calories: 168kcal, Carbohydrates: 7g, Protein: 12g, Fat: 10g, Saturated Fat: 3g, Trans Fat: 1g, Cholesterol: 47mg, Sodium: 483mg, Potassium: 129mg, Fiber: 1g, Sugar: 5g, Vitamin A: 96IU, Vitamin C: 5mg, Calcium: 13mg, Iron: 1mg
More Easy Recipes: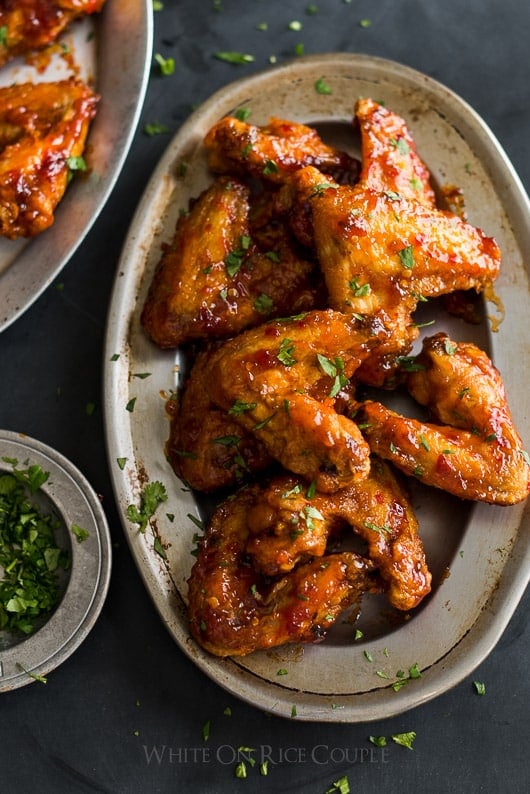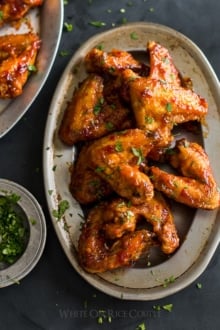 We are a participant in the Amazon Services LLC Associates Program, an affiliate advertising program designed to provide a means for us to earn fees by linking to Amazon.com and affiliated sites.