Crispy Honey-Sriracha Glazed Buffalo Wings
These Sriracha Honey Buffalo Wings awesome. Buffalo wings are fairly hard to pass up at a party, unless you're a vegetarian. And if that's the case, there's always a platter of crispy celery and carrots with the bonus buffalo wing sauce for our vegetarian friends. So everyone wins at our parties.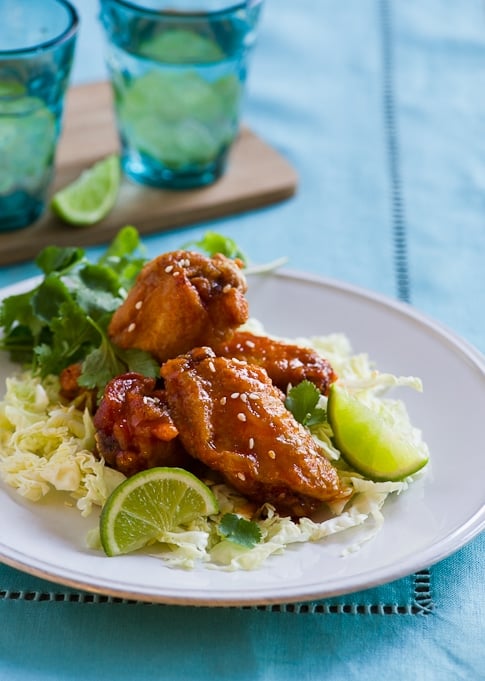 Sriracha Honey Buffalo Wings Recipe
A memorable buffalo or chicken wing recipe is all about having a great sauce, one that will keep people licking their fingers between every touchdown hoorah. Adding a bit of heat and lively spice doesn't hurt either and if your guests leave the party with their palates till tingling, then you know you have a winning recipe.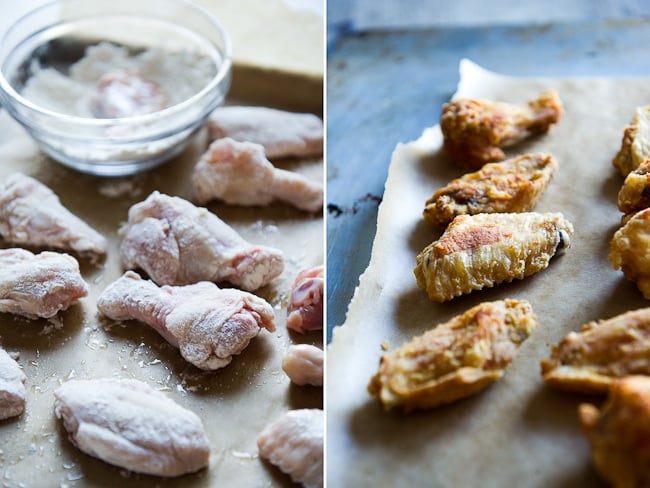 Love of Sriracha Wings
Our buffalo wing repertoire normally will have mild selection (for the quitters) and an amped up, spice packed wing variation for the more daring and bold friends. Both are great, but the buffalo wings that are kicked up on the scoville level are so much more fun to eat. We have a siriracha chicken wing recipe that we developed last year and it's been a huge hit. The sauce doesn't have butter, so yay for less calories, but it has a ton of umami flavor from hot sauce and fish sauce. When both are combined together, it's a deadly addicting combination.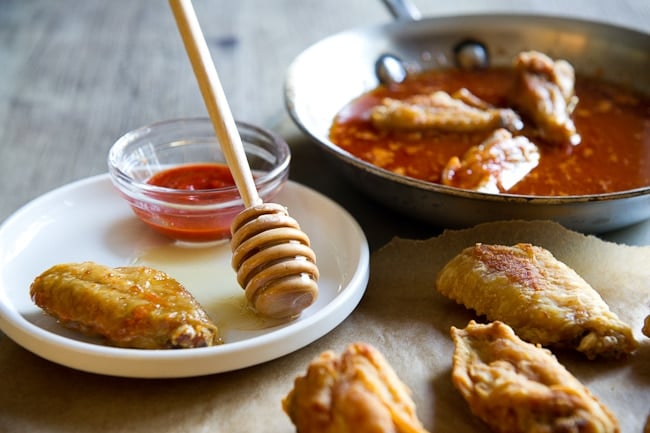 The Sriracha Cookbook
Anything with spice or sriracha based blast is alway on our radar and there's a new book by Randy Clemons, who is quite possibly the number one sriracha fan. Randy has a new book out, appropriately called, The Sriracha Cookbook, that is filled with beautifully photographed recipes full of this sweet/spicy/tangy hot sauce. If you love Sriracha hot sauce, or any hot sauce for that matter, you'll have plenty of cooking fun with this book.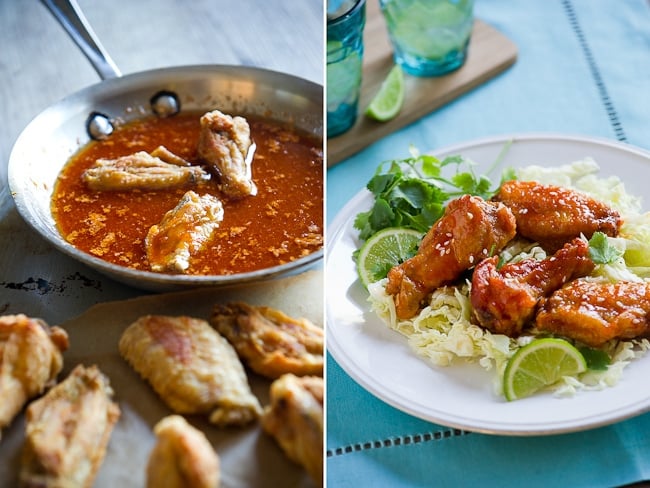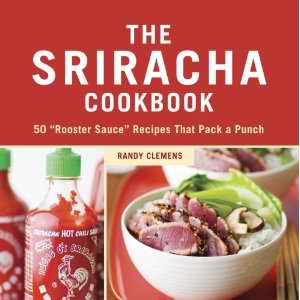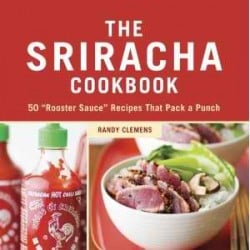 The Sriracha Cookbook: We were drawn to his sriracha honey buffalo wings that included plenty of sweet orange blossom honey to balance out the heat. And it contains plenty butter to make it extra rich and special. His sriracha honey wings are a great variation and alternative to our other sriracha wings because of the balance of sweet and spice. Adding the bright pop of fresh lime juice makes his recipe over the top wonderful.
The fun part about Randy's honey-glazed sriracha buffalo wings is that you can substitute the recipes with any of your favorite hot sauces and the results will probably be equally fantastic.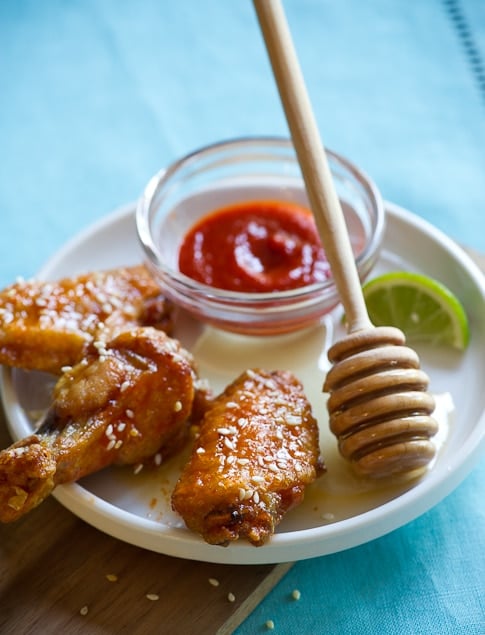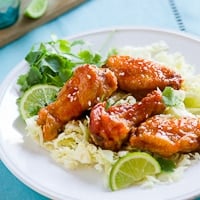 Honey Sriracha Chicken Wings
Chicken wings can be prepared in different ways to achieve their crispness: fried or baked, with flour or not. To make them extra crisp, you can pre-poach (or pre-boil) them first to render off any excess fat. Visit this write up on different ways to prepare chicken wings. This recipe shows a baked technique, but you can certainly fry the wings or air fry them to make them crispy.
Adapted from The Sriracha Cookbook.
Ingredients
Chicken Wings
2 pounds (910 g) Chicken Wings , rinsed, and patted dry
salt , to taste
black pepper , to taste
For the Sauce
1/2 cup (115 g) Butter
1/3 cup (80 ml) Sriracha
1/4 cup (60 ml) Honey
1 teaspoon (5 ml) Kosher Salt
1 Tablespoon (15 ml) fresh Lime Juice , about 1 lime
chopped fresh cilantro , optional for garnish
sesame seeds , optional for garnish
Instructions
Preheat oven to 425°F/220°C. Line a baking sheet pan with parchment paper.

On prepared baking sheet pan, spread chicken wings out in one even layer (we don't coat our wings with oil before baking, but you can if you want. We find that the oil just makes the wings greasier. The wings release enough fat already). Season chicken wings with salt and pepper.

Bake for about 45-50 minutes until golden brown, flipping the wings halfway through baking, after the first 25 minutes or so.


Make Sauce: While cooking the chicken wings, melt butter in a medium saucepan over low heat. Add sriracha, honey, salt, and lime juice, then stir to combine. Keep warm over low heat.

When ready to serve, toss chicken wings with sriracha-honey sauce, plate, and garnish with cilantro and sesame seeds.
Notes
Crispy Wing Alternate Cooking Methods
Traditional Fry in Oil (uses about 1/2-3/4 cup of cornstarch to coat wings).
Toss the wings in cornstarch to coat, shaking off excess cornstarch.
Heat about 2-inches of oil in a large pot to 375°F. Fry in batches for about 8 minutes per batch, or until golden and cooked through. Make sure to turn the wings a couple times while cooking so they cook evenly. Season with salt & pepper.
Air Fryer Chicken Wings
(here's our favorite
Air Fryer
)
Season wings with salt & pepper.
Air Fry at 400°F for 25-30 minutes, flipping 2-3 times while cooking.
Toss with a little sauce, and then air fry for another 4 minutes. Different models and sizes of air fryers cook quicker than others. So adjust times accordingly.
Nutrition Information per Serving
Calories: 543kcal, Carbohydrates: 18g, Protein: 23g, Fat: 43g, Saturated Fat: 20g, Trans Fat: 1g, Cholesterol: 155mg, Sodium: 1203mg, Potassium: 242mg, Fiber: 1g, Sugar: 18g, Vitamin A: 923IU, Vitamin C: 17mg, Calcium: 25mg, Iron: 1mg
More Easy Recipes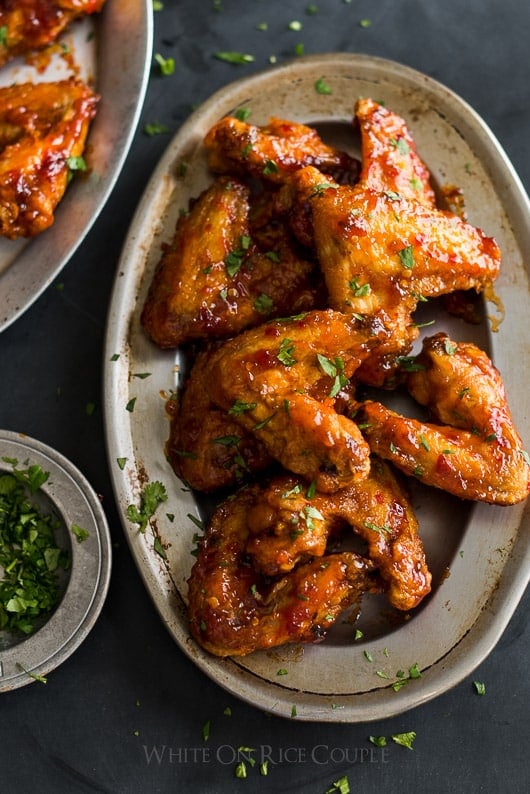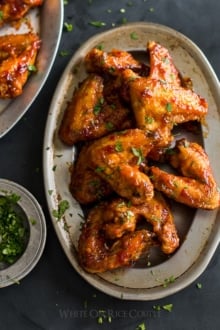 We are a participant in the Amazon Services LLC Associates Program, an affiliate advertising program designed to provide a means for us to earn fees by linking to Amazon.com and affiliated sites.