Teriyaki Burgers with Pineapple Teriyaki Sauce and Mango Salsa – Think outside the bottle
The weather is perfect for grilling teriyaki burgers. A while back, we were lamenting about how overly sweet and artificial some bottled teriyaki sauces were. So we decided to make a homemade pineapple teriyaki sauce and it is amazing!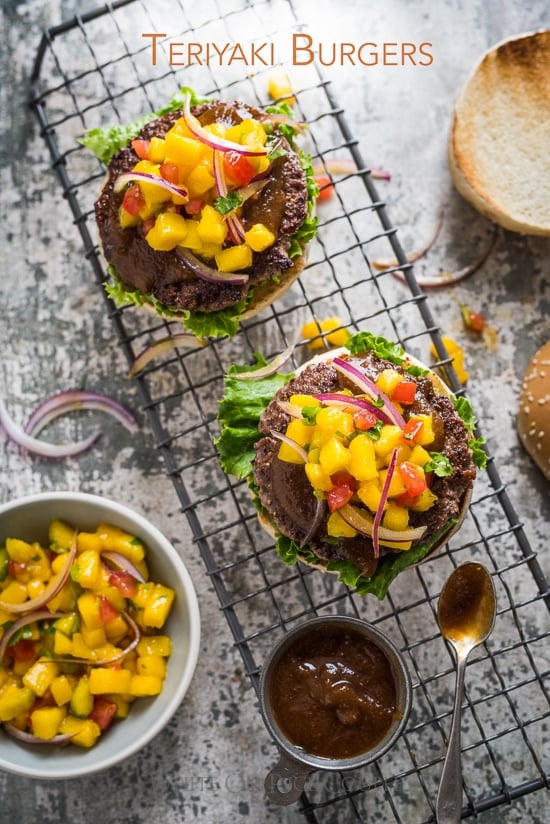 Simple Teriyaki Burgers
With the exception of one that we liked on our teriyaki burgers, most were too sugary and processed tasting. With the grilling season underway, we wanted some teriyaki variety to our bbq menu and it was always a struggle to search for a bottle that didn't look like a gob of sugary, sticky brown sauce. We needed to think outside the bottle and needed to be quick about it because guests were coming over in a few hours. Mission: think fast and work fresh. How difficult was it to make a homemade, fresh teriyaki glaze for our burgers? Not at all. It was one of the easiest sauce recipes we've ever created and can't believe our bbq's went without it.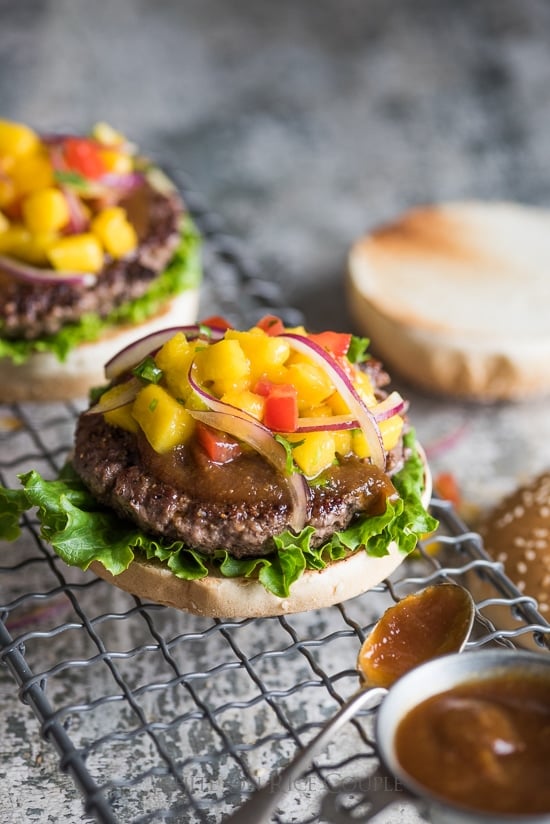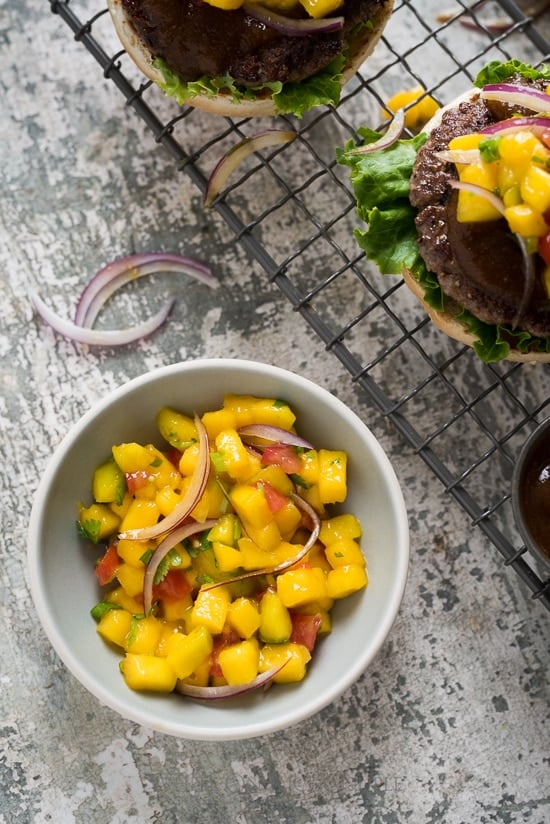 Homemade Teriyaki Sauce
We originally shared a version of this teriyaki sauce on our Bountiful Cookbook. We wanted to let everyone see just how simple this homemade sauce can be and you'll never go back to a bottle again. Homemade teriyaki sauce is customizable to your palate of sweetness, tartness and stickyness, or all three. The addition of some extra brown sugar highlights the fruity sweetness of the pineapple and a bit of extra vinegar elevates the teriyaki to extra tang. This wonderful recipe can be made with a fresh pineapple or a can of good quality canned pineapple. Glaze it on beef, chicken or vegetable and poking some sticks in the for teriyaki skewers! Choose your strategy, flavor profile and taste. Do what your want because it's YOUR sauce, your bbq and your celebration of grilling.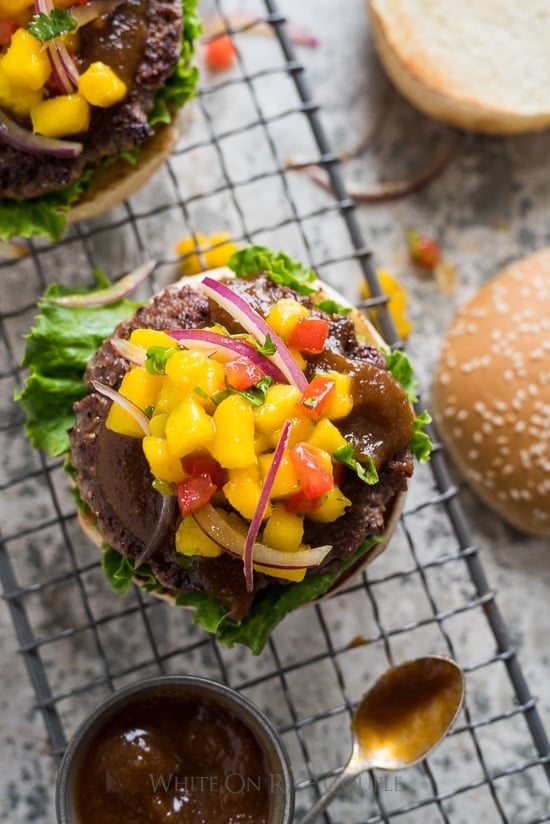 Best Mango Salsa!
To accompany our burgers, we added some fresh and fruity mango salsa, which turned out great! Even the mango salsa is great on its own with a bag of tortilla chips or topped on some fish tacos. There's so many amazing foods to dive into this Summer, we can't wait to figure out how to eat all this Summer inspiration before the season ends.
Happy Eating!
diane and todd
This recipe was originally published in 2010 and re-published in 2020 with new photos, recipe updates, and mango salsa recipe.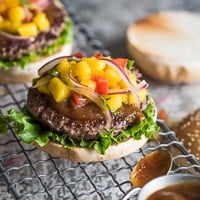 Pineapple Teriyaki Sauce Burgers with Mango Salsa
Add extra sugar for sweetness or extra vinegar for tang. Customize the teriyaki sauce to your taste!
The Pineapple Teriyaki Sauce and Mango Salsa can be made ahead of time to make meal time quick and efficient. The Pineapple Teriyaki sauce will keep in the fridge for about a week and the Mango Salsa will keep in the fridge for a couple days.
Ingredients
For the burgers:
2 pounds ground beef (910g)
4-6 hamburger buns
kosher salt or sea salt, to taste
fresh cracked black pepper to taste
lettuce , tomato, pickles and other trimmings
For the sauce:
1 cup fresh chopped pineapple (240ml) or 20 oz.(567g) can quality crushed pineapple
1/2 cup soy sauce (120ml)
1 inch knob ginger , minced
3 Tablespoons brown sugar (45ml)
2 cloves garlic , minced
1 teaspoon vinegar (apple cider or rice vinegar) (5ml)
1/2 teaspoon sesame oil (3ml)
1 Tablespoon cornstarch (15ml)
1 Tablespoon cold water (15ml)
For the Mango Salsa
1 large ripe mango
1 small tomato
1 teaspoon fresh lime juice (5ml) , or more to taste
1 Tablespoon finely minced fresh cilantro leaves (15ml)
sea salt , to taste
optional: minced green onions and fresh jalapeno or serrano chiles , to taste
Instructions
Make the sauce:
In a blender, combine: pineapple, soy sauce, ginger, brown sugar, garlic, vinegar, and sesame oil. Blend all ingredients until well combined or until pineapple and ginger are crushed very well. Strain the sauce through a fine mesh strainer.

In small bowl, mix cornstarch and cold water. With fork, break apart cornstarch clumps until liquid is smooth (cornstarch slurry).

Transfer strained teriyaki liquid to saucepan. Heat just until hot and bubbly. Immediately whisk in cornstarch mixture. Stir rapidly until sauce thickens. Remove from heat and allow to cool. This will make about 2 cups of teriyaki sauce.
Make the Mango Salsa:
Peel and cut mango into small 1/4" to 1/2" pieces. Cut tomato into 1/4" pieces

In large bowl, combine all ingredients together (diced mango, tomato, lime juice, cilantro, salt and/or optional green onions and chiles). Mix well. Use immediately or store in fridge for up to 2 days.
Make the burgers:
Form the beef into 4-6 patties. Season to taste with salt and pepper (we usually season generously). Grill burger patties, then assemble the burgers, spooning the teriyaki sauce over the burger patties and topping with mango salsa.
Nutrition Information per Serving
Calories: 547kcal, Carbohydrates: 33g, Protein: 32g, Fat: 32g, Saturated Fat: 12g, Cholesterol: 107mg, Sodium: 1329mg, Potassium: 630mg, Fiber: 2g, Sugar: 16g, Vitamin A: 560IU, Vitamin C: 29mg, Calcium: 97mg, Iron: 5mg
We are a participant in the Amazon Services LLC Associates Program, an affiliate advertising program designed to provide a means for us to earn fees by linking to Amazon.com and affiliated sites.