Pan Roasted Brussels Sprouts with Fish Sauce & Lime
These pan roasted brussels sprouts with fish sauce are loaded with flavor. Every bite is an explosion of umami flavor.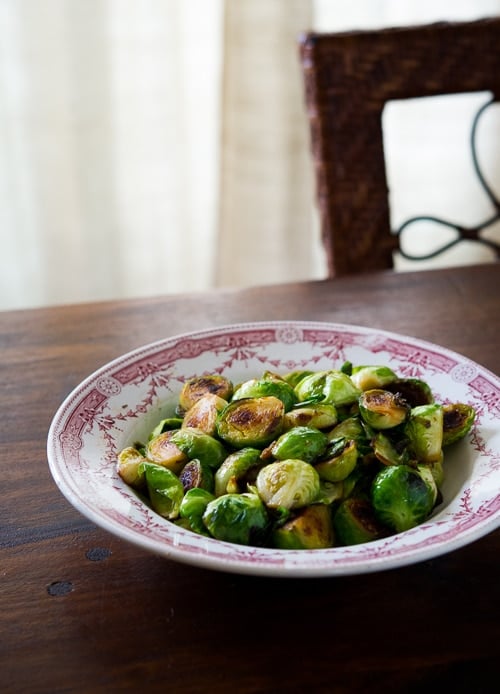 Update: Click here for more fabulous Brussels Sprouts Recipes.
Umami of Fish Sauce in Cooking
I affectionately stock my pantry with simple ingredients that, even in the smallest amounts, bring magic to my dishes. It's those surprise "ah-ha" moments after a bite that gives me the craving to make each morsel more memorable. Fish sauce is one of my magic ingredients that I love adding to liven up the flavor and umami of a dish. It's not such a secret that I'm in love with fish sauce. My Vietnamese heritage is rooted in this amber-colored, liquid gold ingredient.
Todd is just as enamored with fish sauce as I am. When he's not looking, I'll see him sneak a drizzle or two of fish sauce in his scrambled eggs. Ah-hah! That's why his scrambled eggs are so amazing. This makes me super proud and obviously, his secret is now out. Sorry sweetie!
A few years ago, we wrote about our Ultimate Umami Burger and Umami Turkey Burgers, which was received with some trepidation by some readers. But after making it, they returned to tell us that the magic of a few drizzles of fish sauce in the meat patty made all the difference from a good burger to a fabulous one.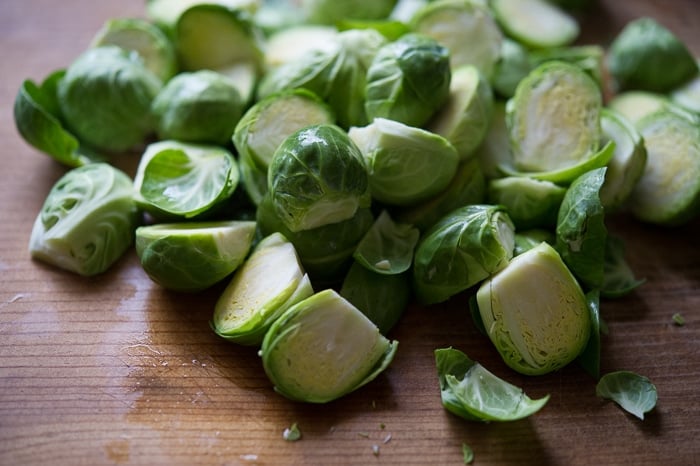 Now, I'm moving on to my next dish, which is one of my all time easiest and most wonderful fish sauce recipes. The lucky vegetable for today is brussels sprouts. Brussels sprouts recipes are not new to our arsenal of recipes. You name it, we've made it. Roasted brussels sprouts, braised and baked are year long favorites on our table.
These mini-green globes cooked in any form are the highlight of my meals. Todd can easily brighten up my day with a platter of warm oven roasted brussels sprouts.
But over the years, I've made my own version on the stove top that's super easy when I'm too impatient to wait for the oven to heat up. Pan roasted with a super caramelized crust, these roasted brussels sprouts are magical because of the touch of fish sauce and splash of fresh lime juice.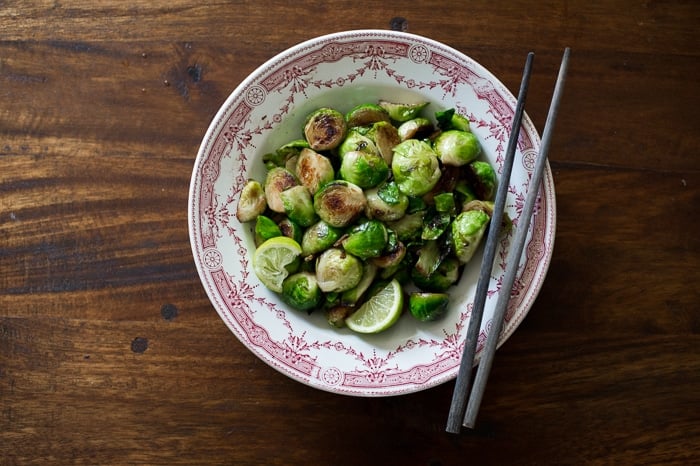 Brussels Sprouts Recipe with Fish Sauce
With only 3-4 ingredients, I can easily make these brussels sprouts a complete dinner. The best part about this recipe is that it's a base for many more wonderful dishes. You can add fresh minced cilantro, chiles or peanuts. Even toss in some chopped shallots while cooking the brussels sprouts for an added touch of sweetness.
What ever you decide to add, it's the fish sauce that flavors these pan fried brussels sprouts to a magical and savory addiction. Don't be afraid of fish sauce! If you've ever wanted to cook with fish sauce but were afraid and not know where to start, this is one recipe that will encourage you to see and taste the benefits of fish sauce.
What Brand of Fish Sauce? There are so many different brands of fish sauce, but three that I recommend that have a wonderfully round, balanced and umami flavor are listed below. Every fish sauce is different, and some are saltier than others, so add a little bit at a time to season your dish to your desired taste. My recommendations: Flying Lion, Red Boat, Three Crabs.
have fun!
diane
Note on cooking times: Brussels sprouts can very tremendously in size, ranging from the size of a large egg to as small as a 5-cent coin. Make sure to adjust your cooking times depending on the size that you end up cooking. Also, try to select all the same sizes for consistent cooking.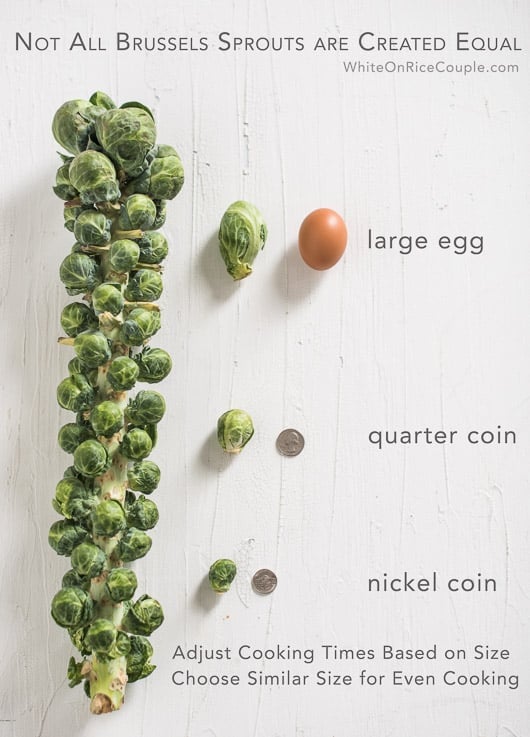 More of our Brussels Sprouts Recipes for you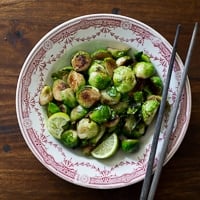 Pan Roasted Brussels Sprouts with Fish Sauce Recipe
Fish sauce brands vary on their level of saltiness. So add the fish sauce a teaspoon at a time, till the flavor works for you. You can also add fresh minced cilantro, mint, herbs, chiles or peanuts to this recipe. This recipe is great on it's own and it's adaptable to other of your favorite ingredient additions too. Note on cooking times: Brussels sprouts can very tremendously in size, ranging from the size of a large egg to as small as a 5-cent coin. Make sure to adjust your cooking times depending on the size that you end up cooking. Also, try to select all the same sizes for consistent cooking.
Ingredients
1 pound Brussels Sprouts
2 Tablespoons Vegetable Oil
2 teaspoons Fish Sauce , or to taste
1 Tabelspoon fresh Lime Juice , or to taste
fresh cracked Black Pepper , to taste
Optional additions: fresh minced cilantro, mint, herbs, chiles &/or peanuts
Instructions
Wash and trim ends of brussels sprouts. Cut them in half or quarters, depending on their size for even cooking. If you have a mix of very large and small brussels sprouts, make sure to cut them around the same size so that they cook evenly.

Reserve the loose brussels sprouts leaves and cook them if you like alongside the brussels sprout halves.

Heat large heavy bottom skillet, on medium heat. Add vegetable oil. Add brussels sprouts and lay cut side down on pan. Brown the brussels sprouts till they are golden and slightly crisp on the cut side.

Turn heat to low and stir brussels sprouts so that they cook evenly. You want them to cook slowly and get the rich color and caramelize on all sides. This should take about 5-10 minutes.

If the pan is too dry, add additional one teaspoon of water or oil at a time. But do not make the batch too watery or oily.

When brussels sprouts are cooked and tender, add 2 teaspoon of fish sauce first. If you want more flavor, add additional teaspoon of fish sauce. Stir and cook for about 30 seconds or 1 minute until the fish sauce is mixed well.

Remove from heat and add to bowl. Drizzle with fresh lime juice and/or fresh cracked black pepper right before serving. Add any additional optional ingredients you like and serve warm.
Nutrition Information per Serving
Calories: 110kcal, Carbohydrates: 10g, Protein: 4g, Fat: 7g, Saturated Fat: 6g, Sodium: 264mg, Potassium: 450mg, Fiber: 4g, Sugar: 3g, Vitamin A: 856IU, Vitamin C: 96mg, Calcium: 49mg, Iron: 2mg
We are a participant in the Amazon Services LLC Associates Program, an affiliate advertising program designed to provide a means for us to earn fees by linking to Amazon.com and affiliated sites.