Really Good Soft & Chewy Granola Cookies
Can't say much more than the granola cookies recipe title. There are good cookies and there are "really" good cookies, so good that you'll allow yourself to half a dozen in one sitting.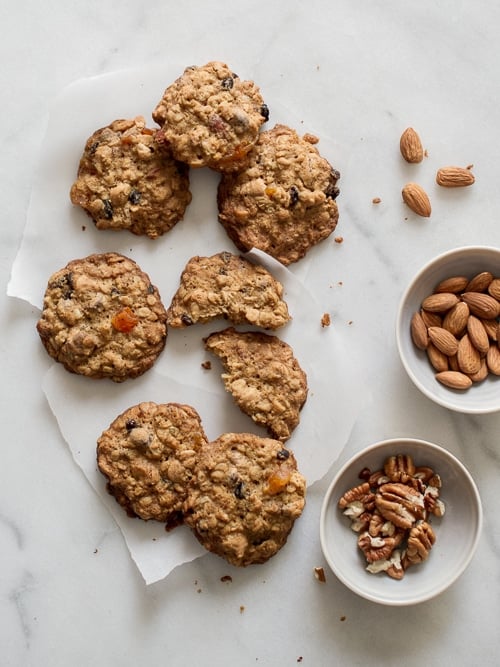 Granola Cookies Recipe
The type of cookies that allow yourself to indulge in eating pleasures without any post-guilt feelings are worth having in your recipe box. And hopefully, you'll agree that these cookies deserve to be on that list.
Our continuous quest to find great cookies recipes that have both great texture, flavor and unique qualities is never ending. Often times we'll search for cookie recipes with high hopes to be blown away by their taste. But sometimes we'll just be satisfied but not over thrilled. Even a mediocre cookie can be good. Don't get us wrong, we're not cookie snobs (hopefully, not) but it's nice to have your baking efforts rewarded with really great cookies.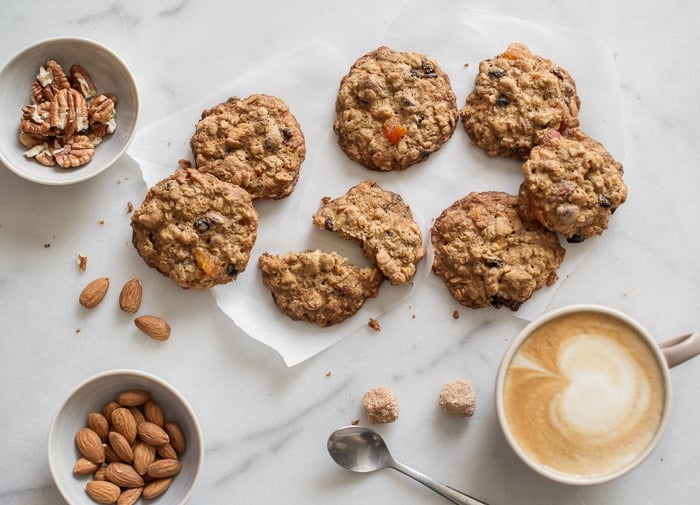 Soft and Chewy Cookies
This granola cookies recipe came across our radar by chance, thanks to a past shoot we did for Food and Wine. The shoot had many savory dishes, but luckily we had two desserts to style and shoot, one of which were these granola cookies.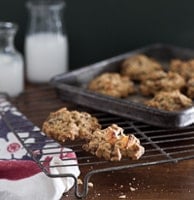 Normally during a food shoot, our jobs are not to recipe test. The client sends us finished recipes and we just cook them, style and shoot. So when these granola cookies first came out of the oven, they immediately went to set for the shot. Afterwards, they were shuffled to the side while we continued with the next shot. During break, we grabbed one of the cookies for a quick snack and were all amazed at how wonderful they were!
These cookies are soft and chewy oatmeal cookies with a slightly crispy edge, but with so much more texture and flavor. We've made many batches of these cookies and shared them with so many folks. Everyone who has them them fell in love instantly. The original Food and Wine recipe had dried apricots and pecans. But we added more flavors that we love finding in granola: combination of mixed, toasted nuts, different dried fruit, and peanut butter chips.
These are now one more cookie that we now always have to keep the dough on hand in the freezer, part of our emergency cookie craving stash. These cookies along with our snickerdoodles and the chocolate chunk cookies are now required to be on hand at all times. Or at least one or two of them until we can replenish the stash.
Enjoy!
-diane and todd
Many of you have asked how Sierra has been doing since her surgery. Thanks for all the sweet messages and queries. Since her surgery for her torn ACL, she's been resting and finally gaining some strength back. But it's 8 weeks of healing so we're taking it slowly, one day at a time!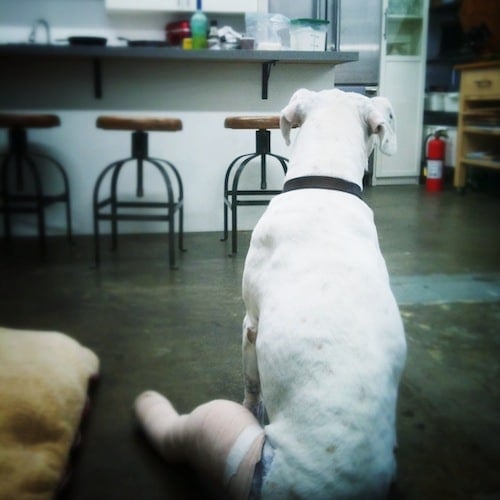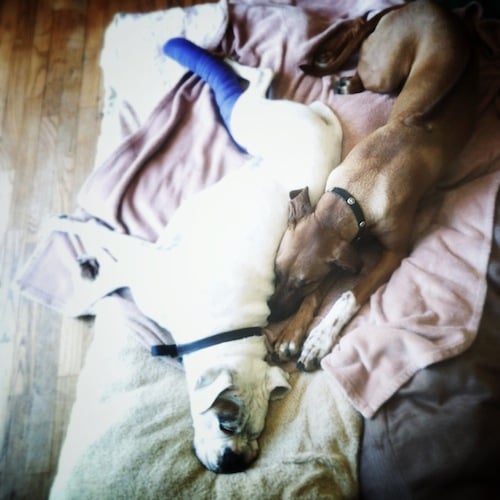 And this weekend we were gardening with fierce excitement. We built some new planters for our blueberry plants, harvested a ton of spinach. We also implemented two new trellis for grape vines and planted 10 heirloom tomatoes. Whew! What a satisfying week. Thus, we rewarded ourselves again with these really good granola cookies!
Enjoy,
diane and todd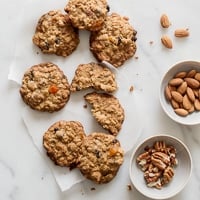 Oatmeal Apricot Cookies (Granola Cookies)
These are a wonderfully soft and chewy cookies with slightly crisp edges. We sometimes will macerate the dried fruit in rum, but if that isn't to your taste, feel free to add the fruit directly into the batter without soaking them. Experiment with your favorite nuts in the recipe as well to find what you like best. This dough freezes very well. We will roll or scoop them into balls, then freeze in freezer bags until ready to bake. For thawing, we will just take out the ones we are going to bake when we first turn on the oven and start it to preheat. By the time the oven is to temperature, the cookies have thawed enough.
Ingredients
1 cup (200g) dried Apricots, cut into 1/2" pieces (or other preferred dried fruit)
(Optional) Rum or Kahlua , enough to cover the dried fruit
1 cup (100g) chopped Pecans (or other preferred nuts)
2 cups (250g) Flour
1 teaspoon (5g) Baking Soda
1/2 teaspoon Baking Powder
1/2 teaspoon (3g) Kosher Salt
2 cups (180g) Old-Fashioned Oats
1 cup (224g) unsalted Butter , at room temperature
2 cups (440g) packed Brown Sugar
2 Eggs
1 teaspoon (5ml) Vanilla Extract
3/4 cup (125g) dark Chocolate Chips
3/4 cup (125g) Peanut Butter Chips
Instructions
Preheat the oven to 350°F. Optional-Soak the dried fruit in a bowl with enough alcohol to just cover them.

Put the nuts on a sheet pan and bake for 8-10 minutes, or until aromatic and toasty. Let the cool for a bit, then coarsely chop.

In a bowl, whisk together the flour, baking soda, baking powder, and salt. Stir in the oats. Set aside.

In a mixer, beat the butter and brown sugar until light and fluffy, about 2 minutes. Mix in the eggs and vanilla extract, scraping down the sides of the bowl as necessary.

Stir in the oat mixture until nearly combined. With a large spatula or wooden spoon, stir in the chopped nuts and the chocolate and peanut butter chips. Drain the dried fruit and stir them into the batter.

Scoop heaping tablespoons full of the dough on parchment lined sheet pans, placing them about 1 1/2" apart.

Bake for 14-16 minutes, or until the cookies are lightly browned. Let them cool on the sheet pans for a few minutes, then transfer to a wire rack to finish cooling.
Nutrition Information per Serving
Calories: 186kcal, Carbohydrates: 24g, Protein: 3g, Fat: 9g, Saturated Fat: 5g, Trans Fat: 1g, Cholesterol: 21mg, Sodium: 74mg, Potassium: 116mg, Fiber: 1g, Sugar: 15g, Vitamin A: 273IU, Vitamin C: 1mg, Calcium: 31mg, Iron: 1mg
We are a participant in the Amazon Services LLC Associates Program, an affiliate advertising program designed to provide a means for us to earn fees by linking to Amazon.com and affiliated sites.