Korean Gochujang Sauce Burger with Kimchi
If you love sauces, particularly ones with a kick of sweet and spice you're going to love our Korean Gochujang Burger recipe. It's a savory, sweet and spicy sauce that is a staple in Korean cuisine and a popular table top condiment. One bite and you'll love the flavor bomb of our gochujang burger recipe.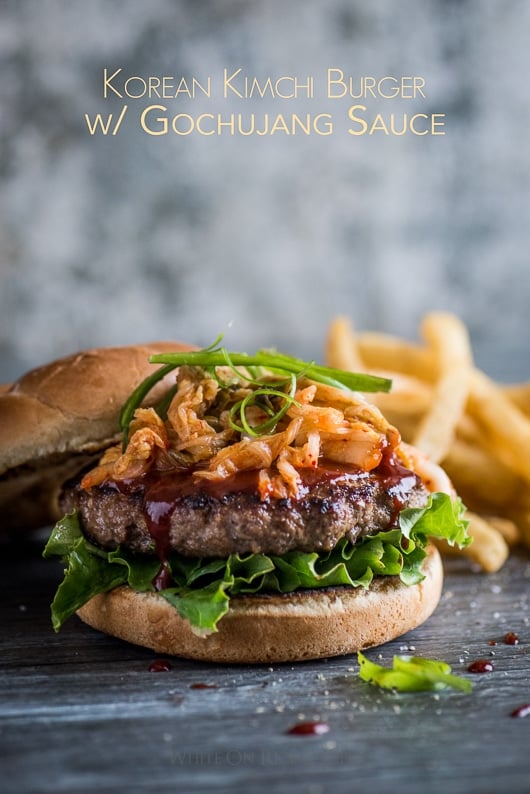 What is Korean Gochujang Sauce?
It's a classic Korean staple that is both a sauce or marinade. Gochujang sauce is a rich red chili condiment that can be used on anything and everything: vegetables, seafood, chicken, pork, beef and probably even ice cream. If not on ice cream now, it will probably show up at a food festival or fair near you. The rich sweet, spicy, garlicky and umami flavors are delicious. Gochujang sauce is usually in paste or sauce form and found in every Korean market. There's so many options, it can be intimidating when a whole aisle in the Korean market is filled to the brim with Gochujang sauce. Yup, it's that vital to Korean cuisine and down in our Southern California Korean supermarkets, there's never ever a shortage of different brands and variations. There's so many to choose from, it can be dizzying and dreamy all at once.
Korean Gochujang Burgers
Adding gochujang to burgers is AMAZING. Think of it as a super flavorful Asian bbq sauce and you'll know exactly how tasty these burgers are going to be. We've been obsessive about gochujang sauce lately and adding it to our grilling menu is an absolute must. Everyone who takes a bite into these burgers always say "what is this incredible flavor?!". Yup, it's a strong flavor at first, but when it's integrated into the burger concept, it's crazy yummy. It'll take your burger game up 10 notches, for sure. If you want to serve a plant-based vegan burger, here's a great recipe for vegan meatballs. Just make the platnt based meatballs into a burger patty and you're set! It grills just like real meat. Now there's something for everyone.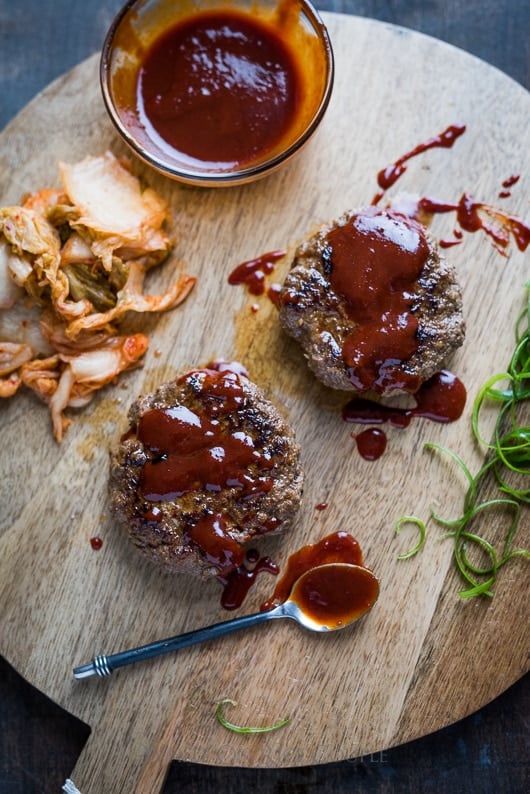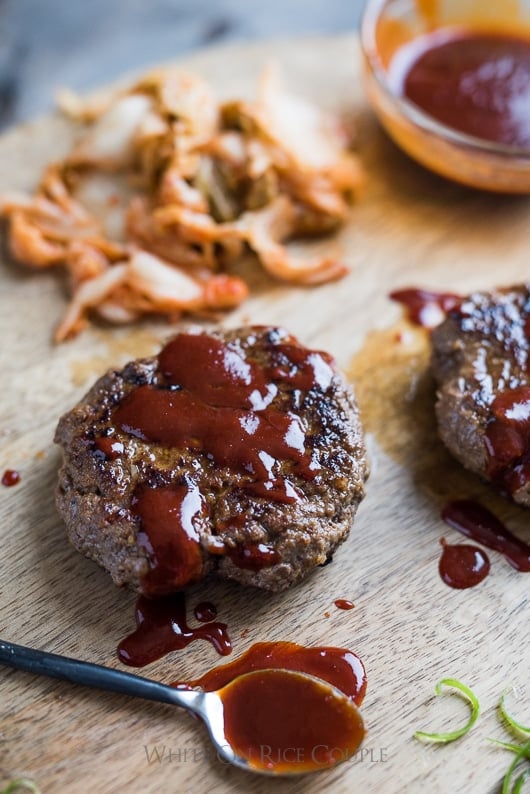 Where to Buy Gochujang?
It can be found in most major grocery store chains in the Asian grocery aisle. We were at a food festival and free bottles of Gochujang sauce were being passed around like free shots of Bourbon. Everyone was grabbing what they can and obviously, there was quite an obsession to this sauce. Two of the companies that were handing it out were calling it "Spicy Sweet Korean Ketchup", which is aptly named because it's pretty much spot on. These two bottles were developed and packaged more for the Western palate because it's "squeezable" and it was in 8 oz bottles, which is significantly smaller than most gochujang tubs found at Korean Markets. Either way, we were addicted to the sweet and spicy flavors on fries, vegetables and of course, burgers!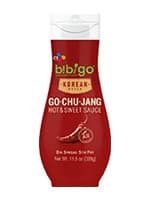 Bibigo Gochujang Sauce:
this is a sauce we use and enjoy. It's darker and thicker than most gochujang sauces and is similar to bbq sauce in flavor & texture. So we see it as more of a Korean bbq sauce than the typical Korean "ketchup".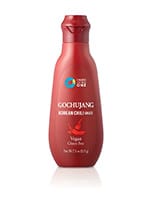 Chung Jung One Gochujang Sauce:
this is brighter red in color and brighter in flavor. The red chili flavors come through just enough without being too spicy. Equally delicious, just different from the Bibigo.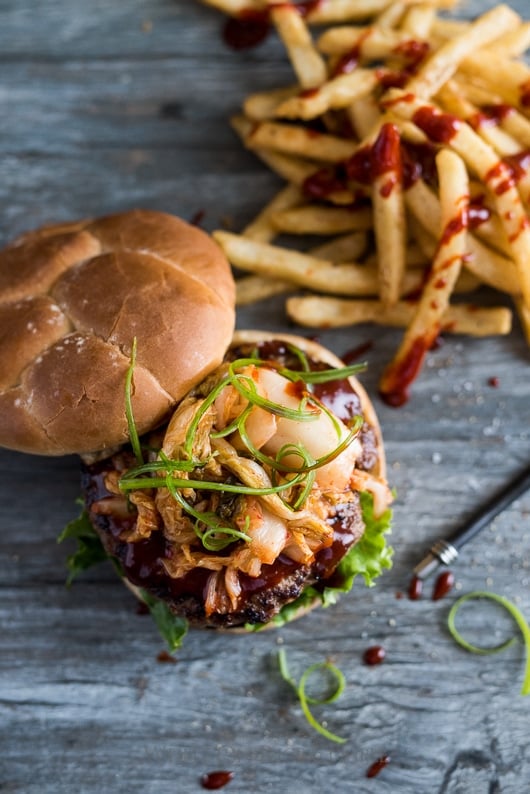 Kim Chi Topping on Burgers
The sauce is marinading inside this Korean Gochujang burger recipe before grilling and then drizzled on-top again after grilling is outstanding. The flavors are screaming out of each bite and it's no wonder these Korean flavors are so popular in grilling. Topped with some extra Korean kimchi pickles for the extra flavor and now this burger has become a grilling favorite. Sure, you don't have to kimchi on the burger. You can always add your own favorite slaw or crisp lettuce and tomato. With the gochujang sauce on top, you won't really need any other ketchup or mustard. Trust us, the flavors from the sauce on top is enough to make you crave another round of Korean burgers the following weekend. It's a great way to serve up burgers that's different and flavorful, especially if you're friend are daring enough to enjoy the heat and the pungent kimchi.
Enjoy,
diane and todd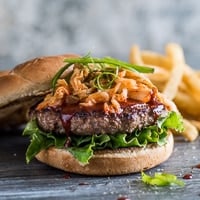 Korean Kimchi Burgers with Gochujang Sauce
Gochujang is an amazing Korean sauce. See the post above for more explanations of it.
Ingredients
1 lb. ground Beef or Pork (455g)
2 cloves Garlic , minced
1 Tablespoon Gochujang sauce (15ml) , plus extra for spreading
1/4 teaspoon fresh cracked black pepper , or to taste
Kimchi
Lettuce
1 Green Onion , sliced
3-4 Hamburger Buns
Additional Optional Burger condiments: lettuce , Mustard, Fried Shallots, Onions
Instructions
In medium bowl, mix ground beef, garlic, gochujang sauce and black pepper. Divide into 3-4 portions and shape burger patty.

Heat grill over medium-high heat (if you have that option) and cook for about 3 minutes on each side or until cooked.

Assemble the burgers: lay bottom bun, lettuce, patty, extra gochujang sauce, kim chi and green onions on top. If you want, add any of your favorite burger toppings.Place the top bun on the burger and enjoy!
Nutrition Information per Serving
Calories: 387kcal, Carbohydrates: 18g, Protein: 23g, Fat: 24g, Saturated Fat: 9g, Cholesterol: 81mg, Sodium: 308mg, Potassium: 347mg, Fiber: 1g, Sugar: 3g, Vitamin A: 30IU, Vitamin C: 1mg, Calcium: 79mg, Iron: 3mg
We are a participant in the Amazon Services LLC Associates Program, an affiliate advertising program designed to provide a means for us to earn fees by linking to Amazon.com and affiliated sites.