Pork and KimChi Noodle Stir Fry: Ramen Hack
Craving an easy Korean inspired dinner? Our pork noodle stir fry with kim chi is so flavorful and perfect for a quick weeknight meal.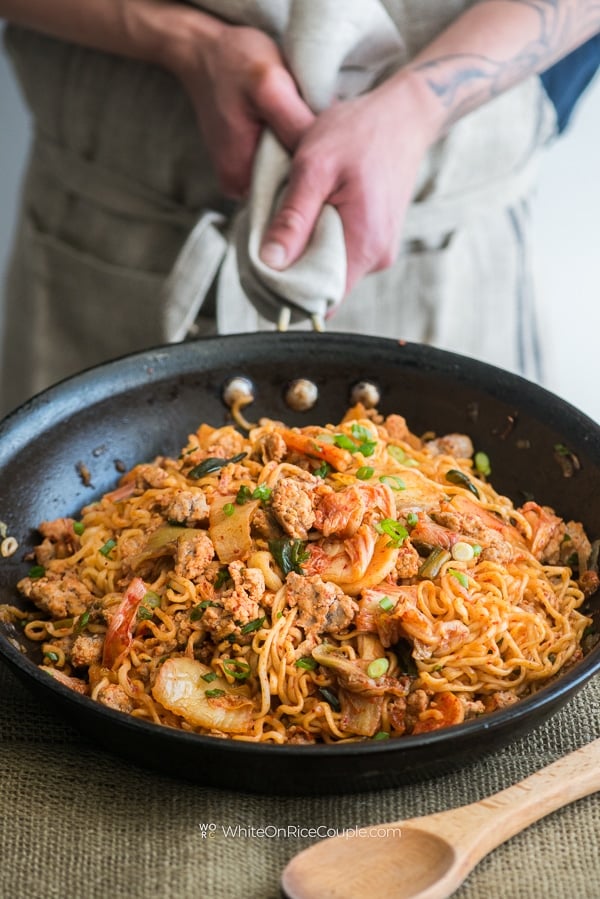 Pork and Kimchi Noodles Recipe
It was last month that we photographed an assignment that involved way too many quinoa recipes. How many exactly? Let's just say that we were blinded by quinoa grains and couldn't stomach another bite of anything whole grain. It was an assignment that could have benefited our personal health, unlike some chocolate and cocktail shoots we've been working on lately. But after the 8th recipe test and shot, we were hankering to go back to shooting and eating chocolate. Don't get us wrong cause we adore our healthy grains and lunches, but there's times when the body need to hold-off on the fiber and chew on something a little more……dangerous.
Video: Recipe for Korean Style Pork and Kimchi Noodles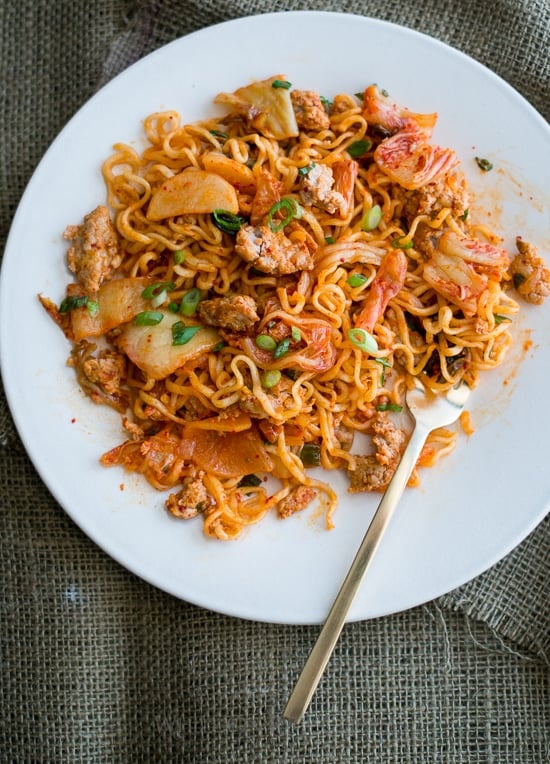 Easy Stir Fry Noodle Recipe
We were craving something bold. Something really flavorful with a kick of heat that jump-starts our fiber filled … brains. Adding to that dangerous dish, a little bit of ferment and delicious stink of kimchi would do the trick. Oh kimchi, the ubiquitous and famous Korean spicy fermented cabbage. It's a side dish that has its lovers and haters. For us, we love it so much that we make it homemade. Homemade? Yes, but that's another post. As lunch time was approaching, the whole team agreed that we were craving something crazy bold and loaded with flavor. With only about 30 minutes available for a break, we whipped out some packages of ramen noodles that we always have on hand for emergency soup fixes at the studio and boiled those for our bed of noodles. Boiled, without the seasoning packet, of course.
Next, we had some leftover ground pork and a bottle of homemade kimchi in the studio fridge. It all stared to make sense as we stared at the table full of quinoa recipes. Pork and noodle stir fry was the only way to go and get our sanity back. And within 30 minutes, we had a huge…..we mean…HUGE…pan of the most yummy stir fried pork and kimchi noodles that one could cook in 10 minutes.
Raise your hand if you like pork, if you enjoy noodles and if you love kimchi. If you've say yes to all three, then this noodle dish is for you. You'll love it! And as for all the rest of the quinoa dishes that we made? They all got donated to our hungry UPS, Fed-Ex and US Postal Service delivery guys. They deserved it!
enjoy,
diane and todd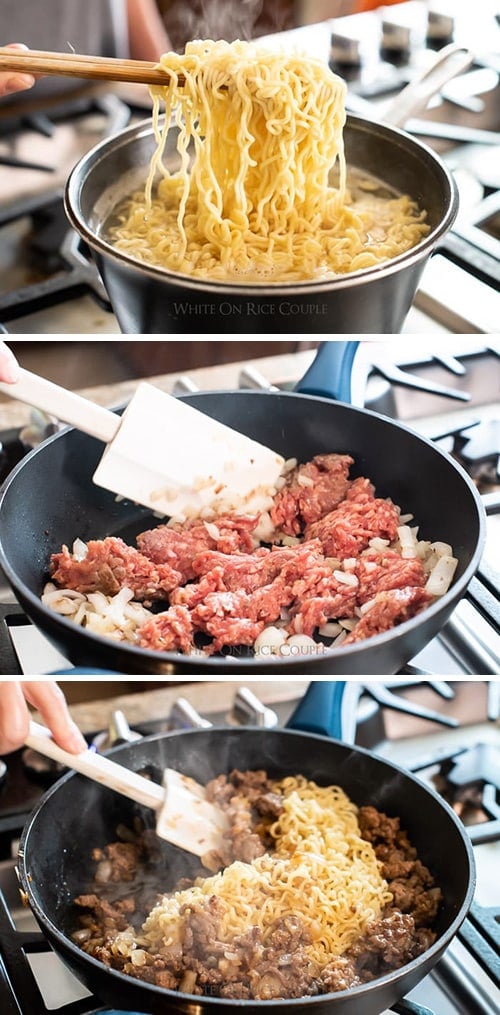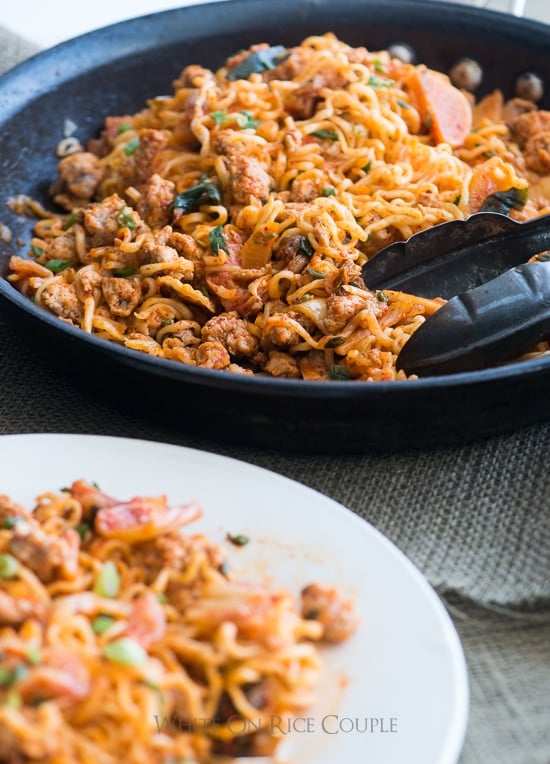 Here's another Ramen Hack with Bacon and Shrimp Recipe: Todd's Childhood Speciality!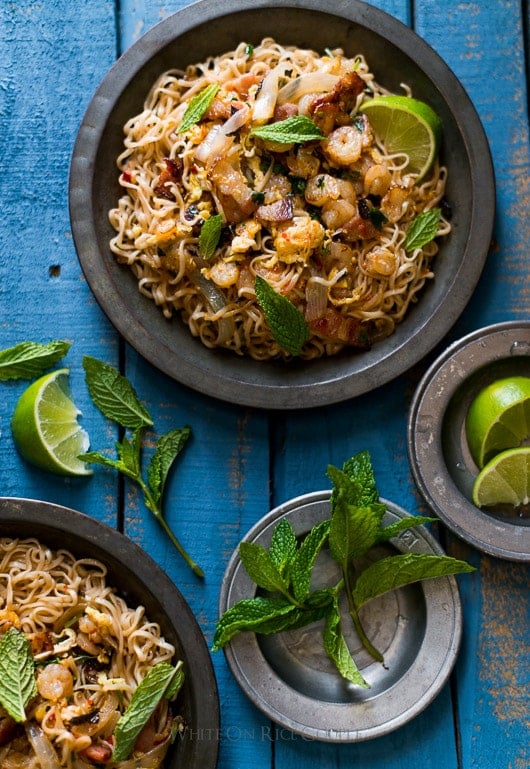 Try our Low Carb Version: Zucchini Noodle Pork and Kimchi "Zoodles" Recipe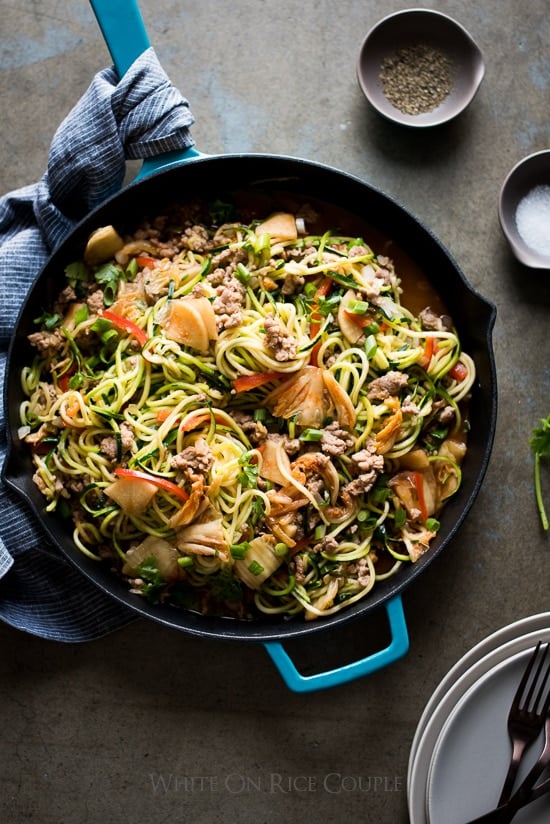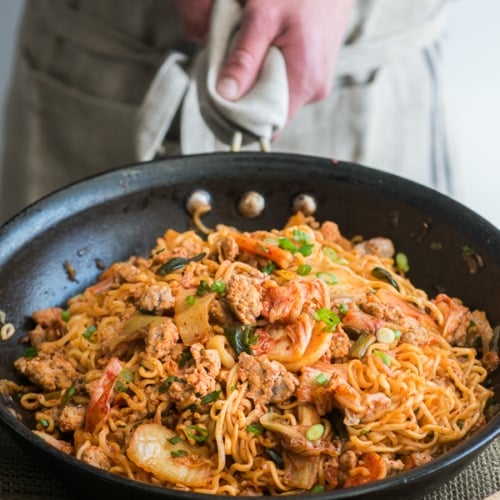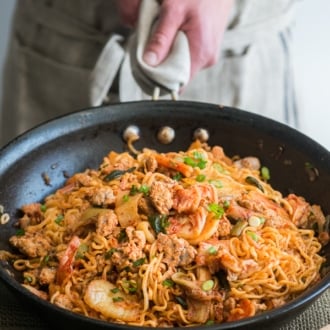 Pork and Kim Chi Noodle Stir Fry
For this recipe, the noodles we used were from packaged ramen. You can use any Asian noodle that you like, but the package ramen noodles worked great and cooked al-dente. But remember to discard the seasoning packets.
Ingredients
1/2 pound (or about 2 ramen packages) dried Asian noodles , cooked al dente
2 tablespoons oil
1 pound ground pork
1/2 medium onion , finely diced
3 cloves garlic , minced
1/4 cup water
2 Tablespoons fish sauce (or soy sauce, but fish sauce tastes better)
2 teaspoons sugar
2 cups kimchi
1/2 cup green onions , plus additional for garnish
Instructions
Cook noodles to package instructions. Rinse, drain and set aside.

Heat a large skillet over medium-high heat. Add the oil, then add onions, and garlic. Cook onions and garlic till translucent and fragrant. Add the pork. Cook until the pork is browned and cooked though, 5-8 minutes.

Reduce heat to medium. Stir in the water, fish sauce, and sugar. Stir in the noodles and cook until the noodles are heated through, 1-2 minutes.

Fold in kim chi and green onions, cook for an additional minute to warm kim chi. Plate, garnish with additional green onions and serve warm.
Nutrition Information
Calories: 590kcal, Carbohydrates: 52g, Protein: 22g, Fat: 31g, Saturated Fat: 10g, Cholesterol: 82mg, Sodium: 877mg, Potassium: 432mg, Fiber: 1g, Sugar: 3g, Vitamin A: 125IU, Vitamin C: 5mg, Calcium: 46mg, Iron: 2mg
Here's some more great korean recipes to explore. This recipe was originally published in 2014 and re-publised in 2020 with new video and photos!
We are a participant in the Amazon Services LLC Associates Program, an affiliate advertising program designed to provide a means for us to earn fees by linking to Amazon.com and affiliated sites.