Korean Style Zucchini Noodle Stir Fry w/ Pork & Kimchi
You'll love these Korean zucchini noodles, especially if you're a fan or kimchi and pork. Enjoy!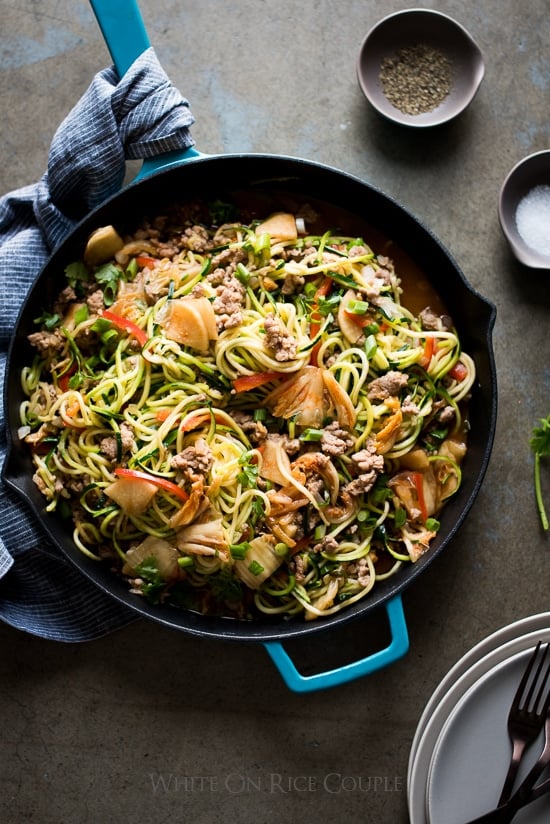 Korean Zucchini Noodles with Kimchi and Pork
Let's talk about weeknight dinner favorites because we all turn to our go-to meals, right? Since we bought our vegetable spiralizer a few years ago we've been living in a zucchini noodle-obsessed life. Sure, we have plenty of food obsessions but this crazy addiction of replacing spaghetti pasta with low carb zucchini noodles has taken over our kitchen and dinners. It's not because it's a fad, though it might be for most, but these zucchini noodles have been our way of life. Simple, light and super satisfying, we turn to these type of dinners because they're simple to prepare for the quick weeknight dinner.
We've all been through this scenario: come home after a long day of work, tired, a bit lazy about cooking and then trying to figure out what's for dinner. Popcorn is still a perennial favorite, as it pairs superbly well with the happy-hour house cocktail. But when we actually are needing more substance filled with veggies or what ever ingredients we can find in the fridge, zucchini noodles are the answer. Best of all, it gives us another reason to clear out the fridge of ingredients that would otherwise go to waste.
Video: Korean Zucchini Noodles:
There's lots of reasons to cook zucchini noodles. First of foremost, they're always abundant and can quickly become the vegetable that you can get bored with. When made into noodles, zucchini can breath a new life on the dinner plate. Another reason is because they're seriously lighter than pasta, especially when you're craving something substantial but not regretting the whole pile of spaghetti carbs that you could have potentially devoured. Zucchini also absorbs the flavors and sauces that you add to it and each bite is satisfying and guilt-free.
It started with our zucchini pad thai recipe that catapulted our love of zucchini again and paired with our popular pork and kimchi noodles. The result is this amazing pan of Korean zucchini noodles. Seriously, we were getting bored with zucchini and it wasn't until we started making the zucchini pad thai that we began to fill our grocery cart with zucchini every single time. Then we doved head first into zucchini noodle chow mein, zucchini noodle chicken pho soup and now another Korean zucchini noodle with pork and kim chi.
Spicy Asian Zucchini Noodles
A few years ago we shared our simple stir fried ramen noodles with pork and kimchi, which was always another perennial favorite. Then back in 2015 when we were developing a ton of zucchini noodles for our "magazine", we developed this recipe with zucchini noodles. Again, after testing and re-testing it came in with high raves and reviews. Why it took us so long to share this recipe? Don't know. Maybe most likely because we fall behind on blogging and life gets in the way.
Favorite Spiralizers for Zucchini Noodles:
Paderno Spiralizer –
The Classic! We've lost track of how many meals this one has made for us. Fantastic spiralizer.
KitchenAid Spiralizer Attachment –
Spiralize, peel, core, slice. All from the power of the KitchenAid stand mixer.
OXO Julienne Peeler –
For those who love it simple. This great julienne peeler has seen a lot of mileage in our kitchen.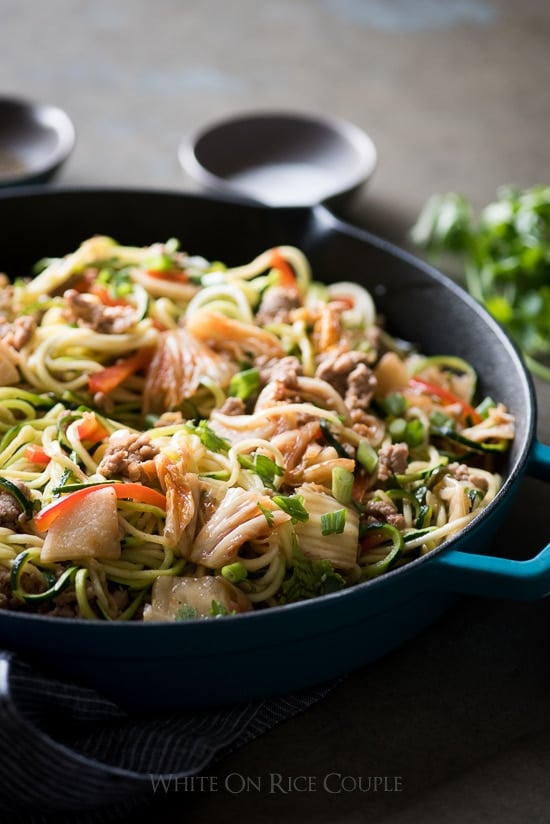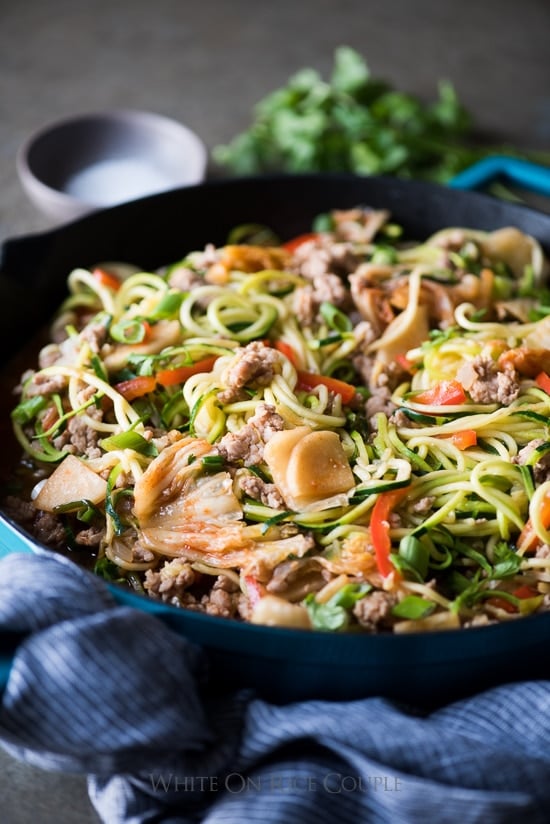 Though it took this long to share this Korean zucchini noodle recipe, it's never too late to enjoy it's awesome bold flavors of spicy kim chi and rich pork. Give it a whirl if you're craving a flavor-bombing plate of zucchini noodles. And if kim chi "scares" you a bit, just do it with pork or chicken and you'll still be super happy. Hope you enjoy and share these korean zucchini noodles as much as we do.
Enjoy All,
diane and todd
Click here for the collection of our zucchini noodle recipes.
We used this awesome Paderno vegetable spiral slicer to make the curly zucchini noodles or pasta. We love this vegetable slicer, especially for making bigger batches of Korean zucchini noodles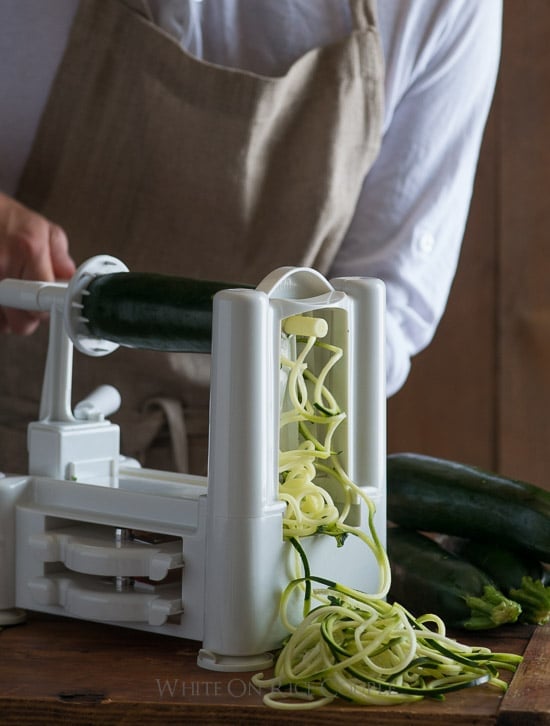 this spiral vegetable slicer, cuts up the zucchini super quick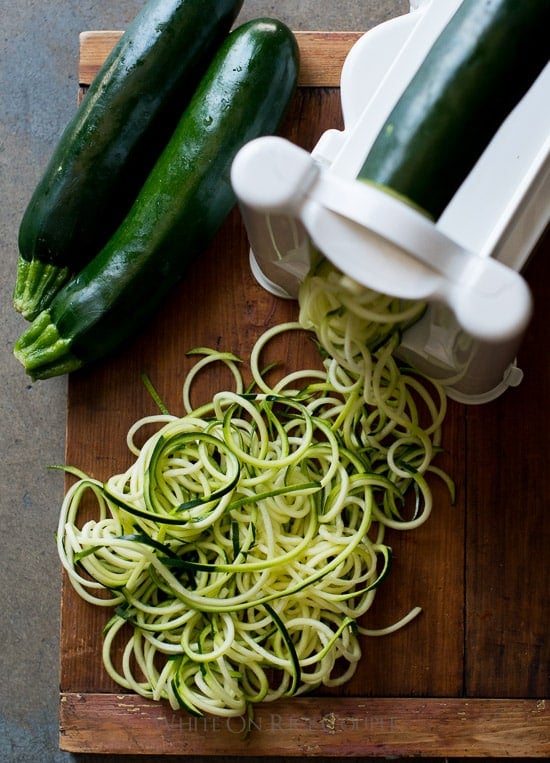 Our OXO vegetable peeler was equally awesome at making the noodles, without the curly look.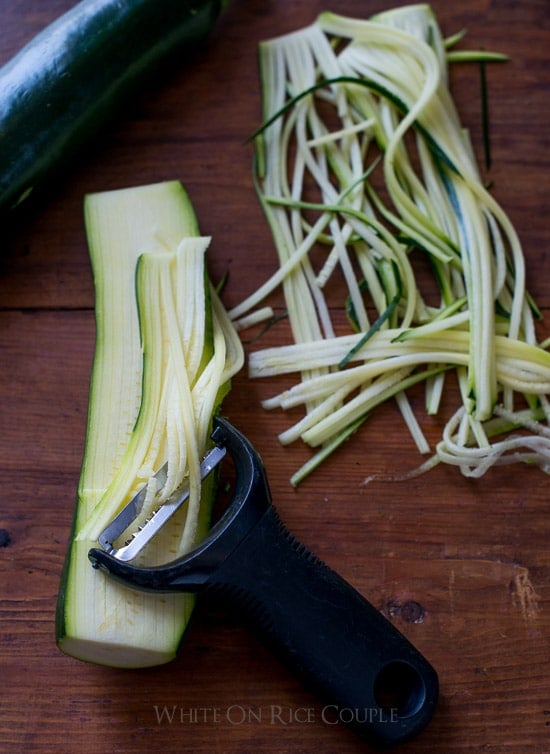 A Mandolin works great as well, but be safe. We used our safety gloves.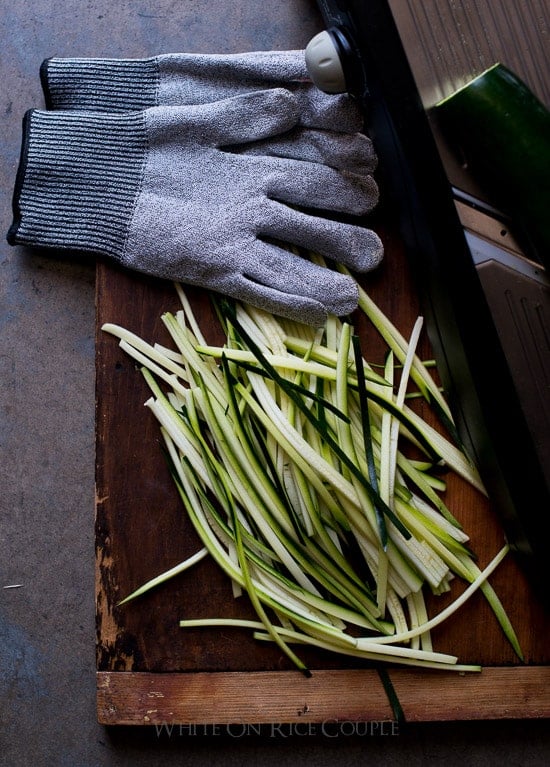 though a mandolin doesn't have the curls either, the zucchini cooks up great.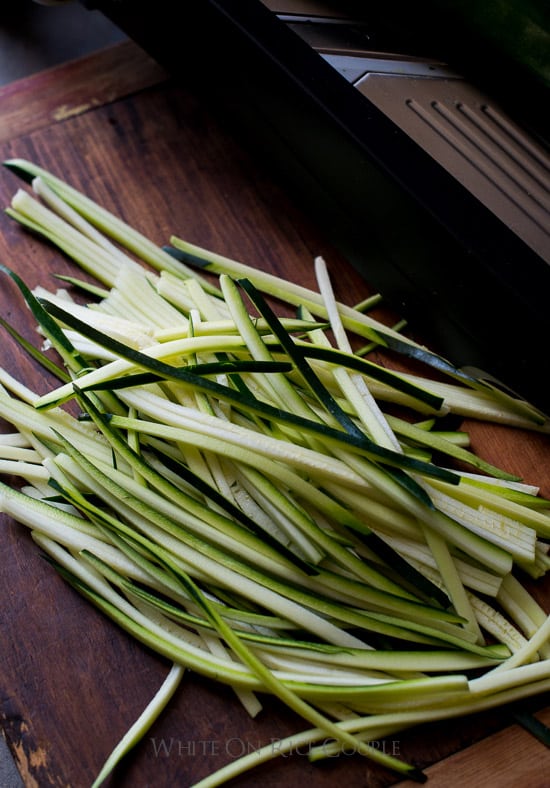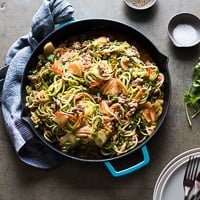 Korean Zucchini Noodles w/ Pork & Kimchi
One of our most popular recipes on the blog is a version of pork and kimchi stir fry using ramen noodles. But we've made it healthier and a fraction of the calories by replacing it with zucchini noodles. It's still delicious and a win-win recipe.
Our favorite tool for making zucchini noodles is the Paderno Spiralizer.
Ingredients
1 pound zucchini (455g)
1 pound ground pork (455g)
2 tablespoons olive oil (30ml)
½ medium onion , minced
4 cloves garlic , minced
2 Tablespoons fish sauce (30ml)
1 teaspoon sugar (5ml)
2 cups kimchi (480ml)
½ cup chopped green onions, plus additional for garnish (120ml)
¼ cup minced fresh cilantro (60ml)
salt and pepper to taste
Instructions
Heat a large skillet over medium-high heat. Add the oil, then add the onions and garlic. Cook onions and garlic until transluscent.Add the pork and cook until browned and cooked through. About 5 minutes.

Stir in fish sauce, sugar and zucchini noodles. Cook the zucchini noodles until tender, about 2-3 minutes.Fold in the kim chi and green onions. Cook for an additional minute to warm the kimchi. Garnish with additional green onions and cilantro. Season to taste and Serve warm.
Nutrition Information per Serving
Calories: 529kcal, Carbohydrates: 10g, Protein: 28g, Fat: 42g, Saturated Fat: 13g, Cholesterol: 109mg, Sodium: 1041mg, Potassium: 906mg, Fiber: 2g, Sugar: 6g, Vitamin A: 302IU, Vitamin C: 31mg, Calcium: 62mg, Iron: 2mg
We are a participant in the Amazon Services LLC Associates Program, an affiliate advertising program designed to provide a means for us to earn fees by linking to Amazon.com and affiliated sites.