Easy Ham and White Bean Soup

Easy Ham and Bean Soup Recipe
With leftover ham or ham bone and some veggies, this simple ham and bean soup recipe is comfort in a bowl. In these times when we're all staying at home, nourishing foods from our pantry gets us through the quarantine. Hope you're all doing well with your families and enjoying your time together. We're big fans of soup, especially brothy soups because they satisfy and is like medicine. The light bone bothy-style soups aren't too rich and are loaded with nutrients. This is exactly one of those soup that are perfect for using what ever leftover ingredients you have. Instead of using dried beans, a can (or two) of white beans is perfect. Within minutes, a pot of pantry-perfect soup is ready to be devoured. Best of all, freezing this soup is a fantastic way to save it for another rainy or hungry day.
Video: Recipe for Easy Ham and White Bean Soup
What veggies to cook with this soup?
We're huge fans of adding what ever veggies you want. The basic celery and carrots are always a staple. But how about adding some awesome greens for extra nutrients? Chopped kale, cabbage and swiss chard are great and usually always available at the markets. Broccoli, cauliflower, zucchini and potatoes are amazing too for more texture and flavor. In fact, celery root is a great vegetable that is a forgotten favorite. Give it a try, it just might be your new favorite way to enjoy soup. You can customize this soup to your liking and make it your own!
Enjoy and Be well,
diane and todd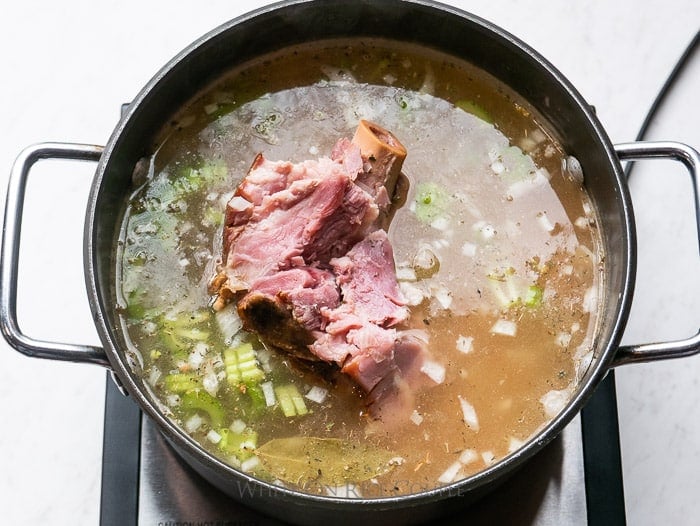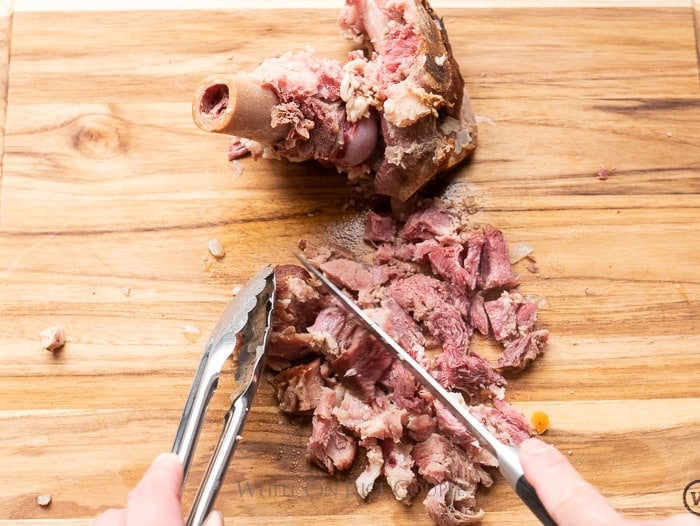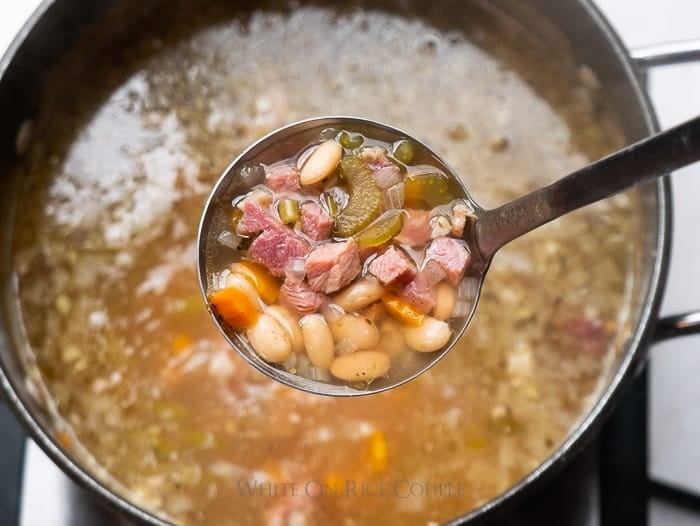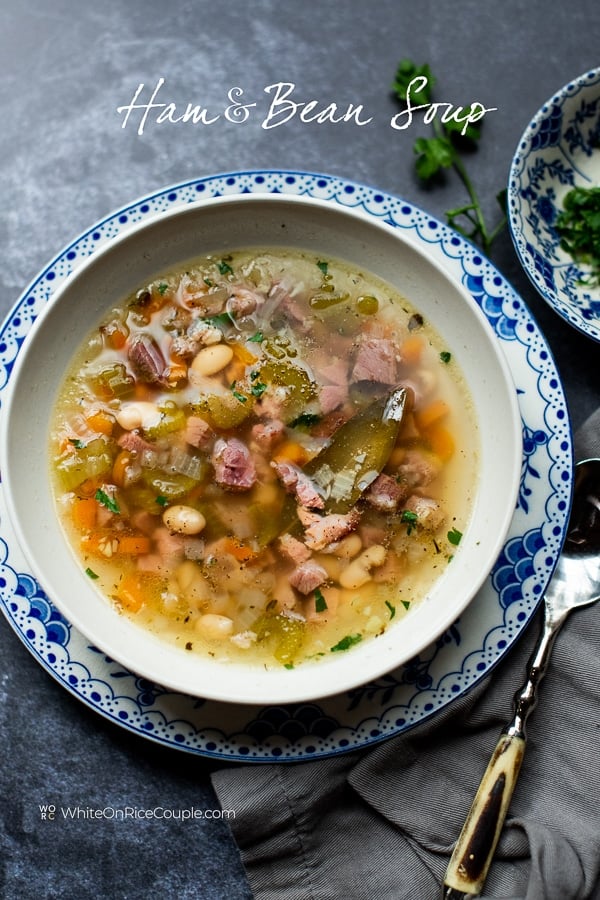 This recipe was originally published in April 2020.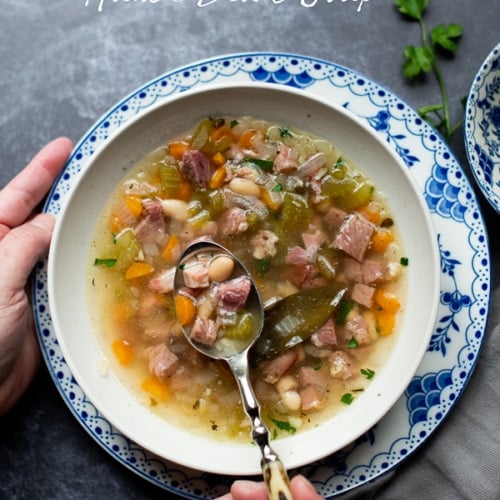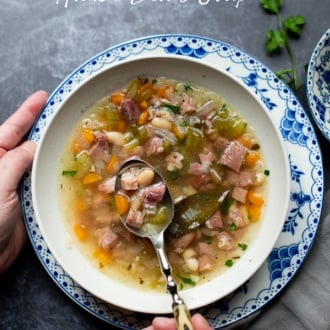 Simple & Delicious Ham & Bean Soup
You don't have to add the additional cooked diced ham if you're using a ham hock with ham meat,. We used a leftover ham bone that didn't have much meat, so we added the extra diced ham. The saltiness of the broth will vary a lot depending on how well seasoned your chicken broth. Make sure to taste the broth after cooking and adjust seasoning accordingly.Feel free to add an extra can of beans if you want. For a creamier soup, mash some of the beans in the soup for a thicker texture.
Ingredients
1 (1) large ham bone or ham hock
1 1/2 cups (360 ml) cooked diced ham *see head note
1 Tablespoon (15 ml) olive oil
1 (1) onion , diced
3 cloves (3 cloves) garlic , minced
7 cups (1.65 l) chicken broth
15 oz. (15 oz.) canned white beans , drained, or more if desired
2-3 (2-3) celery stalks , diced
2-3 (2-3) carrots , peeled and diced
2 teaspoons (10 ml) Worcestershire sauce
1 (1) bay leaf
1/2 teaspoon (2.5 ml) dried thyme or dried oregano
1/2 teaspoon (2.5 ml) ground cumin (optional)
1/2 teaspoon (2.5 ml) kosher salt , or to taste
1/2 teaspoon (2.45 ml) fresh cracked black pepper , or to taste
1 cup (240 ml) chopped kale or cabbage , optional
minced parsley for garnish , optional
Instructions
Use a pot large enough that covers the ham bone/hock when the stock is added. Heat pot over medium heat. Add the oil then add the onions & garlic. Cook for about 1 minute, stirring regularly, or until softened and lightly browned.

Add the ham bone, diced ham, broth, beans, celery, carrots, Worcestershire sauce, bay leaf, thyme, optional ground cumin, salt and pepper. Heat to a gentle simmer.

Simmer the soup for about 30-40 minutes, depending on how tender you like your veggies and how rich you prefer your broth.

Remove the ham bone or ham hock and any extra fatty chunks. Pull off any ham meat and cut into small pieces. Add the chopped ham back into the soup. Give the soup a good stir and add additional salt and paper, to taste.

For extra healthy nutrients, add the optional chopped kale or cabbage to the soup. Garnish with minced parsley (optional). Serve warm.
Nutrition Information per Serving
Calories: 125kcal, Carbohydrates: 16g, Protein: 9g, Fat: 3g, Saturated Fat: 1g, Cholesterol: 11mg, Sodium: 1206mg, Potassium: 491mg, Fiber: 3g, Sugar: 2g, Vitamin A: 2548IU, Vitamin C: 17mg, Calcium: 63mg, Iron: 2mg
Enjoy more of our –> Soup and Stew Recipes Here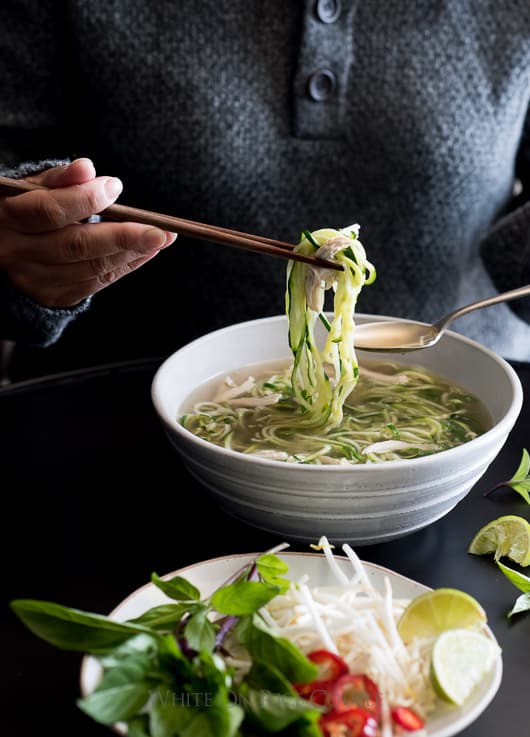 Here's more great ham recipes. If you made this recipe, please share with us on social media or in the comments below! We love your feedback and seeing your creations with our recipes!
We are a participant in the Amazon Services LLC Associates Program, an affiliate advertising program designed to provide a means for us to earn fees by linking to Amazon.com and affiliated sites.