Turkey Rosemary Burgers with Avocado and Umami
Though these turkey burgers are simple to make, they're loaded with flavor with a secret ingredient we're obsessed with. We feel this is the best turkey burger recipe and our friends agree.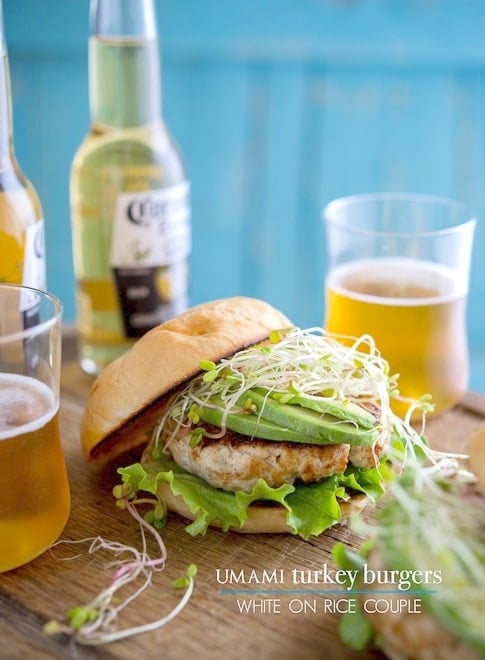 Best Turkey Burger Recipe
It's been 10 years since we last posted our favorite family burger recipe, Ultimate Umami Hamburgers. Our "secret" ingredient of adding fish sauce isn't so secret anymore. We're so grateful that over the years, everyone was extremely open to heightening the umami factor in their burgers. It brings us great joy and pride to know that so many of you are grilling for extra flavor!
Don't Fear the Fish Sauce
Fear of fish sauce is still prevalent in many home cooks. Without a doubt, we completely understand your cautious curiosity. Fish sauce is pungent and for many of you, it's on the verge of stink. But once you can get past the aroma you'll appreciate the value of added umami flavor that fish sauce adds. Once it's cooked, you won't taste the "stink". You'll be a converted addict sooner than you realize.
It is almost magical when cooked with. Its own fishiness disappears after cooking. In its place the dish's flavor is mysteriously enhanced and a new depth of flavor emerges.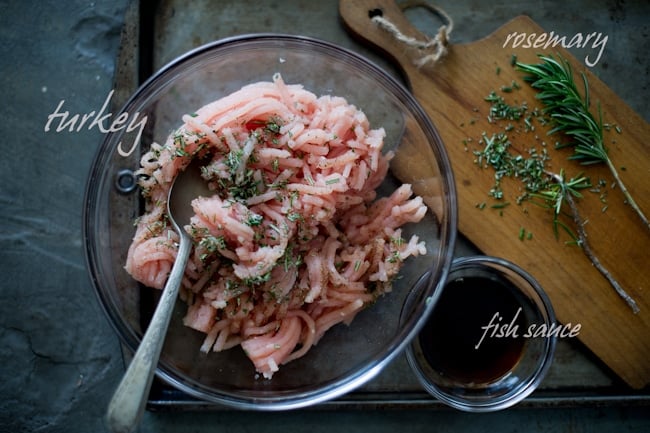 More Flavor to Turkey Meat
Turkey, particularly the white meat, was always too dry and bland for us. Though we'd enjoy it occasionally in a turkey bacon sandwich (bacon always makes everything better), the meat alone was never something we'd ever consider as a burger. But over the last year, we were enjoying turkey more in different applications and thought about making turkey burgers better and more flavorful by adding fish sauce.
Again, fish sauce comes to the rescue in this turkey burger! Of course, if you grill with white turkey meat, you'll get a drier burger. But when made with dark turkey meat in combination with the fish sauce, what you get is a fantastically deep, flavorful and moist burger.
With the added brightness of minced rosemary and creamy slices of avocado, this turkey burger is worth being proud of at the grill.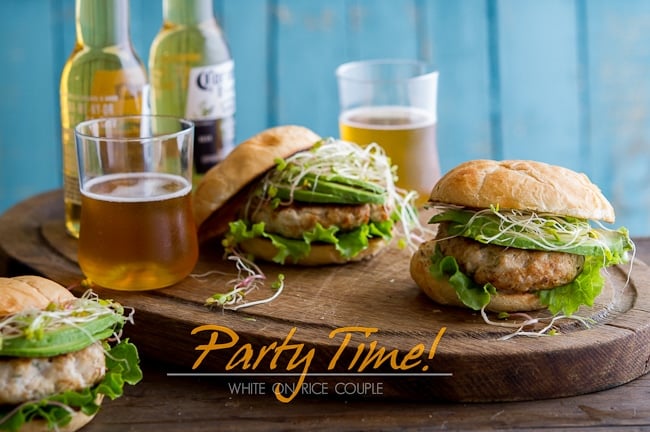 Like the many of the commenters mentioned in our ultimate umami hamburger post, no one noticed a fishy-sauce flavor in the burgers at all. But what everyone did taste was a meatier tasting burger that was fantastic. The fish sauce adds an depth of flavor which makes the burgers quite delectable. Many commenting that their families declared this the best turkey burger recipe.
As the weather warms up and bbq season arrives, we're hoping that you'll try adding that extra special touch of fish sauce in all your burgers!
Go Fish Sauce!
diane and todd
Here's more great burger recipes.
This recipe was originally published in 2012 and updated in 2019.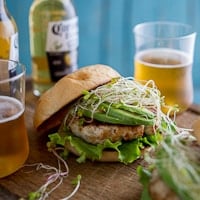 Turkey Rosemary Burgers with Avocado with Umami
The type of turkey meat you get makes all of the difference between a dry turkey burger and a moist one. We are going for best flavor and texture, so we look for the meat which has either been ground from the dark meat is is labeled as 85/15 (up to 15% fat). The leaner the ground turkey meat, the drier the patties get.
Ingredients
2 lbs. (910 g) Ground Turkey
1 1/2 Tablespoon (25 ml) finely chopped fresh Rosemary
2 Tablespoons (30 ml) Fish Sauce
2 teaspoons (10 ml) Sugar
fresh cracked Black Pepper to taste
oil for brushing patties and buns *See Note 1
1 Avocado
6 Hamburger Buns
Favored Condiments
Instructions
In a medium bowl gently combine turkey, rosemary, fish sauce, sugar, and black pepper (try not to over mix the meat). Form into patties.

Heat grill or pan over medium high heat. Brush insides of buns and both sides of patties with oil (if grilling, brush grill grates as well). Cook each side for approx. 3-4 minutes or until cooked through *see Note 2 (time will depend on patty thickness and cooking heat).

Open buns and place inside face down on grill or pan and cook until lightly browned (usually cooks within a minute).

Assemble with avocado and toppings of choice. Serve and eat immediately.
Notes
Note 1: We love using oil sprayers in the kitchen. You can use which ever oil you prefer and it gives you a quick, light, even coat of oil.
Note 2: To test doneness, we'll use the push test. Gently push on the patty's center to feel how much give or bounce it has. The firmer it is the more the meat is cooked. After a little experience, you'll quickly be able to tell when the patties are cooked to your preferred doneness. If you are unsure at first, slice into the center of a patty to check how doneness.
Nutrition Information per Serving
Calories: 350kcal, Carbohydrates: 26g, Protein: 41g, Fat: 10g, Saturated Fat: 2g, Cholesterol: 83mg, Sodium: 766mg, Potassium: 680mg, Fiber: 3g, Sugar: 5g, Vitamin A: 100IU, Vitamin C: 3.9mg, Calcium: 86mg, Iron: 2.9mg
We are a participant in the Amazon Services LLC Associates Program, an affiliate advertising program designed to provide a means for us to earn fees by linking to Amazon.com and affiliated sites.