Juicy Lucy Burger Party & Recipe
Juicy Lucy Burgers, also known as cheddar stuffed burgers are the perfect burgers to share when grilling season comes around.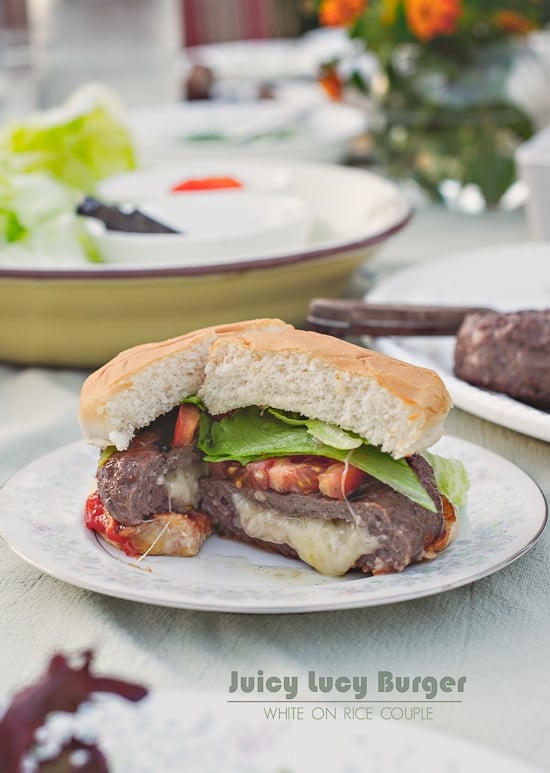 Juicy Lucy Burgers
How can someone resist a burger that comes with a warning disclaimer? That was exactly our predicament a little over two years ago and we soon found our burger world rocked. In the middle of a whirlwind trip we found ourselves in the Minneapolis/St. Paul area, affectionately dubbed the twin cites. We were one set of the speakers on slate for the Creative Connection, which in a twist of fate was perfect timing to meet up with the lovely, talented, and ever so sweet Zoe of Zoe Bakes to film her and the charismatic Jeff Hertzberg for their Pizza in 5 cookbook promo. And as an added bonus, Gina of TheShabbyChicCottage.com told us about an amazing event, Junk Bonanza which in another twist of fate happened to be going on in that same 3 day window. Holy cow this was a luck permeated trip.
And amidst all this loveliness, someone told us we needed to try Juicy Lucy Burgers, or Jucy Lucy Burgers, or Juicy Cheddar stuffed burgers, depending on who is serving it. "A what?!?" was our immediate reaction.
Watch the video for making the Juicy Lucy Burgers: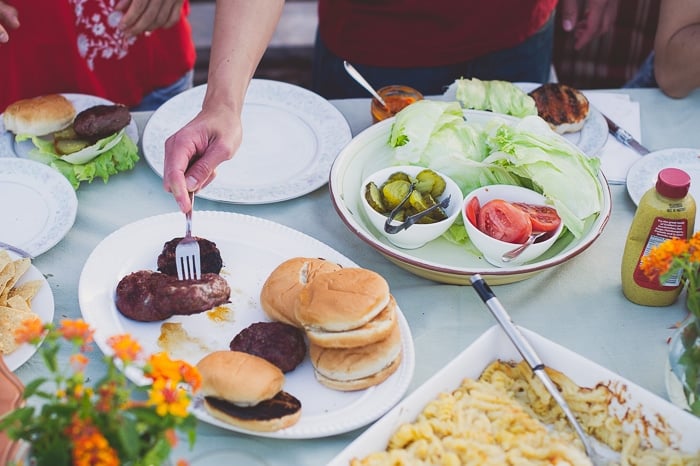 It was described as the twin cities culinary claim to fame. A juicy lucy burger which has the cheese stuffed inside of then then cooked up, encompassing a molten lava of melted cheese. When you first bite into the juicy patty, the deliciousness of the inner melted cheese siren calls you past the fear of fuzzy tongue and you plunge head first into a great, oozy, juicy burger.
Um, heck yes. Obviously, or else we wouldn't be telling this story, we hunted down one of best spots to try them, waited in line, got a seat, and upon eating were rocked by the Juicy Lucy. I've dreamt about this burger since then. Yet some how in a fit of early brain degeneration, we didn't ever think of making them at home. One thought comes to mind, "well that was stupid."
These are only one of the most amazing ways to have a burger. So this grilling season, the reminiscence of the Juicy Lucy has sprung to mind and we've gotten wiser in our old age. Juicy Lucy's are now blessing our grills and finding their way to our friends and families buns.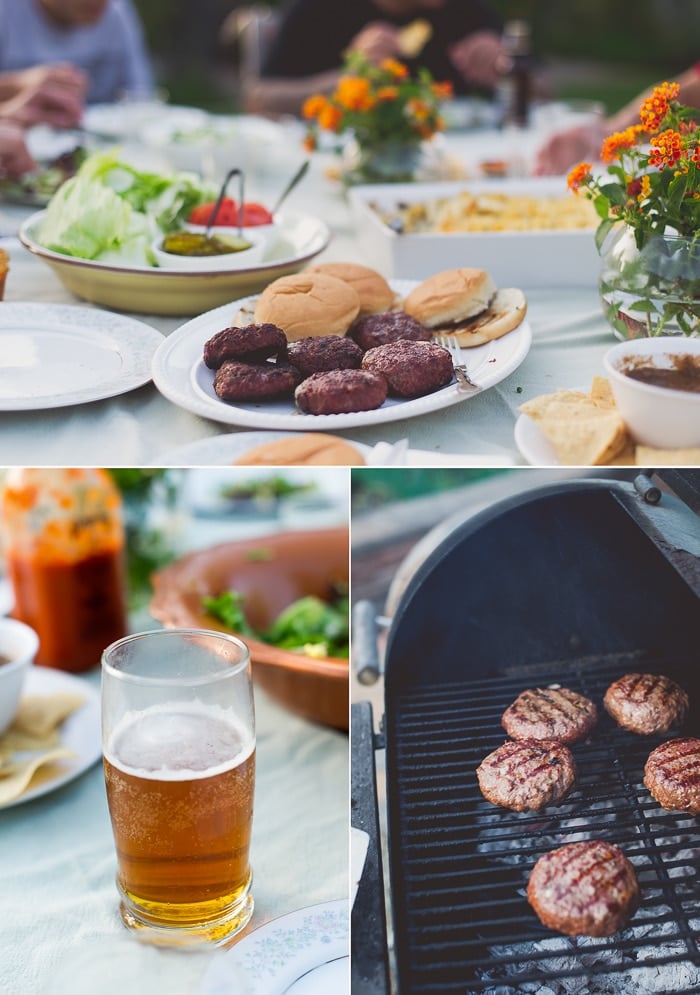 I must say, they are even better than what we remember. Maybe it is because we are using our umami burger recipe as the base for the patties, or maybe it is just the magic of friends, family and the garden. Either way, the burgers were a hit with everyone at the table for our Juicy Lucy party. For some, it was hard to just eat one burger and after the second one, we had to coax everyone to get out of their chairz and walk a few rounds around the garden to aid in digestion. The brisk walks helped, a little.
It was awesome to see at the party everyone's excitement over the fact that there's melted cheese in the middle of the burger. Biting into a fat burger that's oozing with hidden, melted cheese, that's exciting. The calorie and carb count on these burgers didn't see to phase anyone from eating their second burger. When you get together a group of people who are excited about food, particularly burgers, there's just no end to the fun conversations throughout the night.
The juicy lucy party was a hit and it's not going to be our last. With Summer on the cusp, burger parties like these are a staple to the warm weather. That's what Summer is all about: bbq, burgers, beer and lots of great friends to devour it all with.
-Todd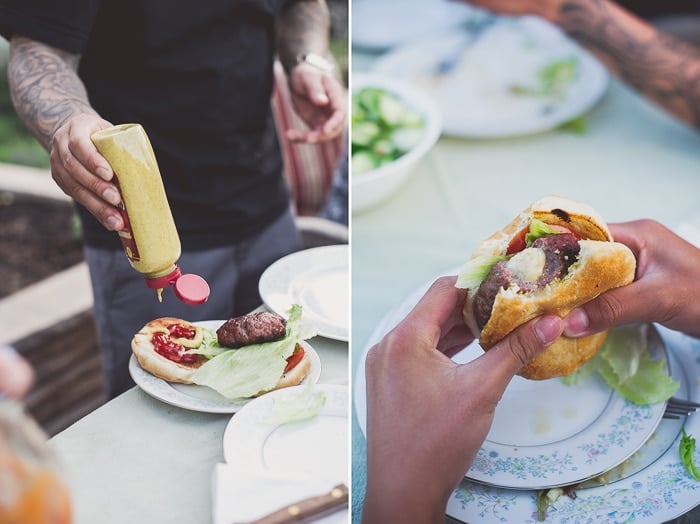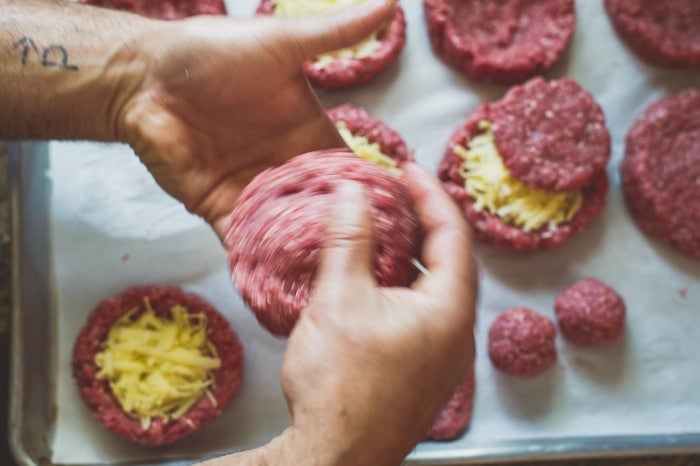 ready for the grill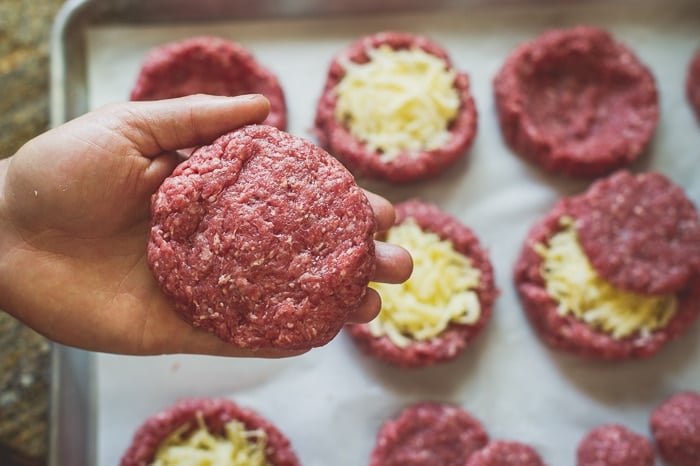 cooked to perfection
Check out a Few of our Favorite BBQs & Tools:
Some tools, grills, and smokers make BBQ and grilling all the more enjoyable. Here's some of the favorites: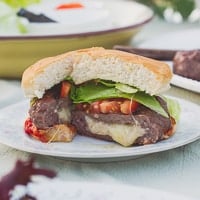 Juicy Lucy Burger Recipe - with an Umami Burger Base
Choose what ever cheese you like. We grated the cheese because it'll melt better, especially if you like your burger medium/rare or rare. If you don't cook your patty for long, the cheese will at least be melted. If you like your patties well done, then slicing the cheese will melt well. !! Warning, the cheese will be like molten lava just after the burgers have finished cooking. Eat with caution.
Ingredients
2 lbs. (907 g) ground Beef
1 Tablespoon (15 ml) Fish Sauce or Worcestershire sauce (don't be afraid of the fish sauce, it's awesome!)
2 cloves (2 cloves) Garlic , minced
fresh cracked Black Pepper , to taste
1 teaspoon (5 ml) Sugar
1/2 lb. (227 g) grated Aged or Regular Cheddar Cheese or cheese of your choice (traditionally it's made with American cheese)
6-8 (6) Hamburger Buns
condiments of choice
Instructions
Combine the ground beef, fish sauce (or Worcestershire sauce), garlic, pepper, and sugar in a bowl. Mix together well.

Roll the beef into 6-8 balls. Split each beef ball in half and flatten out to your preferred patty size. Place about 2-3 tablespoons cheese in the center of one patty, then top with the other patty and seal the edges by pinching and smoothing with your fingers.

Gently press flat, double checking there are no opening for the cheese to escape when the burgers cook.

Cook on a grill or skillet over medium high heat (usually about 3 minutes per side). Toast the buns and serve with your desired condiments.
Nutrition Information per Serving
Calories: 991kcal, Carbohydrates: 34g, Protein: 59g, Fat: 66g, Saturated Fat: 29g, Cholesterol: 220mg, Sodium: 1180mg, Potassium: 762mg, Fiber: 1g, Sugar: 5g, Vitamin A: 570IU, Vitamin C: 1.3mg, Calcium: 564mg, Iron: 7mg
We are a participant in the Amazon Services LLC Associates Program, an affiliate advertising program designed to provide a means for us to earn fees by linking to Amazon.com and affiliated sites.