Corn Fritters and Cooking Together for the First Time
This delicious corn fritters recipe is a family favorite and easy to make. Sweet Summer corn is perfect for these corn fritters.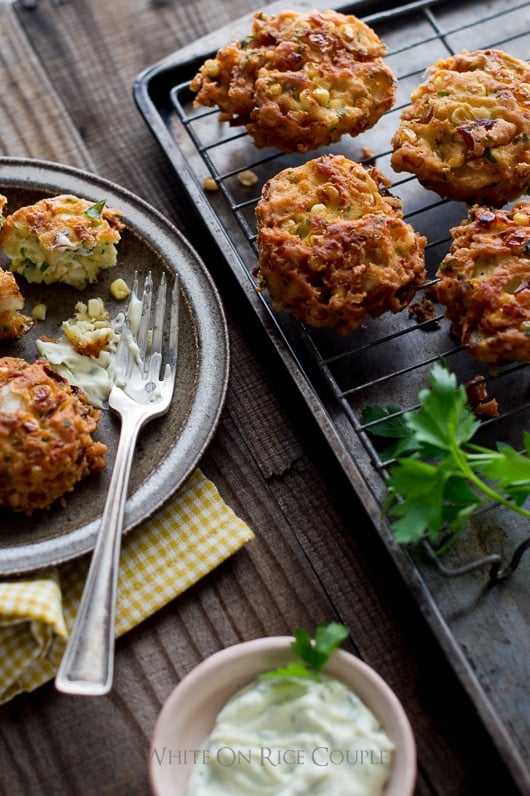 Gosh, it's been over 21 years of being together and cooking together. When we think of the numbers, it seems like long ago but then again it doesn't. Time flies and when we look back at some of our first moments together in photographs, time definitely shows how much we've aged. But the memories together in the kitchen seem like just yesterday and so does this sweet corn fritters recipe. It's one of the first meals we cooked together back in 1996 for a number of reasons. Corn is inexpensive and it was easy to make. Easy, cheap meals fit our budget perfectly and filled our bellies with nourishment.
Video: Fresh Corn Fritters Recipe
These are Great Appetizers
This great appetizer brings back some really awesome memories for sure. We came back from a long day of hiking and wanted something vegetarian because way back then, Diane was a veg-head. Yup, even though Todd grew up on a cattle ranch and loved his steaks and Diane was a tofu-eating veggie, we always loved cooking with each other. That's another long story we'll have to share. Anyways, we spent the early part of the evening making a fun little mess in the kitchen. What what we ended up making was such a huge batch of these sweet corn fritters that we saved them for sandwiches over the next few days. We adored our leftover corn fritter sandwiches with a generous swipe of mayo, thick slice of tomato and layer of lettuce. It was the best sandwich to take a long hike and we definitely devoured these sandwiches on a number of outdoor occasions.
To this day, it's still one of our favorite ways to savor sweet Summer corn as a finger food or party snack. We'll dip these amazing nuggets into all types of sauces like our homemade barbecue sauce, a quick aioli, or we'll make a blue cheese buttermilk dip. It's such a great bite that celebrates Summer corn bounty and brings back fun memories on why we love cooking and eating together so much. We love these so much it was one of the recipes we had to include in our cookbook, Bountiful. Hope you enjoy this sweet corn fritters recipe as much as we do.
Happy Summer!
-diane and todd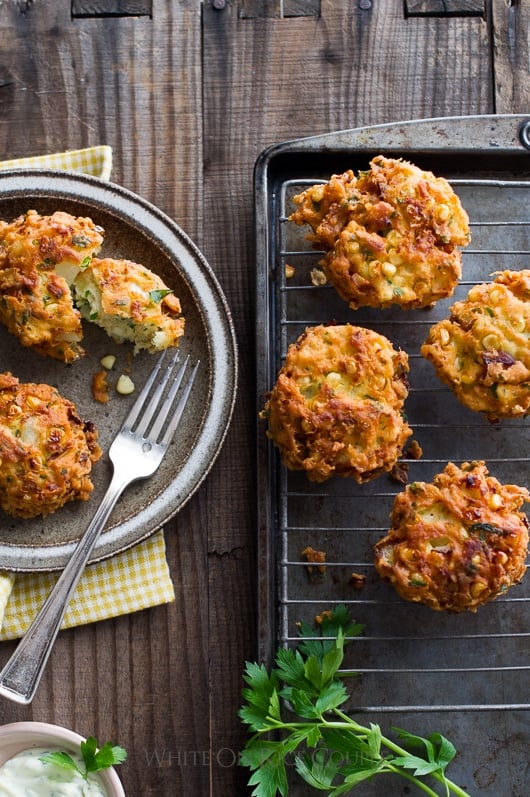 This recipe was originally published in 2017 and re-published in 2018 with a scrumptious new video and updated recipe format.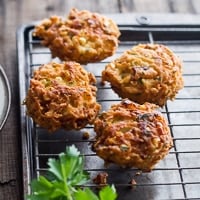 Sweet Corn Fritters
This appetizer brings back some great memories because it was one of the very first meals we cooked together was these crispy corn fritters. We spent the early part of the evening making a fun little mess in the kitchen and with such a huge batch, we saved them for sandwiches over the next few days. NOTE: You will need a splatter screen to cover the pan while frying. The corn will pop in the hot oil!

Ingredients
3 cups (460 g) fresh Corn Kernels (from about 3 ears)
1 (1 ) medium Sweet Onion , about 1/2 pound / 225g, diced
4 cloves (4 cloves) Garlic , crushed or minced
1/2 cup (30 g) roughly chopped fresh Flat-Leaf Parsley
3 Tablespoons (45 g) unsalted Butter , melted
1 1/2 teaspoons (7.5 ml) Baking Powder
1/2 teaspoon (2.5 ml) Kosher Salt
1/2 teaspoon (2.5 ml) Black Pepper , if possible
4 (4 ) Eggs
1/4 cup (60 ml) Milk
1 1/4 cups (155 g) Flour
Vegetable Oil , for frying
Instructions
In a large bowl, mix together the corn, onion, garlic, parsley, butter, baking powder, salt, and pepper.Add the eggs and milk. Stir until well combined. Mix in the flour.

In a large sauté pan, heat 1/2 inch of oil over medium heat. When hot (about 350°F) drop spoonfuls of batter into the oil then then press to flatten the tops and form a patty. Do not crowd the pan. Cover the pan with a splatter screen. If the oil is too hot, it will cause the corn to pop, splattering hot oil. Cook for 2 minutes on each side, or until golden. Drain the fritters on paper towels.

Repeat with the rest of the batter, adding more oil if necessary. When adding oil between batches, make sure it comes up to temperature before cooking more fritters. Also, be sure to scoop out stray corn kernels between batches of fritters. The strays will overheat and pop, splattering hot oil.Serve warm, with your preferred dipping sauce.
Nutrition Information
Calories: 94kcal, Carbohydrates: 13g, Protein: 3g, Fat: 3g, Saturated Fat: 1g, Cholesterol: 41mg, Sodium: 87mg, Potassium: 164mg, Sugar: 2g, Vitamin A: 305IU, Vitamin C: 5mg, Calcium: 33mg, Iron: 0.9mg
We are a participant in the Amazon Services LLC Associates Program, an affiliate advertising program designed to provide a means for us to earn fees by linking to Amazon.com and affiliated sites.