Braised Pork Chops in mike's Hard Chilled Cherry Lemonade with Fennel and Shallots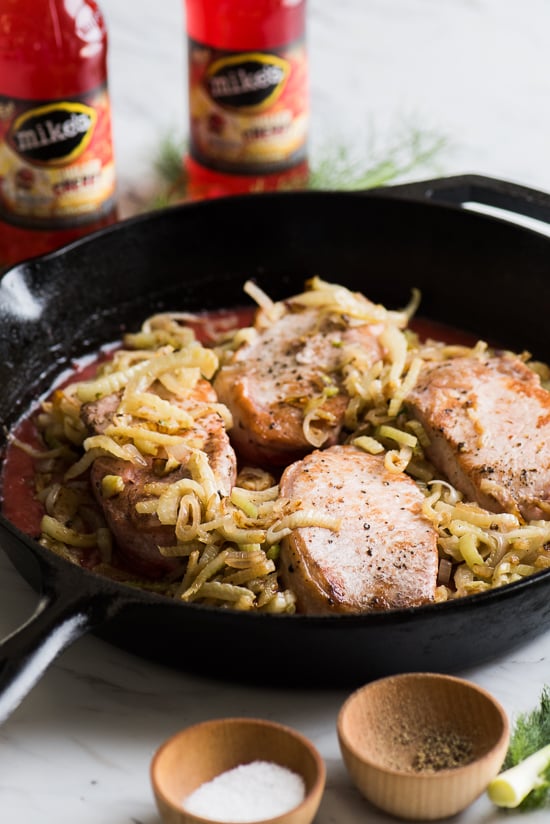 Sometimes there can definitely be too much of a good thing because we can't get enough of cherries. The cherry season is over (boo), but the craving for cherry flavor still lingers well into Fall. Cherries are great to eat when they're fresh and when we're cooking, frozen cherries are fantastic as an alternative. Now there's a new flavor of mike's hard lemonade that's super cherry flavorful in every sip and that's their chilled cherry lemonade.
Tis the season for Sunday football and game day eats. Normally chicken wings and beer have been our go-tos. However we've been wanting to mix things up a bit so we've been replacing beer with mike's hard chilled cherry lemonade. Pork and the fruity flavors of cherry also pair super well together, so we asked ourselves, what if we braised our pork chops with mike's chilled cherry lemonade instead of beer? We still have so many of the same features as beer, but instead, this fruity cherry combination with pork has always been a popular favorite.
mike's new chilled cherry flavor for cherry fans
The all natural ingredients in all of mike's hard lemonade flavors really shine though, especially in this chilled cherry lemonade. The slow braise of the seared pork in the hard cherry smells amazing. Besides, we've always been a fan of pairing our pork with sweeter fruit chutneys and fruit side dishes. Cherry and pork are perfect together. Also, don't forget the sauce!
Everything happens in the same pan! Carmelize the fennel & shallots, then sear the pork, add mike's chilled cherry hard lemonade, braise on low heat, make the sauce and then add everything back into the same pan. Voila! A one-pot skillet wonder-meal for all pork chop lovers.
After the mike's chilled cherry hard lemonade liquid reduced down once the pork was braised in it, we made it into a sauce and it was fantastic. Just keep whisking in some flour until the liquid thickens and you have a cherry sauce to make everyone go wow with every bite. The easiest way to keep the sauce from getting lumpy is to first whisk in about a 1/4 cup of the braising liquid into the flour until smooth, then add that slurry back into the remaining sauce. Whisk it up and cook for a bit more until it thickens to your desired texture.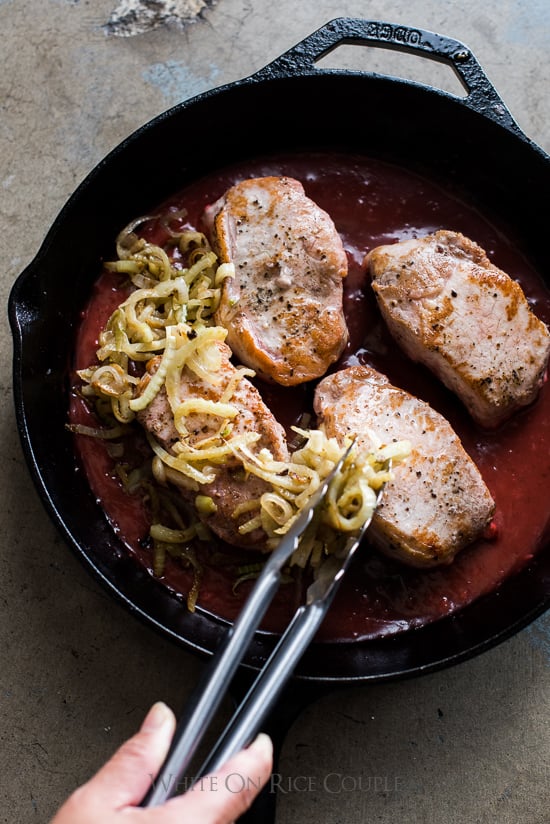 Over the past few months we've been working with mike's hard lemonade to create recipes beyond just the glass and it's been such a fun learning experience. Beer is always a popular braising liquid for cooking and when we think beyond beer, all of mike's hard lemonades are the perfect alternative. Why not? Because all the wonderful fruit flavors provide limitless possibilities for cooking and not just for drinking.
For as long as we can remember when we were having big food parties, we've always enjoyed providing mike's hard lemonades because there's always someone who doesn't drink wine nor beer. All of mike's collection of fruity flavors have fans at our gatherings and now it's even more fun because we're cooking with a beverage that we love so it's a double win-win of flavors!
Enjoy.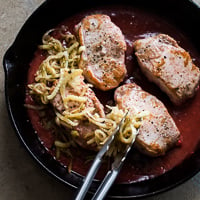 Braised Pork Chops in Hard Cherry Lemonade with Fennel and Shallots
Cooking time will vary depending on how thick your pork chops are.
Ingredients
2 tablespoons (30ml) olive oil, divided
2 large shallots , sliced
2 medium fennel bulbs , sliced
4 thick-cut pork loin chops
1/4 teaspoon kosher salt , or to taste
1/4 teaspoon fresh cracked black pepper , or to taste
1 bottle (11.2 fl. oz.) mike's hard chilled cherry lemonade
1-1/2 tablespoons (22ml) all-purpose flour
Instructions
Heat skillet, then add 1 tablespoon oil over medium-high heat. Add shallots and fennel. Cook until softened and slightly brown. Remove shallots and fennels from skillet and set aside.

Season both sides of the pork chops with salt and pepper. In the same skillet, heat remaining 1 tablespoon oil over medium-high heat. Add pork chops and sear both sides until golden brown, about 2-3 minutes on each side. Slowly pour mike's hard chilled cherry lemonade into the pan with pork. Heat to a simmer, then reduce heat to low. Add shallots and fennel bulb back into the pan.

Cover and braise on low heat for about 15-20 or until pork is tender and cooked through. Remove the pork, shallots and fennel from skillet, keep the juices in the pan to make the sauce.

In bowl, whisk together flour and about 1/4 cup of the juices from the skillet. Pour the flour/juice mixture back into the skillet; cook over medium heat, stirring constantly with whisk, until sauce is thickened a bit and bubbly. Add the pork chops back into the pan. Season with additional salt and pepper, to taste.

Add the shallots and fennel back into the pan with pork chops. Serve warm.
We are a participant in the Amazon Services LLC Associates Program, an affiliate advertising program designed to provide a means for us to earn fees by linking to Amazon.com and affiliated sites.