Crispy Curry Chicken Wings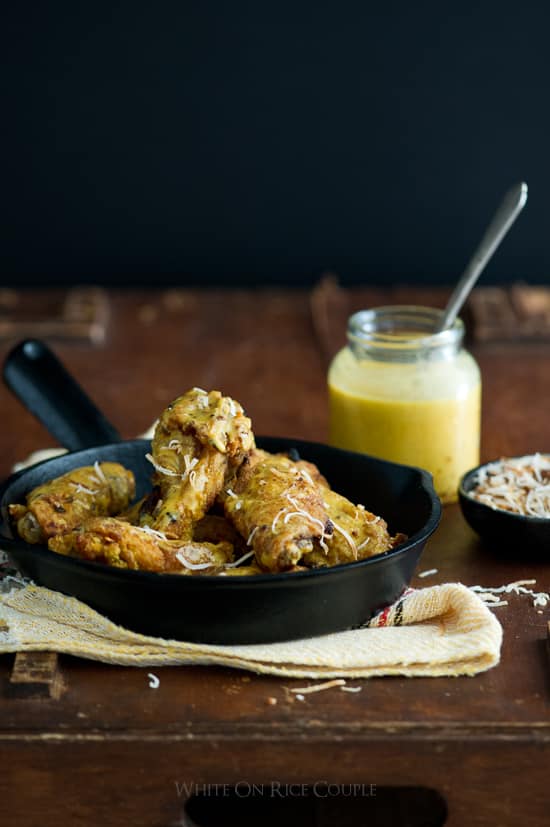 Curry Chicken Wings Recipe
Summer Gatherings. Visiting family and friends. Thanksgiving. Post-Thanksgiving stupor. Holiday parties. Travel. Shopping. Gift-giving cooking. Post office purgatory. Christmas. New Years. Bowl game parties. NFL game gatherings. With all of this thrown on top of everyday life, as the cooks in our clans it isn't surprising most of us feel like we just got Gronked.
Yet most of us wouldn't trade it for the world. For some, cooking in the kitchen is a chore, yet for most of us, it is one of the best places in the world. A place where we pour our hearts and souls into the food to bring a smile to those we love.
Diane and I have been hosting gatherings for as long as we've been together (over 23 years). Starting as two crazy kids who loved to cook combined with a couple roommates who loved to eat. We can still remember many of our first gatherings. Cooking for 8 would take us a week of prep and cooking.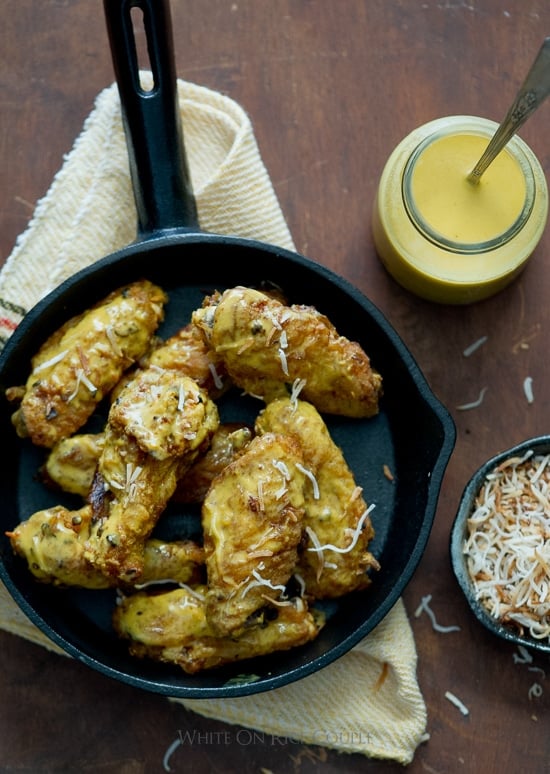 Great Curry Flavors
Today we've become much more proficient. A gathering of 40 can be done in a day or two. We'll still start about a week ahead planning the menu, but the actual cooking (sans minor mis en place prep) has been streamlined for efficiency.
A big part of the planning lies in dish selection. What is going to take time to cook when everyone is already here? Does it have a complicated prep? Is it possible to be made ahead?
A complicated or time-killing dish isn't necessarily better tasting than a quick dish. If there is already one dish you must have which takes a lot of prep time, eliminate others which will compete for that time. There needs to be several quick, easy, and delicious dishes at your disposal.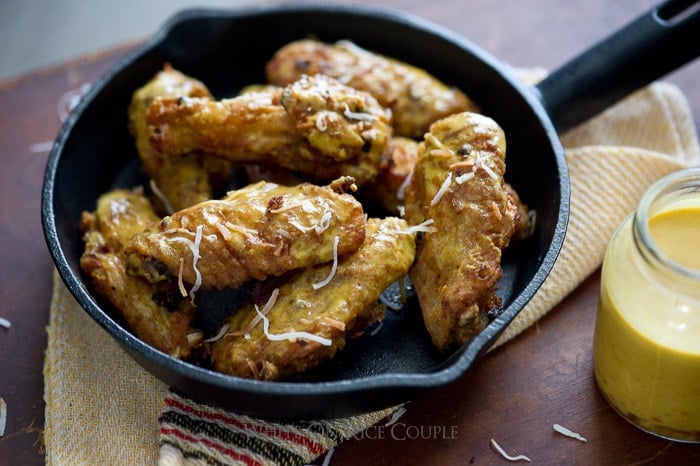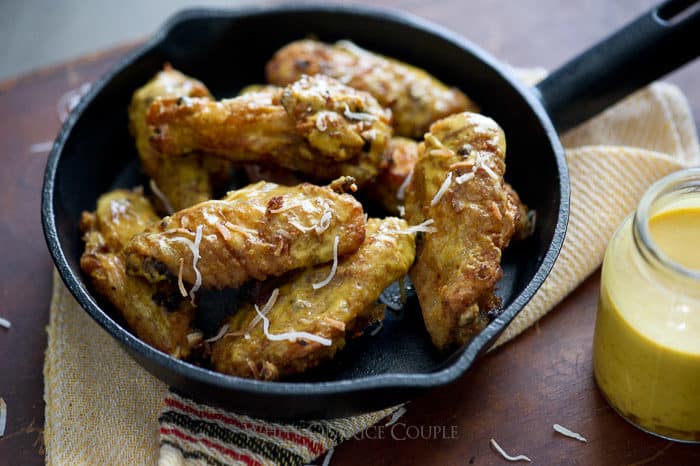 Chicken wings fill that need for us time and again. They can be quickly prepped. Mass baked on sheet pans, evenly gently kept warm or re-heated if you need to bake them ahead of time, then tossed in their final sauce when ready to serve. And few things go better with beer and football than chicken wings.
This is our latest favorite, basically taking the sauce we used for the curried smashed potatoes and tossing it with the wings. Which is also another party short-cut. One sauce, two distinct dishes. You can also easily sub in your favorite sauce instead of the curry if you have a more conservative group you are feeding. Here's our other chicken wing recipes for ideas or you can always serve them with a side of or tossed in a home-made Sriracha style sauce:
-Todd
Here's all our Chicken Wings Recipes if you're hungry for more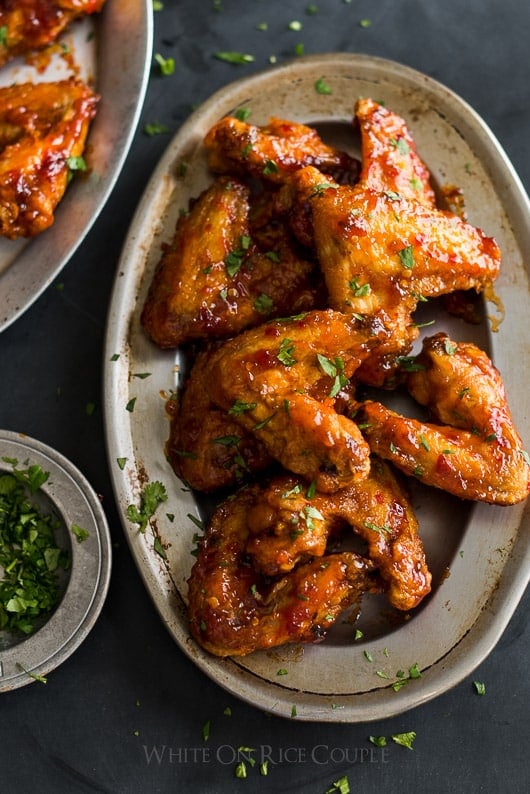 This curry chicken wings recipe was originally published in 2011 and was updated in 2019.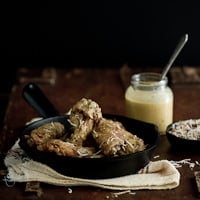 Crispy Curry-Spiced Chicken Wings Recipe
Chicken wings can be prepared in different ways to achieve their crispness: fried or baked, with flour or not. To make them extra crisp, you can pre-poach (or pre-boil) them first to render off any excess fat. Visit this write up on different ways to prepare chicken wings. This recipe shows a baked technique, but you can certainly fry the wings to make them crispy.
Ingredients
Chicken Wings
2 lbs (907 g) Chicken Wings , rinsed & patted dry
kosher salt , to taste
black pepper , to taste
Instructions
Preheat oven to 425°F. Line a baking sheet pan with parchment paper.

On prepared baking sheet pan, spread chicken wings out in one even layer (we don't coat our wings with oil before baking, but you can if you want. We find that the oil just makes the wings greasier. The wings release enough fat already). Season chicken wings with salt and pepper.

Bake for about 45-50 minutes until golden brown, flipping the wings halfway through baking, after the first 25 minutes or so.

While wings bake, make curry sauce. Combine coconut milk, curry powder, honey, fish sauce, and chili garlic sauce in a medium saucepan. Simmer over low heat for 5 minutes or until it thickens to a bit.

In a large bowl, toss wings with curry sauce and serve immediately.
Notes
Crispy Wing Alternate Cooking Methods
Traditional Fry in Oil (uses about 1/2-3/4 cup of cornstarch to coat wings).
Toss the wings in cornstarch to coat, shaking off excess cornstarch.
Heat about 2-inches of oil in a large pot to 375°F. Fry in batches for about 8 minutes per batch, or until golden and cooked through. Make sure to turn the wings a couple times while cooking so they cook evenly. Season with salt & pepper.
Air Fryer Chicken Wings
(here's our favorite
Air Fryer
)
Season wings with salt & pepper.
Air Fry at 400°F for 25-30 minutes, flipping 2-3 times while cooking.
Toss with a little sauce, and then air fry for another 2-4 minutes. Different models and sizes of air fryers cook quicker than others. So adjust times accordingly.
Nutrition Information
Calories: 276kcal, Carbohydrates: 6g, Protein: 16g, Fat: 21g, Saturated Fat: 11g, Trans Fat: 1g, Cholesterol: 63mg, Sodium: 383mg, Potassium: 256mg, Fiber: 1g, Sugar: 3g, Vitamin A: 142IU, Vitamin C: 1mg, Calcium: 29mg, Iron: 3mg
We are a participant in the Amazon Services LLC Associates Program, an affiliate advertising program designed to provide a means for us to earn fees by linking to Amazon.com and affiliated sites.