Hard Lemonade Pulled Pork Sliders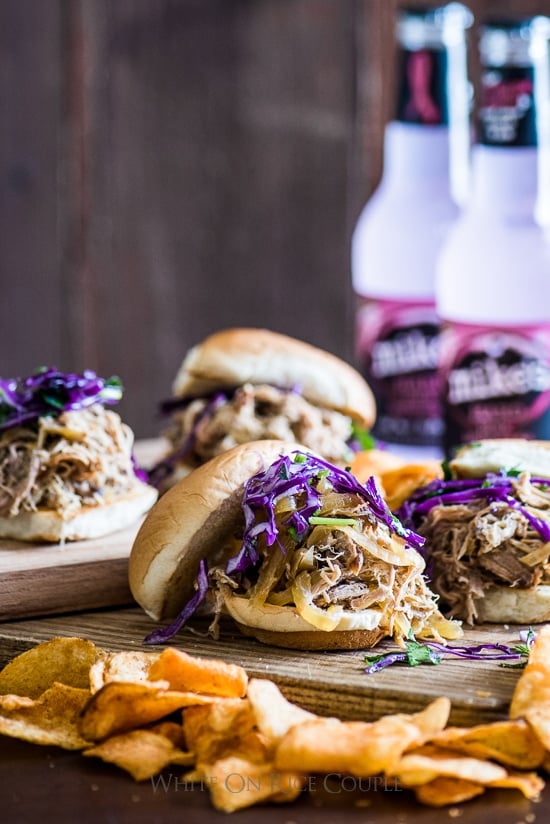 The color pink is pretty powerful and regardless of what your favorite color is, we all have more in common with pink than we realize. The pink ribbon symbolizes breast cancer awareness and with a breast cancer survivor in our own family, this movement hits very close to home.
We've always enjoyed mike's hard lemonade and shared recipes along with pairing inspiration previously on our blog. Now that they have a pink lemonade and a pink ribbon on the bottle to support this cause, it's appropriate that we celebrate with a fun new recipe with their delicious pink drink!
mike's has a wonderful partnership with the Breast Cancer Research Foundation (BCRF). All of mike's donations for breast cancer goes to the Breast Cancer Research Foundation (BCRF). To date mike's has donated more than $2 million to support BCRF's research efforts, and is in its sixth consecutive year of being involved and donating. Each Pink Lemonade bottle displays a pink ribbon on the label.
So to celebrate pink all around, we've created a slow cooker pulled pork slider using mike's hard pink lemonade. We figured if beer is a popular ingredient so many meat recipes, then mike's hard pink lemonade would be a perfect substitute. The bright citrus flavors pair perfectly with the pork.
party for a big crowd!
In fact, all of mike's refreshing flavors work well with this recipe. The natural fruity flavor truly comes through on their whole collection of flavors because of their use of high quality and natural ingredients. We're discovering all the potential culinary uses of mike's hard lemonade in the our cooking. And of course, it doesn't hurt to pop open a bottle or can to wash down all this wonderful food. This is a drink that is year round, but also perfect for not just outdoor but indoor gatherings. Best of all, there's so many flavors, it's hard to decide which one we're going to serve.
The crunchy, cool shredded cabbage is the perfect balance to the savory and tender pulled pork sliders. You can amp-up your sliders with what ever condiments you want: shredded cheese, jalapeños, hot sauce or even BBQ sauce. The possibilities are endless. As we enter this Fall season, it's the perfect time to whip out the slow cooker and start cooking up a storm.
Enjoy!
Diane and Todd
Our Favorite Cookers:
Whether you prefer a slow cooker, pressure cooker, or a multi-cooker, these kitchen counter appliances help make dinner a little easier for the busy household:
The Crockpot 6qt. Slow Cooker
– The original slow cooker. On this on the lid locks down which is great for transporting to potlucks and such. Simple, inexpensive and reliable.
Instant Pot Multi-use Pressure Cooker
– It has cult-like following for a reason. It's a pressure cooker and so much more. Pressure Cooker, Slow Cooker, Rice Cooker, Steamer, Sauté, & Yogurt Maker. It's awesome! If you want a pressure cooker that has a few more bells and whistles (like hands free steam release), this
Breville Pressure Cooker
is also great.
Cuisinart Multi-Cooker
– If pressure cooking is a not your thing but want a bit more than just a slow cooker, this multi-cooker is perfect for you. It can Sauté, Steam, and Slow Cook. Perfect to create those one pot meals.
This is a sponsored recipe story and all opinions are our own. We enjoy sharing things we enjoy and thanks for being part of our food obsession!
Slow-cooker Pulled Pork with mike's hard pink lemonade
Just about any of the mike's hard lemonades will work great in this recipe. Don't forget to buy extra to enjoy while you cook!
Ingredients
INGREDIENTS for the pork:
4 lbs. (1.8kg) boneless pork shoulder or pork butt
3 Tablespoons (45ml) brown sugar
1 Tablespoon (15ml) kosher salt, or to taste
2 teaspoons (10ml) smoked paprika
1/2 teaspoon fresh cracked black pepper
2 Tablespoons (30ml) olive oil
1 large onion , sliced thin
3 cloves garlic , minced
1 (11.2 fl. ounce-330ml) bottle mike's hard pink lemonade
For the slider assembly:
slider buns
shredded cabbage
shredded cheese
Jalapeños
hot sauce
BBQ sauce
Instructions
Rinse and pat dry the pork. In a bowl, combine brown sugar, salt, smoked paprika, and black pepper. Rub spice mixture over all sides of pork. Heat large skillet on medium high heat. Add oil and sear all sides of pork, about 2 minutes on each side. Then remove pork from pan and set aside.

Layer sliced onions over the bottom of the slow cooker. Sprinkle the minced garlic on top. Place pork on top then pour mike's hard pink lemonade into the slow cooker.

Cover and cook on high for 5-6 hours on high or on low for 10-12 hours. Cooking times will vary depending on the size and power of your slow cooker. If cooking on high, flip the pork halfway through cooking so the pork will be cooked evenly all the way through. When the pork is super tender and falls apart when shredded with a fork, then you know it's perfect!

There will be lots of pork juices in the slow cooker. You can either drain some of it first before you shred, or you can shred the pork in the juices first so the pork can soak up the moisture and then remove any excess.
We are a participant in the Amazon Services LLC Associates Program, an affiliate advertising program designed to provide a means for us to earn fees by linking to Amazon.com and affiliated sites.