Fish Sauce Chicken Wings
This Asian chicken wings recipe is a personal and reader favorite. These sticky fish sauce chicken wings are delicious and can also be made with soy sauce instead of fish sauce. But the fish sauce makes these taste better! Asian fish sauce wings are an umami blast and wonderful if you love lots of flavor on your wings.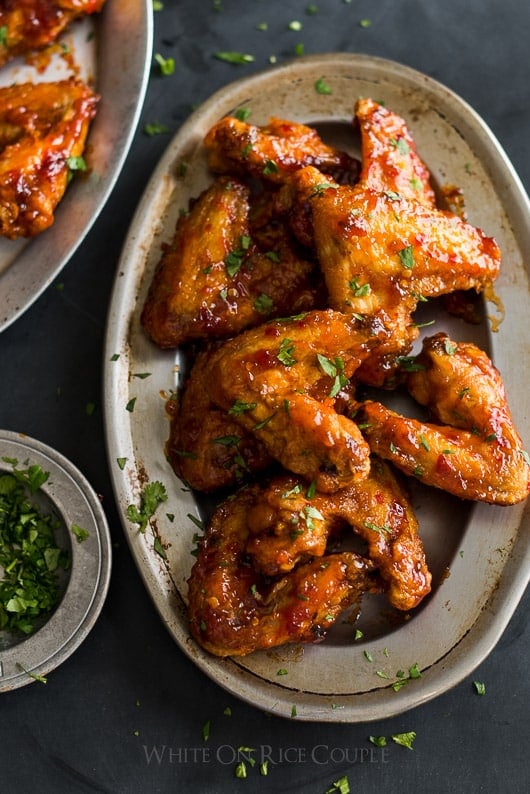 Discovery of these flavorful wings
If you love chicken wings, but you're not a fan of fish sauce, please wait. Don't turn away just yet. Give us a chance to make our case, hopefully to get yourself to the kitchen to make a batch!
A few years ago our photographer friend Lara Ferroni met up with us for lunch while we were in Portland. She suggested one of her favorites, Pok Pok. When there we ordered the Vietnamese fish sauce chicken wings and our minds were blown at how much more delicious Asian chicken wings can taste. The intense flavors of the fish sauce really came through, balanced with the sweet and garlic layers. We've always been hugs fans of fish sauce and devouring this platter of Vietnamese fish sauce wings in 2 minutes flat meant that they were DELICIOUS.
Since then, we created our own version to add to our chicken wing obsession. Over the years, we've created many chicken wing recipes with fish sauce, but none that was intense enough with fish sauce flavor. And this new recipe is inspired from those amazing fish sauce chicken wings from Pok Pok.
Video: Asian Chicken Wings Recipe with Fish Sauce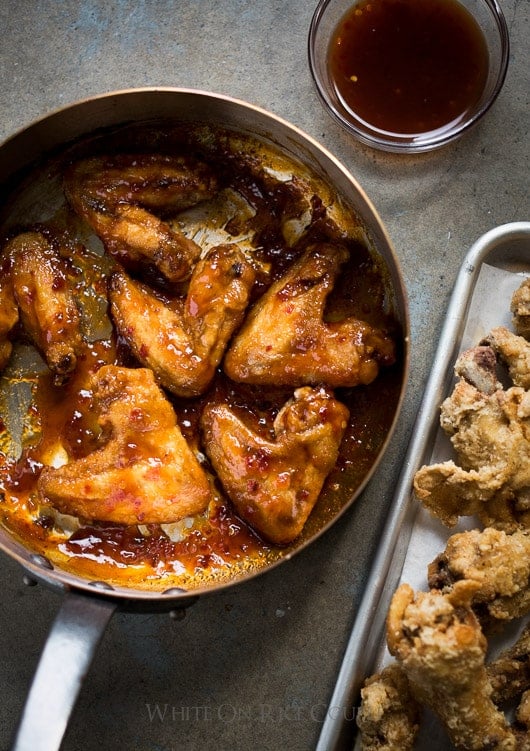 Fish Sauce Chicken Wings are So Good.
What makes our fish sauce chicken wings so different is that they're really sticky, the type that leaves you licking your fingers and asking for extra napkins. But what makes them special to our taste is that we've added just a little less fish sauce so that it's not so salty and have added some layers of fresh lime juice, vinegar and honey for sticky sweetness. And we didn't add garlic. Why no garlic? because there's so much flavor in this, we don't need it. Well, not exactly. There is the chili garlic sauce we added for a touch of kick and the garlic in one shot. All the flavors of everything come through beautifully in this Asian Chicken Wings Recipe.
What If You Want To Use Soy Sauce? Other Additions?
Sure, soy sauce will work great too. But if you're still a little cautious, try a version of half fish sauce, half soy sauce. These are still flavorful without the commitment to fish sauce if you're hot ready. Sesame oil is a nice nutty addition so you can try some sesame oil too. Serving these with a platter of pickles, sliced cucumber, radishes or celery is a great way to balance out the salty flavors.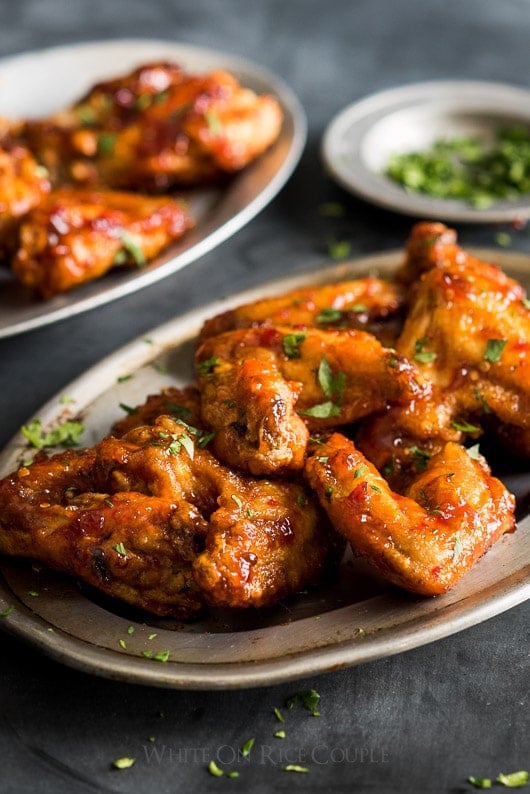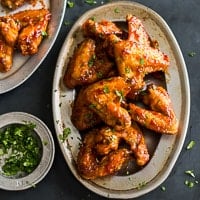 Sticky Asian Fish Sauce Chicken Wings
Chicken wings can be prepared in different ways to achieve their crispness: fried or baked, with flour or not. Visit this write up on different ways to prepare chicken wings. This recipe shows a baked technique, but you can certainly fry them in oil or air fry them for a crispier wing.
Ingredients
Chicken wing ingredients
2 pounds chicken wings (910g) , rinsed and patted dry
kosher salt , to taste
fresh cracked black pepper , to taste
Sticky fish sauce ingredients
1/4 cup ketchup (60ml)
1/4 cup honey (60ml)
2 Tablespoons fish sauce (30ml)
1 1/2 Tablespoons chili garlic sauce (22ml)
1 Tablespoon fresh lime juice (15ml)
1 teaspoon rice vinegar (5ml)
optional , chopped cilantro to garnish
Instructions
Cook the Wings: Preheat oven to 425° F. Line a baking sheet pan with parchment paper.

On prepared baking sheet pan, spread chicken wings out in one even layer (we don't coat our wings with oil before baking, but you can if you want. We find that the oil just makes the wings greasier. The wings release enough fat already). Season chicken wings with salt and pepper.

Bake for about 45-50 minutes until golden brown, flipping the wings halfway through baking, after the first 25 minutes or so.

Make the Sauce: While the wings cook, make the sauce. Combine all of the sauce ingredients (ketchup, honey, fish sauce, chili garlic sauce, lime juice, and rice vinegar).

Heat a large skillet over medium-high heat. Add the sauce and the cooked wings and toss to coat. Cook for about 1 minute or until the sauce thickens and becomes sticky.

Serve hot garnished with chopped cilantro if desired.
Notes
Crispy Wing Alternate Cooking Methods
Traditional Fry in Oil (uses about 1/2-3/4 cup of cornstarch to coat wings).
Toss the wings in cornstarch to coat, shaking off excess cornstarch.
Heat about 2-inches of oil in a large pot to 375°F. Fry in batches for about 8 minutes per batch, or until golden and cooked through. Make sure to turn the wings a couple times while cooking so they cook evenly. Season with salt & pepper.
Air Fryer Chicken Wings
(here's our favorite
Air Fryer
)
Season wings with salt & pepper.
Air Fry at 400°F for 25-30 minutes, flipping 2-3 times while cooking.
Toss with a little sauce, and then air fry for another 4 minutes. Different models and sizes of air fryers cook quicker than others. So adjust times accordingly.
Nutrition Information per Serving
Calories: 243kcal, Carbohydrates: 16g, Protein: 15g, Fat: 13g, Saturated Fat: 4g, Trans Fat: 1g, Cholesterol: 63mg, Sodium: 831mg, Potassium: 186mg, Fiber: 1g, Sugar: 15g, Vitamin A: 173IU, Vitamin C: 2mg, Calcium: 15mg, Iron: 1mg
Great Party Wings
These is the perfect Asian chicken wings recipe that has just enough fish sauce flavor, but not to where it's over bearing. With the honey, fresh lime juice and vinegar, the sauce isn't all about the fish sauce. Just enough to have a salty, umami, need to eat another 3 or 4 wings kick. With a beer. Serve it to a lively group of friends at a party and everyone will ask for seconds or thirds. They're the perfect party wings for Holidays, New Years or Game Day. Give these a try!
We are a participant in the Amazon Services LLC Associates Program, an affiliate advertising program designed to provide a means for us to earn fees by linking to Amazon.com and affiliated sites.