Fluffy Japanese Cotton Cheesecake and a Tokyo Feasting Trip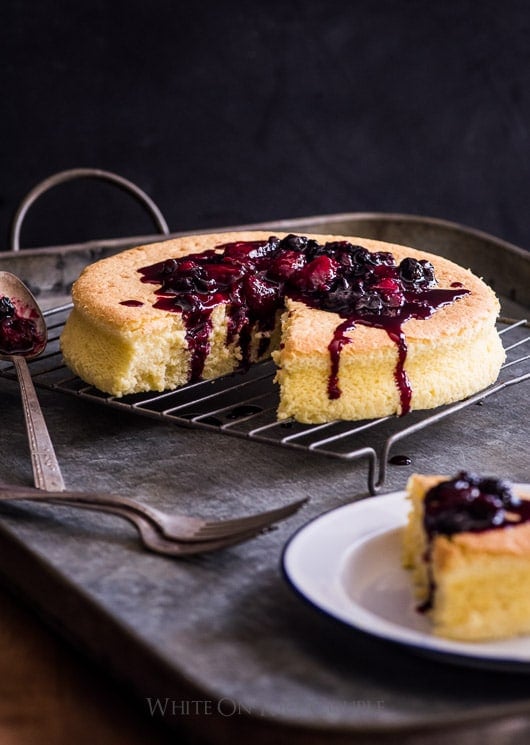 Japanese Cheesecake Recipe
Funny how when you think or visualize of something you want, it happens. Stay focused and consumed with making things happen, it'll become a reality. During the holidays we were talking about the "gut" feeling of going on a trip in early 2015. We were craving an international trip AND wanting to explore a new dessert. We're still pinching ourselves because both are happening and it doesn't get anymore real than this! Where to start to share? Well since you're gazing at these cake pictures, let's talk about cake first.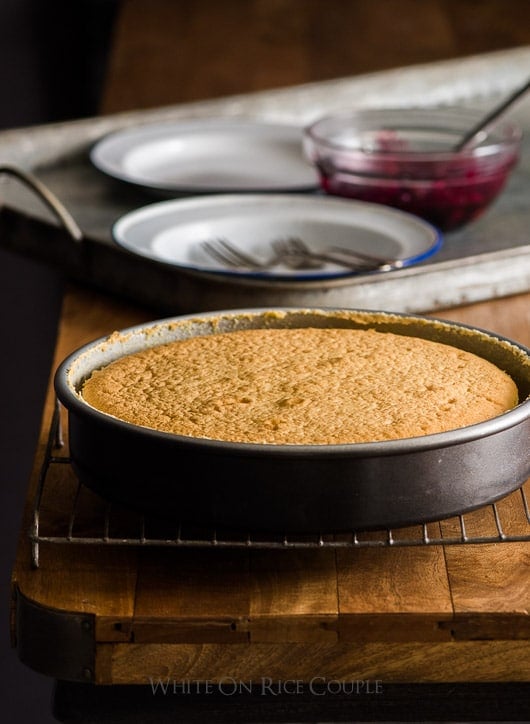 We've wanted to make this alluring Japanese cotton cheesecake for the longest time. It's been on our to-do list and finally, it happened because we're going to Tokyo! Wait, we're jumping ahead. Back to the cake.
Anyways, Japanese cotton cheesecake is not like the Western NYC cheesecake in the sense that the NYC cheesecake has a denser cream cheese center texture. Instead, Japanese cheesecake is similar to a soft sponge cake (or angel food cake) made with cream cheese, or a cakey- cheesecake that's fluffy like cotton. It's a combination of both and it's wonderfully pillowy, soft, delicately sweet and amazing. The tender crumb of the cake will just melt in your mouth. So be ready to devour 2 pieces.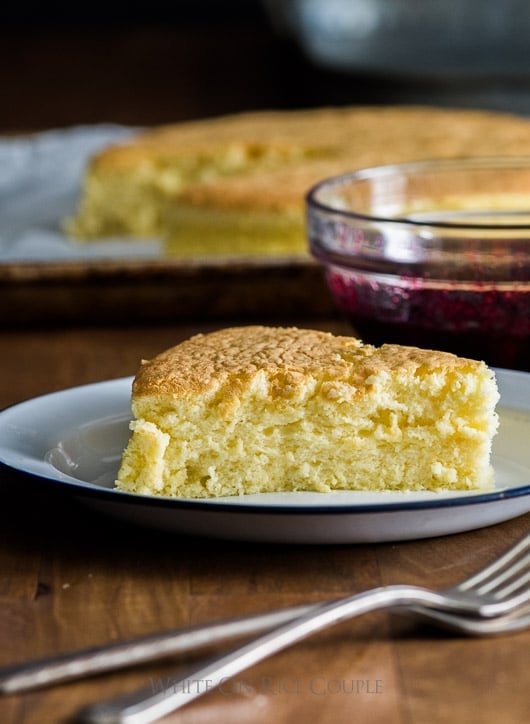 To top it off, literally, we added a layer of berry compote. After a few bites, we died! Twice! It was so good and kept asking ourselves, "where has this dessert been all our lives?"! Even without the berry compote, this cotton cheesecake is the perfect bite to start off your morning coffee or to finish off a rich meal. Seriously, if you love light sponge-cake style cheesecake, this Japanese cheesecake will rock your world.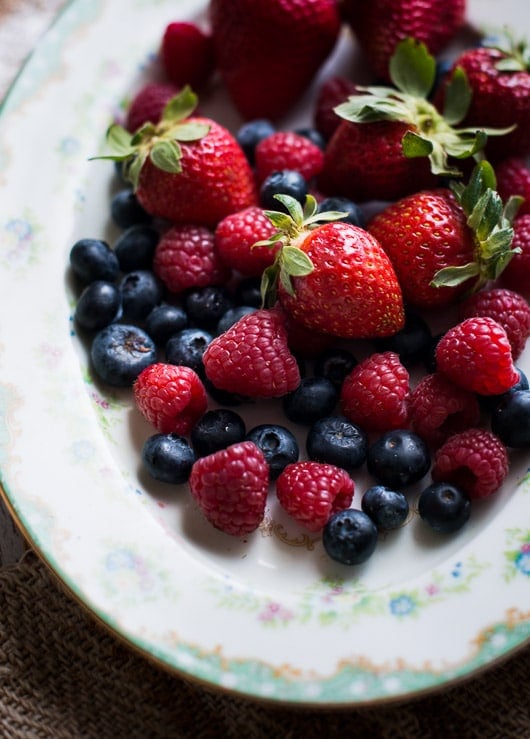 And why is making this Japanese cheesecake recipe such perfect timing? We're heading to Tokyo. In fact, as we speak, today! The lovely folks at All Nippon Airways (ANA) recently launched their "By Design" campaign highlighting their dedication to an inspired guest experience. Basically, they really pay a ton of attention to detail and thoughtfully craft every part of their travel experience, especially when it comes to their world-class-in-flight-menus, hospitality and convenient airport connections. You can learn more about their inspired guest experience here.
So when they reached out to collaborate together we definitely wanted to make it happen because on flights from Los Angeles to Japan, ANA has collaborated with the Patina Restaurant group, which is one of our clients. What a small world, to be working with awesome clients in different capacities. We knock-on-wood everyday and are so grateful to be working on projects and with people we absolutely love.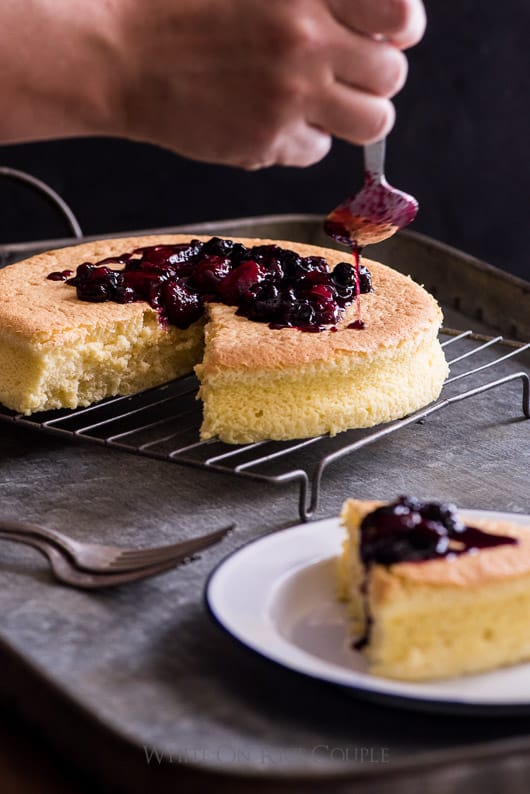 We were invited by ANA to experience and photograph Food Culture in Japan and ANA's unique in-flight menu, which includes food from our photography client, Patina Restaurants. We'll be sharing all our feasting adventures with you on-and-off the airplane over the next few weeks. Of course, you'll be seeing tons of food culture images and stories on our collaboration with ANA, so stay tuned and follow us.
In the meantime, look out for our feasting adventures on our Facebook page, our Twitter, Diane's Instagram, Todd's Instagram and the hashtag #ANAByDesign. And to top it off, ANA has created a super cool game designed to help people relax during their flight. This is perfect timing now that cell phones are allowed during take-off! We're actually looking forward to eating really REALLY GOOD airplane food and playing the game to relax. ANA is pretty amazing at taking care of their in-flight travelling guests.
Oh, the game? Again, it's an app from ANA called Take-Off and you can download and get it here.
Hope you enjoy this Japanese inspired cotton cheese cake and we'll connect again with a ton of feasting photographs and updates from Tokyo.
Bye Bye,
-Diane and Todd
We're sharing this post in partnership with ANA- All Nippon Airways, and all opinions are always our own, including the obsession with this Japanese Cotton Cheese Cake. Great collaborations and good food. We love sharing what we truly enjoy.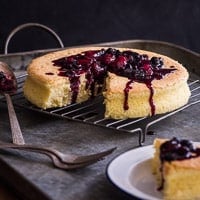 Fluffy Japanese Cheesecake
Japanese cheesecake is much more cake-like cheesecake than New York style cheesecakes. It's similar to a soft sponge cake (or angel food cake) made with cream cheese, or a cakey-cheesecake that's fluffy like cotton. It's a combination of both and it's wonderfully pillowy, soft, delicately sweet and amazing. The tender crumb of the cake will just melt in your mouth. Baking Tip: sometimes transferring the water bath into the oven can be a trick endeavor. To make things easier we will have a kettle full of hot water next to the oven. Place a roasting pan with the filled cake pan in the oven. Carefully pour in the water to the side of the cake pan and then gently slide the roasting pan the rest of the way into the oven, trying to make everything as efficient as possible so not too much heat is lost from the oven.Makes one 9-inch cake

Ingredients
Japanese Cheesecake Ingredients
6 eggs , whites and yolks separated
1/4 teaspoon kosher salt
3/4 cup (150g) sugar
1/2 cup (120ml) milk
8 ounces (225g) cream cheese , at room temperature
1/4 cup (56g) unsalted butter , at room temperature
finely grated zest from one medium lemon
1 tablespoon (15ml) fresh lemon juice
1 teaspoon (5ml) vanilla extract
1/2 cup (60g) cake flour
2 tablespoons (30ml) cornstarch
Berry Sauce Ingredients
1 cup (240ml or 150g) berries (blueberries, raspberries and/or strawberries cut into 1/2-inch pieces)
1/4 cup (50g) sugar
1 tablespoon (15ml) fresh lemon juice
Instructions
Preheat oven to 325°F (160°C). Grease an 9-inch by 2-inch cake pan and line the bottom with parchment paper. Heat enough water to make a water bath in a large roasting pan for baking the cheesecake in.

Whisk the eggs whites and salt until foamy. Add the sugar and continue whisking to stiff peaks. Set aside.

Heat the milk until hot but not boiling. Set aside.

In stand mixer or large bowl, beat the cream cheese and butter until smooth. Beat in the hot milk. Beat in the egg yolks and then beat in the lemon zest, lemon juice, and vanilla extract.

Sift or whisk together the flour and cornstarch. Stir the flour mixture into the cream cheese mixture.

Fold the whipped egg whites into the batter. Pour the batter into the prepared cake pan (if your cake pan isn't tall enough, you may have extra batter. Don't fill the cake pan more than 85% up to give room for the cake to rise without spilling out of the pan).

In a water bath filled with gently boiling water *see head note, bake the cheesecake for 1 hour 10 minutes or until set. Allow to cool to room temperature and serve with the berry sauce (directions below).
Berry Sauce Directions
Place the berries, sugar, and lemon juice in a saucepan. Cook over medium heat for 5-10 minutes or until berries soften and sauce begins to thicken.

Allow to cool and serve with the Japanese cheesecake (either on top or on the side).
Nutrition Information per Serving
Calories: 349kcal, Carbohydrates: 37g, Protein: 7g, Fat: 19g, Saturated Fat: 10g, Trans Fat: 1g, Cholesterol: 171mg, Sodium: 219mg, Potassium: 130mg, Fiber: 1g, Sugar: 29g, Vitamin A: 770IU, Vitamin C: 2mg, Calcium: 69mg, Iron: 1mg
We are a participant in the Amazon Services LLC Associates Program, an affiliate advertising program designed to provide a means for us to earn fees by linking to Amazon.com and affiliated sites.