Sticky Fig-Blueberry Crisp with Goat Cheese Whipped Cream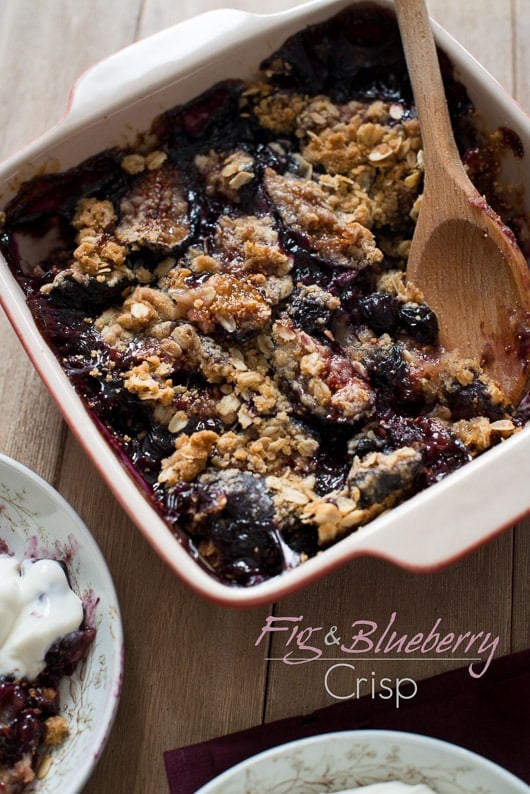 Fig Blueberry Crisp Recipe
Sometimes our favorite recipes are inspired from using up leftover ingredients. When expectation is lowest is also when some recipes become a delicious surprise and we're thrilled that it was way better than expected. This sticky fig and blueberry crisp is one of those recipes that is going to be a repeating Summer treat. Last month we had a group of friends over for Sunday lunch and we completely forgot about what to make for dessert. Our stand-by dessert is normally a berry crisp or crumble because it's so easy to whip up a batch in a few minutes and then just forget about it in the oven for about an hour. But we didn't have too many berries other than a bowl of blueberries and an over-ripening basket of figs.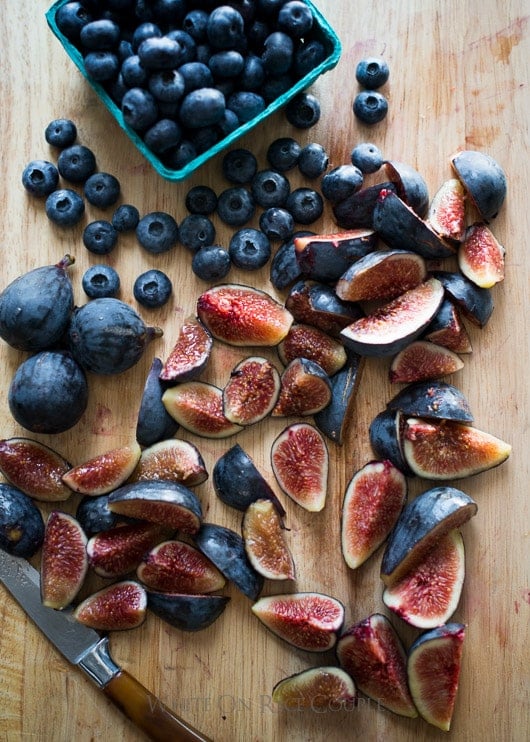 The figs and berries on the counter were begging to be eaten and the most edible answer we could think of was making our favorite crisp and filling it with luscious figs and blueberries. For an even bigger treat, we made some tangy, sweet goat cheese whipped cream to take it over the top. Guess what? we got lucky and this recipe was a surprise hit. The bomb. The Best. Amazing. You must make this!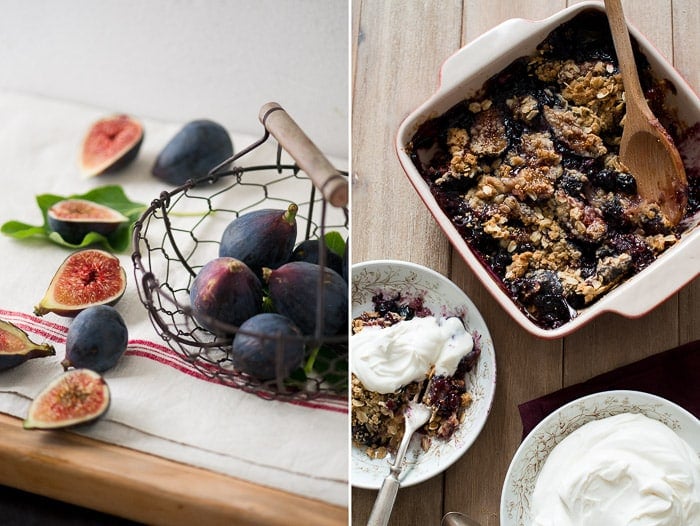 Wonderful Figs
Sure, it might take a whole paycheck to buy a ton of sweet figs. When we're at the market, fig prices are often a shock and the figs themselves often seem like a commodity. Folks like us can indulge when we have a fig tree, but what about the rest of you? Well, we've scaled the recipe down to a smaller portion. But really, that's all you'll need.
This wonderful crisp is sticky, concentrated with naturally sweet fig and blueberry flavor, so a little bit goes a long way. So you don't have to break the bank buying a ton of figs. Just use a smaller baking dish, like a 6″ ramekin or quart baking dish. Whatever size fits a nice layer for the amount of figs and blueberries you are using. Each bite of this sticky fig and blueberry crisp will leave you screaming out for Summer to never end!
Hope your Summer is grand!
-diane and todd
More Fig Recipes: Baked figs with Bacon & Cheese Recipe, Fig & Almond Crostata Recipe, Fig Bruschetta Recipe .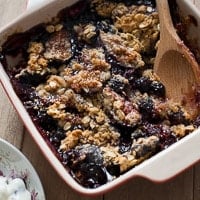 Fig-Blueberry Crisp with a Goat Cheese Whipped Cream
Crisp topping based off of our Blackberry Cabernet Crisp which is in our cookbook Bountiful. This crisp is great with regular whipped cream or even ice cream, however the goat cheese whipped cream gives it a special touch. For the goat cheese whipped cream, we prefer it with slight pieces of concentrated goat cheese. However if you want the goat cheese whipped cream perfectly homogenous and smooth, blend the goat cheese with a few tablespoons of the whipping cream until it is smooth, and then add the remaining whipped cream ingredients and whip until the mixture forms soft peaks. The goat cheese whipped cream can be done a day ahead of time if desired. Otherwise we will usually make it while the crisp bakes.
Ingredients
For the Topping
1/2 cup (60g) flour
1/4 cup (55g) packed brown sugar
1/2 teaspoon kosher or sea salt
1/4 cup (1/2 stick / 57g) cold unsalted butter , cut into 1/2-inch (12-mm) pieces
1/2 cup (40g) old-fashioned oats
Filling
1 pound (455g) figs , stems removed and quartered
6 ounces (170g) fresh blueberries
2 tablespoons (28g) packed brown sugar
1 tablespoon (8g) cornstarch
zest from one medium lemon
Goat Cheese Whipped Cream
4 oz (115g) goat cheese
1 cup (240ml) heavy whipping cream
2 tablespoons (15g) confectioners sugar
1/2 teaspoon vanilla
Instructions
Preheat oven at 350°F. Set aside a 1-quart or other smaller-sized baking dish.

Make the topping: In a bowl, combine the flour, brown sugar, and salt. Using your fingertips, pinch the butter pieces into the flour until the texture is crumbly. Pinch in the oats and work with your fingertips until the ingredients are evenly mixed. Set aside in the fridge until ready to top the crisp.

Gently toss the filling ingredients (figs, blueberries, brown sugar, cornstarch, and lemon zest) together. Place the filling in the baking dish. Spread the topping over the fig-blueberry filling. Bake for about 1 hour 10 minutes or until the topping is golden and filling has slightly thickened.

Make the goat cheese whipped cream topping (see head note). Whip together the goat cheese, cream, confectioners sugar, and vanilla extract until the mixture forms soft peaks (when you lift the whisk out of the cream, a peak should form and then gently fall back, barely holding its shape). Place the whipped cream in a covered container and reserve in the fridge until ready to serve.

Serve the crisp warm or at room temperature, topping the individual servings with the goat cheese whipped cream.
Nutrition Information
Calories: 228kcal, Carbohydrates: 25g, Protein: 4g, Fat: 14g, Saturated Fat: 8g, Trans Fat: 1g, Cholesterol: 42mg, Sodium: 142mg, Potassium: 144mg, Fiber: 2g, Sugar: 15g, Vitamin A: 569IU, Vitamin C: 2mg, Calcium: 49mg, Iron: 1mg
We are a participant in the Amazon Services LLC Associates Program, an affiliate advertising program designed to provide a means for us to earn fees by linking to Amazon.com and affiliated sites.