Air Fryer Pork Tenderloin with Gravy
Ok, this air fryer pork tenderloin recipe is definitely worth making. If you have an air fryer in storage, take it out and give this recipe a try if you love pork. The juicy tenderloin is fantastic and it's hard to beat. We also give you directions on making an air fried pork loin too if you like loin instead of tenderloin.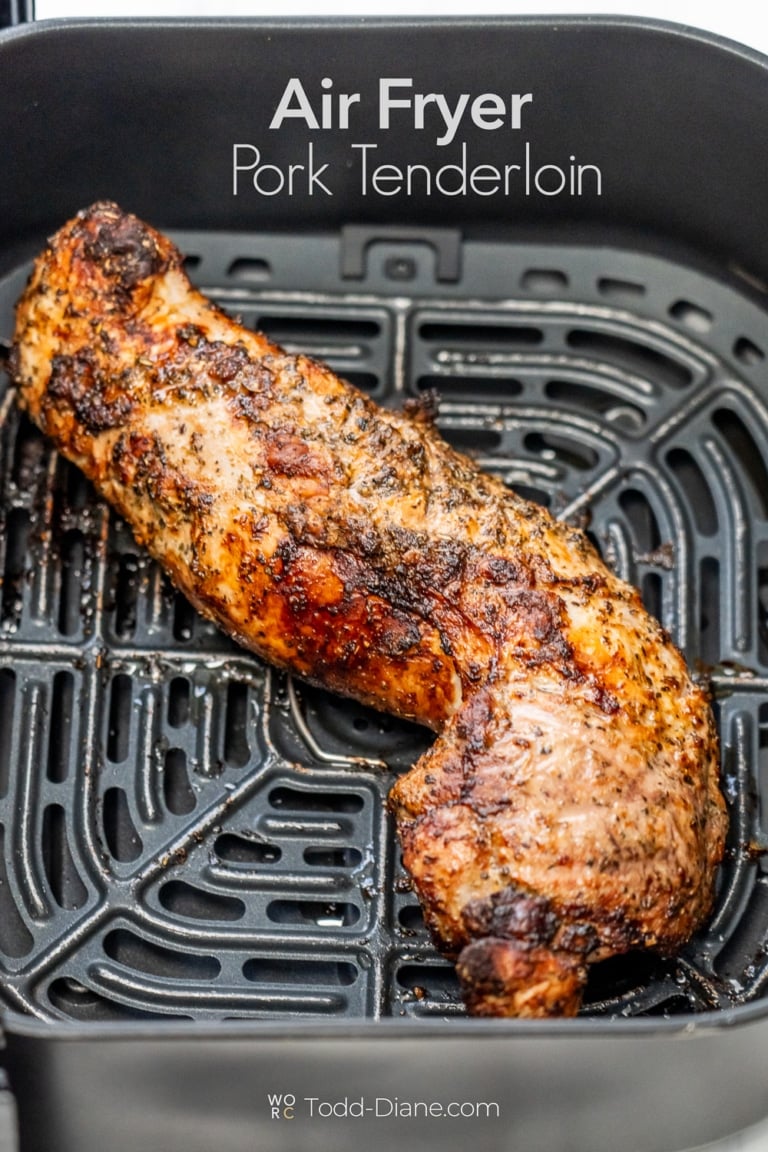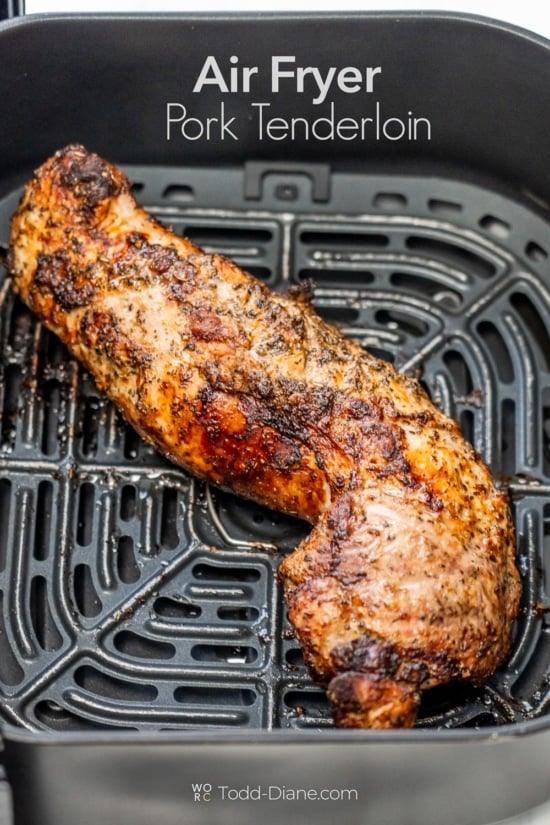 Can you really air fry a tenderloin?
Absolutely yes! The air fryer is just perfect for cooking a tenderloin. The outside crust is wonderful because of the air fryer. We've tested this in the oven too but the air fryer really cooks it quicker, hotter and it's so convenient.
Air Fryer Pork Tenderloin Recipe
This is juicy and amazing! Air fried pork tenderloin is a real game changer, especially if you like your pork to have a nice outside sear or crust. The hot circulating air of the air fryer cooks pork tenderloin wonderfully and it's a game changer. The inside is perfect and you can cook it to your preferred doneness. Add carrots and potatoes for a complete hearty meal. Or leave out the carrots and potatoes for a keto, low carb meal.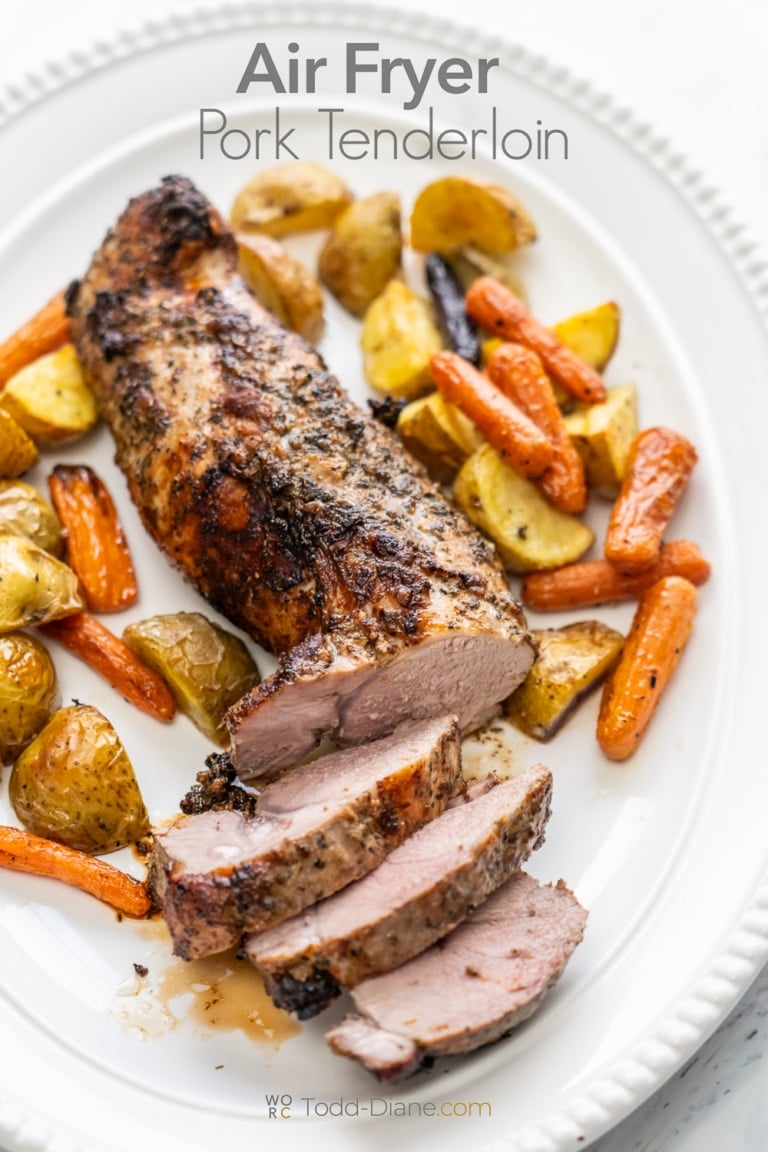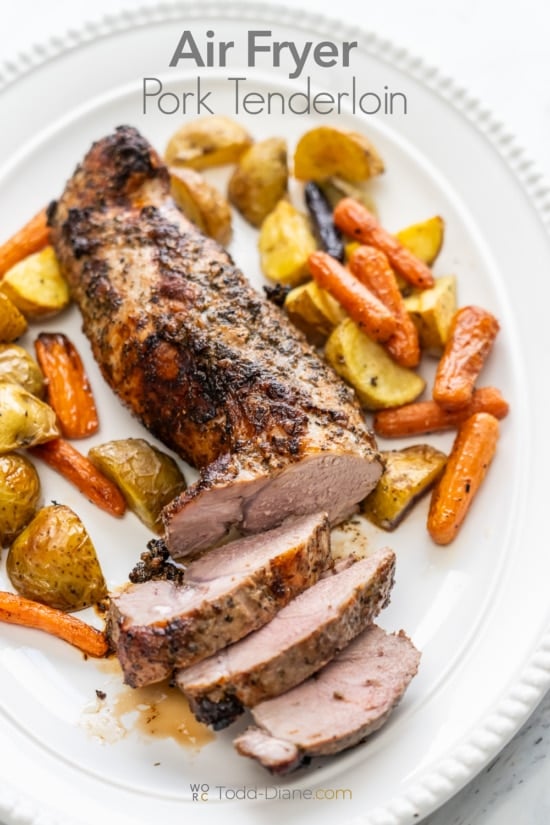 Video: Air Fryer Pork Tenderloin with Onion Gravy
What's the difference between a pork tenderloin vs. pork loin
A tenderloin is thinner, longer and more narrow than a pork loin. So the pork tenderloin will cook a little quicker than the fatter, flatter pork loin. In terms of texture, the tenderloin is much more tender than a loin. Flavors are pretty equal between both cuts because the marinade is what really comes through. This recipe is for a pork tenderloin, the thinner cut. But if you're wanting to air fry a pork loin, you will need to add more cooking time. Here's more detailed reading on a pork tenderloin vs pork loin.
Air Frying Tips: How to Cook Pork Tenderloin in Air Fryer
Different sizes: Tenderloins vary in size, so adjust your timing if you're using a tenderloin that's larger than 1 pound. Our recipe is based off a 1 pound tenderloin.
Cooking time differs based on different size air fryers. Also, Air fryer models vary too and some cook hotter. So if you're cooking your first tenderloin, check often to make sure it's not overcooked. From there, you'll know more about what the best time is based on your specific air fryer.
Seasonings and marinades: Add whatever personal seasonings, spices or rubs that you want. If you're using a dry rub, are sure to oil spray the rubbed tenderloin when you cook it so the herbs don't burn.
Invest in an instant read thermometer, it'll really help you cook the tenderloin or loin to your preferred doneness.
Keto: For a low carb, keto version use keto friendly veggies like asparagus and zucchini.
Make gravy, it makes the pork so much more flavorful and moist: Save the juices to add to the gravy. This adds extra flavor.
All air fryer tenderloin recipe details are in the recipe box below.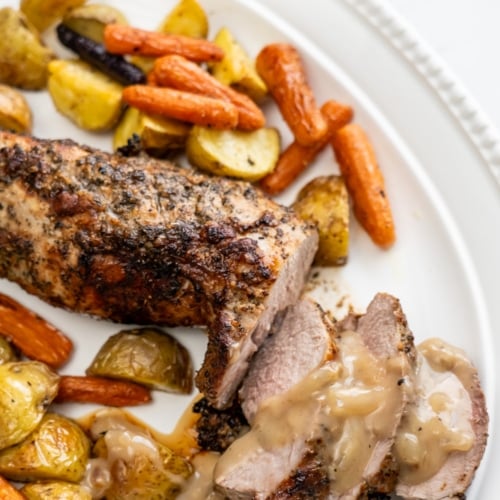 Air Fryer Pork Tenderloin with Onion Gravy
This is for a pork tenderloin, not a pork loin. Tenderloins are thinner and cook quicker. If using pork loin instead of pork tenderloin, it is thicker than a pork tenderloin and will take longer to cook. Cut several 1/2" slits through the pork loin's fatty side to help it cook through evenly.For an easy meal prep, cook the gravy ahead of time and then reheat when ready to serve the tenderloin.
Ingredients
FOR THE TENDERLOIN:
1 – 1.5 lb. (454 – 710 g) pork tenderloin
1 Tablespoon (15 ml) vegetable oil , or olive oil
1 Tablespoon (15 ml) Worcestershire sauce
1/2 teaspoon (2.5 ml) garlic powder , or onion powder
1 teaspoon (5 ml) dried herbs
1/2 teaspoon (2.5 ml) salt , or to taste
1/2 teaspoon (2.5 ml) black pepper , or to taste
FOR THE GRAVY:
2 Tablespoons (30 ml) butter
1/2 medium onion , diced
3 Tablespoons (45 ml) flour
2 cups (480 ml) chicken or beef broth , cold or at room temperature
2 teaspoons (10 ml) Worcestershire sauce
salt , to taste
black pepper , to taste
Nutrition Information per Serving
Calories: 257kcal, Carbohydrates: 8g, Protein: 25g, Fat: 13g, Saturated Fat: 5g, Polyunsaturated Fat: 3g, Monounsaturated Fat: 4g, Trans Fat: 0.3g, Cholesterol: 91mg, Sodium: 926mg, Potassium: 562mg, Fiber: 1g, Sugar: 2g, Vitamin A: 196IU, Vitamin C: 2mg, Calcium: 31mg, Iron: 2mg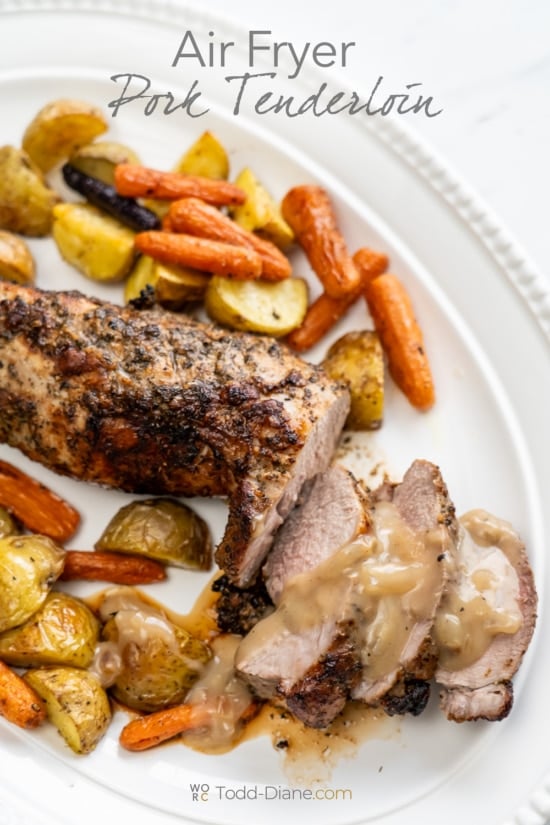 How long to Air Fry Pork Tenderloin or Loin?
Well, it all depends on several factors. Everyone has a different preference for how cooked they like their loin or tenderloin. Based on the info provided by the pork board: Cook the tenderloin or loin your preferred doneness or until center internal temperature reaches 145-160°F (63-71°C). It is best to use an instant read thermometer to check the pork to make sure it's cooked through. This meat thermometer is great. If you want a quicker air fryer pork for dinner, try these air fryer pork bites.
How to Freeze, Store and Reheat Leftover Pork?
If you have any leftovers, they're definitely worth saving. If you don't eat it within a few days, then freezer storage is best. Storing the pork in the freezer is simple. Place any leftover pork in an airtight container or bag. Freeze for up to 2 months. When it comes time to reheating the pork , allow the pork to thaw in the fridge for about a day. Then you can microwave the pork for about 1-2 minutes. Or you can sear it on a pan with a little oil.
What are the Best air fryers?
If you're looking to upgrade your air fryer or looking to gift one, check out this best air fryers article. We wrote it on our air fryer website. It's a great resource for finding the best air fryer to fit your needs. If you find it useful please share it with anyone who wants to find the best one to buy. Thank you!
We are a participant in the Amazon Services LLC Associates Program, an affiliate advertising program designed to provide a means for us to earn fees by linking to Amazon.com and affiliated sites.