Easy Chili Recipe in 30 Min
We love a good bowl of chili. But for us, the best beef chili recipe is one that is simple and un-fussy. When the cravings are strong, this easy chili recipe in 30 minutes is satisfying and hearty. Chili doesn't need to be complicated. It just needs to be flavorful and yummy.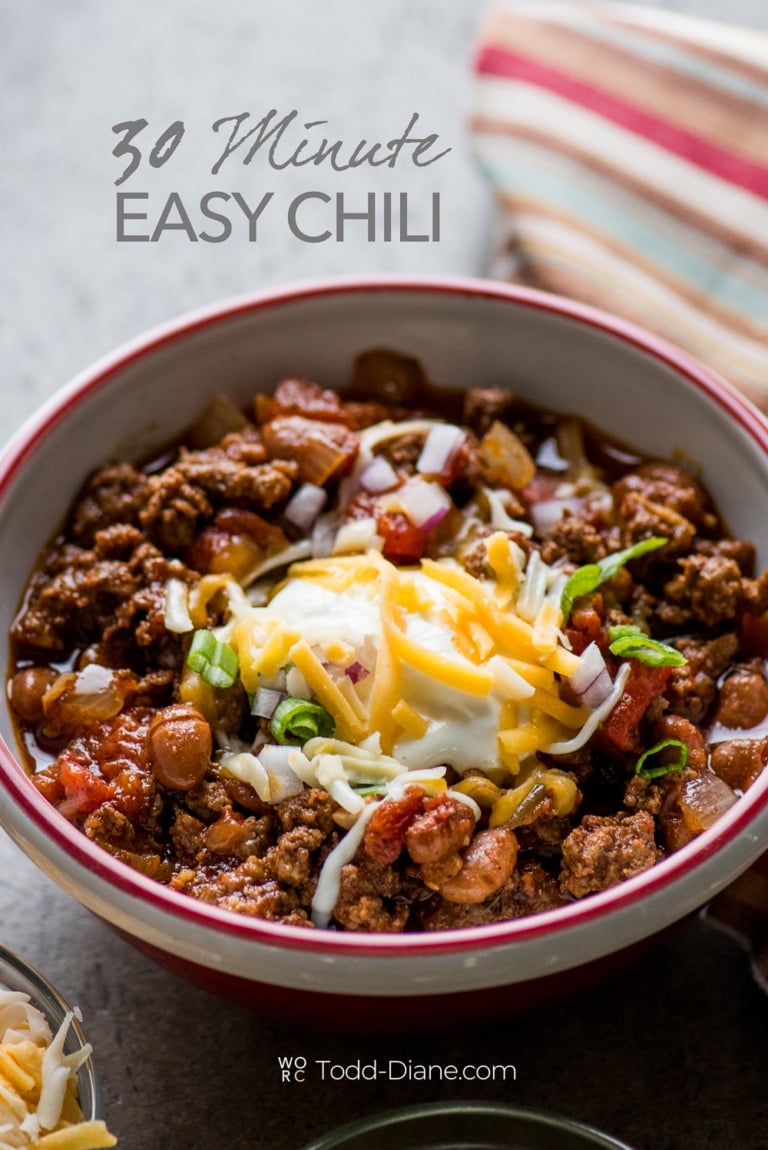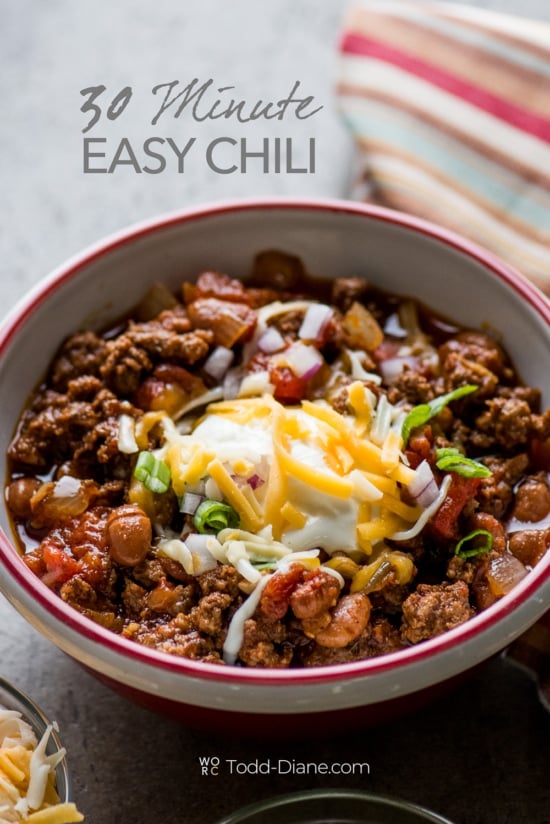 Easy Chili Recipe
When we talk about making a simple chili it's all about using ingredients that are readily available. Our un-fussy easy chili recipe in 30 minutes does just that. It's ready to eat from start to finish cooking time. Now if you slow in chopping onions or garlic, you might need to add another few minutes of prep time. Other than that, all the magic happens in one pot with ingredients that you should have in your pantry.
Different Ground Meats for Chili: Beef, Chicken, Turkey
We've made this simple recipe for chili using ground beef for so long. But lately, we've been exploring other ground meat options. For a healthier and lower calorie attempt, we've made this with ground chicken and on another occasion with ground turkey. They both turned out great! We didn't miss out on too much flavor because there's enough seasonings to give the savory flavor. So if you're a fan chicken or turkey, make a batch of chili chili or turkey chili. You'll be happy with the results.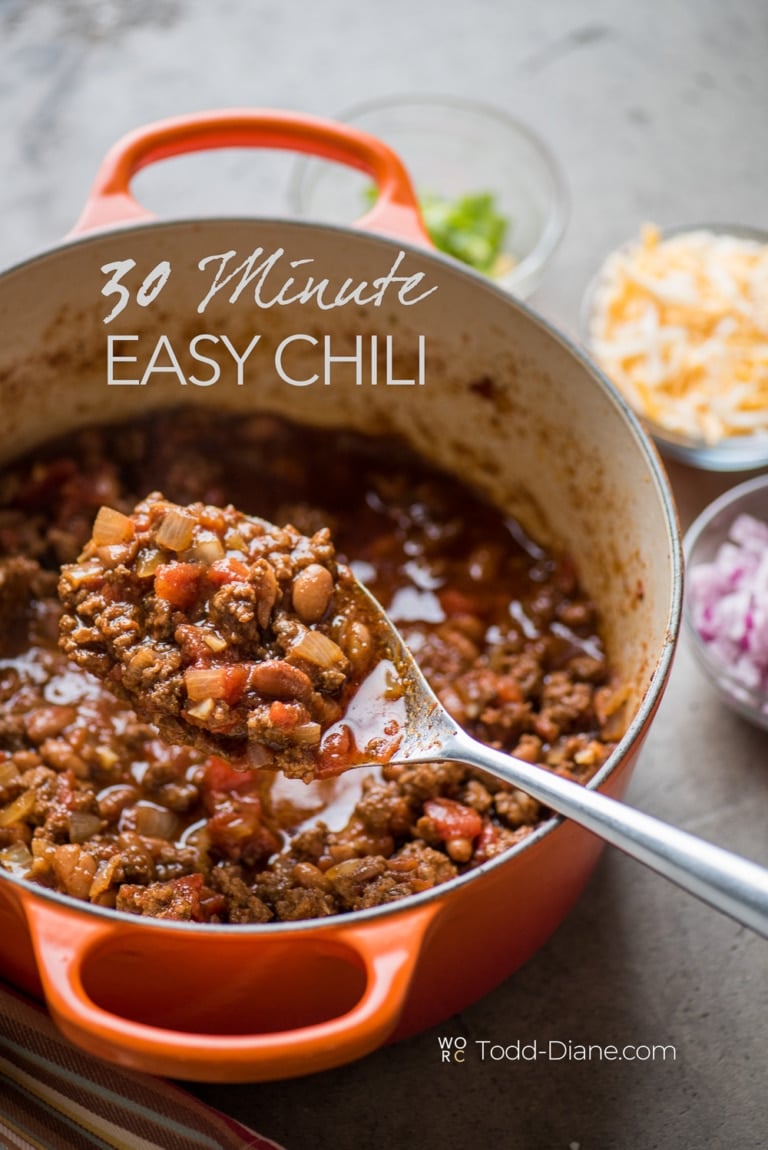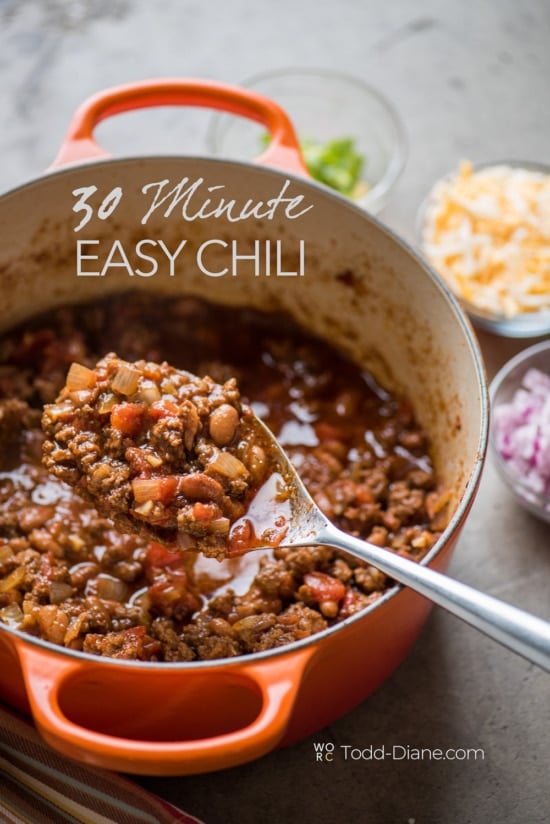 Tips on Making The Best Chili
For a classic beef version, using lean ground beef like 90% will be less fatty but you'll still have flavor. Our spice combination adds great flavor even if you're using lean beef. Some folks like using a higher fat content beef for flavor so that still is great too. Use what ever percentage you like.
Don't skimp out on the spices. This is what gives the chili tons of flavor. We love lots of flavor.
Add extra chopped veggies to make it more vegetable friendly. Chopped bell peppers, carrots, celery, corn, and kale are great add-ons.
If you like your chili to be spicy, add about 1/4 teaspoon of ground cayenne pepper. Taste the chili and add more if you like.
For a more intense tomato flavor, add a couple tablespoons of tomato paste.
What about the beans? If you don't like beans, leave them out. We do like some beans in our chili.
All easy chili recipe details are in the recipe box below.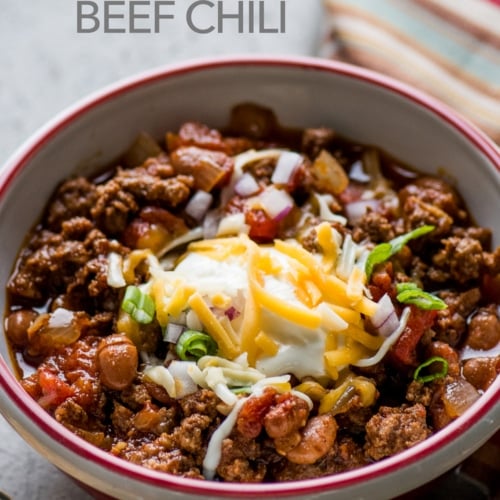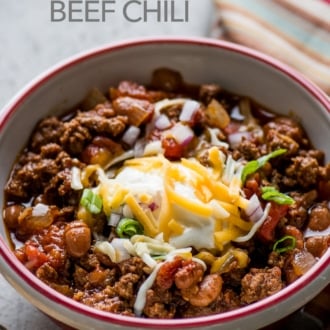 Easy 30 minute Chili
Use whichever beans you like (black beans, pinto beans, kidney beans, cannellini beans, etc.). Instead of canned beans you can also cook your own dried beans. Cook them ahead of time and add them in just like you would the canned beans. Or if you don't like beans, leave them out completely. We prefer this chili with lean ground beef, but you can always use whatever you prefer or have on hand. If the beef you use ends up rendering too much fat, skim some off while cooking or after it is done. Or you can use whatever ground meat you like. We've made and loved it with ground chicken, turkey, pork, and lamb.
Ingredients
1 lb. (454 g) lean ground beef (85-90% lean) (or whatever ground meat you like – chicken, turkey, pork, lamb, etc.
1 Tablespoon (14.79 ml) olive oil
1/2 medium onion , diced
4 cloves (4 cloves) garlic , minced or crushed
30 ounces (850 g) tomato sauce , (two 15oz. cans or @ 4 cups) crushed, diced or regular depending on what texture you want
15 ounces (425.24 g) canned beans (black, pinto, cannellini, etc…), drained and rinsed
2 Tablespoons (30 ml) chili powder
2 teaspoons (9.86 ml) ground cumin
1/2 teaspoon (2.5 ml) dried oregano leaves , or chopped fresh oregano
1/2 teaspoon (2.5 ml) Kosher salt , or to taste
fresh cracked black pepper
Optional Toppings:
grated cheese
sour cream
diced red onions
sliced green onions
Nutrition Information per Serving
Calories: 197kcal, Carbohydrates: 16g, Protein: 16g, Fat: 8g, Saturated Fat: 3g, Polyunsaturated Fat: 1g, Monounsaturated Fat: 4g, Trans Fat: 0.4g, Cholesterol: 37mg, Sodium: 857mg, Potassium: 702mg, Fiber: 5g, Sugar: 5g, Vitamin A: 1062IU, Vitamin C: 9mg, Calcium: 55mg, Iron: 4mg
What are some good chili topping ideas?
We LOVE toppings! When it comes to finishing off a bowl of chili, it's always about the toppings. Here's some classic and interesting ideas to add to the top of your bowl.
sour creme or creme fraiche
shredded cheddar cheese. we love the flavors of sharp cheddar.
minced white onions, green onions, red onions or even pickled onions
chunks of creamy avocado
drizzle of crispy homemade chili onion crunch
potato chips or your favorite crackers all crushed and placed on top
here's the interesting history of chili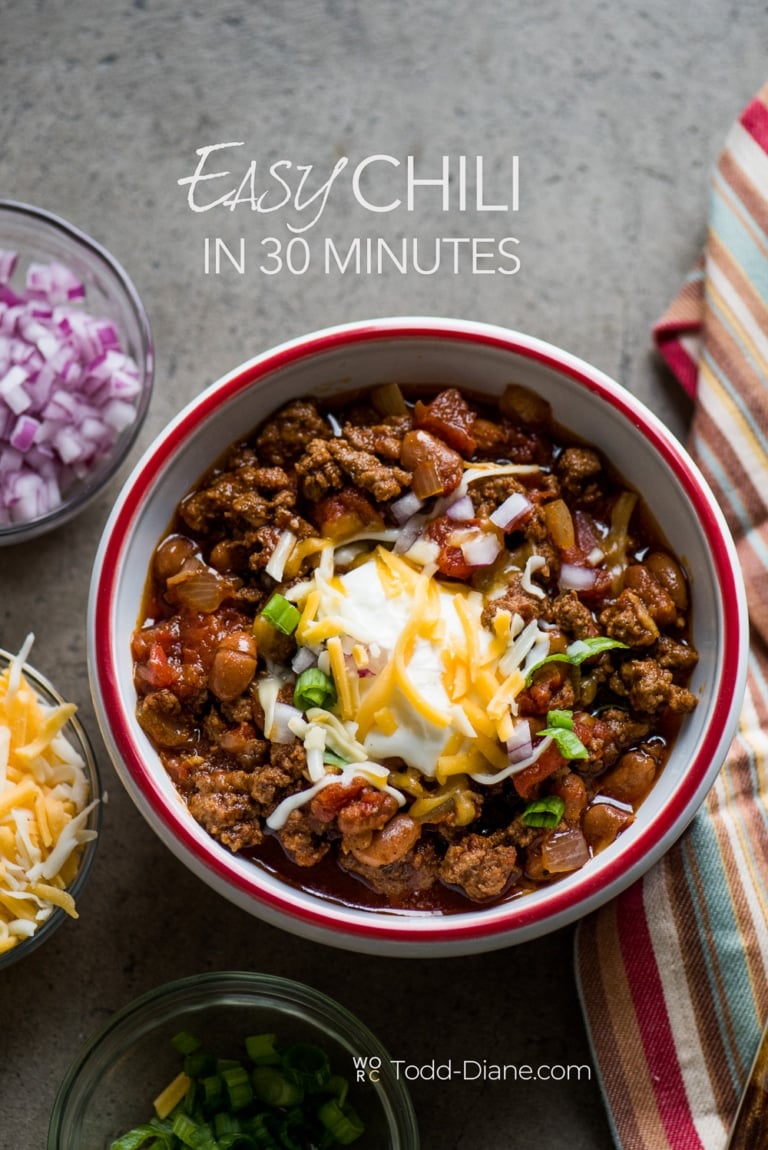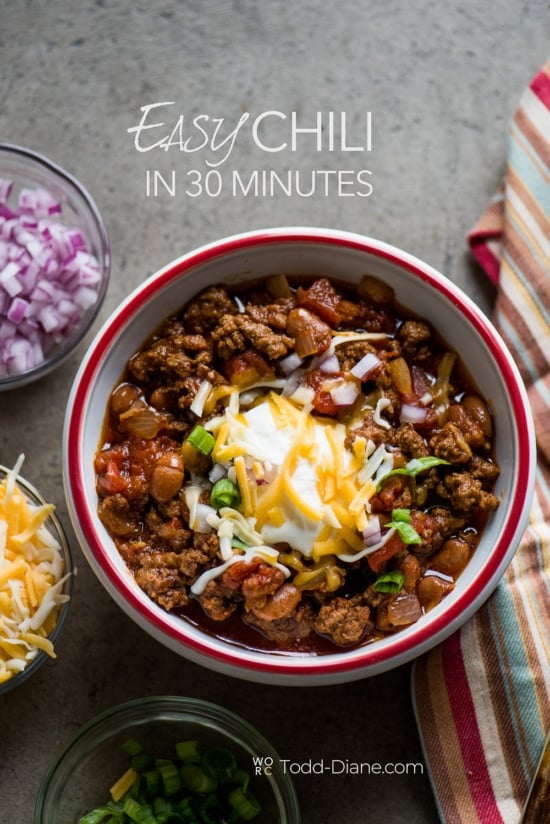 Different Ways to Serve this Easy Chili Recipe
Simple chili in a bowl with your favorite toppings is always comforting. Add a crusty slice of bread or crackers on the side and it's a complete meal. But if you're looking for alternative ways to serve this classic dish, here's some delicious ideas:
On pasta! Choose any type of pasta that you like. Even a simple chili spaghetti is great.
Add a few big spoonfuls to hot dogs and make chili cheese dogs.
Loaded chili cheese fries are always a favorite.
With cornbread. A classic for a reason, it is delicious!
On baked potatoes!
Chili nachos anyone? This is fantastic and a great game day appetizer dish to share.
Add it to hamburger buns or soft bread loaves and make a loose meat sandwich like a sloppy joe. But this time, it's a chili "sloppy joe"
If you have leftovers and want a quick meal or snack, chili cheese quesadillas are fantastic.
We are a participant in the Amazon Services LLC Associates Program, an affiliate advertising program designed to provide a means for us to earn fees by linking to Amazon.com and affiliated sites.