Fig Balsamic Recipe
We fell in love with fig balsamic and since then and have always wanted to make it ourselves. Now with a HUGE collection of figs that we didn't get to finish eating, it was time to make our much anticipated fig balsamic before the figs went bad. This fig balsamic recipes post was one of our first recipe posts back in 2008. It's fun to see how our photography and garden has changed over the years!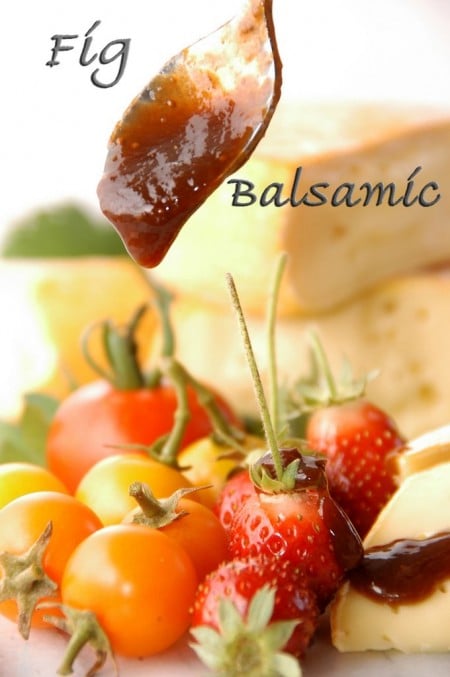 Homemade Fig Balsamic Recipe
Summer doesn't feel like it's ending for us yet because there's still an amazing amount of wonderful summer produce that's reaching out to us every time we go to the farmers market. The summer fruit pangs hit us hard this year when it came to figs. The plethora of phenomenal figs has us buying more figs than we can eat, and they're not cheap! Sometimes at $4-$6 for a basket of about 5-7 figs, it can get really pricey for fig lovers like us. Every where we turn around, there's a different fig that we haven't tried. So that means shelling out some major bucks for more, more and more figs. Now if only the farmers market accepted credit cards, then we'd be in serious fig and debt gluttony.
glorious figs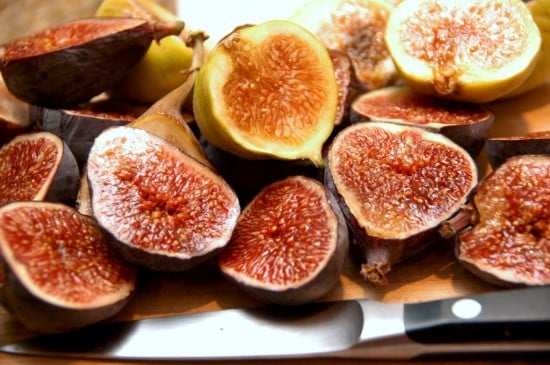 The fig balsamic was served on a Humboldt fog goat cheese plate and was meant to be drizzled on the cheese. Amazing! Another dish that we had was a heirloom tomato salad with a fig balsamic vinaigrette. In both these dishes, the fig balsamic was a delicious sweet, tart, tangy compliment to the cheese and the salad.
Warning! When using fresh figs, this amazing fig balsamic is not cheap to make.
Unless you have a fig tree that is yielding you with fig heaven, you'll be shelling out half your paycheck for a batch for this stuff. With about $30 in fresh figs, we ended up with about less than 3/4 cup of fig balsamic. But all the gooey, sweet and tangy/tart concoction is worth every penny because it is so intensely flavored that just a little bit of the fig balsamic goes a long way. You can drizzle it on creamy cheeses (Humboldt Fog goat, Brie's, Epoisses, St. Agur blue, etc.), on berries, or ice cream, use it as a glaze/marinade to add depth to meats (duck, lamb, pork) or mix it with a little olive oil for a fantastic vinaigrette to enhance your favorite salads. When stewed together, the sweet essence of the figs combines wonderfully with the tangy/tartness of the balsamic vinegar. The result is a dark, concentrated, sticky, gooey nectar of fig balsamic heaven. This reduction of fig and balsamic vinegar is something you have to try!
remove pulp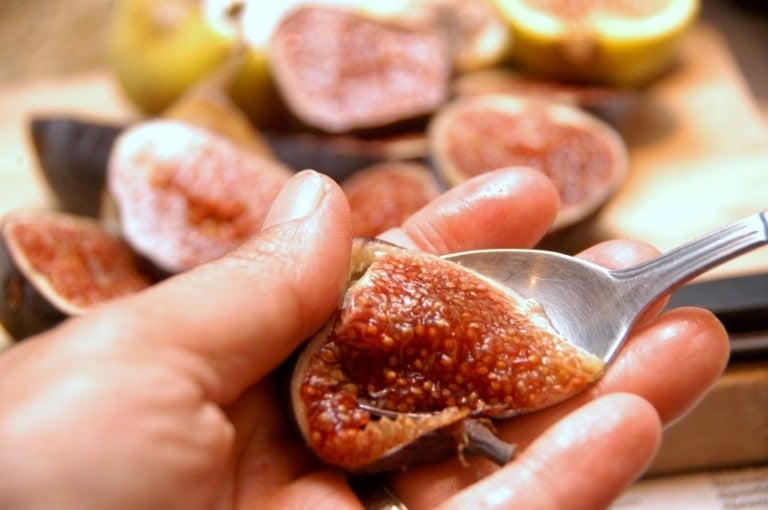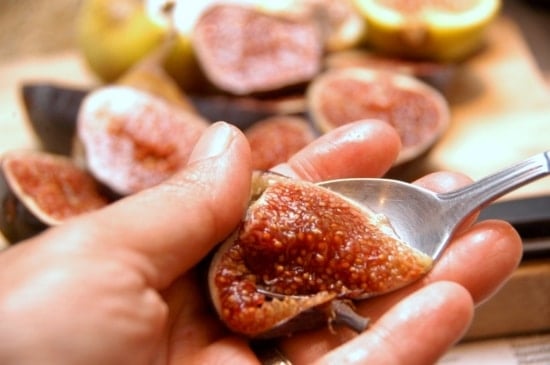 add balsamic vinegar, reduce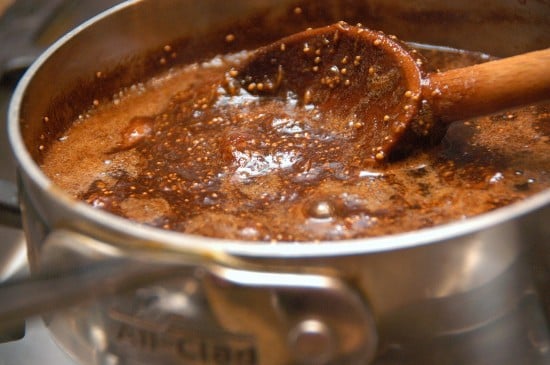 blend in food processor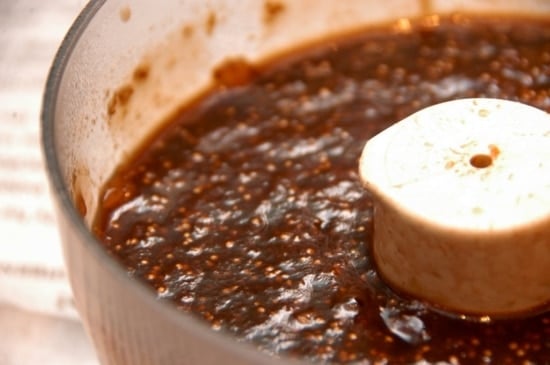 strain to remove excess seeds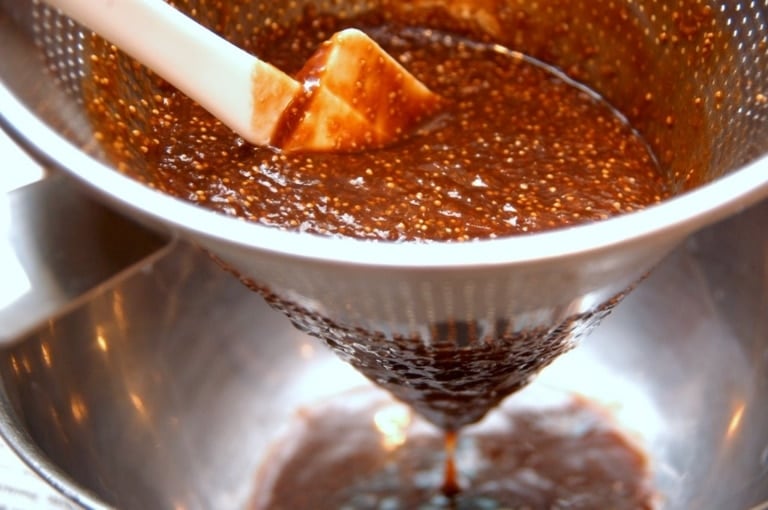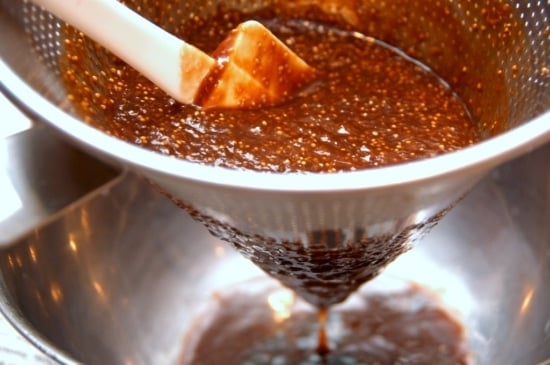 That's it. Enjoy!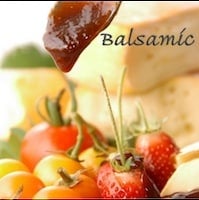 Fig Balsamic Recipe
Makes about 1/2 cup.
Ingredients
1/2 cup ripe fig pulp (about 10 oz figs) Sweet Mission figs or Brown Turkey figs
1/4 cup balsamic vinegar
1/4 teaspoon vanilla
Equipment
Strainer

Food Processor or Blender, optional
Nutrition Information per Serving
Calories: 37kcal, Carbohydrates: 8g, Protein: 1g, Fat: 1g, Saturated Fat: 1g, Sodium: 4mg, Potassium: 87mg, Fiber: 1g, Sugar: 7g, Vitamin A: 42IU, Vitamin C: 1mg, Calcium: 15mg, Iron: 1mg
We are a participant in the Amazon Services LLC Associates Program, an affiliate advertising program designed to provide a means for us to earn fees by linking to Amazon.com and affiliated sites.