Sticky Fig-Blueberry Crisp with Goat Cheese Whipped Cream
Sometimes our favorite recipes are inspired from using up leftover ingredients. This sticky fig blueberry crisp is one of those recipes that is going to be a repeating Summer treat. Last month we had a group of friends over for Sunday lunch and we completely forgot about what to make for dessert. Our stand-by dessert is normally a berry crisp or crumble because it's so easy to whip up a batch in a few minutes and then just forget about it in the oven for about an hour. But we didn't have too many berries other than a bowl of blueberries and an over-ripening basket of figs. So using these two highlights of Summer fruits became a crowd favorite fig crisp recipe with blueberries. This recipe was originally published in 2014 and re-published with new photos.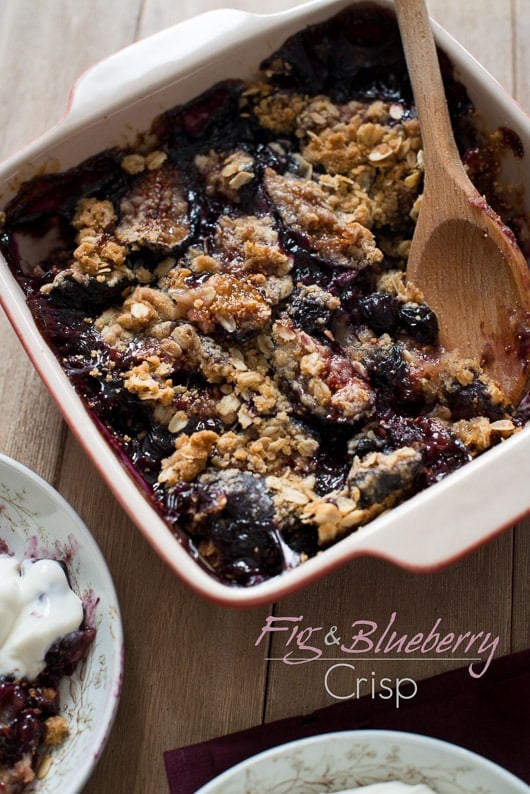 Fig Blueberry Crisp Recipe
The figs and berries on the counter were begging to be eaten and the most edible answer we could think of was making our favorite crisp and filling it with luscious figs and blueberries. For an even bigger treat, we made some tangy, sweet goat cheese whipped cream to take it over the top. Guess what? we got lucky and this recipe was a surprise hit. The bomb. The Best. Amazing. You must make this! If you don't have as many figs as the recipe calls for then no worries. You can always use more blueberries or even substitute other berries. But as long as you have a handful of ripe figs, the flavor will be fantastic from the sticky sweet flavors of Summer figs.
What Does a Fig Crisp Taste Like?
This wonderful crisp is sticky, concentrated with naturally sweet fig and blueberry flavor, so a little bit goes a long way. If you're already a fan of figs, you'll love the familiar stick sweet flavors and the little nuggets of crunchy seeds in each bite. Cost of figs can be costly, so you don't have to break the bank buying a ton of figs. Just use a smaller baking dish, like a 6″ ramekin or quart baking dish. Whatever size fits a nice layer for the amount of figs and blueberries you are using. Like we mentioned above, you can always use more blueberries or other berries if you have less figs. Each bite of this sticky fig and blueberry crisp will leave you screaming out for Summer to never end!
See the video of us make the Fig-Blueberry Crisp with a Goat Cheese Whipped Cream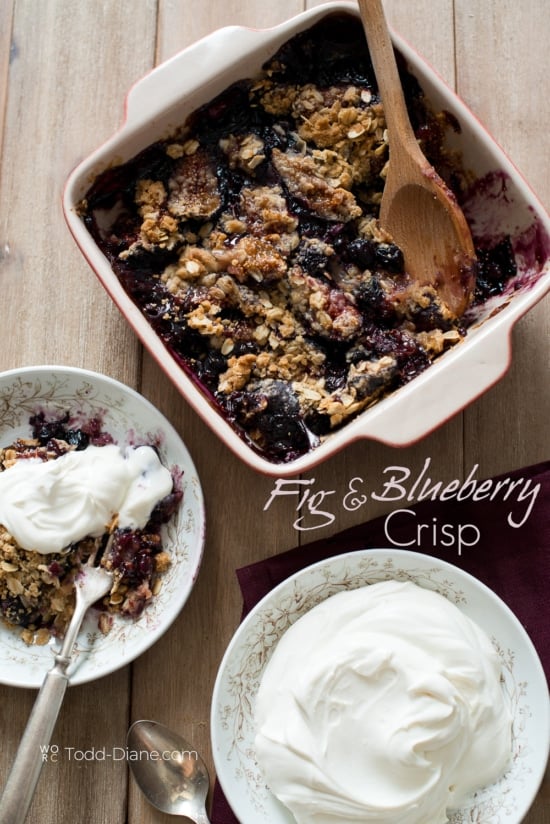 Best Figs for Desserts?
There's so many great figs for eating and cooking. Our most favorite for desserts are the sweet Mission figs or brown turkey figs. When picked at their peak, these figs are fantastic, flavorful and sweet. They themselves are like desserts and we power through ripe sweet figs like candy. Yes, when they're picked at their peak they taste like candy and sometimes no need to even cook them. But if you have alot that are ripening too fast, it's the perfect time to make desserts out of them. Here's a great article about best fig varieties.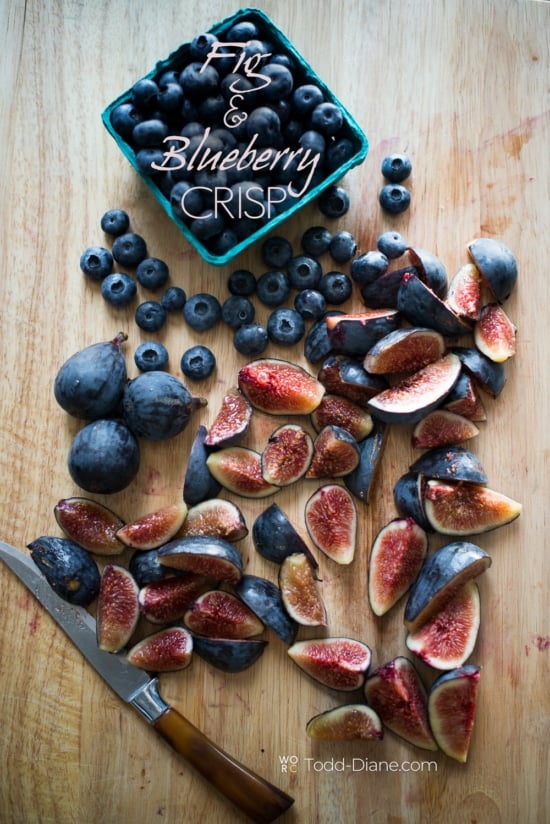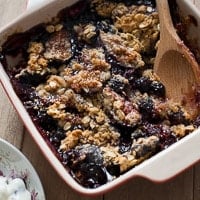 Fig-Blueberry Crisp with a Goat Cheese Whipped Cream
Crisp topping based off of our Blackberry Cabernet Crisp which is in our cookbook Bountiful. This crisp is great with regular whipped cream or even ice cream, however the goat cheese whipped cream gives it a special touch. For the goat cheese whipped cream, we prefer it with slight pieces of concentrated goat cheese. However if you want the goat cheese whipped cream super smooth, blend the goat cheese (it is easiest if goat cheese is at room temp.) with a few tablespoons of the whipping cream until it is smooth, and then add the remaining whipped cream ingredients and whip until the mixture forms soft peaks. The goat cheese whipped cream can be done a day ahead of time if desired. Otherwise we will usually make it while the crisp bakes.
If your figs are kind of bland, you might want to increase the brown sugar in the filling. Add another tablespoon or two of brown sugar to help compensate.
Ingredients
For the Topping
1/2 cup (65 g) flour
1/4 cup (55 g) brown sugar
1/2 teaspoon (2.5 ml) kosher salt or sea salt
1/4 cup (57 g) cold unsalted butter , (1/2 stick) cut into 1/2-inch (12-mm) pieces
1/2 cup (40 g) old-fashioned oats
Fig-Blueberry Filling
1 pound (454 g) fresh figs , stems removed and quartered
6 oz. (170 g) fresh blueberries
2 Tablespoons (30 ml) packed brown sugar , or to taste *see headnote
1 Tablespoon (15 ml) cornstarch
zest from one medium lemon
Goat Cheese Whipped Cream (optional)
4 oz. (113 g) goat cheese
1 cup (240 ml) heavy whipping cream
2 Tablespoons (30 ml) powdered sugar
1/2 teaspoon (2.5 ml) vanilla
Nutrition Information per Serving
Calories: 228kcal, Carbohydrates: 25g, Protein: 4g, Fat: 14g, Saturated Fat: 8g, Trans Fat: 1g, Cholesterol: 42mg, Sodium: 142mg, Potassium: 144mg, Fiber: 2g, Sugar: 15g, Vitamin A: 569IU, Vitamin C: 2mg, Calcium: 49mg, Iron: 1mg
If you have a fig tree vs buying figs
Sure, it might take a whole paycheck to buy a ton of sweet figs. When we're at the market, fig prices are often a shock and the figs themselves often seem like a commodity. Folks like us can indulge when we have a fig tree, but what about the rest of you? Well, we've scaled the recipe down to a smaller portion. But really, that's all you'll need. If you have a friend with a fig tree, offer them some fig crisp if they can give you a big bagful of ripe figs. That's a pretty nice tradeoff for everyone!
Hope your Summer is grand!
-diane and todd
Best Toppings for Fig Crisp
Our recipe has this crisp paired with a goat cheese whipped cream. But if you're not a fan of goat cheese, there's other delicious possibilies.
we love simple homemade whipped cream
A quickie topping is to use whipped topping
Add a dollop of vanilla ice cream on top
Greek yogurt is nice on top
a small drizzle of honey on top is nice if you want something a little sweeter.
Chopped nuts add a great crunch on top
We are a participant in the Amazon Services LLC Associates Program, an affiliate advertising program designed to provide a means for us to earn fees by linking to Amazon.com and affiliated sites.