Roasted Figs with Red Wine and Sage
Roasted figs again, you ask? Yes, please bear with us. We're on our last batch of garden figs and it's been hard to not write about them three times a week.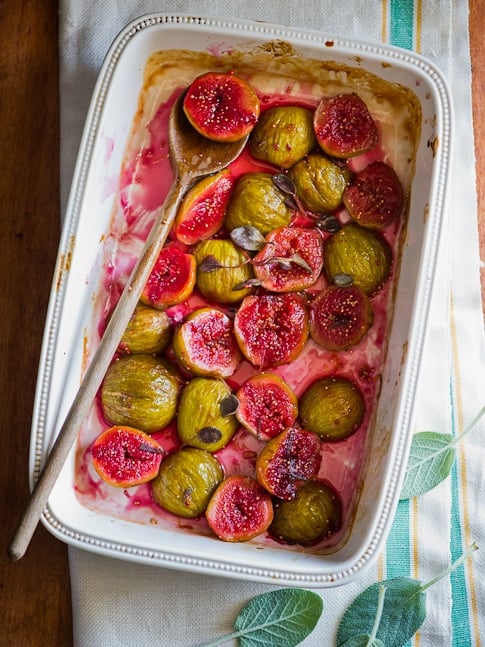 \We've been sharing this incredible bounty of figs with the squirrels and birds for the past 2 months. Today were feeling extra selfish and decided to pick as many ripe ones as we could before the critters could get to them.
A few weeks ago we asked our Twitter friends for some help with how to eat all explosion of figs from the garden. Within a few minutes we had over 50 different suggestions on how to use the figs. Thank you Twitter friends! You are all so amazing and inspiring.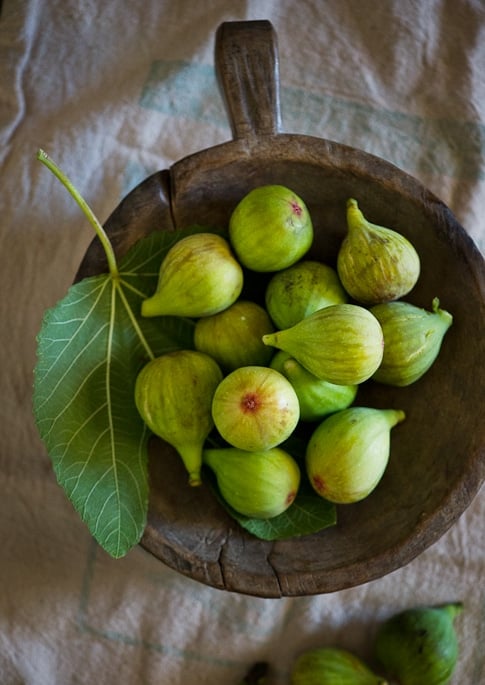 Red Wine Roasted Figs
Some great fig recipes came pouring in, but the ones that really made us salivate were recipes that involved roasting figs. Visions of roasted figs danced through our heads (too early for Christmas references?). We could see and smell the amazing flavors that a slow roasted fig could become. Thoughts of roasted figs on top of ice cream had us craving dessert even before we had dinner.
Cheese plates toppled with sweet roasted figs came to mind. Add a glass of wine and some charcuterie and it's a meal! Other visually exciting dishes came to mind: roasted figs on french toast or a slow roasted pork tenderloin with the figs sounded fantastic. Even a simple peanut butter sandwich with roasted fig spread throughout would elevate a humble sandwich to greatness.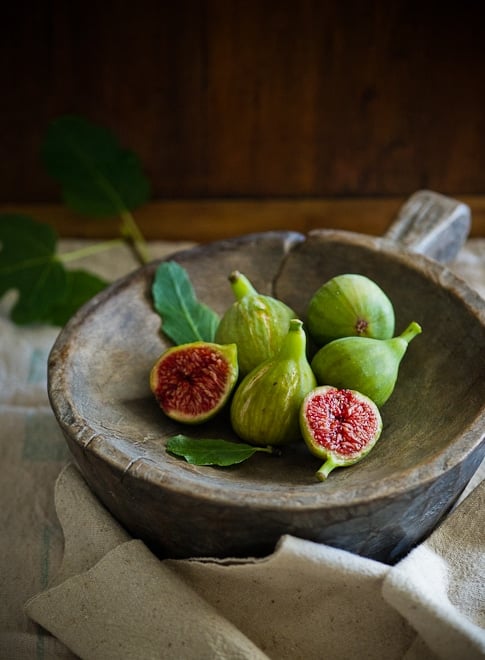 The ideas for how to eat roasted figs was endless. They could be prepared in both sweet and savory dishes. That's the beauty of how one simple dish can heighten other dishes to wonderful depth, texture and flavor.
To add to the earthy bite of roasted figs we snipped some fresh sage to the recipe. Wonderful, fragrant sage rounded off the roasted figs beautifully and the addition of some red wine really finished off the recipe perfectly.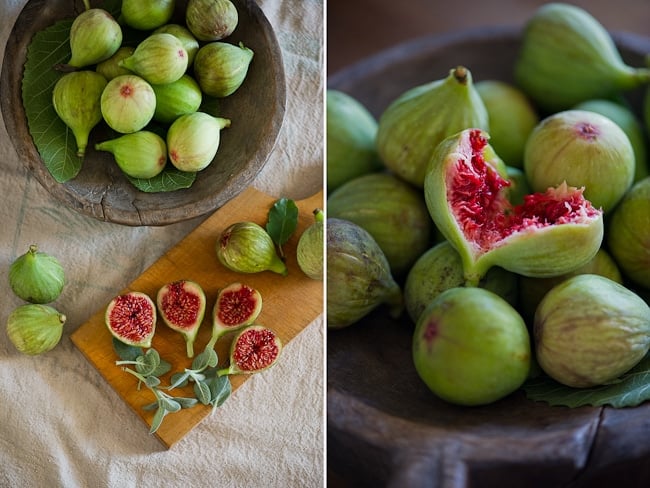 With only a few batches of figs left on the tree, it's been hard for bid farewell to figs this year. Travel work has kept us away from the garden all Summer, but we've been fortunate to have a late explosion of figs to last us till the end of October. For most of you, figs are probably out of season already. So please just bookmark this recipe for your next Summer's cooking menu. You'll be pleased with how wonderful these roasted figs can be!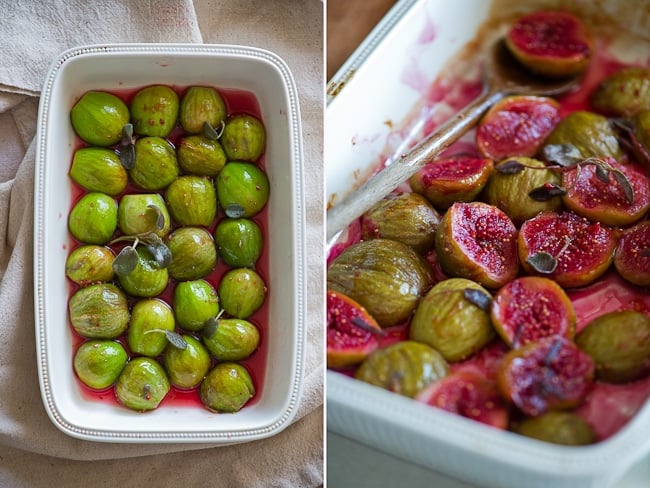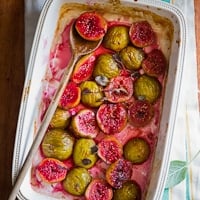 Roasted Figs with Wine
The firmness/ripeness/varitiey of your figs will affect the cooking time. The softer they are, the quicker they will cook. Check often if needed to get them to your liking.
Ingredients
1 pound ripe fresh figs
3 Tablespoons honey
1 Tablespoon red wine
1 Tablespoon fresh lemon juice , or to taste
Zest of 1 whole lemon
2 medium sage leaves ,minced or 4 medium whole sage leaves
Instructions
Pre-heat oven to 400°F. Wash, rinse and trim stems of figs. Then cut figs in half.

In large bowl, combine honey, red wine, fresh lemon juice, lemon zest and sage leaves. Add figs to mixture and gently toss ingredients. If you have the time, marinate for about 30 minutes (they will taste great even if you don't marinate them for long).

In baking dish, lay figs side down. If you want softer, more juicer figs then add the rest of the marinate to the baking dish. If you want a firmer, more dry fig, then do not add remaining liquid to the dish.

Roast figs in oven for about 15-20 minutes or until figs are soft. Depending on the firmness and sugar content of your figs, your baking time will vary. Check the figs every 10 minutes or so and pierce the figs to make sure they are to your desired texture.
Nutrition Information per Serving
Calories: 136kcal, Carbohydrates: 35g, Protein: 1g, Fat: 1g, Saturated Fat: 1g, Sodium: 2mg, Potassium: 280mg, Fiber: 3g, Sugar: 31g, Vitamin A: 161IU, Vitamin C: 4mg, Calcium: 41mg, Iron: 1mg
Here's a great history on figs.
We are a participant in the Amazon Services LLC Associates Program, an affiliate advertising program designed to provide a means for us to earn fees by linking to Amazon.com and affiliated sites.