Amazing Fresh Blueberry Cream Cheese Frosting
This fresh blueberry frosting recipe says it all. It's loaded with fresh blueberries for sweetness, flavor AND color. Best of all, the beautiful color of this homemade frosting with fresh blueberries is all natural.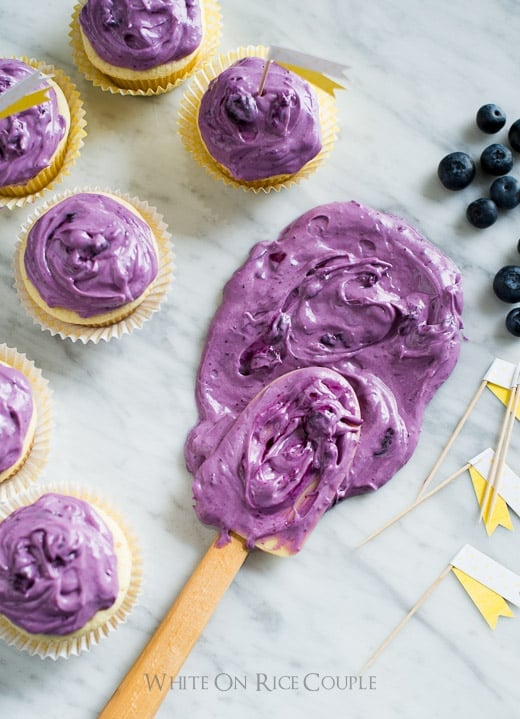 Fresh Blueberry Frosting Recipe
Remember my last rustic berry red velvet cake recipe? Well, that was just the beginning to return to my love of baking desserts and cakes. I promised I was on a mission to work on some of my favorite cake recipes but along with that came some other duties too. One of them was to find wonderful frosting and icing recipes that I can whip up quickly, but yet have lots of flavor. And if fresh fruit is involved, I'm all over it like a baking beast. This installment of my baking adventures was ignited when I saw Zoe's blueberry cake recipe. If you haven't seen it, you MUST. It's a gorgeous blueberry beast and when I say beast, I mean it's ferociously amazing.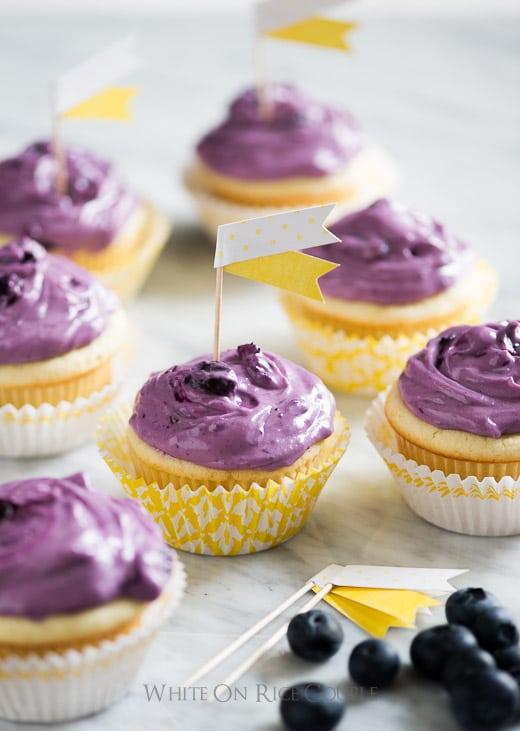 Video Making the Fresh Blueberry Cream Cheese Frosting: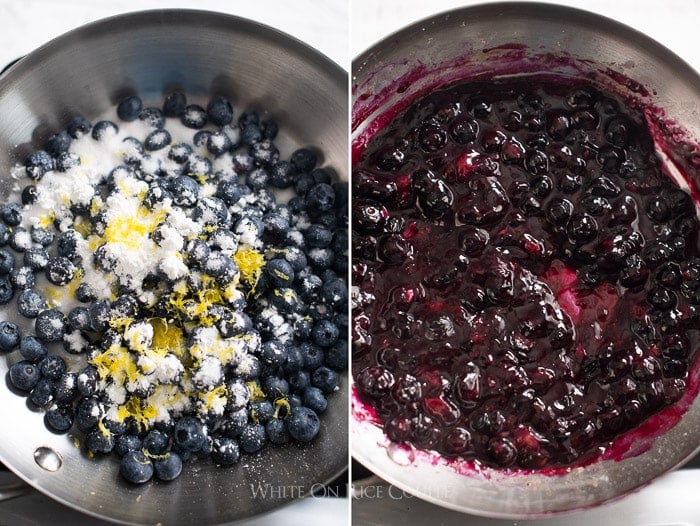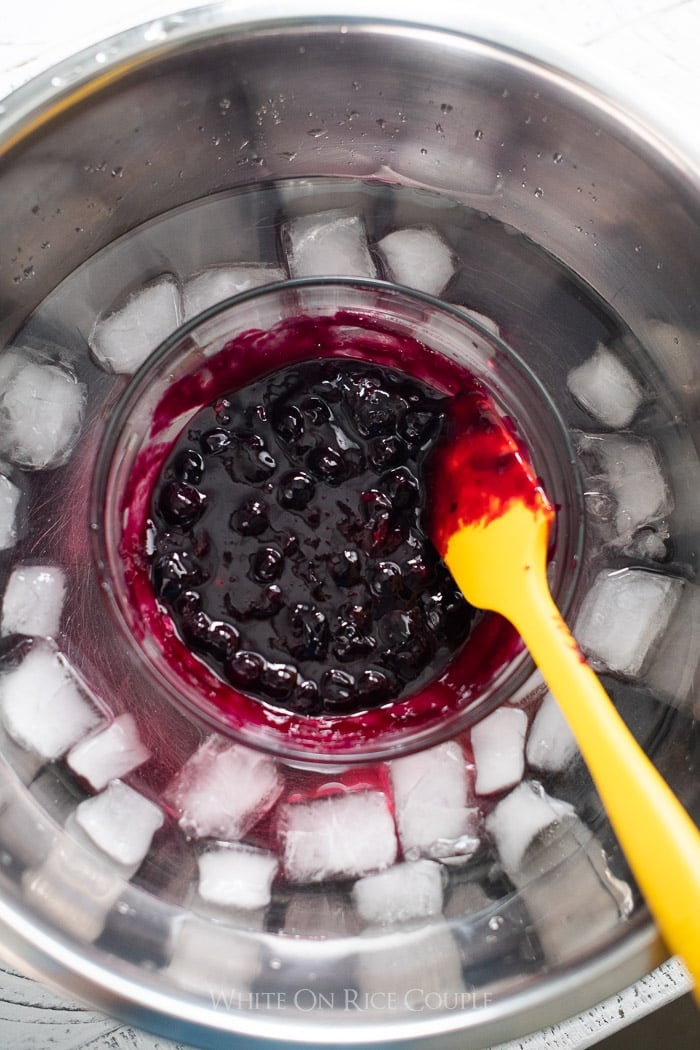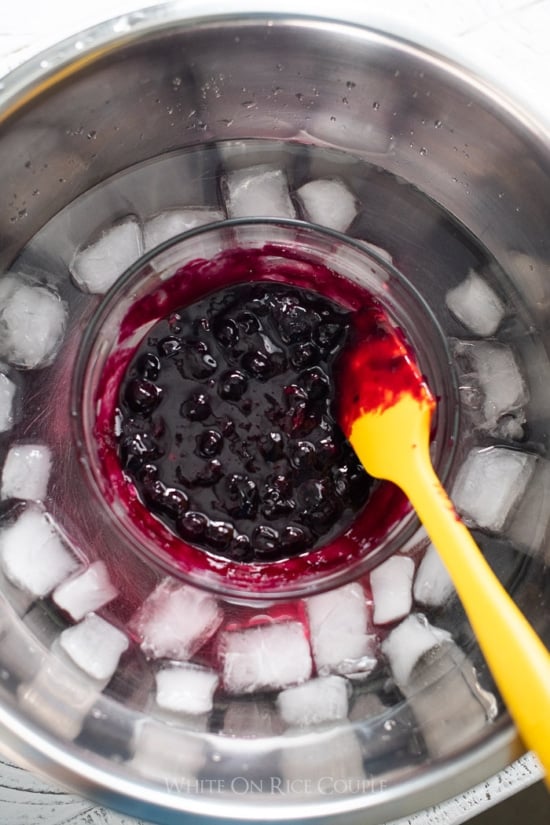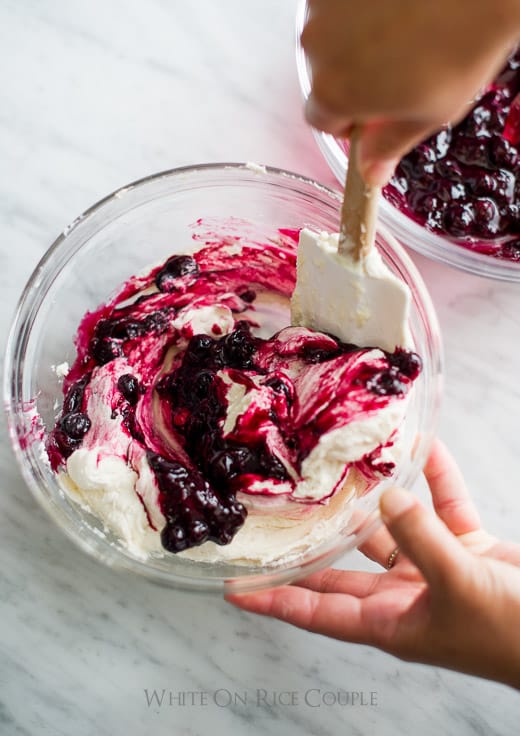 I love it when the recipe involved a ton of fresh blueberries that give that perfect color and flavor. Well, I was instantly inspired and whipped up a version of my cream cheese frosting recipe from my red velvet cake with Zoe's blueberry sauce. So Todd and I were in the kitchen in an instant, whipping up her blueberry sauce to add to our cream cheese base. We love the simplicity and flavor of cream cheese frosting and Zoe's blueberry sauce was the perfect inspiration to mix it up a bit for all my future cakes and cupcakes.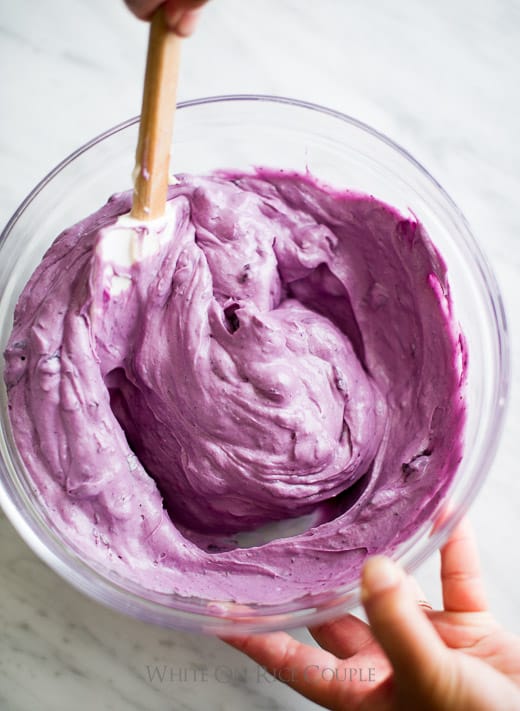 All Natural Frosting
How can I tell you how much I love this fresh blueberry cream cheese frosting? There's just no way to really express the fresh flavor and texture of this. There's no food coloring, nor any fake flavoring. Everything you see and taste are fresh blueberries and cream cheese.
You'll just have to make it yourself and please, promise me you will make it soon. July 4th is right around the corner, so it's the perfect time to whip up a batch of your fav cake or cupcakes.
The flavor of the fresh blueberries really explode and if you're gentle enough when stirring, you'll get some nice pops of semi-whole, slightly smashed blueberries in every bite. Or if you're a little heavy handed and break up all the blueberries, that's ok too. What you'll get is a fantastic color of blueberry.
-diane and todd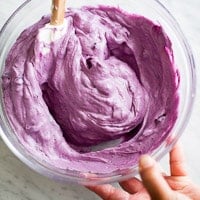 Fresh Blueberry Cream Cheese Frosting
This is a soft and loose frosting and loaded with flavor. Depending on how warm the room is, you might need to slightly chill the finished frosting before spreading on your cake or cupcakes. A hot summer kitchen tends to make the cream cheese and butter extra soft. It's not the type of frosting meant to give you "peaks". Calorie count based off 1 cup.
Ingredients
2 cups fresh blueberries (300g)
3 Tablespoons sugar (45g)
1 Tablespoon cornstarch
finely grated zest from 1 medium lemon
16 ounces cream cheese (454g), softened
1/2 cup unsalted butter (1 stick or 113g) , at room temperature
2 1/4 cups powdered sugar (270g)
2 teaspoons vanilla extract
pinch kosher salt or sea salt
Instructions
Combine the blueberries, sugar, cornstarch, and lemon zest in a saucepan. Cook the sauce over medium heat, stirring frequently and smashing some of the blueberries as they soften. Cook until the sauce thickens and the cornstarch becomes translucent. Remove from heat and allow to cool to room temperature (to expedite the cooling you can use an ice bath to cool it quicker- or you can make the sauce a day ahead of time if your timing allows).

In large bowl, add cream cheese, butter, powdered sugar, vanilla and salt. Beat together until smooth and creamy.

Fold the blueberry sauce into the cream cheese frosting until you like the texture of the frosting. The more you mix the frosting, the less chunks of blueberry you will have in the frosting.

If needed, chill slightly and then spread frosting on your favorite cake or cupcakes. Enjoy!
Nutrition Information per Serving
Calories: 944kcal, Carbohydrates: 93g, Protein: 7g, Fat: 62g, Saturated Fat: 36g, Cholesterol: 185mg, Sodium: 369mg, Potassium: 213mg, Fiber: 1g, Sugar: 86g, Vitamin A: 2270IU, Vitamin C: 7.2mg, Calcium: 122mg, Iron: 0.6mg
More Easy Recipes:
This recipe was originally published in 2014 and updated in 2019 with a new video.
We are a participant in the Amazon Services LLC Associates Program, an affiliate advertising program designed to provide a means for us to earn fees by linking to Amazon.com and affiliated sites.