Fig Bruschetta Recipe and Love of Fig Photos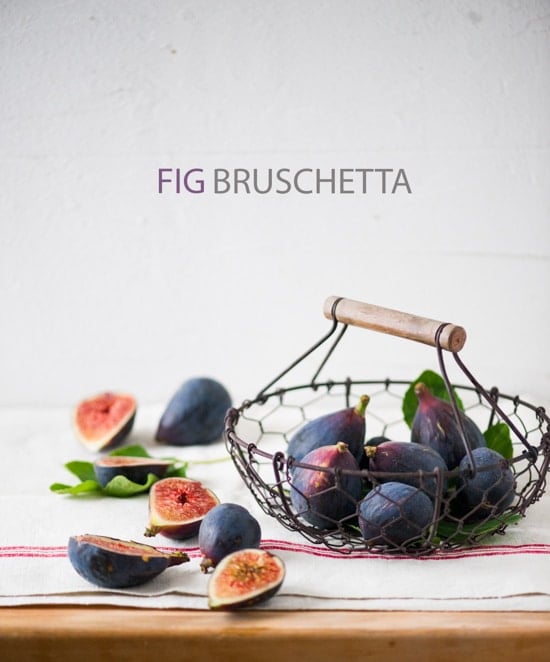 Fig Bruschetta Recipe
I vividly remember a conversation I had with a fellow food photographer/food blogger a few years ago about figs. Around this time of year, our figs are dripping with fruit and I was telling this person how I love figs and how much I love photographing figs. Figs are sexy, beautiful and I just can't get enough of photographing and seeing them in images.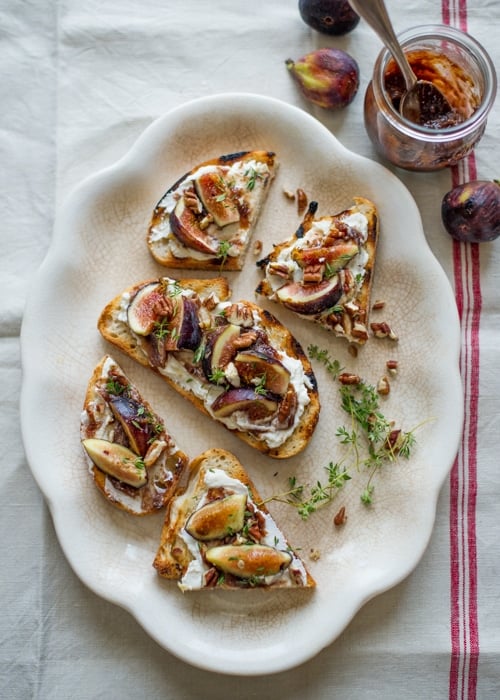 This food blogger responded by telling me that fig pictures are over-rated (or something to that point) and said that everyone always has a default fig picture to show off. This person was tired of seeing figs pictures. And this person was tired of seeing egg pictures in baskets, ribbons around cookies and a few other examples of popular food styling that I was clearly "guilty" of.
It took me a few moments to think about how to respond. All my mind could whisper was "…but…but…i love fig pictures. and I have a whole Lightroom folder of ribbon-ed cookies and basket-ed eggs!". I quickly realized that no matter what anyone's opinions are about what other people are doing online, I respect their choice and I clearly have the option to read their content or not. So rather than sit and make fun of other people and what they are doing, why don't we just surround ourselves with content that we love.
So in the spirit of always being true to yourself and doing what you love and not being hurt by outside criticism (cliche ideas, maybe?), I'm here to tell you that I FREAKING LOVE FIG PICTURES and I will continue to share them whether or not some people make fun of them. And so here you have it, a big load of fig pictures to look at and a really good fig bruschetta recipe that goes along with it! The flavors of this easy bruschetta recipe are a great blend of sweet and creamy. Crunchy grilled bread, herbs and more crunchy nuts are a fantastic palate pleaser for Summer. Every bite of this appetizer screams Summer and Fig Joy!
Nothing but love and #TeamFig ,
diane
luscious, sexy figs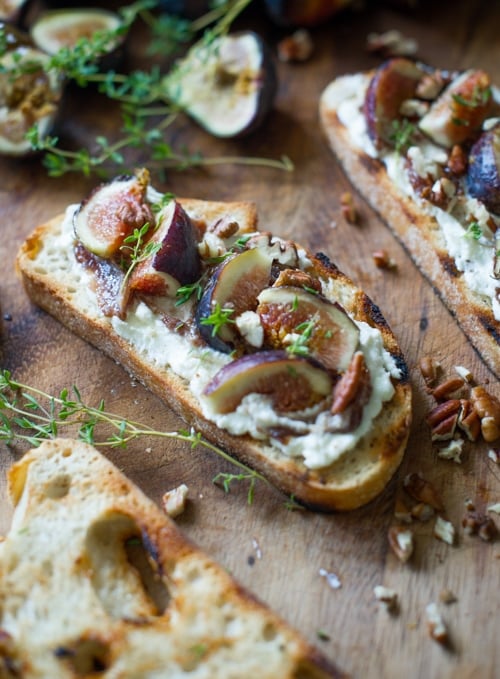 Joy of figs here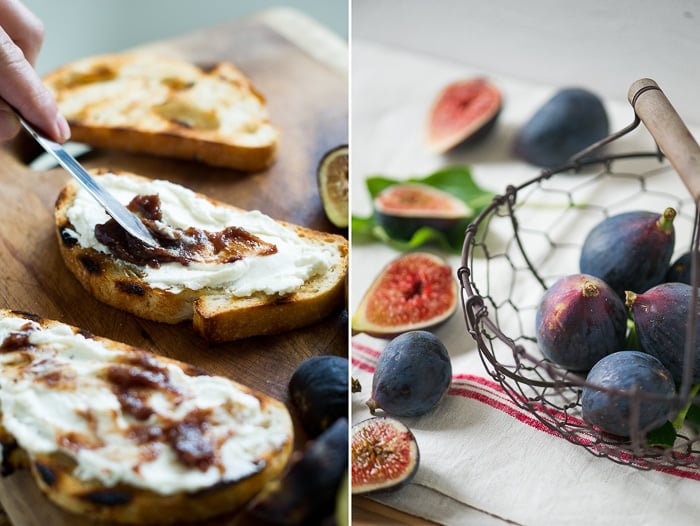 #TeamFig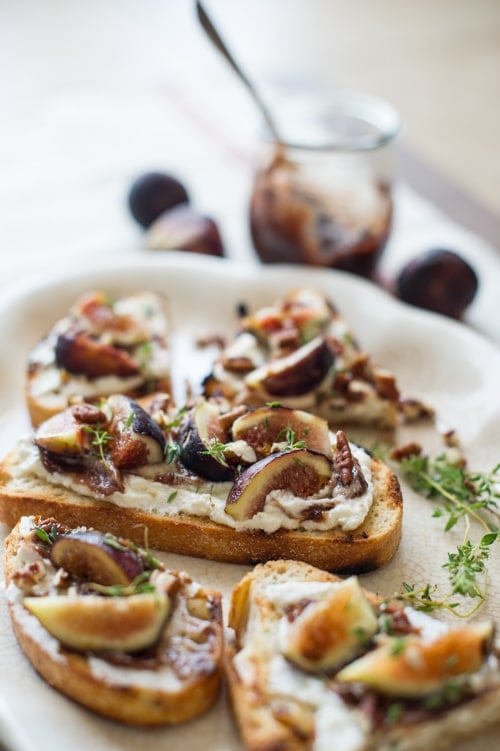 More Fig Recipes:
Roasted Figs with Sage and Wine Recipe
Fig Pecan Sticky Buns Recipe
Rosted Fig and Goat Cheese Ice Cream Recipe
Fig Focaccia Recipe
Marinated Fig Salad Recipe
This recipe was originally published in 2013 and republished in 2020 with updated recipe notes.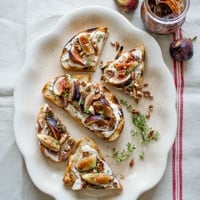 Fig Bruschetta
The addition of the fig compote on the bruschetta adds another layer of wonderful fig flavor and texture. But if you don't have time to make the fig compote, plenty of fresh, sweet figs on top will be equally delicious.
Ingredients
For the Roasted Fig Puree Recipe:
1/2 pound (225g) ripe figs
2 Tablespoons (30ml) balsamic vinegar , divided
1 Tablespoon (15g) brown sugar
For the Fig Bruschetta assembly:
Crusty bread loaf or baguette , sliced thin or grilled (optional)
Olive Oil for brushing the bread , if you are serving it grilled
5-6 ripe figs , quartered
1 cup (240ml) Ricotta Cheese
1/4 cup (60ml) chopped pecans
Fresh thyme leaves
Instructions
Roasted Fig Puree Directions
Preheat the oven to 400°F.

Slice the tough stems off of the figs then slice the figs into quarters. Place the figs in a baking dish and toss with one Tablespoon of balsamic vinegar and brown sugar. Cover the baking dish with foil and roast for 15-20 minutes or until the figs are soft.

When cool enough to handle, add the figs and remainign balsamic in a bowl. Smash the figs with the back of a spoon until smooth and chunky. The more you smash, the smoother the mixtre will become (feel free to add more balsamic to taste). Put puree in a bowl and place in fridge to cool until ready to use
Bruschetta Directions
If you are grilling the bread: heat the grill and lightly brush each sides of sliced bread with olive oil. Grill each side of the bread until crisp.

Spread ricotta cheese over each slice of bread.Top each bread slice with fig puree, pecans, fresh figs and fresh thyme leaves.Serve on a platter or wood cutting board as the perfect appetizer.
Nutrition Information
Calories: 261kcal, Carbohydrates: 30g, Protein: 8g, Fat: 13g, Saturated Fat: 6g, Cholesterol: 31mg, Sodium: 56mg, Potassium: 378mg, Fiber: 4g, Sugar: 24g, Vitamin A: 443IU, Vitamin C: 2mg, Calcium: 174mg, Iron: 1mg
We are a participant in the Amazon Services LLC Associates Program, an affiliate advertising program designed to provide a means for us to earn fees by linking to Amazon.com and affiliated sites.