Saucy Chicken and Broccoli Stir Fry

Easy Chicken and Broccoli Stir Fry
There's so many easy recipes that we always call our everyday meals. It's those dishes that are family friendly, kid friendly, meal-prep friendly and basically, just darn delicious. Our chicken and broccoli stir fry recipe is one of those recipes that we rarely ever get tired of. After a long day on-set or traveling, we're diving into our easy everyday archive of recipes. This chicken and broccoli dish is always on our mind because it's satisfying and crazy easy to make. In fact, there's no reach to not make it because it's a flexible recipe that can be adapted to your favorite vegetables. We always have chicken and broccoli on-hand and before long, it's an instant dinner. It's fast, wholesome, fresh and always delicious. Homemade is way better than take-out.
Video: Watch How to Cook Chicken and Broccoli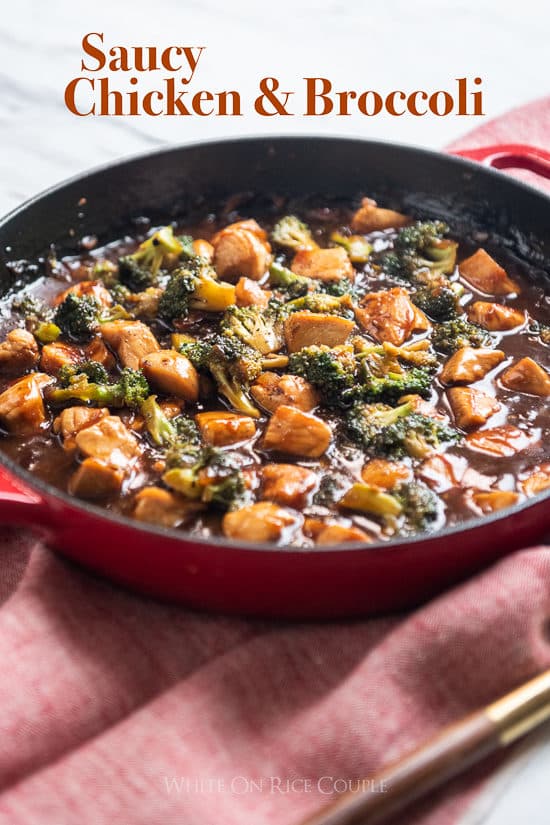 Lots of Sauce
Kids will love this dish and you'll love seeing them devour the broccoli. It's the easy sauce that makes veggies stellar and they won't know that they're eating healthier. We call it saucy because there's plenty of it to enjoy. You can easily adapted this recipe to make it beef and broccoli. You'll be surprised how easy the beef version is too. Our recipe uses fresh ingredients and there's no reason EVER to have to order take-out. Add some brown rice, quinoa or couscous to make this meal complete and satisfying. That's where all the extra sauce comes in handy and delish. There's so many fun vegetables to use in this chicken recipe. Green beans, cauliflower, squash, potatoes, zucchini and carrots are just a few examples. Making this stir fry vegetarian is super simple by eliminating the meat and adding as many vegetables as you want. Like we mentioned, the possibilities for this chicken and broccoli recipe is endless. Make it your own, enjoy and share it!
Enjoy!
diane and todd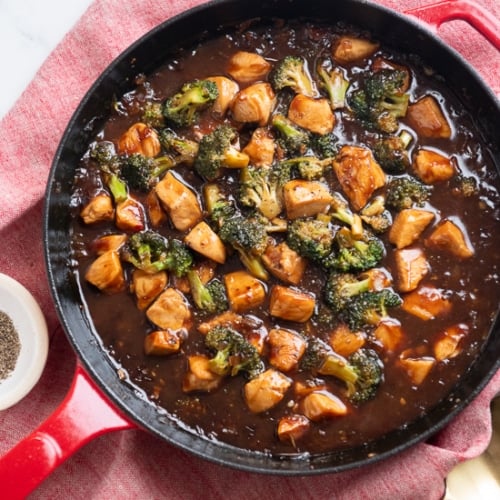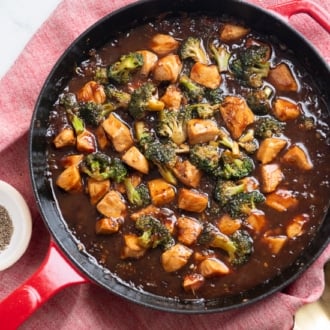 Chicken & Broccoli Stir Fry
A great everyday stir fry. Feel free to use whatever chicken cut you prefer - thigh, breast, etc. We tend to prefer using thigh meat, as it will be a bit more flavorful and juicy, but the recipe works great with chicken breasts and tenders too. If you like your broccoli soft, add about 1/4 cup of water to the pan when you add the broccoli. As it cooks, the water will absorb into the the broccoli and will evaporate off by the time the broccoli is soft.
Ingredients
1 pound (454 g) uncooked chicken , cut into 3/4" pieces
1 pound (454 g) broccoli florets , cut into bite sized pieces
3 Tablespoons (45 ml) vegetable oil , divided
1/2 (1/2) onion , diced
3 cloves (3 cloves) garlic , minced or crushed
1 inch (1 inch) knob of fresh ginger , minced or finely grated
For The Sauce:
2/3 cup (160 ml) water
1 1/2 Tablespoons (22 ml) corn starch
1/3 cup (80 ml) soy sauce
1/4 cup (55 g) brown sugar
2 Tablespoons (30 ml) hoisin sauce
2 teaspoons (10 ml) rice vinegar or distilled white vinegar
1 teaspoon (5 ml) sesame seed oil
Instructions
Make the sauce: in medium bowl whisk together the water and cornstarch until smooth. Whisk in the remaining all sauce ingredients (soy sauce, brown sugar, hoisin sauce, rice vinegar, and sesame seed oil). Set aside.

Heat a large skillet over medium-high heat. Add 1 Tablespoon of oil to the pan then add the chicken. Sear until cooked though and all sides are golden. Remove the chicken from the pan.

In the same pan the chicken was cooked in, add 2 Tablespoons of oil, then the onions, garlic and ginger. Cook until soft and translucent. Add broccoli and cook until broccoli is tender, stirring frequently (if you like your broccoli soft, add about 1/4 cup of water to the pan when you add the broccoli - while the broccoli cooks it will absorb most of the water and soften. Make sure to cook until the water is fully absorbed and nearly all evaporated off the pan). Add the chicken back into the pan with the broccoli.

Whisk the sauce one more time to make sure the cornstarch isn't lumpy, then pour the sauce over the chicken and broccoli in the pan. Heat to a strong simmer and cook for about 1-2 minutes to thicken the sauce, stirring occasionally to make sure the chicken and broccoli is fully coated.

Serve warm over rice or noodles if desired.
Nutrition Information per Serving
Calories: 247kcal, Carbohydrates: 20g, Protein: 20g, Fat: 10g, Saturated Fat: 6g, Cholesterol: 49mg, Sodium: 924mg, Potassium: 584mg, Fiber: 2g, Sugar: 12g, Vitamin A: 494IU, Vitamin C: 69mg, Calcium: 56mg, Iron: 1mg
Here's our popular collection of–> Easy Chicken Recipes.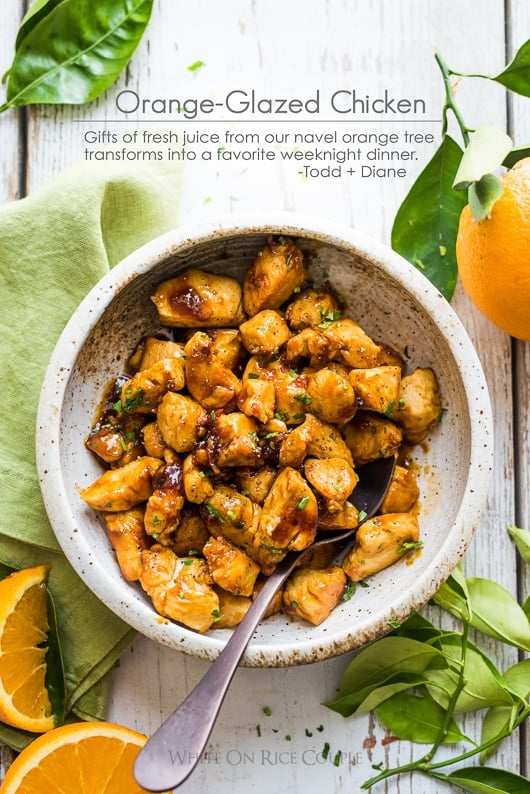 More chicken recipes for you to check out.
We are a participant in the Amazon Services LLC Associates Program, an affiliate advertising program designed to provide a means for us to earn fees by linking to Amazon.com and affiliated sites.