Zucchini Noodles with Turkey Marinara Sauce
Zucchini noodles with turkey marinara is a weeknight favorite when we're wanting to eat low carb pasta without all the starch.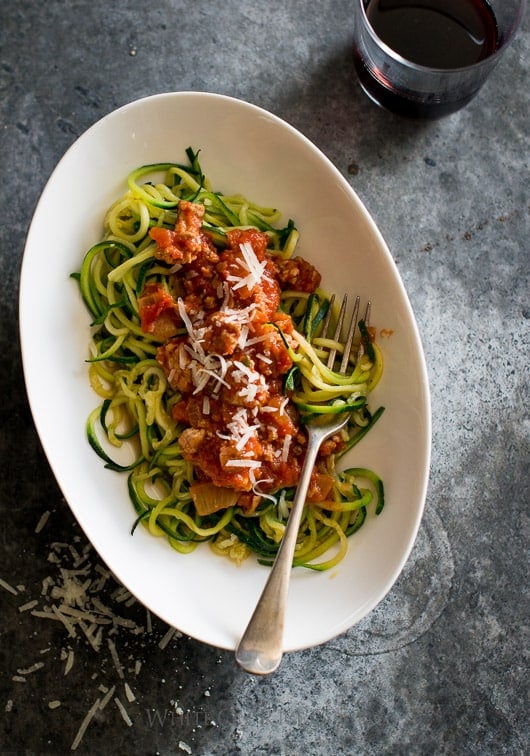 Healthy Zucchini Noodles Recipe
At some point during this Thanksgiving week you're all going to want to either cleanse or use up leftover turkey. For us, it's both. On Saturday we had a huge Thanksgiving meal for our Southern California family and friends. It was a combination Thanksgiving and Friends-giving with family and close friends. We cooked for eighteen hungry eaters and had a fabulous evening. Every time we gather with loved ones over a big meal, it reminds us that we need to do this more often. We always wanted to have a holiday where we didn't have to work our long retail hours so we can make the time to cook more for those we love.
Since leaving the crazy retail world a while back, we made effort to split our time between family and close friends. It's hard to not see everyone year after year, but when everyone is scattered across the country, we try our best to connect with everyone at least once a year. Now that we're in the holiday season, we're making the rounds and this might be the best year yet! We just might get to see everyone in our family between November and December. That's a big goal-reached for us!
Low Carb Zucchini Noodles with Turkey Marinara
So we started off like good kids on Saturday with the first big feast and now we're still digesting (3 days later). All we wanted to eat over the last few days was light salads and clean food, until we hit feast #2 on Thursday. One of our favorite light meals is eating zucchini noodles with turkey, which we raved about on our last zucchini noodle pad thai post. We couldn't get enough of zucchini noodles because it's so light and we don't miss the noodles. This zucchini noodles with turkey is a comforting and perfect meal to follow-up a meal that's laden with heavy carbs, like the one we digested on Saturday.
Turkey Zucchini Noodles Recipe
When your post-Thanksgiving meal comes around, try this light and healthy dish with your leftover turkey or start fresh with ground turkey. Cook it up with the sauce and you won't feel as guilty because you're using up leftover turkey AND you're eating low carb zucchini noodles.
Enjoy and Happy Thanksgiving to you all!
diane and todd
Best Vegetable Spiralizers for Zucchini Noodles:

Paderno Spiralizer –
The Classic! We've lost track of how many meals this one has made for us. Fantastic spiralizer.
KitchenAid Spiralizer Attachment –
Spiralize, peel, core, slice. All from the power of the KitchenAid stand mixer.
OXO Julienne Peeler –
For those who love it simple. This great julienne peeler has seen a lot of mileage in our kitchen.
Our favorite zucchini noodle tool is this Paderno Spiralizer . We also talked about it here.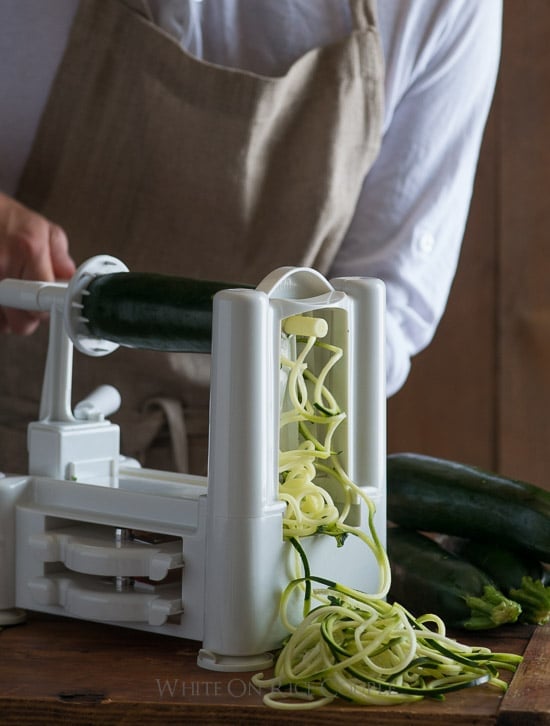 Our OXO vegetable peeler was equally awesome at making the noodles, without the curly look.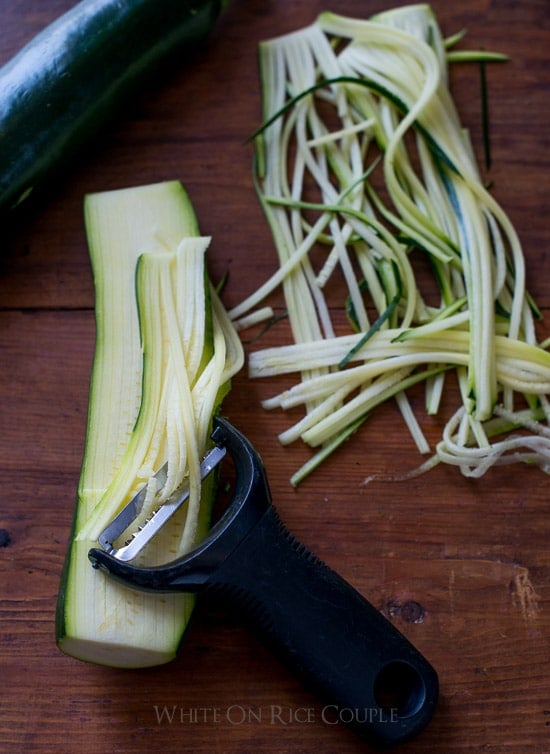 A Mandolin works great as well, but be safe. We used our safety gloves.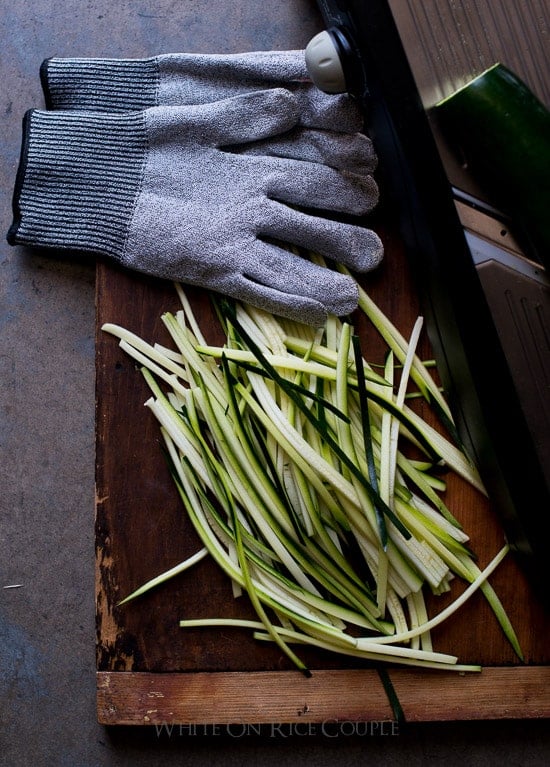 though a mandolin doesn't have the curls either, the zucchini cooks up great.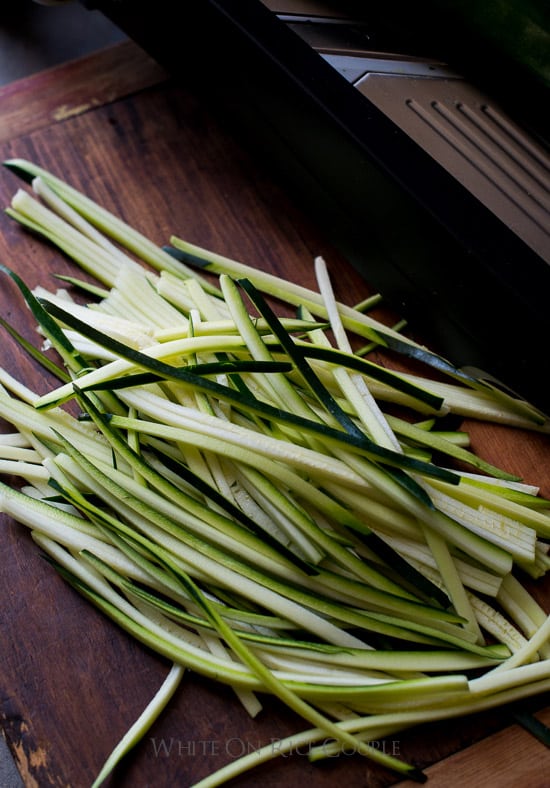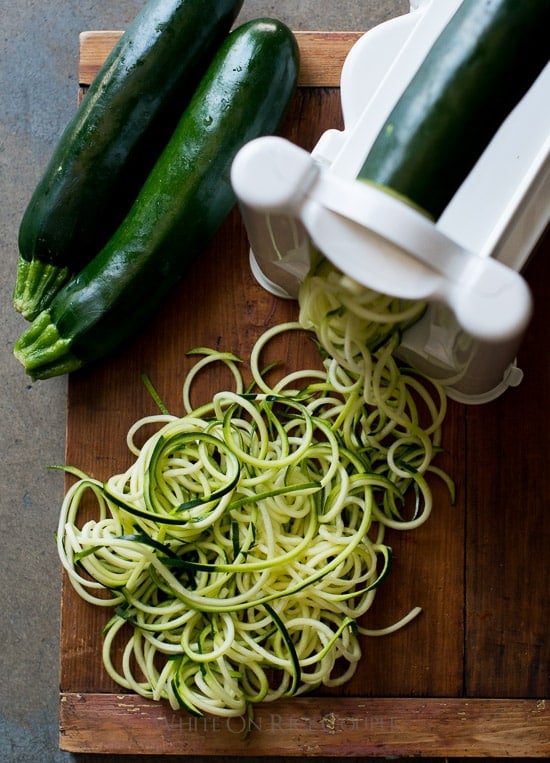 More Zucchini Noodle Recipes You'll Enjoy:
Our popular Zucchini Noodle Pad Thai with Shrimp Recipe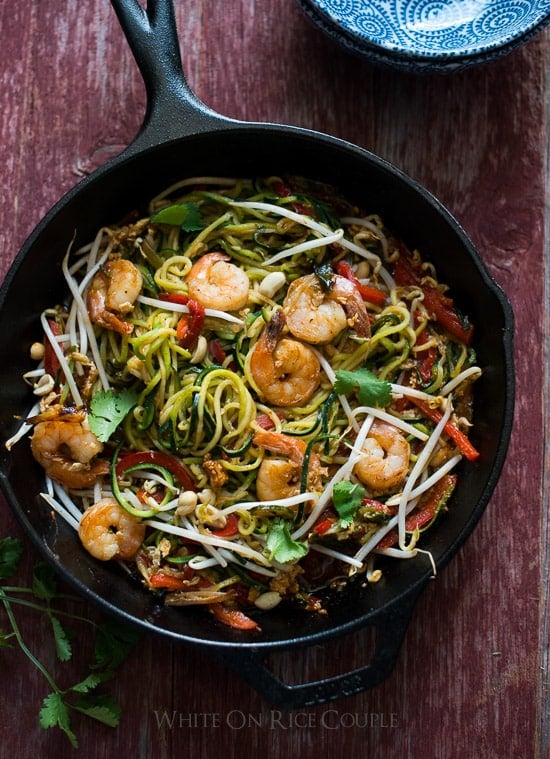 Craving Chinese without the calories? Make Zucchini Noodle Chow Mein with Pork Recipe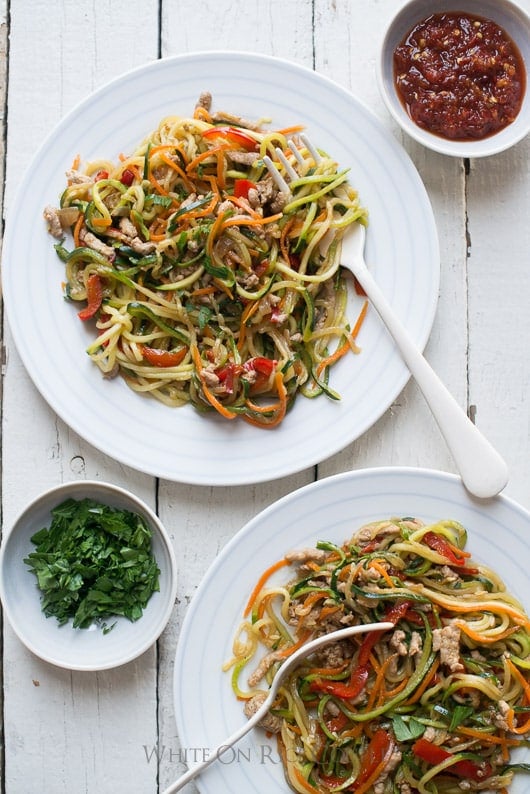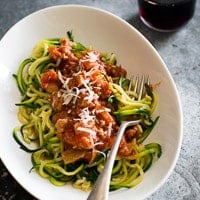 Zucchini Noodles with Turkey Marinara Recipe
If you have leftover Thanksgiving turkey, you can use it in this recipe instead of fresh ground turkey. You don't have to cook the leftover turkey as long and the flavor will still be great. Our favorite zucchini noodle tool is this Paderno Spiralizer . We also talked about it and other zucchini noodle tools here.
Ingredients
For the Zucchini noodles:
2-3 medium zucchini , cut into noodle strips with a spiralizer or mandolin
1 Tablespoon (15ml) olive oil
For the turkey marinara sauce:
2 Tablespoons (30ml) olive oil
1 pound (455g) ground turkey or leftover cooked turkey
1 medium onion , minced
1-2 cloves garlic , minced
29 oz (822g) tomato sauce, or canned crushed or diced tomatoes (choose your tomato texture!)
1/4 teaspoon dried thyme
1/2 teaspoon paprika
1 teaspoon (5ml) Worcestershire sauce
1/2 teaspoon ground dry mustard
1/2 teaspoon sugar
1/2 teaspoon kosher or sea salt , or more to taste
fresh cracked black pepper , to taste
1/2 cup (120ml) grated parmesan cheese , or to taste
Instructions
Prep the zucchini noodles: Heat large sauce pan over medium-high heat. Add 1 tablespoon of olive oil and saute the zucchini noodles until tender, about 2-3 minutes. Set aside to continue releasing excess water. Do not overcook the zucchini noodles.

Make the turkey marinara sauce: In medium sauce pan, heat over medium-high heat. Add olive oil, onions and garlic. Cook until translucent.

Add ground turkey and cook until light brown, about 5 minutes. If you're cooking with leftover cooked turkey, just cook the turkey until heated through, about 2-3 minutes.

Add tomato sauce, dried thyme, paprika, Worcestershire sauce, dry mustard, sugar and salt and pepper.

Bring the sauce to a low boil, then reduce heat to a low simmer. Simmer the sauce on low heat for about 20-25 minutes.Serve the sauce over the zucchini noodles. Sprinkle with parmesan cheese.
Nutrition Information per Serving
Calories: 357kcal, Carbohydrates: 18g, Protein: 36g, Fat: 17g, Saturated Fat: 4g, Trans Fat: 1g, Cholesterol: 73mg, Sodium: 1641mg, Potassium: 1350mg, Fiber: 5g, Sugar: 13g, Vitamin A: 1350IU, Vitamin C: 34mg, Calcium: 196mg, Iron: 4mg
We are a participant in the Amazon Services LLC Associates Program, an affiliate advertising program designed to provide a means for us to earn fees by linking to Amazon.com and affiliated sites.