Roasted Fig & Goat Cheese Ice Cream
This ice cream is perfect this time of year when fresh figs are plentiful. If you have some fresh ripe figs, make roasted fig ice cream with goat cheese. It's such a perfect seasonal treat with wonderful rich flavors of fig and tangy goat cheese. Give this homeamade ice cream recipe a try if you're obsessed with figs like we are!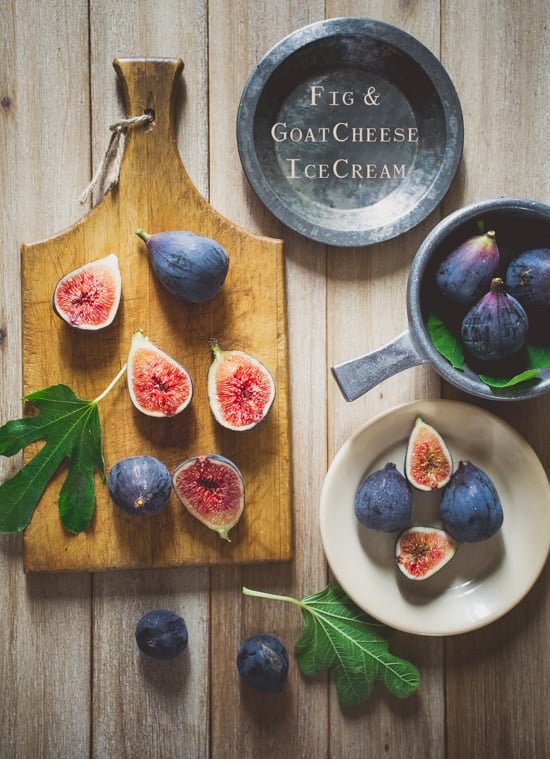 Roasted Fig Ice Cream Recipe with Goat Cheese
Before we ever get off a plane to a new city, we're researching some of the best places to eat. Our love of food extends to every corner of the city. Some would call it an obsession, but it's simply a fun way to devour each city's unique food culture, specialties and dishes. The search for great handmade ice cream continues and so far, each city we've visited has a great representation of a sweet scoop.
Is it even possible to have ice cream overload? Apparently not for us. Well, at least not yet.
Some of our favorite trips had us venturing to Amy's Ice Cream in Austin, Three Twins Ice Cream in Point Reyes, Lappert's Ice Cream in Palm Springs and our latest treasure find was The Penny Ice Cream Company in Santa Cruz. If you ever venture to this coastal town of Santa Cruz, please promise us you'll stop by The Penny Ice Cream Company. The burnt salted caramel is to die for! And putting up with the intense dessert heat of Palm Springs is worth all the sun burns if you venture to Lappert's Ice Cream. The soft, pillow-ly texture of Lappert's is incredible.
Video: Making Roasted Fig and Goat Cheese Ice Cream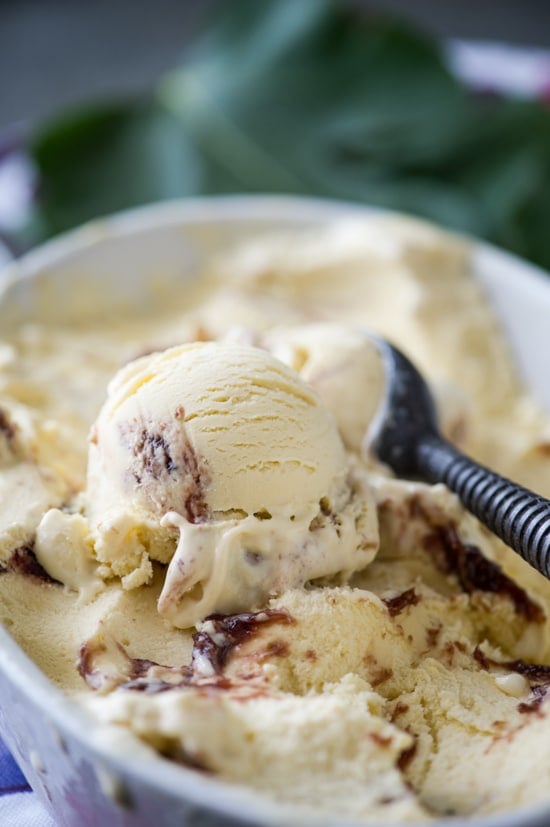 Homemade Fig Ice Cream is So Good
When we're not on the road and hunting for the city's ice cream, we're whipping up different batches at home. It doesn't take much to make a batch of homemade ice cream. A little patience, some thought, fresh ingredients and sweet fruit is all it takes to enjoy a truly fresh and homemade scoop of sweet joy.
Over the last month we've been indulging in super sweet black mission figs, thus the inspiration for this Roasted Fig Ice Cream. The sugar content and flavor on these little beauties is hard to resist when it comes to making ice cream. Coupled with some leftover goat cheese in our fridge, the timing was perfect to whip up a batch of ice cream.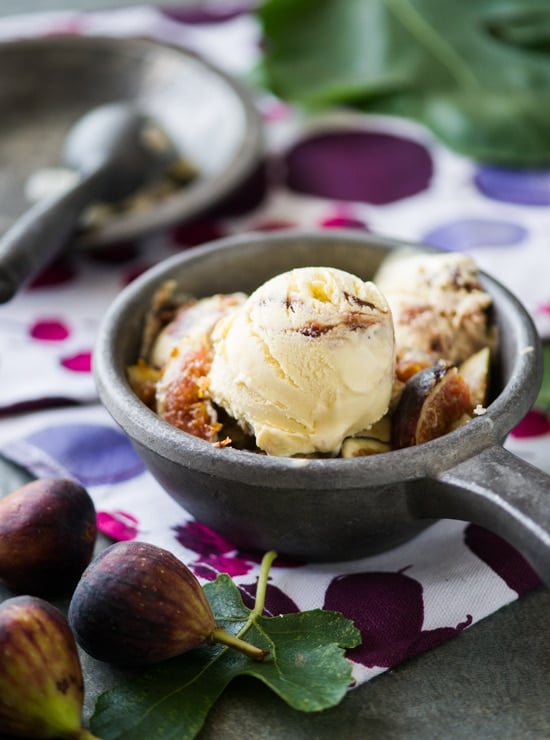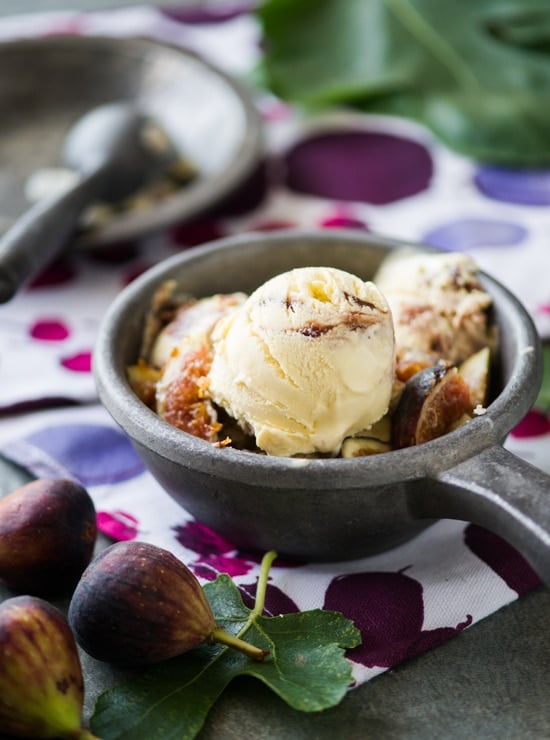 Roasting Figs for Ice Cream
Slow roasting figs in the oven bring out the flavors and sweetness of this wonderful fruit. Adding the creamy tang of goat cheese to this magical fig compote mixture makes a wonderfully fresh and elegant ice cream. Even beyond the sound of it's elevated status, this ice cream is incredibly satisfying. Go make yourself of batch of this Roasted Fig Ice Cream or whatever it is that your heart desires. Why? because Summer is still alive in our part of the world.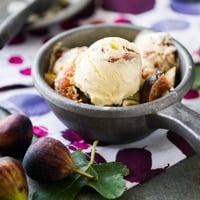 Roasted Fig and Goat Cheese Ice Cream
The goat cheese ice cream isn't overly tangy, think more cheesecake tang. And it is super smooth. The roasted fig compote streaked through the ice cream is a perfect creamy pairing.Makes about 1 quart
Ingredients
Goat Cheese Ice Cream
8 ounces (225 g) fresh goat cheese
1 1/2 cups (360 ml) heavy cream
1 1/2 cups (360 ml) milk
2/3 cup (135 g) sugar
10 egg yolks
pinch kosher salt or sea salt
2 Tablespoons (30 ml) bourbon (optional – but it does make the ice cream a bit softer and tastier) – you can also use vanilla extract
Roasted Fig Puree
1/2 pound (225 g) ripe figs
2 Tablespoons (30 ml) balsamic vinegar , divided
1 Tablespoon (15 g) brown sugar , or to taste (depends on how ripe & sweet your figs are)
Instructions
While the custard cools, make the roasted fig puree (this can also be done ahead of time)
Slice the tough stems off of the figs then slice the figs into quarters. Place the figs in a baking dish and toss with one Tablespoon of balsamic vinegar and brown sugar. Cover the baking dish with foil and roast for 15-20 minutes or until the figs are soft.
Nutrition Information per Serving
Calories: 288kcal, Carbohydrates: 19g, Protein: 8g, Fat: 20g, Saturated Fat: 12g, Cholesterol: 215mg, Sodium: 102mg, Potassium: 132mg, Fiber: 1g, Sugar: 17g, Vitamin A: 925IU, Vitamin C: 1mg, Calcium: 108mg, Iron: 1mg
Our Favorites for Ice Cream
Originally published in 2013 and updated last in 2023.
We are a participant in the Amazon Services LLC Associates Program, an affiliate advertising program designed to provide a means for us to earn fees by linking to Amazon.com and affiliated sites.