Garlic Butter Noodles
Simple and always delicious, this garlic butter noodles recipe is shared by our friend Jaden. It's an oldie but goodie and both kids and adults love this simple and flavorful garlic noodles.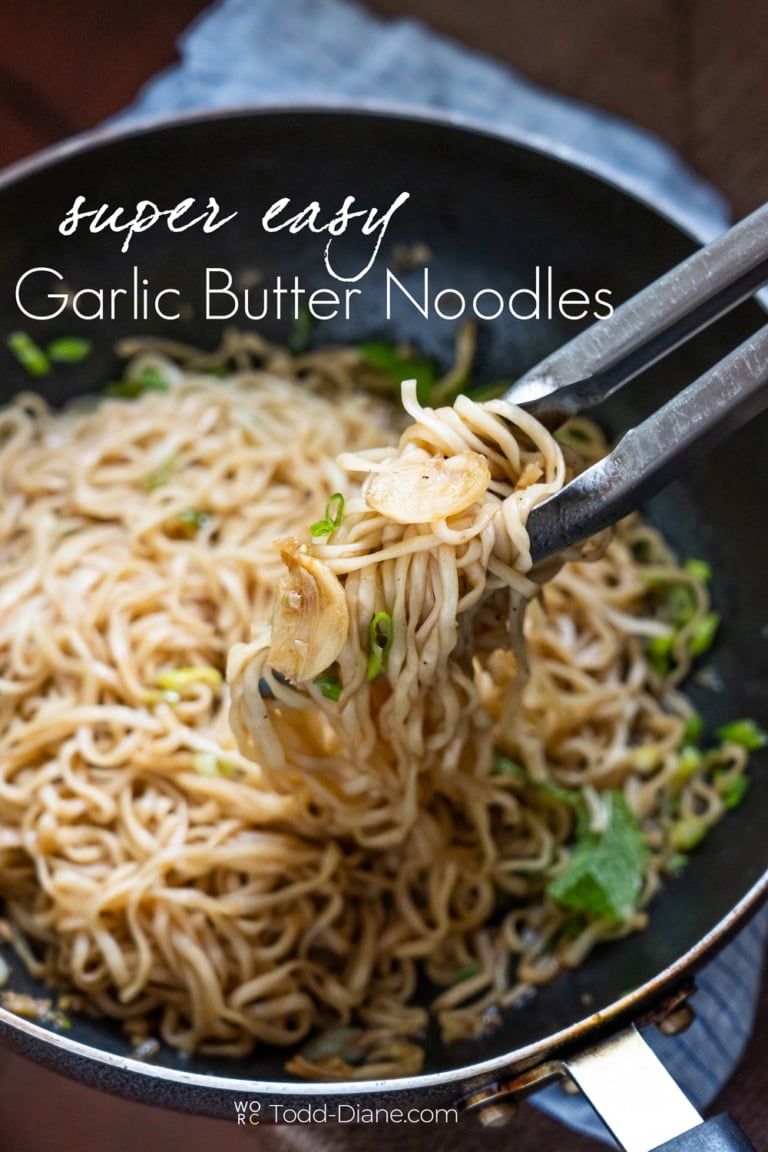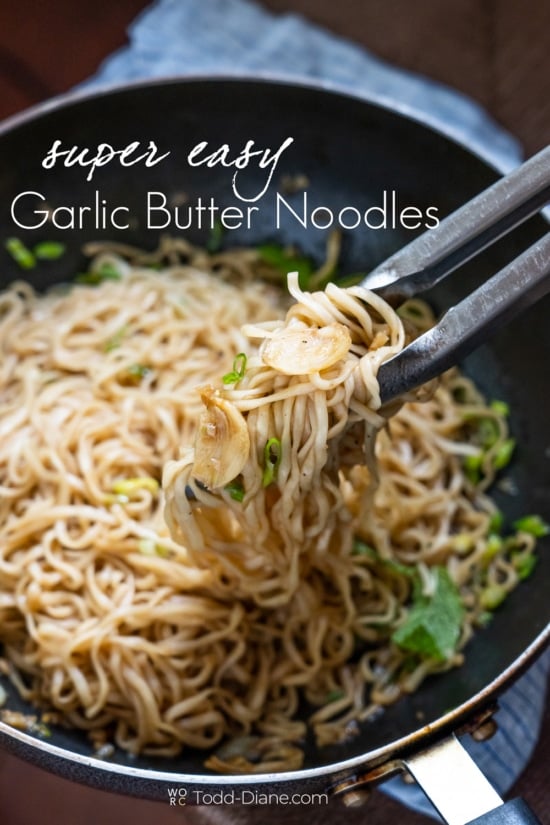 Garlic Butter Noodles Recipe
This simple garlic butter noodles recipe is adapted with permission from Jaden's gorgeous cookbook The Steamy Kitchen Cookbook is a friendly book that gives tried-and-true tested recipes (she had hundreds of recipe testers!) that gives valuable information to both novice and professional cooks who want to learn more about Asian cuisine. This is a recipe that's family friendly and perfect for anyone who loves simple garlic, butter and noodles. What's not to love about simple comfort food?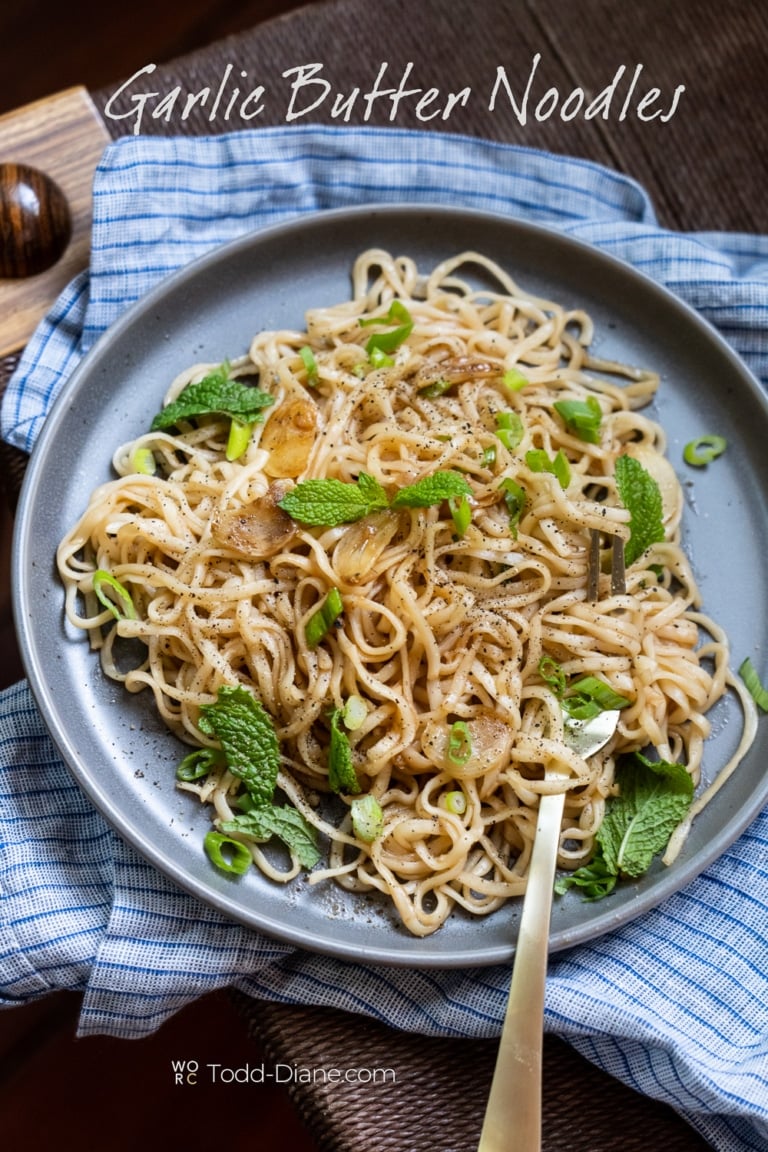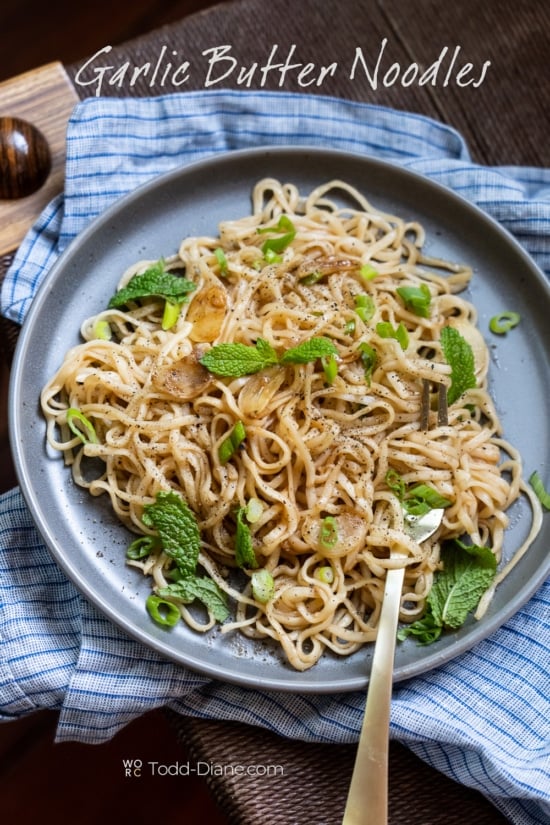 Video: Garlic Butter Noodles Recipe
Tips on How to Make Garlic Butter Noodles
If you love garlic, noodles and butter, then this garlic noodle dish is for YOU! These garlic noodles are fabulously flavorful and sinfully easy to make. This garlic noodle recipe is one of those dishes that are perfect alone, or tossed with your favorite vegetables and meats. You can eat these butter garlic noodles as it stands and lick your fingers during the process, or make it a full meal with all the extra accompaniments.
We added extra garlic (no kissing tonight) and so can you. Customize the amount of garlic you want to your personal taste.
Adding fresh herbs is a nice addition. Chopped green onions or scallions, fresh cilantro, fresh mint and basil are a few ways to add a bit of healthy conscience to the garlic noodle recipe. The mint added a bright balance to the flavorful buttery and garlicky sauce for the garlic noodles. Fresh shredded basil is next on our list and we're excited to add some fresh bean sprouts too.
Additions of shrimp, chicken or beef. You can definitely amp-up this butter garlic noodle recipe with what ever type of protein that you want, you can't go wrong.
Extra vegetables are wonderful. Like broccoli, kale, cauliflower, onions, shredded carrots or shredded cabbage are some ideas for adding for veggies and healthy bulk to the noodles.
Seasonings: make sure to add enough salt, soy sauce or fish sauce. These noodles will be bland if you don't add enough seasoning.
Make spicy noodles! Add some red pepper flakes or your favorite hot sauce.
All garlic butter noodles recipe details are in the recipe box below.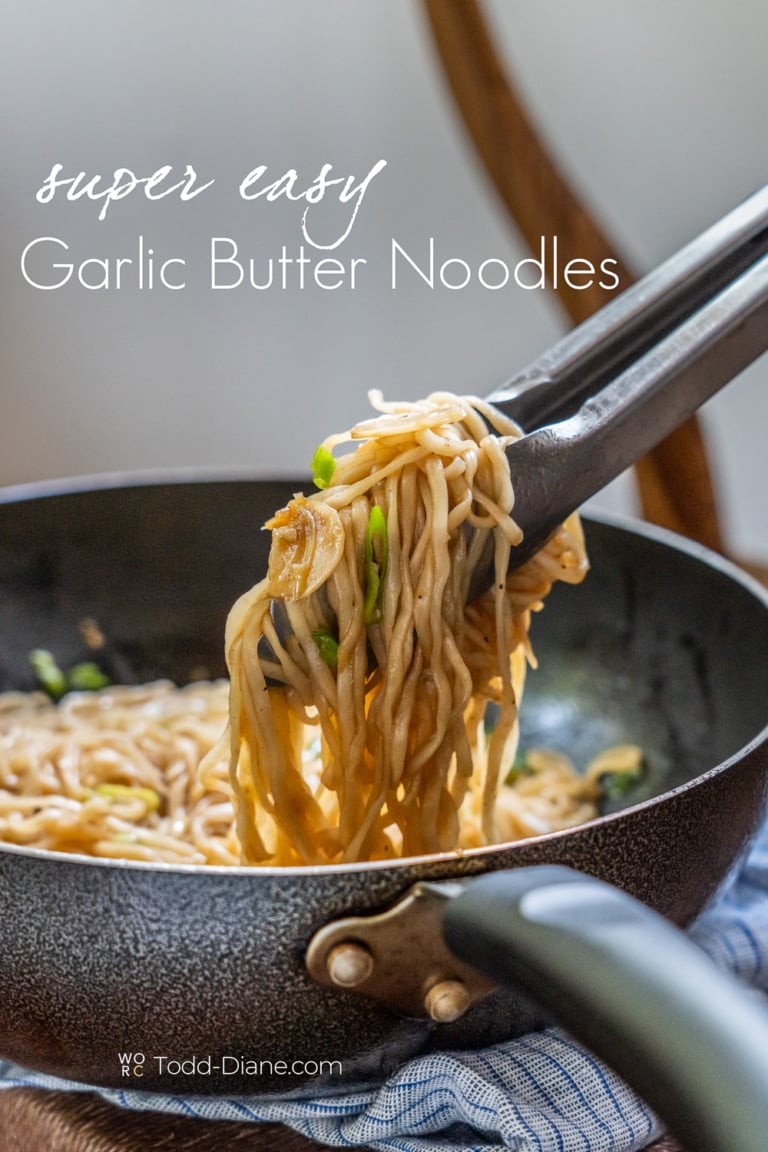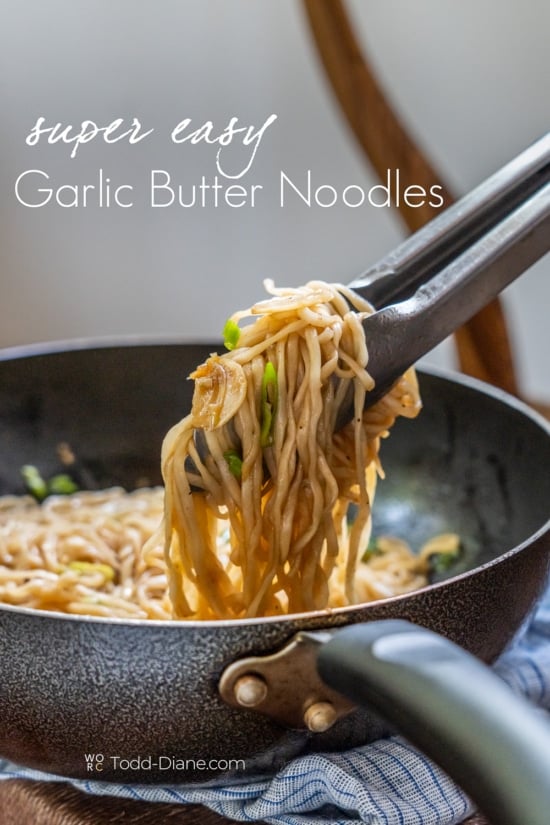 What Types of Noodles for Garlic Noodles?
You can make this garlic noodle recipe with spaghetti noodles. There's lot of possibilities and options. Cooked pasta works too.
Simple ramen noodles are great! It's a great quick and easy ramen hack. Just cook the noodles from your pantry ramen and you're halfway there. The recipe is for about 2 packages of noodles but if you just cook 1 package, halve the rest of the ingredients.
Chow mein or low mein egg noodles. Always the classic and quick to cook.
Medium or wide Egg noodles
Spaghetti, Angel hair or fettuccine. These classic pastas are fantastic for garlic butter noodles. They're always available and simple to cook. Toss them in the garlic butter sauce and the whole family, especially kids, will be happy.
Rice Noodles or Pad Thai-style noodles. Definitely yes to rice noodles and we're big fans. They're light and will hold up to the garlic butter sauce.
Somen or buckwheat style noodles. These flavorful noodles are great with garlic butter. It's also nice to mix things up beyond the traditional chow mein style noodles.
Can These Be Eaten Cold and Make-Ahead Tips?
These garlic noodles are wonderful cold too, so we're already anticipating the party and picnic potential for this great recipe! But if you're eating these cold, the butter isn't so great at room temperature as it gets firm.
When you're making the sauce, add about 2 Tablespoons of grapeseed oil, olive oil or canola oil. This combination of oil and butter will keep the sauce easier to pour.
Also, we suggest making the sauce and storing it in a jar. Pour the garlic butter sauce over the noodles right before serving. Doing this will make sure the garlic butter sauce is fresh and won't soak into the noodles too much before eating. You want to make sure the sauce isn't soaking into the noodles.
If you're making this ahead, cook the noodles first and store in an airtight container or serving bowl. Then right before serving the noodles cold, toss with the sauce.
And if you're interested in learning more, here's a great article about the history of garlic noodles.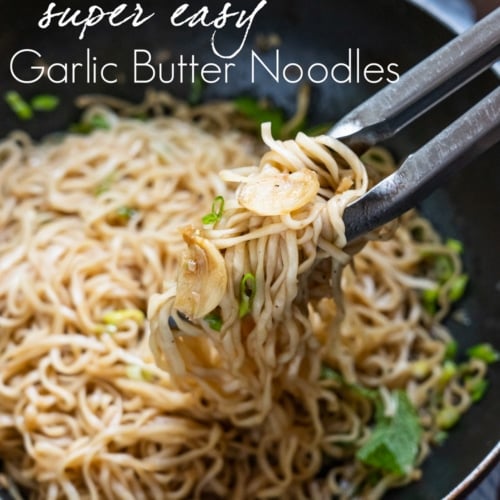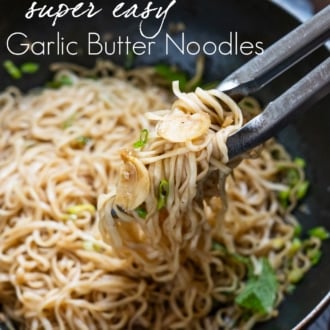 Garlic Butter Noodles Recipe
The best part about this recipe is that you can customize the flavors to your personal preference. Add more garlic, soy sauce or fish sauce for extra flavor. And if you're making a big batch, extra butter makes the noodles more saucy. Adapted from The Steamy Kitchen CookBook
Ingredients
6 oz. dry noodles about 2 (3.5 oz packages) instant ramen noodles – or any noodles like spaghetti
3 Tablespoons butter , or more to taste
4 cloves garlic , finely minced or sliced
2 Tablespoons brown sugar
1 Tablespoon Soy sauce or Maggi seasoning, or fish sauce (start with 2 teaspoons first because these are extra salty)
1 Tablespoon oyster sauce or hoisin or any bbq sauce
1/4 cup fresh herbs or cilantro, parsley, basil, chopped
3 stalks fresh chopped green onions or scallions
additional salt and pepper to personal taste
Nutrition Information per Serving
Calories: 386kcal, Carbohydrates: 48g, Protein: 6g, Fat: 19g, Saturated Fat: 12g, Trans Fat: 1g, Cholesterol: 45mg, Sodium: 740mg, Potassium: 114mg, Fiber: 3g, Sugar: 13g, Vitamin A: 1003IU, Vitamin C: 5mg, Calcium: 54mg, Iron: 3mg
How to Store Leftovers?
If you have leftovers use any type of air tight storage. When re-heating the microwave is the best! It heats the noodles to be moist and not dry. If needed, melt butter then add to the noodles and extra seasoning on the noodles. Sometimes leftover noodles stored in the refrigerator will soak up all the sauce, leaving the noodles or garlic butter pasta a little dry and flavorless.
We are a participant in the Amazon Services LLC Associates Program, an affiliate advertising program designed to provide a means for us to earn fees by linking to Amazon.com and affiliated sites.