Sweet Cherry-Bomb and Coconut Milk Pops
These cherry coconut pops are perfect when sweet cherries come into season. But you can always use frozen cherries as well.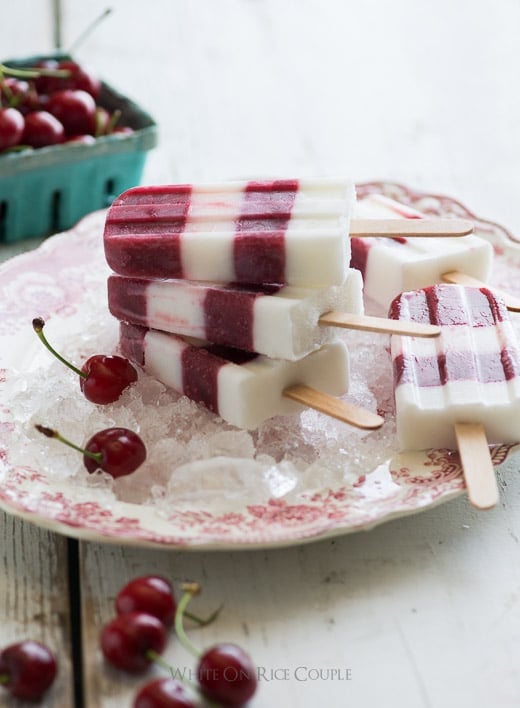 Cherry Popsicles with Coconut Milk
Boozy ice pops have been one of our secret addictions for so long now that rarely do any of our clients or workshop attendees leave without a lick. The popsicles are what makes our shoots, workshops and gatherings so fun. Sometimes at the end of a long hot day, treating yourself to an ice pop is something truly wonderful. It's like being a kid again and enjoying something that is not only cool and refreshing, but it's also so much fun to eat. Every time we offer someone a popsicle, their eyes light up, a hug smile comes across their face and they feel like a big kid.
Fresh Cherry Popsicles
We've been diving into our cache of popsicle recipe ideas and decided to churn out a new one for the weekend. We need to warm up our pop making skills again and since local cherries are starting to arrive in our markets, it was time for cherry pops! This recipe idea for sweet cherry and coconut milk pops has been on our list for a long time. Every time we wanted to make it, fresh cherries were out of season. Because we're die-hard cherry eaters, we wanted to make sure we had our initial recipe test made with fresh cherries. So when they disappeared for the season, the many month long wait was excruciating.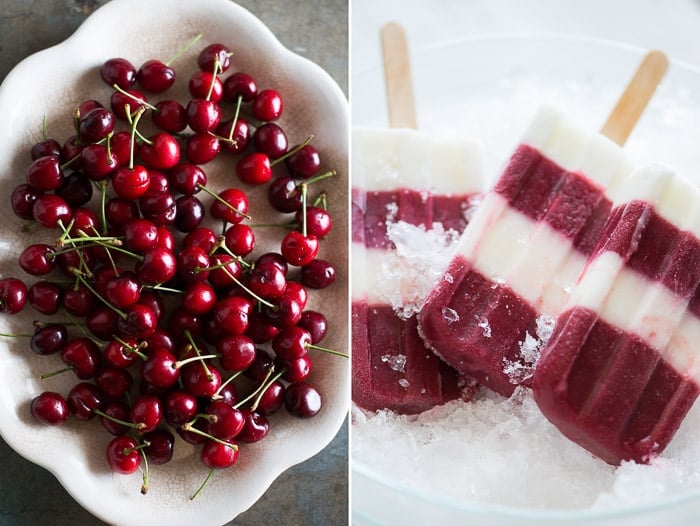 Cherry season is finally here again and we're celebrating with this fabulous round of cherry pops that's layered with creamy coconut milk. They are one of our favorite pops so far that doesn't have booze in it. These pops are a fine example of how delicious and kid-friendly popsicles can be. Not everything needs to have a splash of vodka. Or rum. Or whiskey. Or gin. Or tequila. Fresh fruit pops are equally refreshing and fantastic.
enjoy,
diane and todd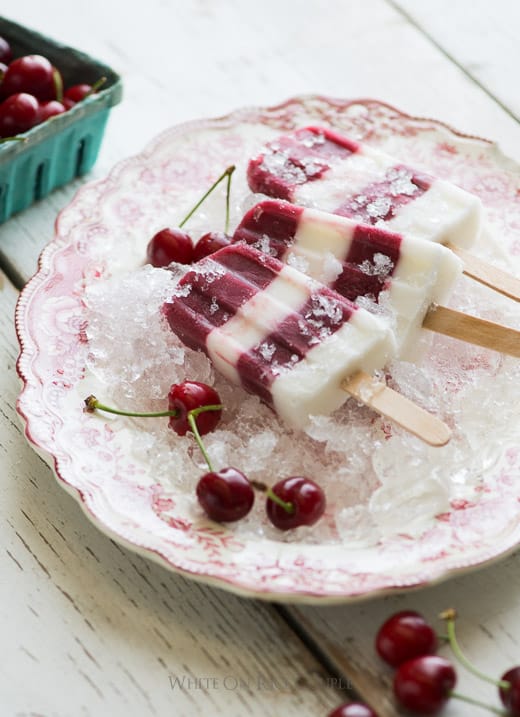 This post was originally published 2014 and re-published in 2019 with updated photos.
More of our popsicles: Blackberry mojito pop and blood orange pops.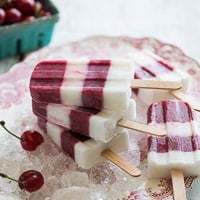 Cherry-Bomb Coconut Milk Popsicles
Feel free to adjust the sugar amount to your own preferences. The frozen pops will taste slightly less sweet than the unfrozen mixture, so keep that in mind when making personal adjustments.You can also freeze these into as many layers as you have the patience to make. Make sure the stick goes all the way into the deepest layer or else it might be left behind in the mold when you pull out the pops.
Ingredients
Cherry Filling
1 pound (455g) cherries, fresh or frozen (thawed-if frozen)
1 1/2 cups (360ml) water
1/2 cup (100g) sugar
2 teaspoons (10ml) fresh lime juice (1-2 limes depending on their juiciness)
Coconut Filling
3/4 cup (180ml) coconut milk
3/4 cup (180g) plain yogurt
1/3 cup (65g) sugar
Instructions
If using fresh cherries, pit and de-stem the cherries (if using frozen, combine all of the cherry filling ingredients in a blender and proceed to Step 2). Combine all of the cherry filling ingredients in a saucepan over medium heat and bring to a simmer. Cook until the cherries are soft, 10-15 minutes. Set aside and chill until fully cooled.

Puree the cherry filling in a blender. Strain out any remaining cherry chunks using a wire mesh strainer and set the cherry juice aside for filling the pops.

In another bowl, whisk together all of the coconut filling ingredients until smooth.

Pour the first layer of cherry juice into the pop mold. Freeze for 30 mintues-1 hour or until just firm enough to keep the coconut filling from bleeding into the layer.

Pour a layer of coconut filling. Place the popsicle sticks into the pops, making sure the stick goes into the first cherry layer *see Note 1. Freeze for 30 mintues-1 hour or until firm enough to keep the next layer from bleeding into it. Repeat for the remaining layers (a funnel is helpful for pouring the final layers in next to the sticks). Freeze for at least 2 hours after the final layer to make sure pops are completely solid before serving.

To serve, slightly warm the pop molds for 10-20 seconds (under warm water, wrapped a warm towel, or rubbed with your hands) and then pull the pops free of the mold. Enjoy!
Notes
Note 1: Use the popsicle mold top or a double layer of aluminum foil with slits for the sticks to help keep the sticks straight when first freezing the them into the pops.
Nutrition Information per Serving
Calories: 172kcal, Carbohydrates: 32g, Protein: 2g, Fat: 5g, Saturated Fat: 5g, Cholesterol: 3mg, Sodium: 16mg, Potassium: 208mg, Fiber: 1g, Sugar: 29g, Vitamin A: 59IU, Vitamin C: 5mg, Calcium: 40mg, Iron: 1mg
We are a participant in the Amazon Services LLC Associates Program, an affiliate advertising program designed to provide a means for us to earn fees by linking to Amazon.com and affiliated sites.