Chocolate Cherry Crisp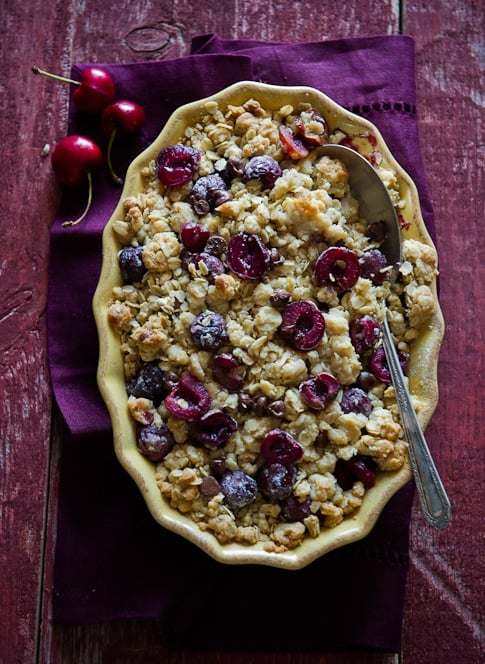 Easy Chocolate Cherry Crisp Recipe
We love our road trips to visit fruit stands. Take a road-trip this time of year and we're always about finding plump sweet cherries. Diane loves cherries. She gets all gushy over them in ways that is all sorts of cute. The first time we were up visiting my dad together, it took her a whole 5 seconds to spot a random cherry tree growing in the ditch turning towards Dad's place. She immediately decided we needed to take a nighttime stroll that evening.
Every time we pass a cherry tree, Diane is immediately taking in the 411. Cherries are never the same since teaming up someone who is as obsessed with sweet fruit as the two of us are together
As with most fruit, our favorite way of enjoying cherries is to immediately eat the cherries. However, occasionally we'll launder the goods by baking them. What better way, than with my all-time favorite country-style dessert, a crisp. A perfect topping made with brown sugar, butter, flour and oats concealing the ill-gotten gains laced with dark chocolate chips. A Chocolate Cherry Crisp to bake, share and enjoy Summer.
-Todd
Here's a coconut milk and cherry popsicles recipe for ya.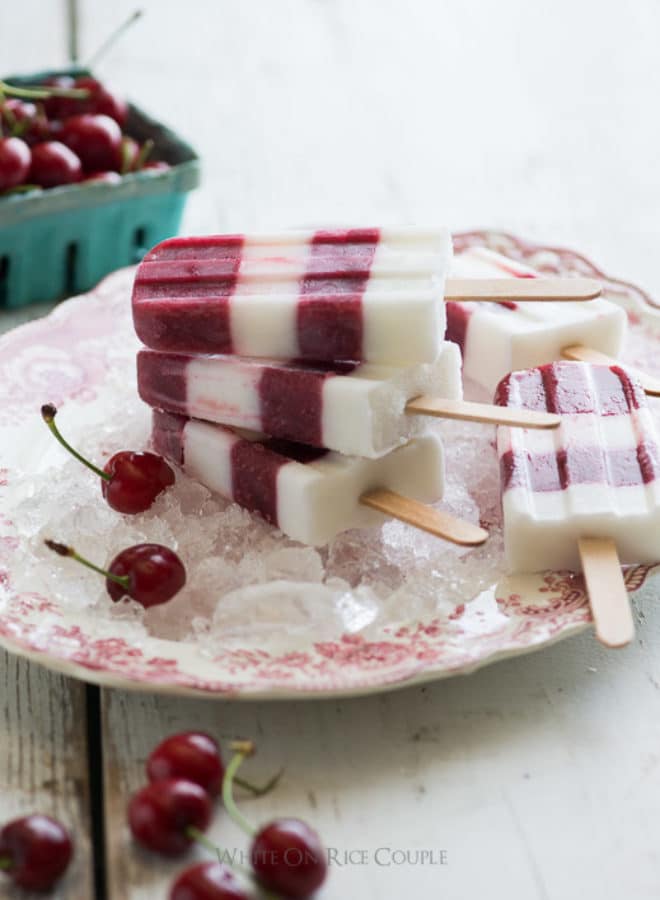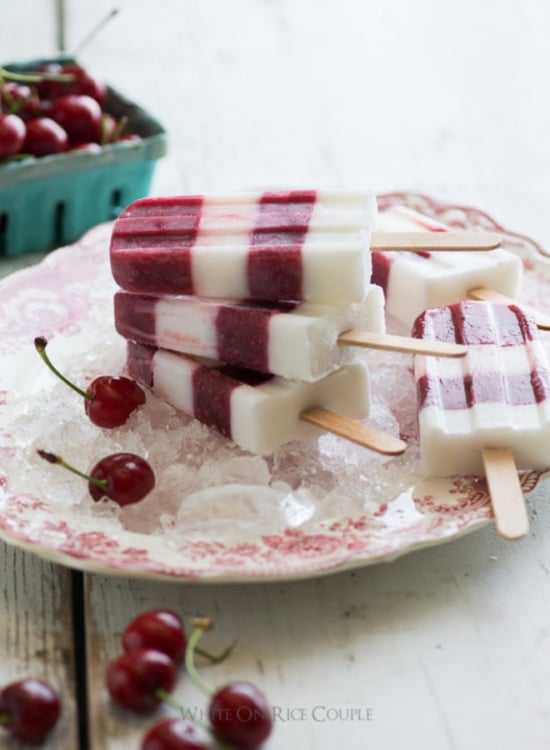 This recipe was originally published in 2011 and re-published in 2020 for the Summer season.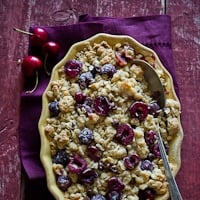 Chocolate Cherry Crisp Recipe
If you can't get fresh cherrys, you can use frozen cherries, thawed and drained. It won't be quite the same, but will still be tasty. You can make the crisp topping a day ahead if desired. Just keep chilled until ready to use.
Ingredients
Topping
1 cup (125g) all-purpose Flour
1/4 cup (55g) packed Brown Sugar
1/2 teaspoon (3g) Kosher Salt
6 Tablespoons (85g) cold, unsalted Butter , cut into small pieces
2/3 cup (65g) old-fashioned Rolled Oats
Filling
2 lbs fresh Cherries , pitted and halved
1 cup (180g) Chocolate Chips , preferrably dark chocolate chips
1/4 cup (50g) Sugar
3 Tablespoons (45g) Flour
Instructions
Preheat oven to 375°F.

Make Crisp Topping: In a large bowl, mix together flour, brown sugar, and salt. Pinch butter into flour, using your fingers or a pastry blender until mixture is the texture of coarse meal. Add oats and using your hands, pinch and mix in oats until they are evenly incorporated.If not making the crisp right away, keep chilled in fridge until ready to top the crisp.

Make Crisp Filling: (If desired, set aside a handful of cherries to decorate the top of the crisp.) In another bowl, toss cherries with chocolate chips, sugar and flour. Place the filling in a 2-quart baking dish.

Top the filling with the crisp topping. Place reserved cherries to decorate top of crisp. Put baking dish on a baking sheet pan to catch any bubble-overs when it bakes.

Bake for 45-60 minutes, or until golden and bubbly. Let cool 20 minutes & serve warm or allow to cool to room temperature before serving.
Nutrition Information per Serving
Calories: 411kcal, Carbohydrates: 62g, Protein: 6g, Fat: 16g, Saturated Fat: 12g, Cholesterol: 23mg, Sodium: 173mg, Potassium: 444mg, Fiber: 4g, Sugar: 35g, Vitamin A: 335IU, Vitamin C: 8mg, Calcium: 97mg, Iron: 2mg
We are a participant in the Amazon Services LLC Associates Program, an affiliate advertising program designed to provide a means for us to earn fees by linking to Amazon.com and affiliated sites.