Brown Butter Apple Hand Pies
These brown butter apple hand pies are wonderful for the Fall season. Make a big batch and share!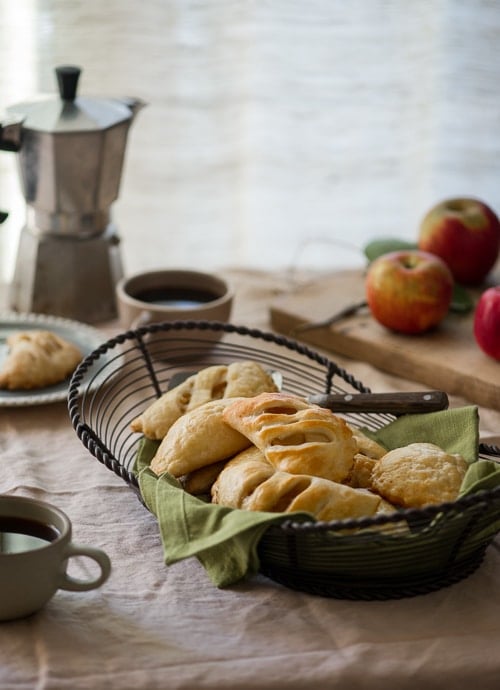 brown butter apple hand pies
When in comes to baking, I tend to get a little obsessed. Case in point; last night Diane is flipping through a recent Sunset magazine and sees a recipe for the "Easiest Pie Dough". The pictures look great of course, all flaky and butter, and the recipe says the dough is thrown together in 10 minutes.
We both have a bit of professional skepticism. It has been known for food stylists to fudge a flake to get that money shot, but this is Sunset magazine. They are straight up good peeps, we know this because we've worked with them on several magazine stories. You know, the kind of people with ethics and morals. We've heard great things about those kind of people.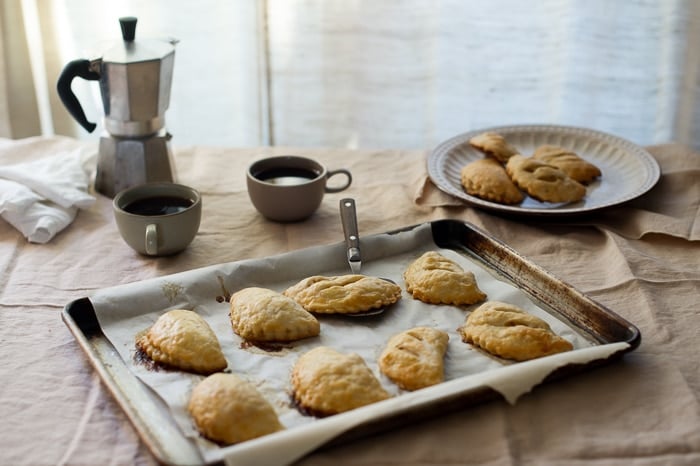 But still, 10 minutes and that gorgeous flake. So she asks me to make it. She didn't mean now, just whenever. Sometime in the near future just to see if the recipe it legit. Besides, who doesn't love a great pie crust that can be thrown together quickly.
And that is where my obsession creeps in. It is already 10 at night. Its winding down with a cocktail, a few puppy belly rubs, and see if we can stay awake through half of a movie. But I need to try this recipe now!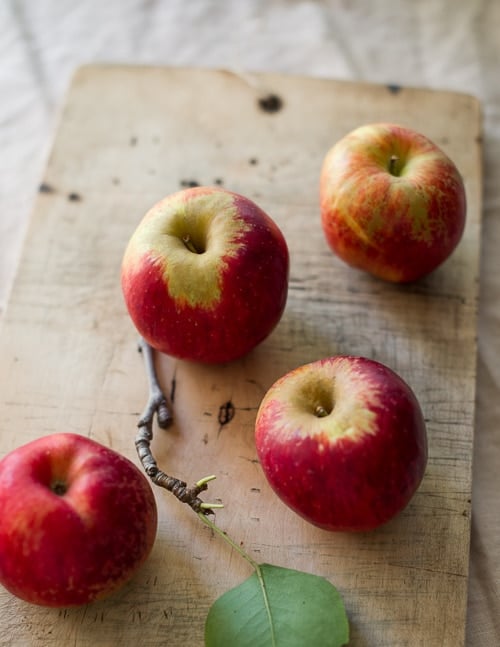 Making the filling
Per the recipe I toss the ingredients into the food processor and pulse as instructed. (BTW- this was a leap of faith for me. Normally if the butter isn't pinched in, pinch me gone.) Less than 10 minutes later I had a dough ball split in two, flattened into discs, and chilling in the fridge. That was easy.
Too easy. I had decided to make some brown butter hand pies with the dough with the filling in the style of our brown butter apple galettes. The filling was originally inspired by one of Jennie's recipes from In Jennie's Kitchen. It is still, hands down (where does that phrase come from?) our favorite way to make a filling with really good apples. The nuttiness of the brown butter play in the background to slightly sweetened apples sans any spice.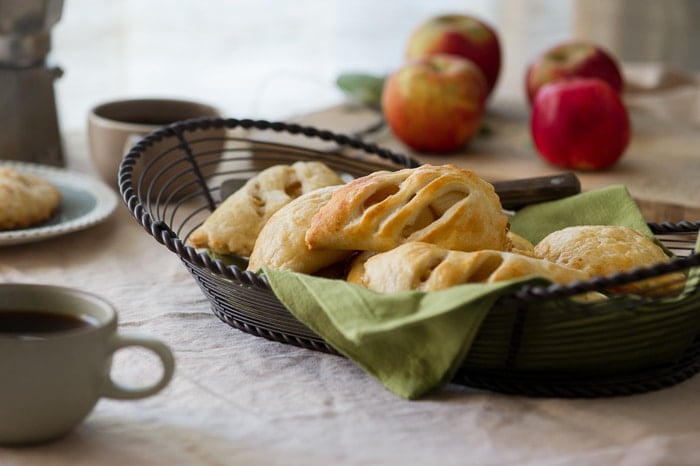 Yet that wouldn't take too long to throw together, so I had another recipe I was wanting to test out, and could use the pie dough for its crust as well, so I started working on that too.
Long story short. The second dessert was a partial do over. I don't think its creator checked their quantities very well since the filling didn't even fill a 7″ tart when it was supposed to be for a 9″. What the hell? I don't need inaccuracies at 11 o'clock at night. However the apple hand pies came out just fine. The crust was as flaky, and the brown butter apple filling rocked, of course. I didn't mind making the pie dough in the food processor, but I still prefer to make it by hand like we usually do (hence the recipe being written using our our dough recipe). Breakfast was ready, I just needed to get a little sleep and wait for the sun to come up.
-Todd
Brown Butter Apple Hand Pies
The crust is our house favorite. Flaky, buttery, easy to handle. The pie dough can be made a day or two ahead of time and kept in the fridge. Or freeze the dough and thaw out in the fridge the night before. The directions are for a half moon shape (childhood memories and all) but one could always slap two circles together to make a round hand pie, or else cut the dough into squares and make triangles or square pies. Let your imagination go wild.
Ingredients
1 full batch Pie Dough (enough dough to make two 9" pies)
4 medium Apples (@ 1 1/2 lbs total), peeled, cored and thinly chopped
1/4 cup (55g) packed Brown Sugar
1/4 cup (50g) Sugar
2 Tablespoons (15g) Flour
2 teaspoons (10ml) fresh Lemon Juice
1/3 cup (75g) unsalted Butter
1 Egg , for egg wash
1 Tablespoon Water (15ml) for egg wash
Instructions
Preheat oven to 375°F. Line a couple sheet pans with parchment paper.

Toss the apples, sugars, flour, and lemon juice together in a large bowl.

Heat butter in a saucepan over medium heat. Butter will initially foam up and then settle down. Continue cooking, swirling the pan occasionally, until the solids begin to separate and brown, and the liquids turns a light brown color. It should have a nutty, toasty aroma. Remove from heat.

Add brown butter to apples and toss to coat.

Working with one dough disk at a time, keeping the other chilling in the fridge, roll out to 1/8" thick on a lightly floured surface. Using a 4" ring cutter or 4" tartlet pan, cut out circles, re-rolling scraps (if they start to get warm, refrigerate then roll in 15-20 minutes).

Whisk together egg and water. Brush dough circles with egg wash. Pile about 1/4 cup of apples in the center of the circle, and then fold over and pinch to seal edges.

Place hand pie on lined sheet pan, brush top with egg wash, and score with a knife if desired. Repeat to fill sheet pan, placing hand pies at least an inch apart.

When sheet pan is filled, place in oven. Bake for about 30 minutes or until golden. While first pan bakes, continue rolling, filling and folding remaining dough.

After finished baking, allow to cool for 15 minutes and serve.
Nutrition Information per Serving
Calories: 123kcal, Carbohydrates: 17g, Protein: 1g, Fat: 6g, Saturated Fat: 3g, Trans Fat: 1g, Cholesterol: 18mg, Sodium: 44mg, Potassium: 62mg, Fiber: 1g, Sugar: 10g, Vitamin A: 140IU, Vitamin C: 2mg, Calcium: 9mg, Iron: 1mg
We are a participant in the Amazon Services LLC Associates Program, an affiliate advertising program designed to provide a means for us to earn fees by linking to Amazon.com and affiliated sites.