Studded Cherry-Tomato, Bacon & Blue Cheese Pizza
This tomato bacon pizza is a favorite for Summer when cherry tomatoes are peaking in the garden. Add your favorite toppings to customize this pizza to your liking.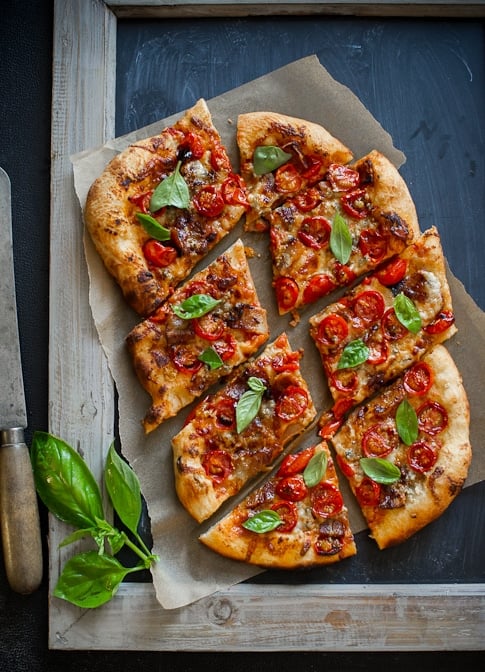 Tomato Bacon Pizza
Dear Friends, this pizza is very special. So special that we had to make it and eat it twice to make sure it was good enough for you all. *happy face* There are some things in life that you can't have too much of. As of late, one of those things are Sweet Million Cherry tomatoes. Maybe our plant didn't exactly deliver one million cherry tomatoes, but these are certainly one of the sweetest varieties we've ever grown. Though we've grown other varieties of red cherry tomatoes, these sweet million are at the very top of our red cherry list.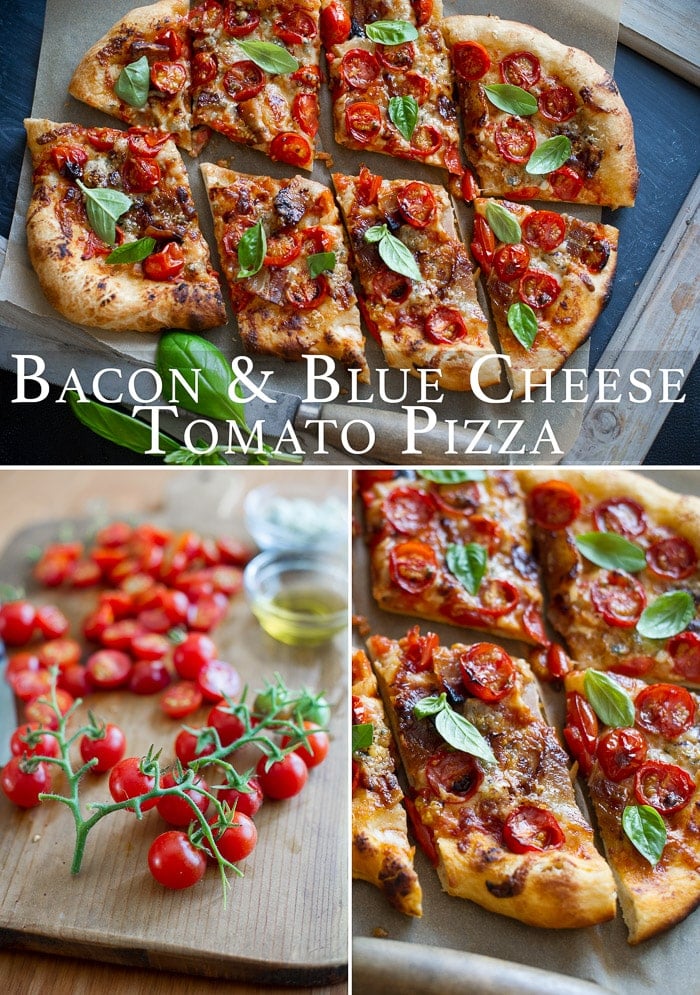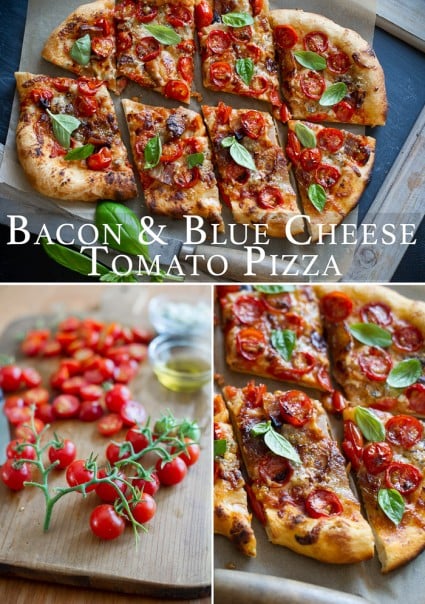 True to it's name, this variety is abundant when it comes to producing sweet, juicy cherry tomatoes. Their long clusters of red cherries are gorgeous and their thin skins make them super edible and sweet like candy. The best reward is when these tomatoes are left to ripen on the vines till they're about ready to drop. At this point, they're like candy!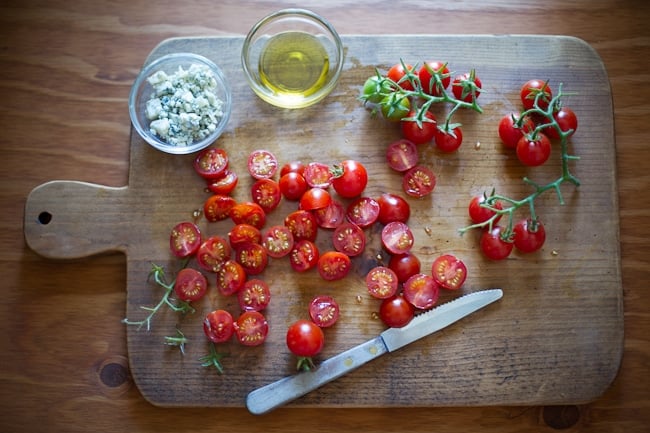 Sweet Garden Tomatoes
Though it might seem like it would be hard to keep up with eating them all, we never had a problem with excess. At a recent garden party, our friends politely helped themselves to a few bag fulls to take home. Before we knew it, the plant was stripped of all their red cherries! But within a few days of extra sunshine and heat, the plant pumped back double the amount of ripe clusters for us to add to almost every dish we ate throughout the day.
Since out last post about having too many tomatoes, we threw together a quick pizza lunch with a huge handful of these sweet millions. Paired with some blue cheese, bacon, fresh basil and sweet cherry tomatoes, how could this pizza go wrong? This pizza pie is hearty and rich, but when the sweet cherry tomatoes are loaded on, the pairing becomes fresh and alive again.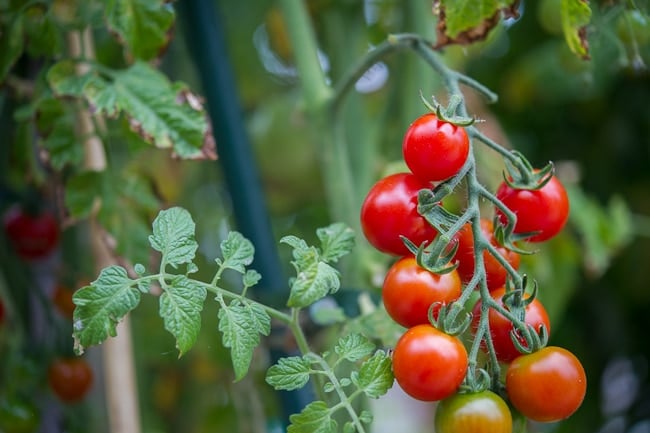 Our store is almost finished! It's been a crazy busy summer for us, so to be able to be home to enjoy all these tomatoes has been a special treat. The most exciting recent update is that our online photo store is finally, almost finished! This has been a project we've been working on for over a year and it feels so great to see it finally come to fruition.
We're still adding photo products, stock images, prints, handmade cards and some fun one of a kind props that we've been able to score during our travels. Many of you ask us where we find our food photography props, so we decided to buy extra pieces and then we can share them in our prop marketplace. So stay tuned for this launch in about 2 weeks!
Have a great weekend everyone,
diane and todd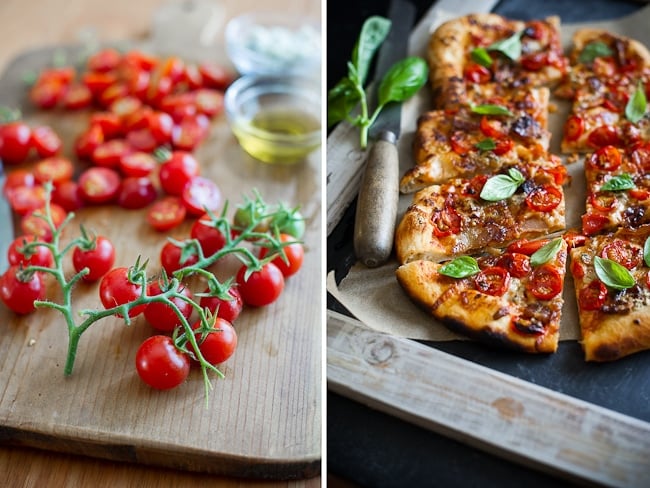 grab a slice and glass of wine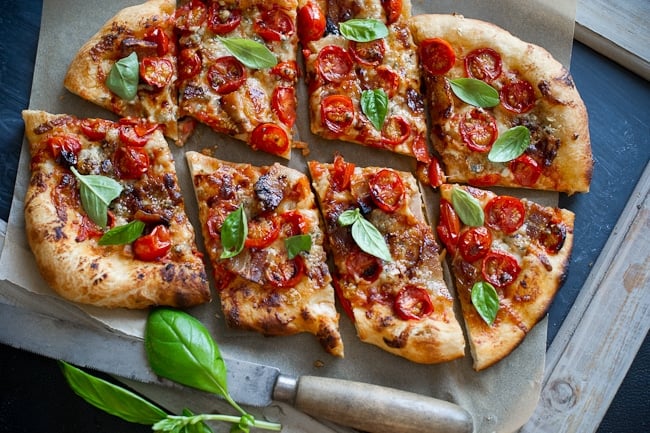 Tomato, Bacon, & Blue Cheese Pizza
For our basic pizza dough we most often use Zoe and Jeff of Bread in 5's basic dough. It is a great all around dough to have in the fridge.
Timing is based on having a pre-made dough in the fridge. Feel free to use your own favorite dough recipe or check out Zoe and Jeff's book dedicated to pizzas and flatbreads for specialized dough recipes. BTW - we had a great time filming and producing the video promo for that book. They are great people and the doughs are fantastic.
Makes one 10" pizza.
Ingredients
10 oz. (285 g) Pizza dough
1/3 cup (80ml) Cherry Tomatoes , sliced in half
2 Tablespoons (30 ml) Balsamic Vinegar
2 Tablespoons (30 ml) Olive Oil
4 slices thick cut Bacon
1/4 cups (60 ml) Tomato Sauce
1/4 cups (30 g) crumbled Blue Cheese
1/2 cups (55 g) grated Provolone , or cheese of choice
Olive Oil for brushing edge of crust
8-10 fresh Basil leaves , tearing larger leaves into 1/2 or 1/4's
Instructions
For best results, use a baking stone. Preheated oven and baking stone at 550°F for 20-30 minutes.

If dough is coming out of the fridge, pinch off a ball of dough approx. 10 oz in weight (or somewhere in between a baseball and softball size). On a floured surface, shape ball into disk approx. 1 1/2" thick. Set dough aside on floured surface to relax and warm up for 20 minutes as you prep the rest of the ingredients.

Combine sliced tomatoes, balsamic vinegar, and olive oil in a small bowl. Gently toss tomatoes to completely coat then set aside to marinate while you prep the rest of the toppings.

Cook bacon in a saute pan until light golden on each side. Blot on paper towels and after it cools enough to handle, slice into 1" long pieces. Set aside.

Pizza dough should now be soft and pillowy. On a floured surface, flour both sides of dough disk, then using your fingers rotate and push out the dough from the center to stretch it, leaving the outer rim untouched. Stretch to about a 7-8" circle.

Resting the dough on the tops of your hands, continue to circle and and gently stretch dough to finish stretching crust to about 10". Make sure to keep the rim thicker than the center. (If dough starts to toughen and spring back too much while working it, allow it to rest for a few minutes so the dough will relax and soften.)

Brush top and edges of the pizza dough with a light coat of olive oil. Place on a floured pizza peel (or on a lightly oiled sheet pan if not cooking on a baking stone) and adjust shape back to a circle.

Gently spread a light layer of tomato sauce over dough circle, leaving outer 3/4" untouched. Layer on bacon. Spread on cheeses. (Occasionally as you add toppings, give pizza peel a little shake to make sure dough isn't sticking to it. If it is, gently lift edges, toss a little flour underneath, and shake peel until dough is floating again.)

Layer tomato halves, cut side up (so center juices will bake into the tomato and not into your crust, making the pizza crust too wet). Keep balsamic mix to sprinkle on pizza after baking.

Slide pizza onto baking stone and bake for 8-10 minutes or until crust is golden and a touch charred in places. Remove from oven and allow to cool for a few minutes. Drizzle a bit of the balsamic mix over pizza. Sprinkle basil leaves over pizza. Slice and serve.
Nutrition Information per Serving
Calories: 325kcal, Carbohydrates: 25g, Protein: 11g, Fat: 20g, Saturated Fat: 7g, Trans Fat: 1g, Cholesterol: 28mg, Sodium: 731mg, Potassium: 137mg, Fiber: 1g, Sugar: 4g, Vitamin A: 261IU, Vitamin C: 3mg, Calcium: 119mg, Iron: 2mg
We are a participant in the Amazon Services LLC Associates Program, an affiliate advertising program designed to provide a means for us to earn fees by linking to Amazon.com and affiliated sites.