Air Fryer Juicy Pork Chops
Our air fryer pork chops are a reader favorite for a low carb meal. These are a game changer. Yes, these air fried pork chops are juicy and amazing.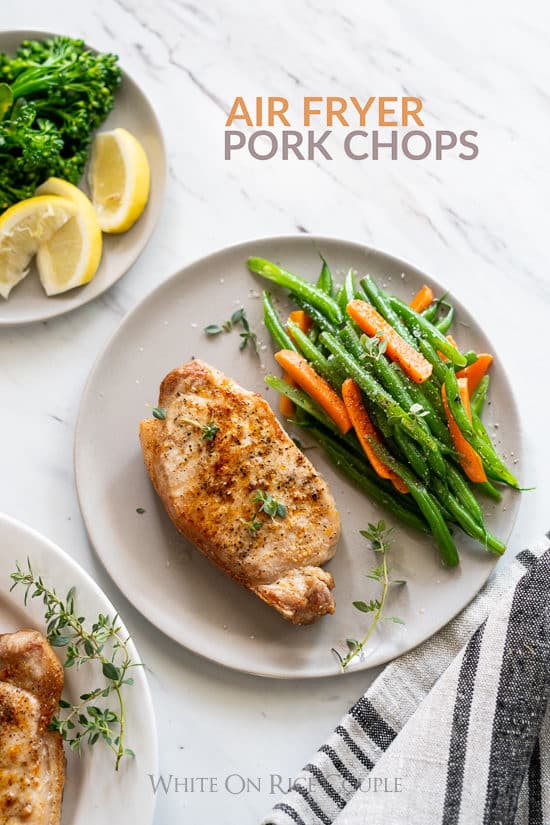 Best Air Fryer Pork Chop Recipe
Everyone once in a while we crave a juicy pork chop. The juicy kind, not the dry and hockey-puck type. We've figured out how to make it juicy in the oven and grill for larger dinner parties. The oven and grill methods are our go-to techniques for cooking juicy pork chops. But when cooking for two, we're always looking for quicker ways to cook dinner during the week. These air fryer pork chops are fantastic and definitely one of our favorite ways to prepare a pork chop dinner, quick and easy.
Video: Juicy Pork Chops Recipe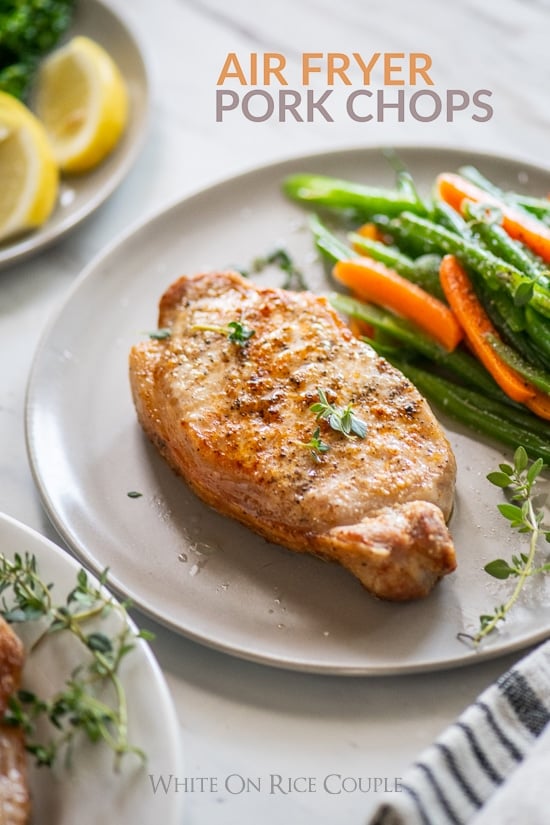 What is Air Frying?
If you haven't dived into the world of air frying yet, you definitely should asap. Here's a great write up about What is Air Frying that can help you navigate this crazy obsessive world of healthier air frying. Cooking pork chops in the air fryer is easy and best of all, the results are always juicy fantastic. The hot cirulating air of the air fryer really helps seal the juices in the pork. The results are always a pork chop that is mind-blowing delicious. And best of all, cooking the air fried pork chop is quick and super easy clean up!
Give this version a try, especially if you haven't had much luck with pork chops. It doesn't hurt to see what this appliance can do for you because it all comes with a warning: you might love it too much. Don't be surprised if you find yourself cooking in an air fryer 5 days a week… or more!
enjoy,
diane and todd
How to Cook Air Fried Pork Chops
Buy the most fresh pork chops you can find. The better quality, the more juicy the chops will cook.
there's so many different cuts of pork chops and they vary in thickness. All air fryer vary as well in terms of how hot they cook. After you make your first set of chops in the air fryer, you'll know the best timing for your specific cut of pork and air fryer model.
Spray with light oil and season pork chops with garlic powder, salt, pepper, paprika.
If you have other favorite spice combinations, definitely try them! We love simple lemon pepper and Italian herb season. Even Montreal steak seasoning is delicious! Try steak seasoning for sure, you won't regret it.
Cook in the air fryer and voila! Instant juicy pork chops for a quick and easy dinner.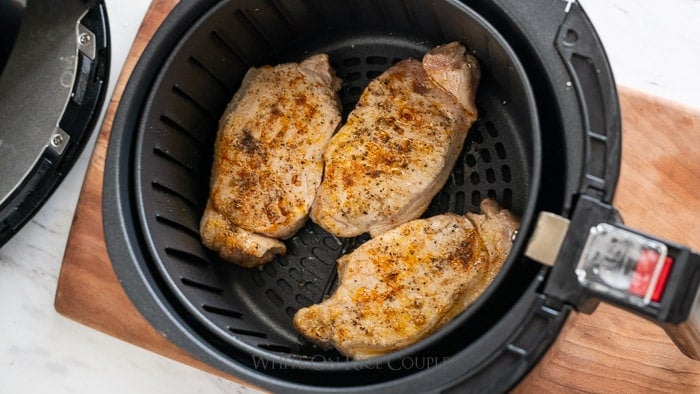 Our Favorite Air Fryer Tools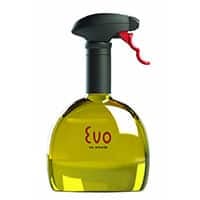 We LOVE the Evo Oil Sprayers. Great for grilling, air frying, and everyday cooking. They don't clog up like many others we've bought. There's different styles, but all seem to have the same great spray head. Works great for grilling!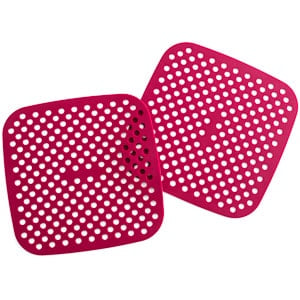 Square Mats or Round Mats depending on your needs. Perforated non-stick silicone mats minimize food sticking in your air fryer or steamer. Holes allow the hot air to circulate, cooking quick & even.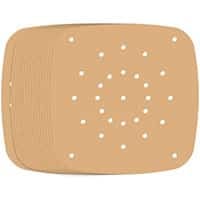 Parchment sheets make clean up easy and minimize sticking food in your air fryer or bamboo steamer. Choose from different sizes, shapes, white and brown (unbleached). Holes allow air to cook food evenly.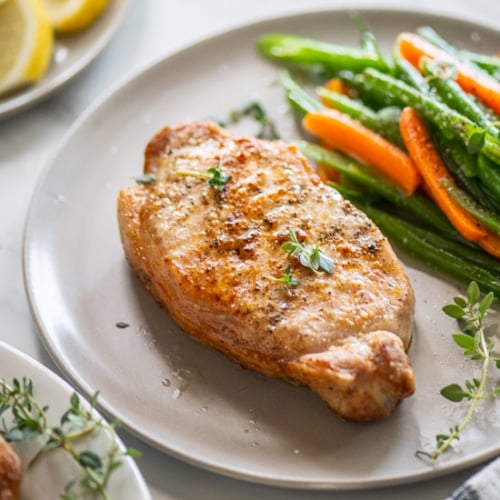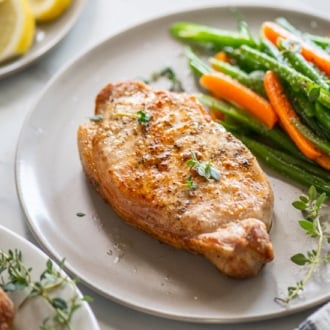 Air Fryer Juicy Pork Chops
Adjust cooking time for thicker or thinner pork chops. This recipe time & temp. is based off of pork chops which are about 3/4-inch thick. Some brands of Air Fryers will cook slower or faster than others, adjust accordingly.
Ingredients
3 (6 ounce-170g) pork chops , rinsed & patted dry
2 teaspoons grape seed , avocado or olive oil
Kosher salt , to taste
Fresh black pepper , to taste
garlic powder , to taste
smoked paprika , to taste
Notes
We cooked these pork chops in 3-4 qt. air fryers. If you're using a larger capacity air fryer, the recipe might cook quicker so adjust cooking time.
If you're cooking in multiple batches, the first batch will take longer to cook if Air Fryer is not already pre-heated.
Remember to set a timer to shake/flip/toss the food as directed in recipe.
Nutrition Information per Serving
Calories: 290kcal, Carbohydrates: 1g, Protein: 37g, Fat: 15g, Saturated Fat: 4g, Cholesterol: 114mg, Sodium: 470mg, Potassium: 634mg, Fiber: 1g, Sugar: 1g, Vitamin A: 164IU, Calcium: 12mg, Iron: 1mg
What is the Best Air Fryer?
We have 15 different air fryers, all different brands and we definitely have our favorites.
Here's our extensive write up on Air Fryer World's Best Air Fryer Guide. There's so many on the market now. You just need to research and find the ones that fits your needs, capacity and style. We group the basket style air fryers into 2 main size groups: 3-4 qt. range & the 5-6 qt. range. There's oven style and basket style. With so many to choose from, we highlight the ones that are most popular for small to medium sized families. Here's our favorites:
Good Mid-Sized Air Fryers
The non-stick basket style (non-wire base) & smoothness of the basket tray is great for clean up. Easily cooks 2-3 servings of fish & meat.
Great ceramic coated basket for easy clean-up. Super powerful fan that often cooks food hotter & faster than other air fryers.
Good Larger Air Fryers
One of our favorite larger basket style air fryers. Great basket size for about 4 servings. Clean up is great. It has become one of our kitchen favorites.
Instant Pot Brand makes air fryers. The Vortex plus 9-in-1 is beyond the conventional air fryer. Broil, Bake, Dehydrate, Rotisserie, Roast and Re-heat.
If you're interested, here's more easy air fryer recipes and great air fryer ebooks. We created these air fryer ebooks to teach you how to cook fresh wholesome meals in the air fryer. It doesn't always have to be about cooking snacks, fries or chicken wings. Air fryer truly is about cooking real ingredients for quick, easy and healthy meals!
Enjoy more air fryer recipes —-> Our Best Air Fryer Recipes
We are a participant in the Amazon Services LLC Associates Program, an affiliate advertising program designed to provide a means for us to earn fees by linking to Amazon.com and affiliated sites.