Sriracha Roast Chicken with Sriracha Gravy
This popular sriracha roast chicken recipe is a hit among readers and the sriracha gravy is equally delicious.
I have to admit, Diane is brilliant at times. Most the time, IMO and I should be a good man and say all the time, but everyone knows we all have our off days.
It seems like we are roasting a whole chicken about every other week. I put a lot of care into the juiciness of the meat, the crispiness of the skin, and combined with mixing it up with different herb rubs it is something we never tire of making or eating. Yet when Diane asked for a sriracha roast chicken, a couple thoughts came to mind: "Brilliant" and "Damn it, how come I've never thought of that?!"
Then she adds in, "And make a sriracha gravy with it."
Delicious Video for making the Sriracha Roast Chicken Recipe with Sriracha Gravy: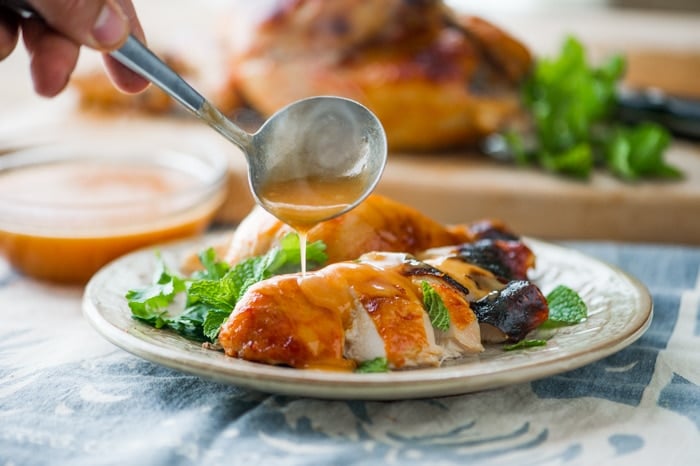 Oh My Brilliant Boo. And not that she needs me to make it. We both do our equal share of cooking and especially when it comes to the spicy cooking, she usually reigns supreme in the kitchen. But I think she knows how much I like roasting the chickens. And I have to admit, I do love roasting chickens. There is something appealing about the rituals and simplicity of roasting a chicken. Taking care of the little details to enhance it; brining the chicken, or air drying the skin, trussing it, or pushing the heat in the oven to almost char the edges of the chicken. I love it.
So here's my take on a sriracha roast chicken recipe. I created a sriracha baste which is then used in making the gravy. Gosh, this sriracha roast chicken recipe is so easy, you'll want to make it everyday.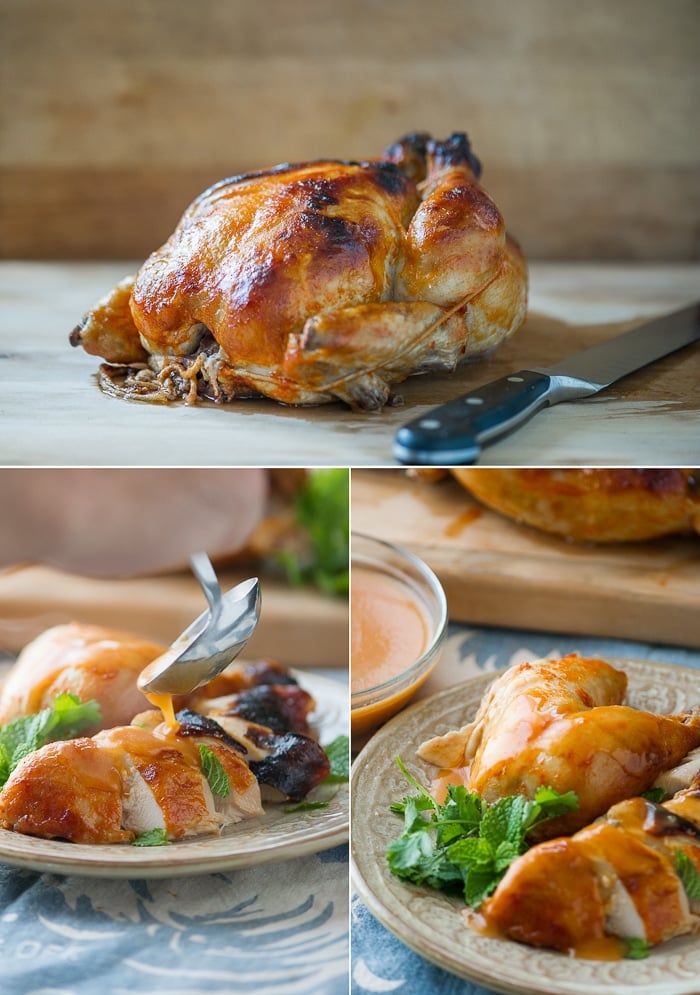 Sriracha Roast Chicken
I didn't make this sriracha roast chicken recipe overly spicy so it is still approachable to most people. Feel free to amp up the spice to your own taste. We've also finished it with generous handfuls of chopped mint and cilantro. The heaping fresh herb topping is something we've been seeing quite a bit lately when we've eating out on our travels and have really been digging. Not that we need to travel to experience it, as Vietnamese cuisine routinely does this.
Hope you enjoy.
Todd
If you love recipes with Sriracha Hot Sauce, visit our Sriracha Recipes here. And here's a great sriracha deviled egg recipe and more for you spice lovers.
This post was originally published in 2013. It was re-published in 2021 with recipe updates.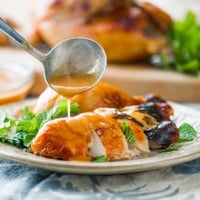 Sriracha Roast Chicken w/ Sriracha Gravy
When adding the sriracha marinade to the chicken, make sure to add some inside the cavity of the chicken too. During baking, the chicken will be more flavorful. Make sure to serve the sriracha roast chicken with generous handfuls of the chopped fresh mint and cilantro. The freshness of the herbs contrasting against the gentle tingle of the sriracha gravy and baste completes this roast chicken. Feel free to amp up or tame down the spiciness with your choice and quantity of sriracha or hot sauce.Cooking time will vary greatly depending on how large your chicken is. A general rule of thumb is at least 15 minutes per lb. when cooking at 425°F. For best indication, either test the internal temperature to be 165°F in the thickest part of the meat (deep thigh, deep breast - near but not quite touching the bone), or cut a slit in the thickest part of the meat and check the doneness.
Ingredients
1 whole Chicken (usually about a 4 lb chicken)
fresh cracked Black Pepper
1/4 cup Olive Oil (60ml) or Vegetable Oil
1/3 cup Ketchup (80ml)
2 Tablespoons Rice Vinegar (30ml) (use distilled white vinegar for gluten free)
1/4 cup Sriracha (60ml)or other hot sauce, to taste
3 Tablespoons Fish Sauce (45ml) (use Tamari for gluten free)
Gravy Ingredients
1/4 cup Flour (30g)
2 cups Chicken Stock (475ml), heated to a near simmer
Additional Serving Ingredients
1 bunch fresh Cilantro , roughly chopped
1 bunch fresh Spearmint , roughly chopped
Instructions
(Optional for best flavor and juiciness. For Quickest Preparations- skip brining, just season with salt and pepper) Rinse chicken and place in a large bowl. Cover with a brine (salted water - the water should have the approximate saltiness of sea water). Place in fridge for at least a couple hours or overnight.

Remove chicken from brine and pat dry. Season the chicken with salt and pepper. Truss if desired (click on link for trussing instructions).

Preheat the oven to 425°F.

Combine the oil, ketchup, rice wine vinegar, sriracha, and fish sauce in a bowl. Mix well.

Baste the chicken with the sauce and add some sauce inside the cavity of the chicken. Place chicken in a baking dish and cover with aluminum foil.

Roast for 50 minutes. Remove foil and return chicken to oven, uncovered, and roast for another about 30-45 minutes, or until juices run clear when you cut between the leg and the thigh or the temperature in the thickest part of the thigh reads 165°F when probed with an instant read thermometer. Remove from the oven and allow to rest for about 10 minutes.

Pour the juices from the baking dish into a saucepan. Add the remaining basting sauce to the saucepan. Over medium/high heat, whisk in the flour. Whisk in the chicken stock and simmer until the gravy thickens, about 3-4 minutes.

Carve and serve the chicken with the sriracha gravy and with the fresh herbs generously sprinkled over the top.
Nutrition Information per Serving
Calories: 631kcal, Carbohydrates: 16g, Protein: 40g, Fat: 44g, Saturated Fat: 10g, Trans Fat: 1g, Cholesterol: 146mg, Sodium: 1943mg, Potassium: 618mg, Fiber: 1g, Sugar: 7g, Vitamin A: 399IU, Vitamin C: 15mg, Calcium: 37mg, Iron: 3mg
We are a participant in the Amazon Services LLC Associates Program, an affiliate advertising program designed to provide a means for us to earn fees by linking to Amazon.com and affiliated sites.