Pork Tenderloin – Stuffed & Grilled
Pork Tenderloin stuffed with swiss chard and pineapple, then grilled over charcoal is amazing. However at first we used to have mixed success with it. Sometimes it was amazing, and other times the meat would be a soft, almost pasty like texture. But we've finally figured it out and now are excited to share the recipe with everyone.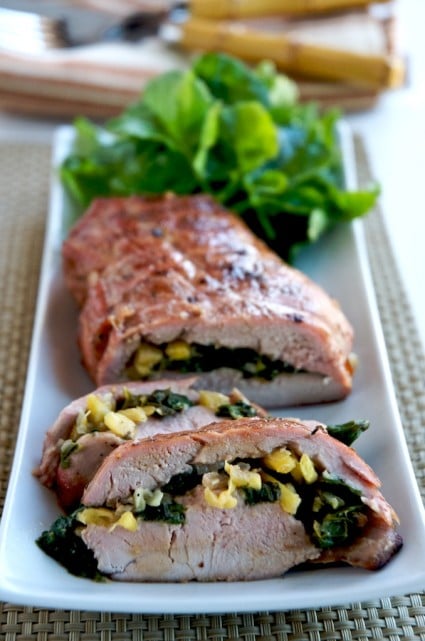 Grilled Stuffed Pork Tenderloin Recipe
Disappointment solved. Ever have a dish that stumps you? You make it sometimes and it comes out incredible, then other times it's just , ehh. You start going through your head trying to figure out where you went wrong. What are the variables that changed? Ingredients, timing, heat… What did I do wrong? Frustrating, isn't it? However there is also a by-product of the hair-pulling frustration. "Oh yeah!" joy when you finally figure it out. Today I'm saying, "Oh yeah!"
The dish is Pork Tenderloin stuffed with swiss chard and pineapple, then grilled over charcoal. The pork tenderloin is first butterflied then allowed to absorb a ginger/soy marinade. Next, some swiss chard is blanched then seasoned with sauteed shallots and garlic, then combined with sweet, ripe pineapple dices. That mix is then put wrapped up into the pork loin, tied up, and topped with a slightly spicy soy-caramel glaze that is brushed on as it grills over charcoal that have had some smoker chips thrown on top for a little extra kick. Sounds quite tasty, doesn't it? And it when it comes out right, this grilled pork tenderloin is so tasty. However, in our experimentation with this dish, it hasn't always come out correctly. The flavor it there, but the texture is not consistent. Sometimes perfect, other times the meat will seem a bit pasty. Being that the pork tenderloin is cooked over charcoal, the temperature is always a variable and open to suspicion. Especially if we are cooking with charcoal a we'll often let the coals cool a bit past their peak to decrease their temp some.
Problems with Pineapple
However there was another suspect. The pineapple. That sweet little fruit who's flavor and image is symbolic of the beautiful, laid back charm of Hawaii. I'll warn you now, don't be fooled by it's apparent innocence, pineapple has got issues. We had know pineapple juices to affect chicken and break down meat excessively, but chicken meat can be a little finicky. Many times if you marinate it too long, that break down will occur. Pork is usually much more resilient.
The stuffed pork tenderloin was a dish we wanted to serve on Easter. We were having a group of fantastic friends over, and this would be a great dish to pull off of the grill. So we tested it, 4 times. First, we tried isolating the heat, then tried a different substitute for the pineapple. It seemed the heat was the issue. If it the coals were too cool, the meat was pasty, however a little hotter and it was right on. Confident in our findings, the pork tenderloin was put on the menu for Sunday, little did we know that we were straight up wrong.
Sunday's meal was incredible. We started with an amuse bouche, a truffle custard egg based off of Chef thomas keller . It's was eye-rolling, shiver inducing good. (Recipe will be coming later when we remake it and shoot it) And the tasty food kept coming. Everyone contributed to the meal, and everyone knows their stuff. Ohhs and ahhs were commonly heard, and well deserved. Finally deep into the evening it was time for the pork tenderloin. Coals were of the correct heat and close attention was given to it's grilling and everything should have been perfect. Should have been… After slicing and tasting, the pork was pasty again. Not terribly so, but still not the texture it should have been. I told you that pineapple had issues. I had missed one other element. Time of interaction between the pineapple and the pork. We had stuffed the pork ahead of time, so it would be quick to put on the grill. That elongated stuffing time had allowed the pineapple the break down the pork tenderloin's center into a mild pastiness.
Determined to conquer this potentially super tasty grilled tenderloin, we have re-tested our theories. Now the pork is hitting perfect every time.
Tips on Grilled Pork Tenderloin:
The heat. Grill over direct heat. The coals should be at medium-high temp or the gas level turned up to medium-high. Too much heat and the pork tenderloin will cook too quick on the outside and not cook all the way through the inside. Too cool and the meat looses some of it's bounce and the pineapple juice has the chance to make the meat's texture pasty.
The stuffing. Pineapple is one of the tastiest options, but you can not stuff ahead of time. Stuff and tie only when you are ready to grill then put that bad boy on the barbie. If you need to stuff ahead of time, change the fruit to dried cherries, golden raisins, currants, or such. Give them a little extra zing by macerating them in dark rum or another inebriating beverage of your choice for about 30 minutes prior to stuffing.
That's the tricks. If you are nervous about attempting this, think of it as a learning experience. That's how we all become better cooks.
-Todd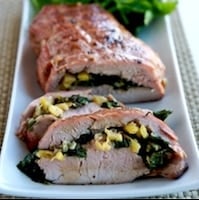 Grilled Pork Tenderloin stuffed w/ Swiss Chard and Pineapple
This is a variation off of our stuffed pork chops. The tenderloin works great when serving a crowd and the chops are perfect for the smaller gatherings.
Ingredients
Instructions
Butterfly and pound the pork tenderloin so that it is a even layer less than 1/2" thick. (for demo see Jacques Pepin here at @ 12:55 mark).

Combine all marinade ingredients together. Put pork tenderloin in a bag and pour in marinade. Turn to completely coat the tenderloin, seal the bag and put in fridge to marinate (recommend 4 hrs to overnight, but if less it will still be tasty.)

Prepare stuffing. Cut swiss chard into approx. 2" slices. Bring pot of water to boil, add sea salt to taste, then par-boil swiss chard for 1-2 minutes. Drain, place in a ice bath until cool, then drain again. Squeeze out excess water.

Heat grapeseed oil in pan over medium-high heat, add shallots and sauté for 1 minute. Add garlic and saute one more minute. Combine cooked swiss chard, shallots, garlic, and pineapple in a bowl. Toss to combine and season lightly with sea salt and pepper.

Heat grill to medium-medium high direct heat. (If using charcoal, allow to heat up all the way then start to cool off. This dish is perfect to grill after you've already grilled on high heat for burgers or similar) Lay out pork tenderloin. Layer one half lengthwise with stuffing. Fold other half of tenderloin back over to enclose stuffing, then tie the pork tenderloin to help keep it's shape.

If using, combine all of the glaze ingredients (oil, soy sauce, Thai chili, garlic, and brown sugar).

If possible, throw some smoker chips on charcoal, then place tenderloin on grill. Cook for approx. 8 minutes, then turn over. Brush top side with glaze and grill another 6 min. Turn, brush with glaze and grill another 3 minutes. Turn again, brush with glaze and grill another 3 min.

Push to feel done-ness, or cut to make sure pork tenderloin is fully cooked (times will vary depending on grill heat and tenderloin thickness) After pork is done, remove from grill and allow to rest for @ 5 min. Slice into approx. 8 medallions and serve.
Nutrition Information
Calories: 295kcal, Carbohydrates: 16g, Protein: 15g, Fat: 20g, Saturated Fat: 2g, Trans Fat: 1g, Cholesterol: 37mg, Sodium: 946mg, Potassium: 511mg, Fiber: 1g, Sugar: 12g, Vitamin A: 2948IU, Vitamin C: 22mg, Calcium: 47mg, Iron: 2mg
We are a participant in the Amazon Services LLC Associates Program, an affiliate advertising program designed to provide a means for us to earn fees by linking to Amazon.com and affiliated sites.