Video #9 – Our Garden Tour & Swiss Chard Stuffed BBQ Pork Loin
This Swiss shard stuffed pork loin recipe is inspired by our humble garden. No matter how small of a space you have, you can always start a garden. Having an single herb in a pot, a garden full of veggies or an orchard bursting fruit is all gratifying. To sow, grow and reap from your gardens bounty and beauty is priceless. So get out there and get your hands in the dirt!!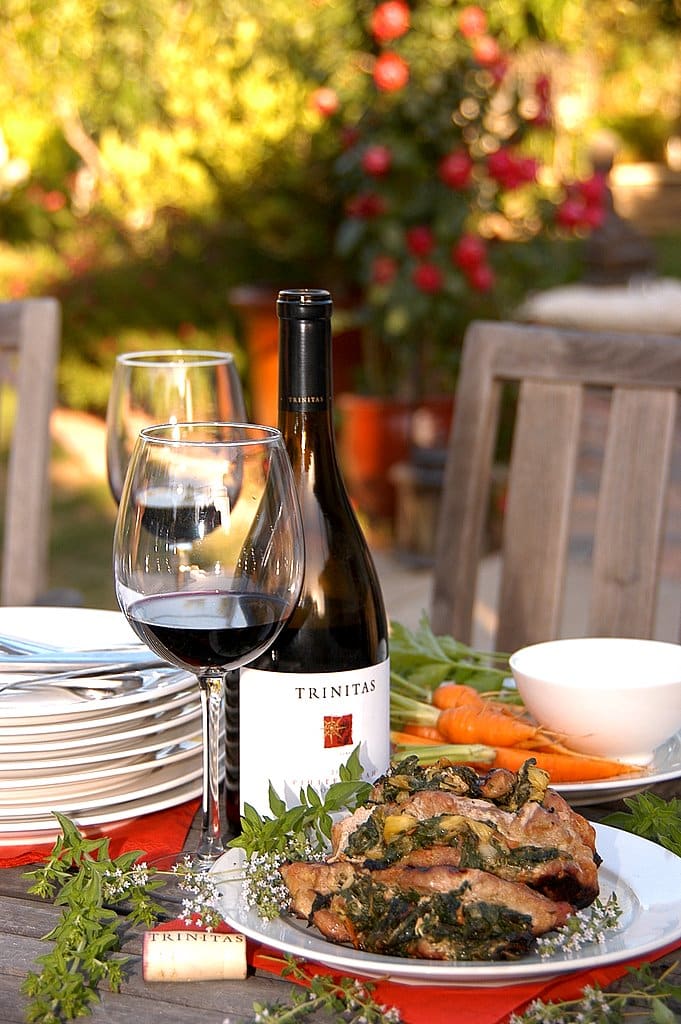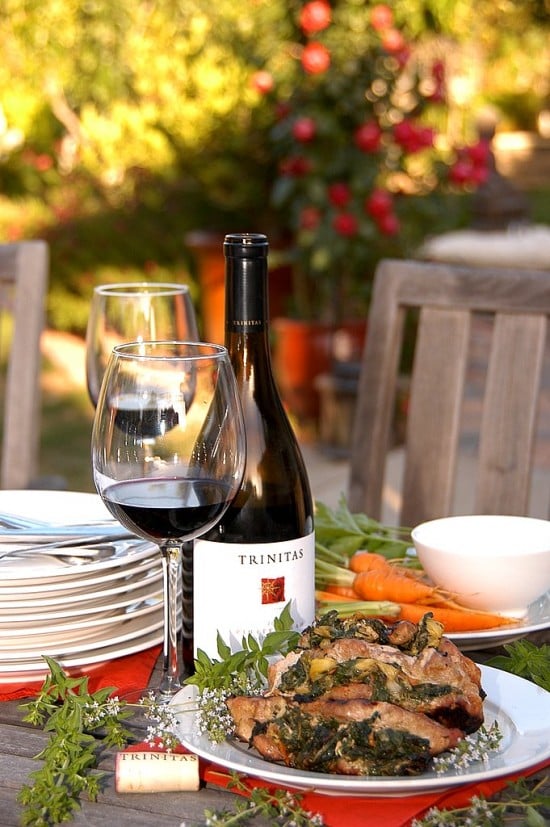 Our Garden Evolution
It all started with a potted herb back in 1996. Then it became two herbs, then three, then what ever potted plants we were able to cram into the 10'x5′ patio of our second story, 800 sq. ft apartment, which we shared with another couple. Times were tight back then, both financially and space wise, but we still made sure that we made time, money and space for our common love of gardening. Literally, we dragged home all and anything that had roots, leaves, flowers and branches and filled this ridiculously tiny patio to the brim with plants, making it our container garden oasis. Two years and a U-Haul truck full of potted plants later, we all took root to new living quarters, equipped with an extra bathroom all to ourselves, but still, with the same, pygmy patio for our terra cotta and porcelain potted family of plants.
Our Patio Container Garden, 1996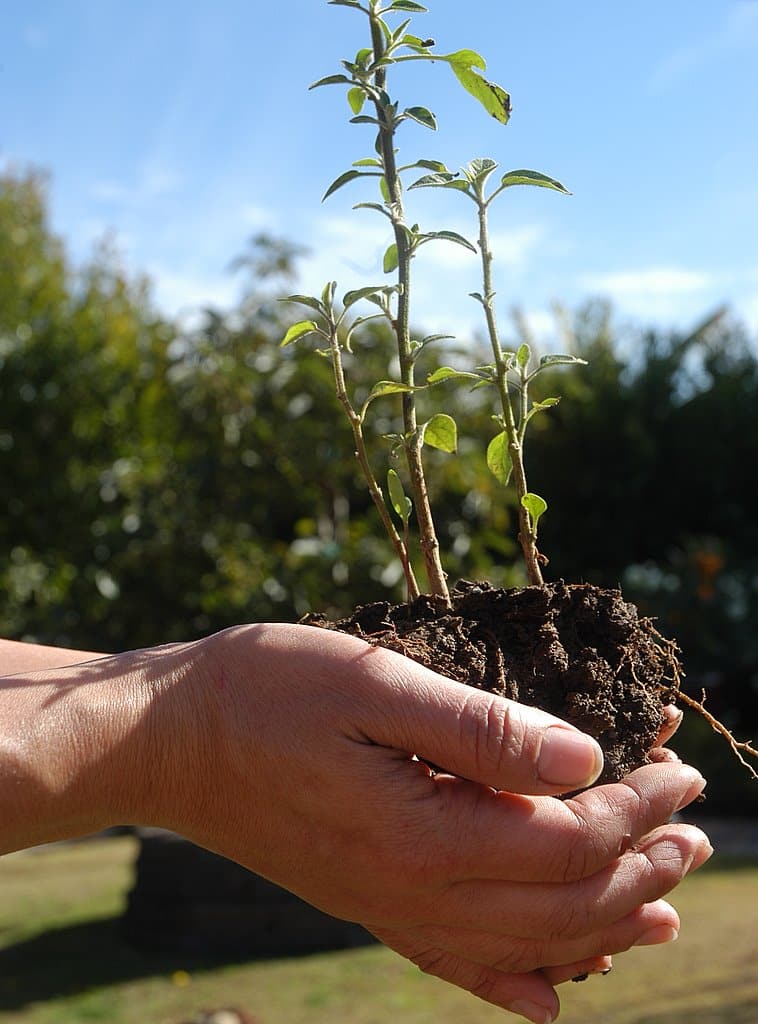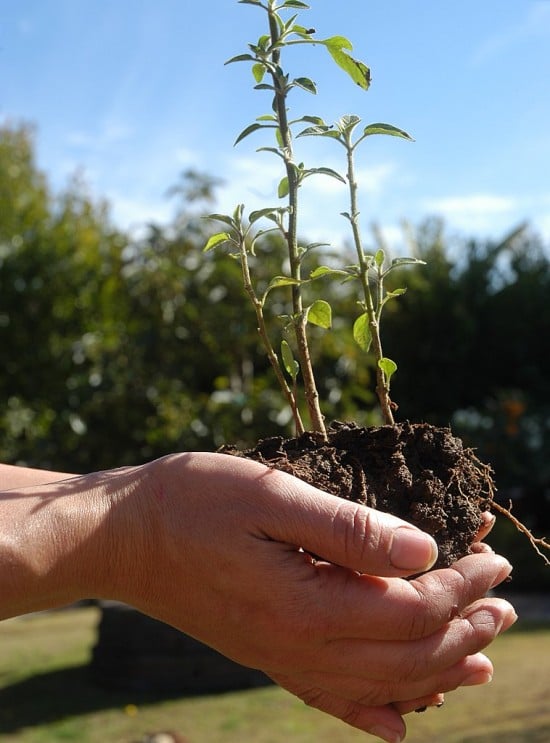 Finally, six years ago, after many years and long hours of work, saving and putting up the the general public's crap at work, we finally moved ourselves into a house. Yes! No more sharing common walls, no more neighbors banging on their ceiling (our floor) with a broom stick, their bathroom wall (our living room wall) to tell us that it's past the 10 o'clock courtesy curfew! This time, the house was equipped with a garage, a driveway (yes! no more street parking!), an extra shower and a backyard. An actual BACK-YARD with a rotting fence, a dead lawn, four dying fruit trees, and one "Charlie Brown" peach tree, which we were able to salvage. This precious, neglected outdoor space was screaming out for water, nurturing and love, which we were glad to surrender to, with abandon.
Finally, our very own backyard, 2002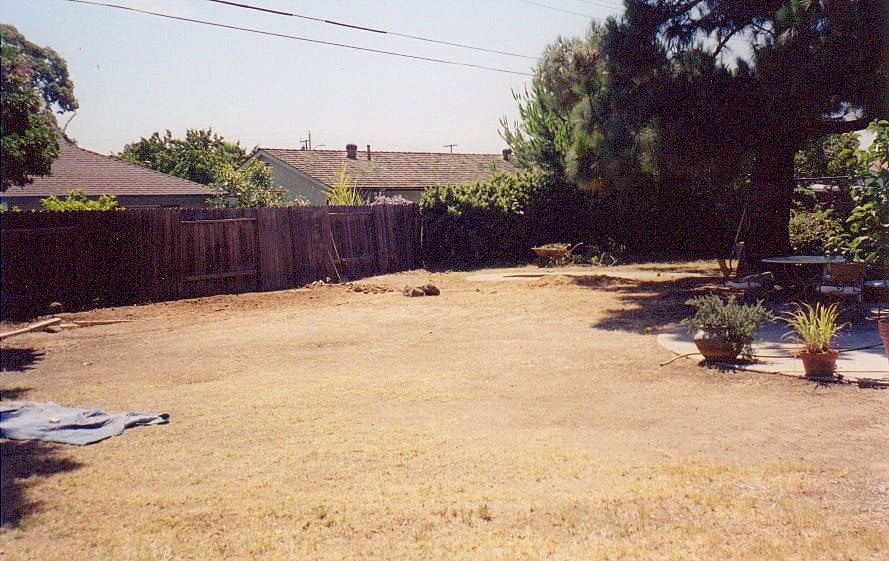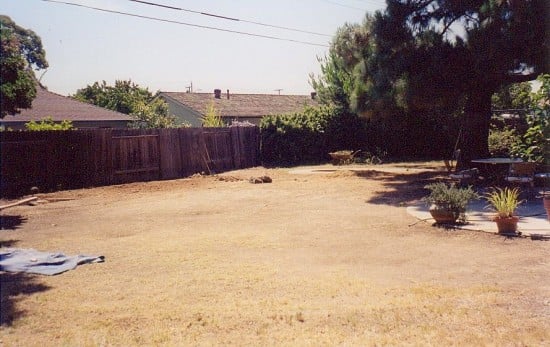 For 2 straight years, we gave this garden everything we had, including our backs. We laid out a cobblestone pathway, one stone at a time, all 4,000 of them, throughout the garden, giving us the meandering, garden pathways that we've always seen in magazines, but could only dream about. Next, was the arduous task (as if laying a stone pathway wasn't hard enough!) of tilling and conditioning our terrible CLAY SOIL with good draining soil, compost and anything else that would not choke our plants roots. We had many midnight episodes of shoveling yards full of new soil into the back yard, which at that time, our neighbors were watching us behind their window blinds, thinking we were preparing our garden to grow marijuana. Once the soil was a little better, we started to carve out sections of the garden to create our vegetable plots and our fruit trees to finally establish our edible garden oasis, our outdoor retreat, our ZEN sanctuary.
Garden Today, 2008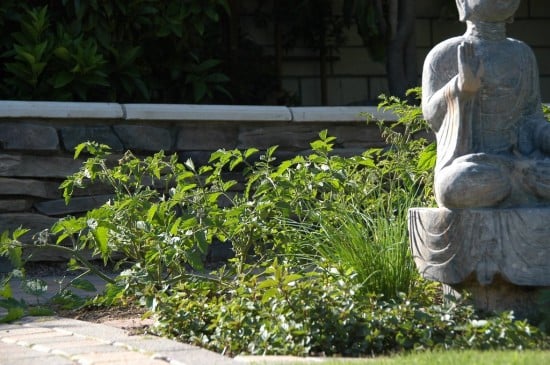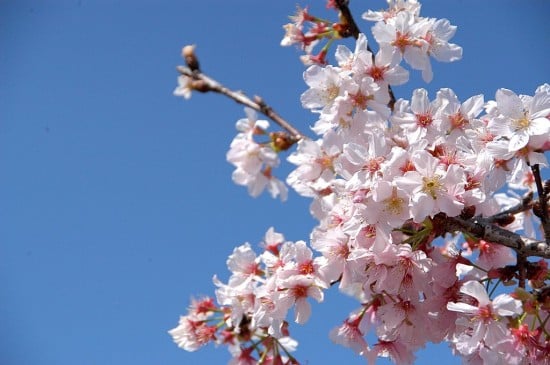 We do not have green thumbs by nature! Our thumbs are brown, but slowing turning green by trial and error. What we do have is the understanding that once two plants have died in that same spot, there must be something wrong with the soil? drainage? air flow? sunlight? you dumb-ass! It took us hundreds of dollars worth of DEAD plants and months of frustration to finally realize that some of what looked so pretty in the magazine and on TV just doesn't grow in Southern California! So what we have now in the garden is starting to settle in, leaf out, bloom and fruit! Yes, all the nights of aching backs and dirty, cracked hands have paid off. With the exception replacing the wood fence with a 6 ft. high block wall, we did it all ourselves, one stone, one tree and one plant at a time.You can see the results here on the video.
Stuffed Pork Loin Recipe
This is a meal that we enjoy eating in our garden when the weather is nice. It's a delicious entree that's perfect for Summer grilling or parties. Best of all, a whole 4 pound pork loin can serve about 5-6 people. It's a fantastic dish to pair with wine and share with friends for your next garden gathering!
This recipe is for a pork loin, which is thicker and takes longer to cook than a tenderloin.
If you're cooking a tenderloin, expect it to be a shorter cooking time.
Have a thermometer on hand to check the internal temperature of the pork. That way you can gauge how fully cooked or medium rare you want it.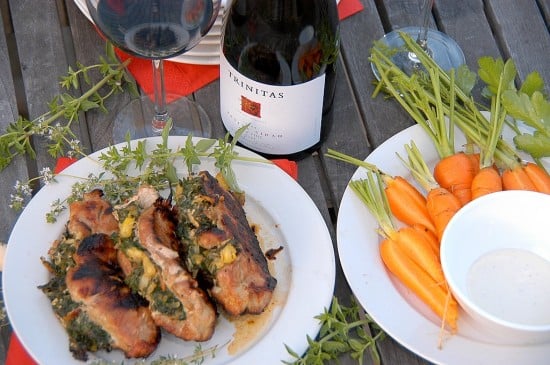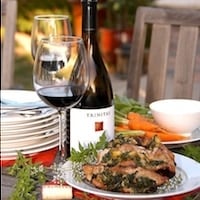 Swiss Chard Stuffed Pork Loin Recipe
We created this "on the fly" as we were doing our "Garden" video and were quite pleased with the result. Unfortunately we didn't measure anything as we were cooking, so the ingredients are approximations. However, this is one of those dishes which it is easy to cook everything to taste. Hope you enjoy it as much as we did.
Ingredients
Marinade Ingredients:
4 cloves Garlic , crushed or minced
1 Tablespoon Sugar
1/2 teaspoon Salt
1 teaspoon Ground Cumin
2 Tablespoons Soy Sauce
1 teaspoon Sesame Oil
3 Tablespoons Grapeseed Oil or olive oil
Stuffing Ingredients:
2 Tablespoons Grapeseed Oil or olive oil
4-5 Large Swiss Chard Leaves , stems removed and leaves chopped
2-3 cloves Garlic , crushed
1/2 Onion , minced
1/2 cup Pineapple , diced
Fresh Cracked Black Pepper
Instructions
Combine marinade ingredients, then add the pork. Marinade for at least 30 min.

Make the stuffing: Heat grapeseed oil in pan over medium-high heat, add garlic and onions and saute for 1-2 minutes. Add swiss chard and saute for another minute or so or until cooked and tender.

Add the pineapple and cook for about 2 minutes or until soft. . Remove from heat and season with sea salt and pepper. Allow the filling to cool a bit.

Remove pork from marinade. Slice a long cut into the pork loin creating a cavity. Stuff cavity with swiss chard mixture, then place on a pre-heated BBQ. Grill approx. 4-5 minutes on each side or until pork is cooked at 165F at it's thickest part. Make sure to control BBQ heat so it isn't overwhelmingly hot.

Remove pork from grill & allow to cool before serving. But don't wait until the pork get cold or else they'll get tough.
Nutrition Information per Serving
Calories: 542kcal, Carbohydrates: 7g, Protein: 69g, Fat: 25g, Saturated Fat: 5g, Cholesterol: 191mg, Sodium: 747mg, Potassium: 1311mg, Fiber: 1g, Sugar: 4g, Vitamin A: 1970IU, Vitamin C: 18mg, Calcium: 45mg, Iron: 3mg
If you loved our stuffed pork loin recipe, you might enjoy more great pork recipes here.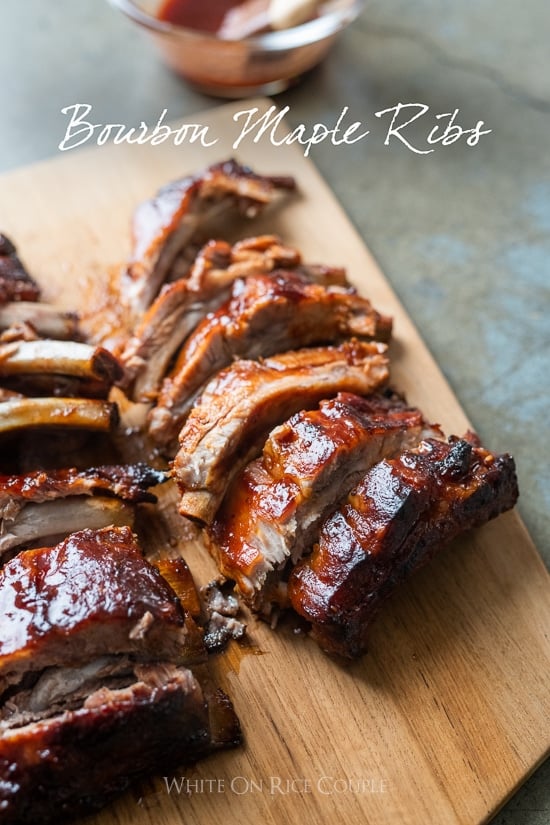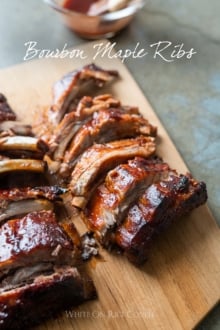 Here's another easy pork loin recipe.
We are a participant in the Amazon Services LLC Associates Program, an affiliate advertising program designed to provide a means for us to earn fees by linking to Amazon.com and affiliated sites.