Stovetop Fresh Cheesy Corn Dip or Side Dish
Easy Cheesy Corn Recipe
In 1996 when we first started cooking together many of our meals were vegetarian based. Diane was a vegetarian and Todd worked in a vegetarian restaurant, so it was totally natural for our daily menu to have a variety of vegetable dishes. Besides, we were young kids starting out our new lives together and we had a budget. It wasn't a sparse budget, but we kept it pretty lean so we can pay our rent. It helped to have a place to live, ya know? And eating vegetables was purely enjoyable, so not only did we eat well, we had a roof over our heads.
Video: Best Cheesy Corn Dip
Simple vegetarian cookbooks were always a staple on our kitchen shelf, one of which was Too Many Tomatoes…A Cookbook for When Your Garden Explodes. It was one of Todd's grandma's favorite cookbooks and quickly became our go-to for simple everyday vegetarian meals. One of our die-hard favorites from the book was their Acapulco Corn recipe. It had the elements of savory, sweet, a touch of spiciness, and just enough richness coming from the corn, onion, chilies, and cheese. It was perfect as a dip, for appetizers, or straight up as a side dish. The only danger to this recipe was that it was so good, we'd inhale the whole thing in one sitting. Bad, yes. But if we ever die from corn over-load, we'll die happy with this in our bellies.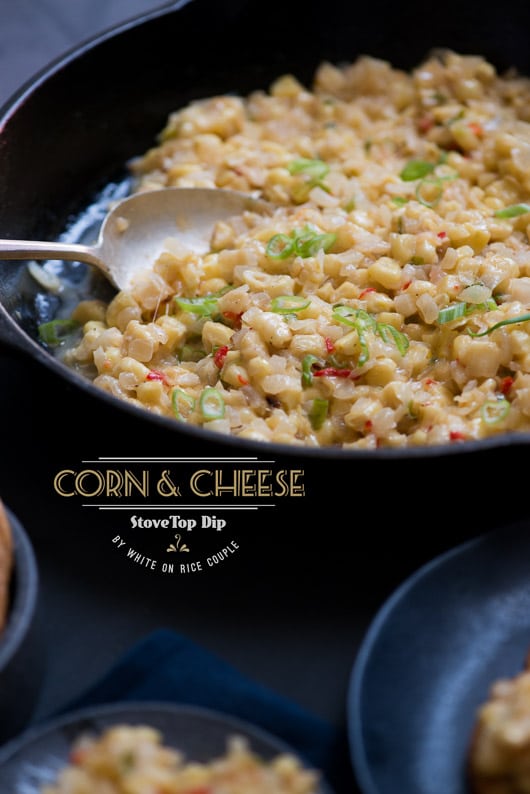 Add Chilies to this Corn Dip Recipe
Over the years we've made adaptations to it by adding extra chili for heat and combinations of green onion, cilantro and other spices. This stovetop fresh corn dip or side dish recipe has endless possibilities and there's so many variations we want to make of it. So much good, fresh food but so little time to eat it all. Eat it with crackers, bread or by itself. It's that addicting.
As Summer starts coming to an end and our ode to love of corn continues, we're enjoying as much as we can until it disappears. Hope you all are having a crazy-good Summer and have fun with corn!
-diane and todd
This recipe was originally published in 2014 and re-published in 2019 with a new video.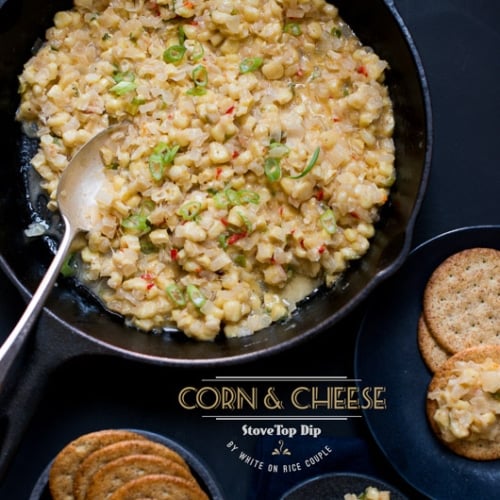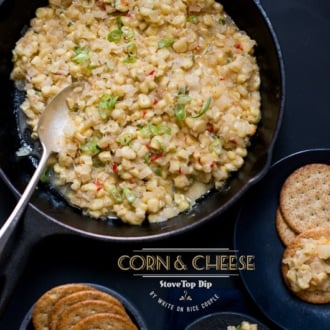 Stovetop Fresh Corn and Cheese Dip (Side Dish)
This corn dish is a combination of sweet, savory, a touch of spice, and just enough cheese to bind it all together.You can adjust the spiciness to your preferred level by varying the chilies and their quantity. For super spicy lovers try substituting in a couple habaneros. For the mild spice palates, find a nice mild chili and remove the seeds before using. Or even just use 1/2 of a bell pepper or leave the peppers out all together. The 1-2 Serrano or jalapeno chilies in the recipe should give a nice little kick without overpowering the rest of the dip.
Ingredients
2 tablespoons (30ml) olive oil
3 cloves garlic , crushed or minced
1 medium onion , chopped (a sweet onion variety is preferable- Walla Walla sweet, Vidalia, Maui Sweet, etc...)
1-2 Jalapeno or Serrano chilies , diced *see head note
3 ears corn shucked , about 3 cups
1/4 cup (60ml) water
1/2 cup (120ml) sour cream
1 cup (113g) grated Monterey Jack or other good melting cheese
1/2 teaspoon kosher or sea salt , or to taste
freshly ground black pepper , to taste
optional , garnish with sliced green onions or cilantro
Instructions
Heat a large skillet over medium heat. Add the olive oil and then add the garlic, onion, and chilies. Cook until onions are soft.

Add the corn and water and cook for about 5 minutes, or until most of the water is absorbed.

Stir in the sour cream, cheese, and season with salt and pepper. Cook for about 30 seconds or until the cheese melts. If desired, garnish with green onions or cilantro. Serve warm or at room temperature with crackers, toasts, or as a side dish.
Nutrition Information per Serving
Calories: 159kcal, Carbohydrates: 3g, Protein: 5g, Fat: 14g, Saturated Fat: 6g, Cholesterol: 27mg, Sodium: 312mg, Potassium: 83mg, Fiber: 1g, Sugar: 2g, Vitamin A: 286IU, Vitamin C: 5mg, Calcium: 169mg, Iron: 1mg
Here's more Summer Corn recipes to enjoy.
We are a participant in the Amazon Services LLC Associates Program, an affiliate advertising program designed to provide a means for us to earn fees by linking to Amazon.com and affiliated sites.