Baked BBQ Pork Chops with Lots of Veggies
This is a great quick and easy sheet pan meal for the whole family. To make it low carb or keto friendly, roast low carb veggies like turnips, bell peppers, mushrooms, broccoli, cauliflower or asparagus. Also, use sugar free bbq sauce for a low carb option.

Best BBQ Pork Chops Recipe
It's been busy week with tons of candy photography happening in our studio. If you follow us on Instagram, you can see all the crazy fun treats we've been swimming in. After a long day on-set, we're craving real food. Something satisfying and wholesome, like baked pork chops. Garlic baked pork chops in bbq sauce is one of our favorite quick and easy weeknight dinners. But there's always one exception: there must be a ton of vegetables. We're obsessed with roasted vegetables to adding them all to a sheet pan with a few pork chops means that dinner is going to be better than ever.
Video: Oven Baked Pork Chops with BBQ Sauce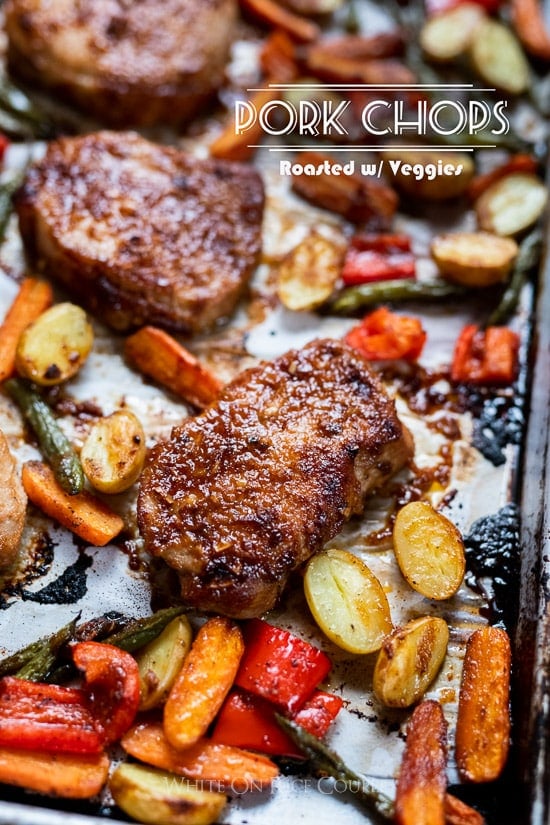 There's so many ways to enjoy these baked pork chops. If you're not a fan of bbq sauce, just replace it with your favorite sauce and you're done! From curry to other bottled sauces or marinades, there's someone for everyone in these baked pork chops. Don't forget the vegetables because those make these this sheet pan pork chops dish outstanding! The vegetable possibilities are endless so again, there's something for everyone in this recipe.
And what did we do with all that candy we photographed? It was like a Willy Wonka candy-cream at the studio for all the clients who photographed with us that month. Everyone filled bags to the brim with candy and everyone was happy. Sharing is caring, especially when we can pass all the sugar and calories on to someone else. LOL.
enjoy,
diane and todd
How to make Baked BBQ Pork Chops Recipe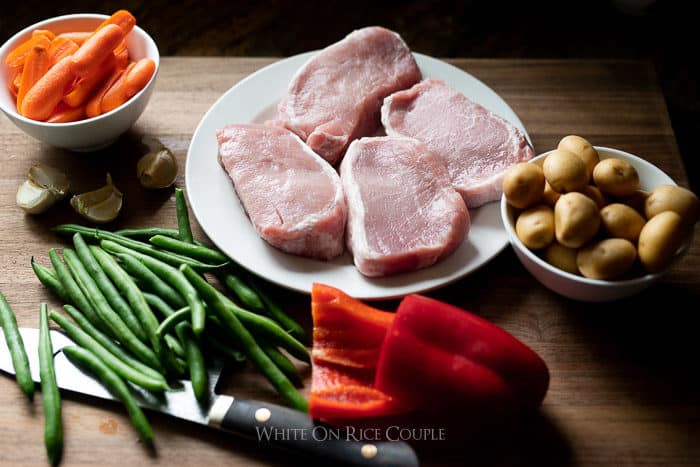 Cut all your vegetables into bite sized pieces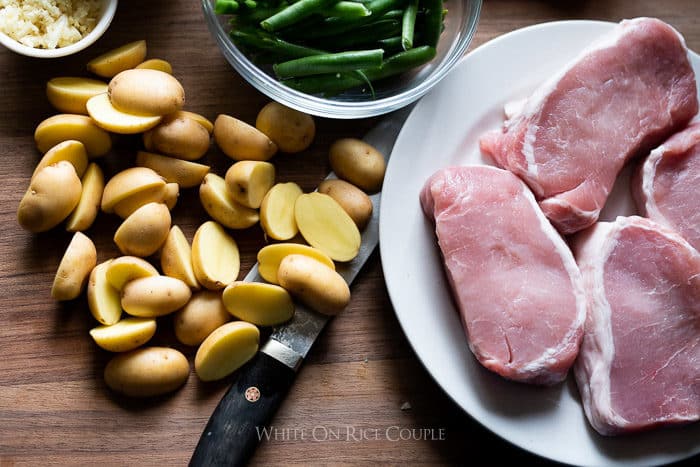 Make the marinade for the baked pork chops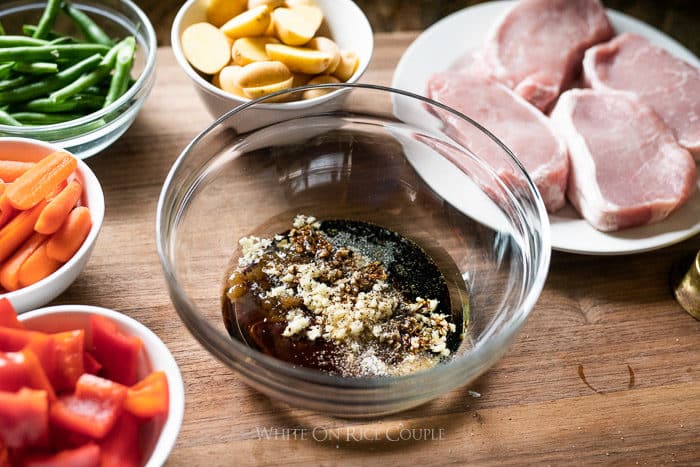 Marinade the pork chops for about 30 minutes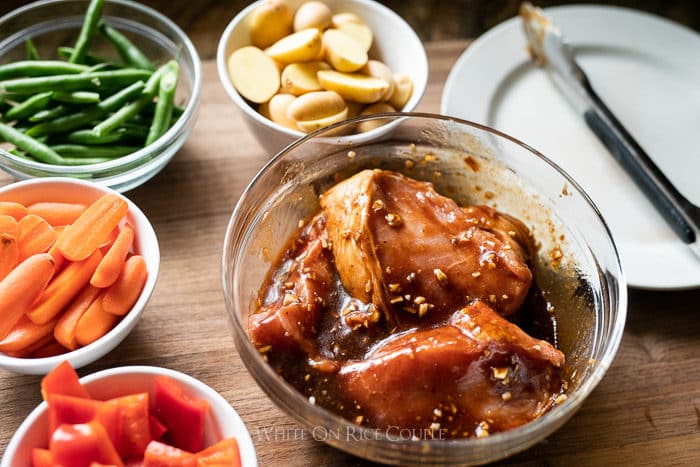 Arrange pork and vegetables on a sheet pan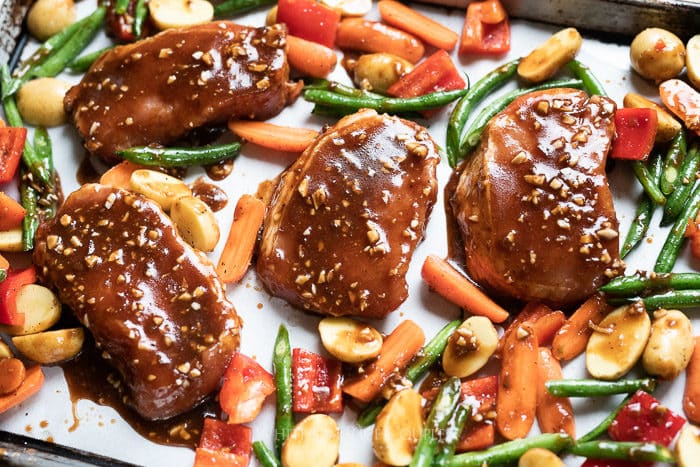 Voila! Delicious dinner is served
Try our Braised Pork Chops in Milk and Mustard Sauce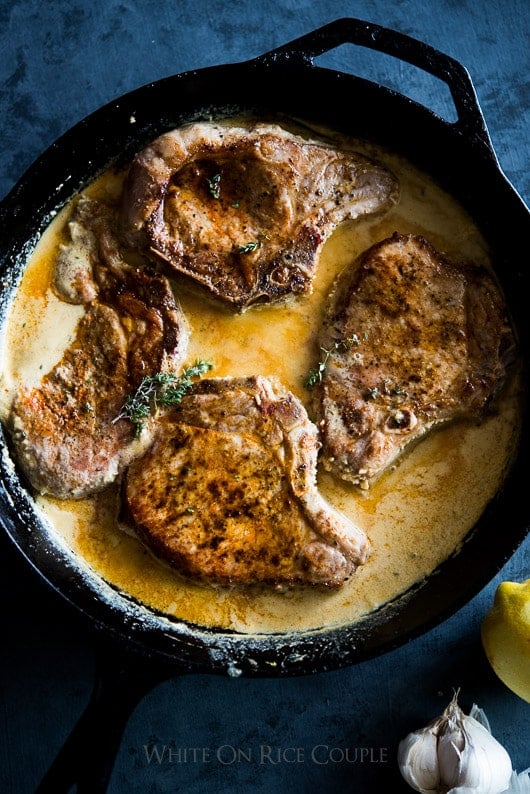 Amazing Asian pulled pork recipe is easy and delicious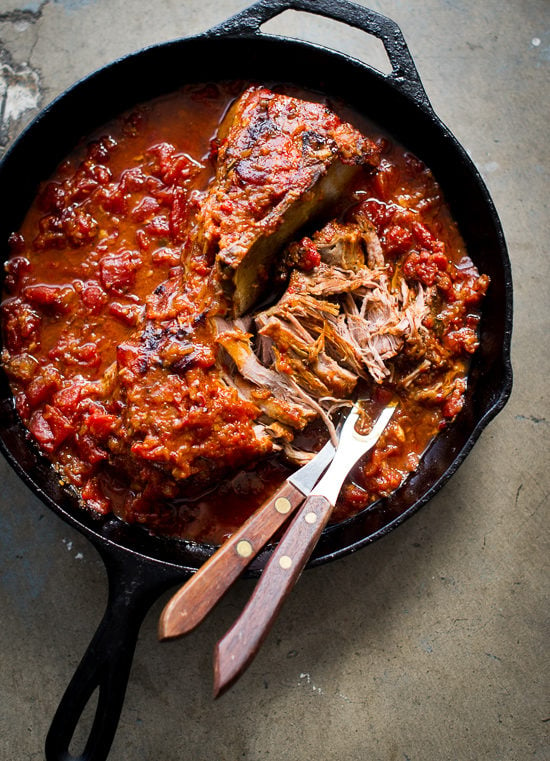 Our low carb spaghetti squash and pork sausage with parmesan is a reader favorite!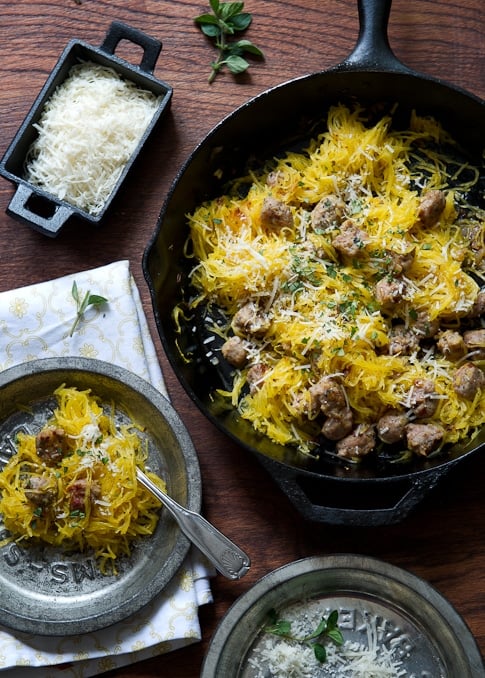 More Great Dinner Recipes: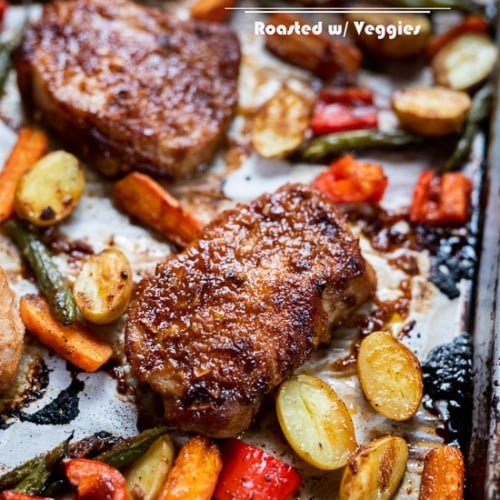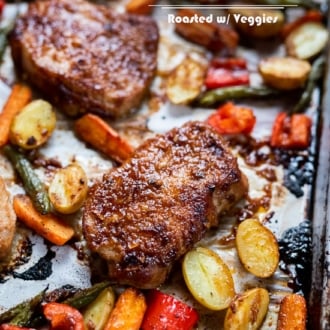 Baked Pork Chops with Veggies
Pork chops vary in size and thickness, so adjust cooking times as necessary. Our recipe was made with 3/4" thick center cut pork loin chops at about 8 ounces each. If you're cooking with thinner and smaller chops, reduce cooking time and check the chops earlier for doneness. You can cook these on a skillet and sear them first before you put them in the oven, which skips the broiler method in the end.For the low carb/keto version, omit the brown sugar and potatoes.
Ingredients
4 (4) pork chops (we used 3/4" center cut loin chops, 8-ounces each)
5 Tablespoons (75 ml) olive oil or vegetable oil , divided
2 Tablespoons (30 ml) soy sauce or Worcestershire Sauce
1/4 cup (60 ml) bbq sauce (or your favorite sauce/marinade)
1 teaspoon (5 ml) onion powder
1 teaspoon (5 ml) dijon mustard or yellow mustard
1 Tablespoon (15 ml) packed brown sugar , (omit for keto/low carb version)
3-4 cloves (3 cloves) minced garlic
1/2 teaspoon (2.5 ml) Kosher salt , or to taste
black pepper , to taste (preferably fresh cracked pepper)
1/2 small (0.5 small) potatoes , cut into bite sized pieces
2 large (2 large) carrots , cut into bite sized pieces or 1 cup small baby carrots, halved
1/2 (0.5) green beans , halved
1 small (1 small) bell pepper , cut into bite sized pieces
Minced parsley for garnish , optional
Instructions
Preheat oven to 425°F. Prepare a baking sheet lined with parchment paper or foil. Set aside.

Make the marinade: in large ziplock bag or bowl, combine 4 tablespoons of olive oil, soy sauce or Worcestershire, bbq sauce, onion powder, mustard, brown sugar and garlic. Season with salt and pepper to taste. Rub the bag or whisk to combine all the ingredients. Place pork chops in the marinade and coat the pork chops. Marinade the pork chops for at least 30 minutes.

Toss the potatoes, carrots, green beans and bell pepper with the remaining 2 tablespoons of olive oil. Season with salt and pepper to taste.

Take pork chops out of the marinade bag and place on baking sheet. Add the potatoes and carrots on same baking sheet around the pork chops. Brush leftover marinade over the potatoes, carrots, and the pork chops.

Bake the pork chops for 35-50 minutes, or until the pork chops are cooked through or internal temperature reaches 145° F.

Change the oven setting to "Broil" with the oven rack about 6-8 inches from the heating element. Broil the pork chops for about 3-7 minutes or until a nicely browned crust forms.

Garnish with minced parsley, optional. Serve warm.
Notes
Recipe note: Use what ever combination of veggies that you want. For root vegetables, make sure they are cut into smaller pieces to ensure that they'll be cooked through at the same time as the pork.
Nutrition Information per Serving
Calories: 448kcal, Carbohydrates: 19g, Protein: 31g, Fat: 27g, Saturated Fat: 5g, Cholesterol: 89mg, Sodium: 1085mg, Potassium: 811mg, Fiber: 2g, Sugar: 11g, Vitamin A: 6635IU, Vitamin C: 28.9mg, Calcium: 38mg, Iron: 2mg
We are a participant in the Amazon Services LLC Associates Program, an affiliate advertising program designed to provide a means for us to earn fees by linking to Amazon.com and affiliated sites.