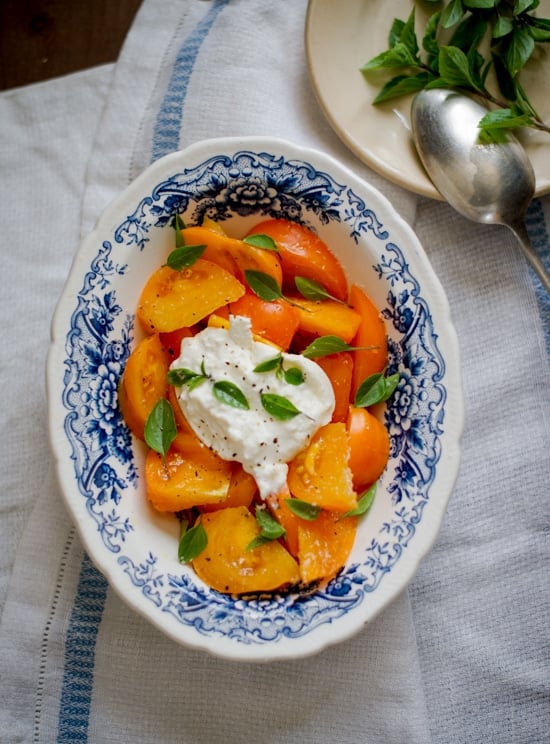 This is a continuing series we're sharing for Summer on our favorite heirloom tomatoes that we're growing. And we have a delicious recipe included too! You can visit all our tomato recipes on our tomato page.
If you not familiar with burrata cheese yet, then you're in for a treat. And if you're not familiar with Dr. Wyches heirloom tomatoes then you're in for another treat. This post is going to be a double whammy of joy, so hold on tight.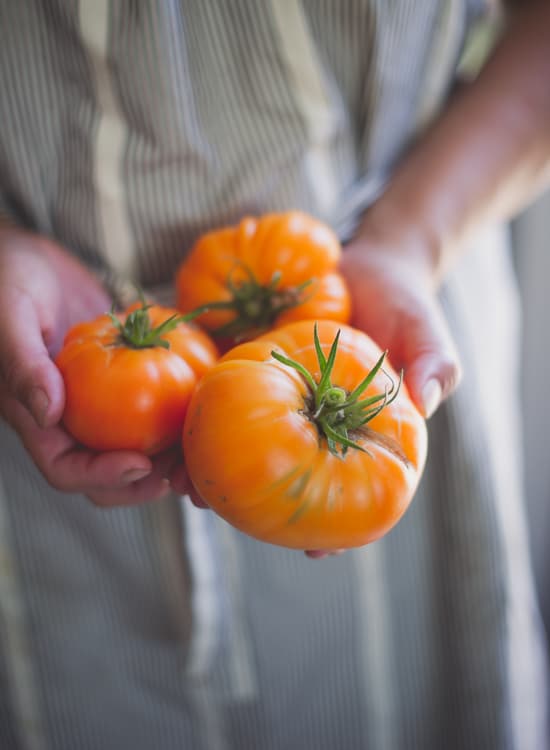 Burrata? what is it? have you had it? if not, then you must run out and treat to yourself to one of the most decadent cheese in the world. Burrata is an Italian cheese that's fresh, soft, creamy, decadant and made of mozerella and cream. Can cheese get any better than that? It's so soft, but thankfully the outside shell is made from mozzerella to hold in all the creamy goodness. Inside, you'll find a rich, beautifully creamy and buttery texture cheese that is so delicious, it's hard to stop eating it.
When added to fresh heirloom tomatoes, some good olive oil and balsamic vinegar, fresh herbs and kissed with salt and pepper, this could possibly be one of the worlds most perfect salads. Every time we serve this salad to anyone who has never had burrata before, their eyes light up and you can practically hear a silent "omg" behind their mouthfull of goodness. It only takes a few beautiful ingredients to make a dish wonderful and this is one dish that defines simplicity, elegance and joy on a plate.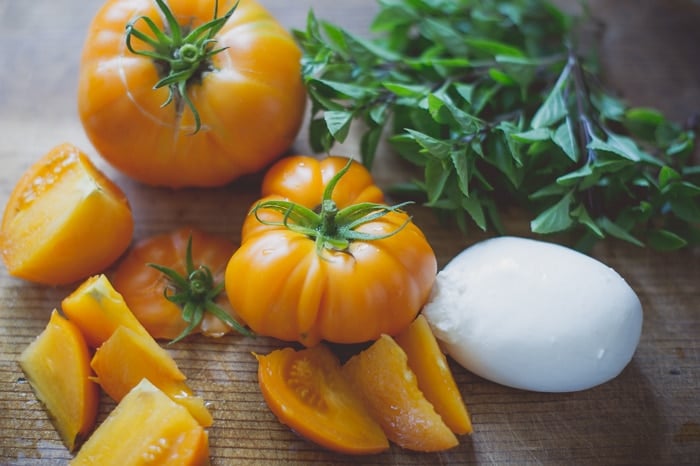 We normally serve the tomato and burrata salad with some grilled bread, making it very bruschetta-like. But this salad by itself is Summer happiness, so keep it simple if you want.
Second on our agenda is a discussion of Dr. Wyche's heirloom tomatoes. These tomatoes are so amazing, they're probably one of our favorite heirlooms. Dr. Wyche's tomatoes are super meaty, juicy, silky and incredible. This is our second year growing them and we found them at our local Tomania event. If you're an avid heirloom tomato gardener, please try growing them because they're so wonderful. We've been incredibly happy with them and so have our friends that we've passed them on to.
So combined with one of our favorite yellow tomatoes, fresh basil and creamy burrata, we had a wonderful lunch on a warm Summer day. This meal couldn't be any more simple and perfect.
hugs,
diane and todd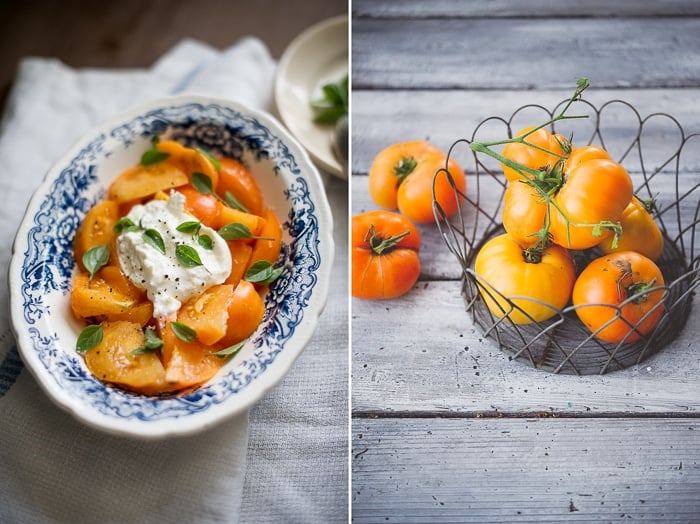 Give it a gentle stir and celebrate Summer in a bowl!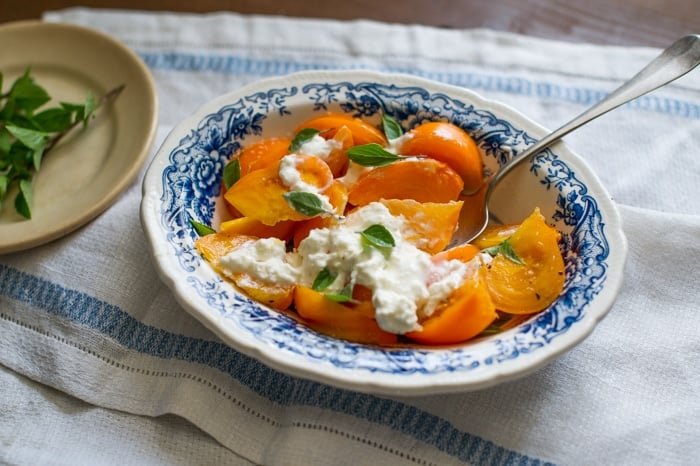 Tomato Salad with Burrata Cheese Recipe
Yield: Serves 3-4
Total Time: 10 min
Ingredients:
about 1 pound of fresh, ripe tomatoes
about 8 oz. fresh burrata cheese (or more, depending on how rich you want the salad to be)
olive oil
balsamic vinegar
salt and pepper to taste
fresh basil, chopped
grilled bread (optional)
Directions:
Cut heirloom tomatoes in slices or wedges. Arrange them on a plate or bowl. Add burrata cheese on top of tomatoes.
Drizzle olive oil, balsamic vinegar on tomatoes and burrata cheese, to taste.
Add salt and pepper, to taste.
Add fresh basil.
Serve slices of tomato with a spoon full of the burrata cheese.
(optional) serve with grilled bread and make a bruschetta out of the tomatoes and cheese.
Hello! All images & content are copyright protected. Please do not use our images without prior permission and do not re-publish this recipe. Simply link back to this post for the recipe. Thank you.
Recipe Note for Salt: All recipes containing salt are based on kosher or sea salt amounts, not table salt. If using table salt, reduce the amount used to taste.
[ad]