Asian Chopped Chicken Salad – a delicious fridge-clearing recipe
Craving an easy asian chopped chicken salad? This simple recipe is perfect for a quick lunch or satisfying dinner.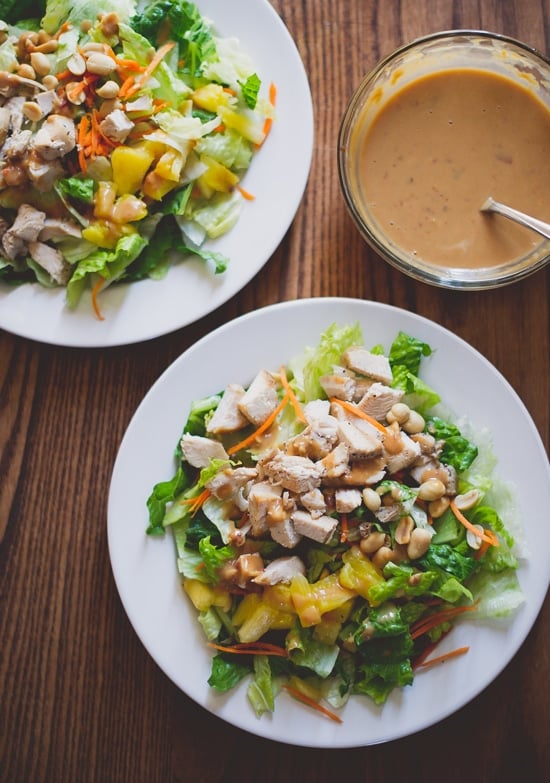 Asian Chopped Chicken Salad
There comes a time when we all try to be good and clear out the fridge or pantry. Sometimes we call it "everything but the kitchen sink" recipe or "fridge clearing" dish. What ever you decide to call it, we've all had this focus and ambition to make the most of leftovers. Waste is never our prerogative, so these moments when we attempt to make something edible out of small-batch ingredients can be either rewarding or just "meh". That's when it's time for In-n-Out! Anyone with us!?
A few months we were heading out of town for a convention after two big back to back shoots. We were overloaded with small bits of almost every ingredient under the sun. You should have seen our studio. It was like a rainbow of vegetables all strewn between two refrigerators. In an attempt to polish off all our excess ingredients we called some family over for breakfast, lunch AND dinner. With a collection of hungry brothers, it's really simple to have a fridge-clearing feast.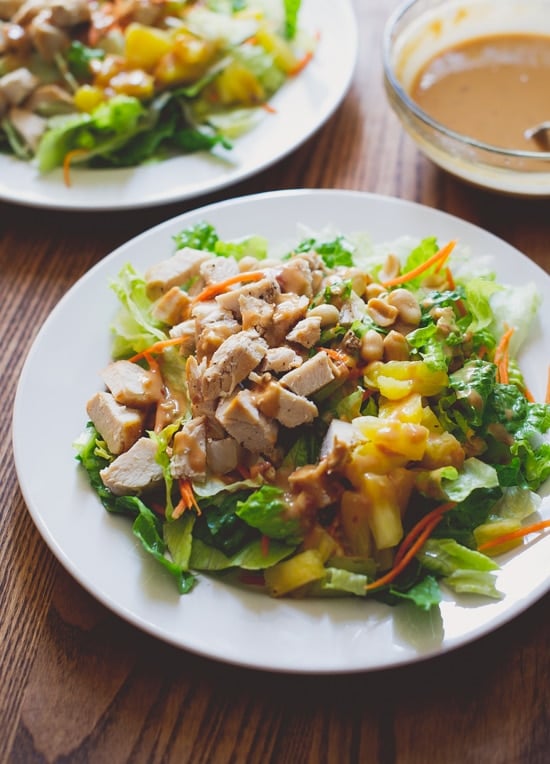 Add Different Toppings
This Asian chopped chicken salad was one of the favorite recipes that made great use of the leftovers. And it's now our go-to lunch salad. It'll be your favorite Asian chopped chicken salad too. Just make it your own and go to town with it.
Toppled with what ever you want, this Asian chicken salad has all the base ingredients that we all love: grilled chicken breast, pineapple, crunchy lettuce, peanuts and a creamy peanut dressing. We had cucumbers and thought about adding it in, but decided to keep it simple and save the cucumber for another salad. How about some crumbed bacon? chopped boiled egg? chopped ham? tomatoes? chopped apples? avocado? Geez, the list can go on, especially if you haven't had a fridge-clearing session in a long time.
After the fridge was finally cleared and everyone was fed, it felt so gratifying to make something out of what some would consider, nothing. Even the smallest amounts of ingredients can go a long way if you just become a little creative. And daring.
Do you have any favorite-fridge clearing recipes? Indulge us!
Eat Well,
diane and todd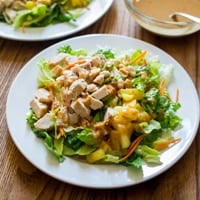 Asian Chopped Chicken Salad Recipe with Peanut Dressing
This chicken salad recipe is so versatile, so have fun with it. You can add cucumbers, tomatoes, avocado, apples, chopped boiled egg and even ham! Make it your own. Also, this dressing also makes a great dip. Just make it a little thicker for dips.For a better tasting dressing, make it the night before and refrigerate it before eating.
Ingredients
For the Salad:
1-2 cups (240-480 ml) chopped cooked chicken
1 head of chopped crisp lettuce (green leaf, ice berg or romaine)
1/2 cup (120 ml) shredded carrots
1/2 cup (120 ml) roasted peanuts
1 cup (240 ml) chopped pineapple
chopped boiled eggs, avocado, cucumbers, apples, mango (optional, have fun with it!)
For the Peanut Dressing:
3 cloves minced garlic
2 Tablespoons (30 ml) vegetable oil or grape seed oil
1/2 cup (130 g) smooth peanut butter
2 Tablespoon (30 ml) rice vinegar (use Distilled white vinegar for gluten free)
1 Tablespoon (15 ml) fresh lime juice
2 Tablespoon (30 ml) fish sauce or soy sauce (try fish sauce, it tastes so much better!) (use Tamari for gluten free)
1/2 teaspoon (2.5 ml) brown sugar
1 Tablespoon (15 ml) chili garlic hot sauce (optional)
about 3/4 cup (180ml) water
additional water to thin out dressing , if needed
Instructions
In large bowl, add peanut butter, rice vinegar, lime juice, fish sauce , brown sugar, chili garlic hot sauce and water. Whisk and combine ingredients. If the dressing is too thick, add additional water.

Heat medium sauce pan. Add oil, then garlic and cook garlic until translucent and fragrant, about 1 minute. Do not burn garlic.Add dressing mixture to the pan with garlic and cook on low heat for about 1 minute.

Remove dressing from heat and allow to completely cool. After cooling, add additional water to your desired thickness

In large bowl, combine all chopped salad ingredients. Toss peanut dressing to chopped salad ingredients right before serving.
Nutrition Information per Serving
Calories: 471kcal, Carbohydrates: 22g, Protein: 24g, Fat: 35g, Saturated Fat: 11g, Cholesterol: 26mg, Sodium: 986mg, Potassium: 757mg, Fiber: 6g, Sugar: 11g, Vitamin A: 3391IU, Vitamin C: 26mg, Calcium: 81mg, Iron: 2mg
Here's more greatasian salad recipes.
We are a participant in the Amazon Services LLC Associates Program, an affiliate advertising program designed to provide a means for us to earn fees by linking to Amazon.com and affiliated sites.