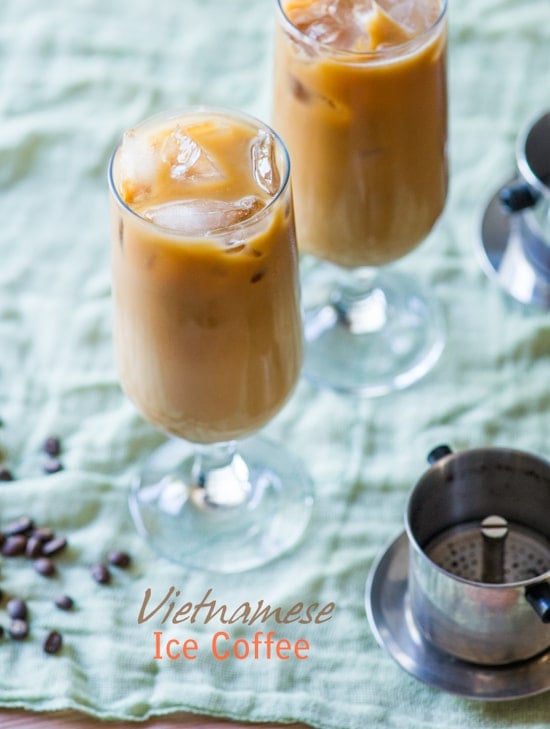 Chances are if you walk into our house or work with us in our studio, you'll end up sipping on some of our favorite coffee drinks. For the morning, a manual pressed espresso or cappuccino will start the day. In the afternoon when we start feeling sluggish, a Vietnamese iced coffee is the perfect "pick-me-up". If you've never had a Vietnamese Iced Coffee, it's a combination of strong coffee and a hit of sweetened condensed milk, add iced and a super refreshing "ahh". It's been a super busy summer and when the two o'clock hour rolls along, we're reaching for the iced coffee like it's going out of style.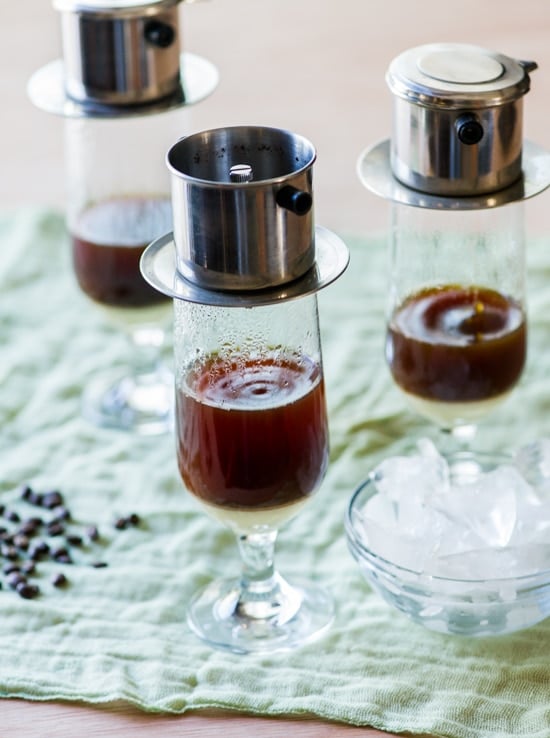 Speaking of Summer, we still can't believe August is already here and we're heading towards the holidays. Isn't that terrible to already be thinking of the holidays?! We're in no rush in any way to be pushing Summer away, but when we were shopping for some Summer props the other day, the stores were already stocking their shelves with faux pumpkins, autumn leaves and some Halloween items. We're not ready to be giving up sweet corn, stone fruit and watermelon just yet, so why drop all this bounty and hang faux pumpkins? It just doesn't feel right.
So in continuous celebration of this glorious warm weather and longer days on the beach, we're sharing with you our easy method of making Vietnamese Iced Coffee.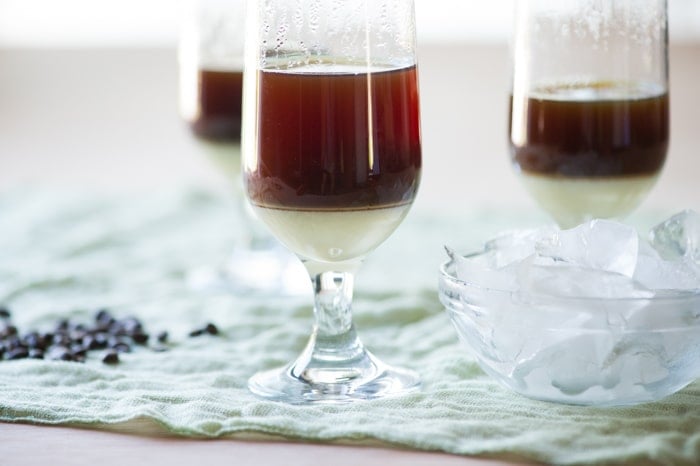 Vietnamese iced coffee can be made in an number of ways, so have fun in exploring the different methods. We're here to show you how we make it:
Starting with good coffee grinds: Many Vietnamese cafes or restaurants will use Cafe Du Monde grounds or they will grind their own coffee. Cafe Du Monde may be thought of as classic, however most of the better coffee shops around in Little Saigon here in Orange County and the shops Diane's cousins took us to in Vietnam use a much better bean. Times are moving forward. We personally use our favorite coffee beans for our morning cappuccinos which lately have been either from Kean Coffee or Sleepy Monk Roasters.
For the method of brewing the coffee there are usually two schools. One which does it the slow and poetic way with the Vietnamese coffee filters. For the other Vietnamese coffee shops, you'll usually see espresso shots being used for each glass.
Either way makes a great Vietnamese Iced coffee. For the classic coffee filter method, there is something beautiful and relaxing in having to wait for 5 minutes while the coffee brews one drip at a time. There is also something quite beautiful in quickly pulling a luscious shot of espresso and then flicking the fingertips to stir in the sweetened condensed milk. We love both ways depending on our mood.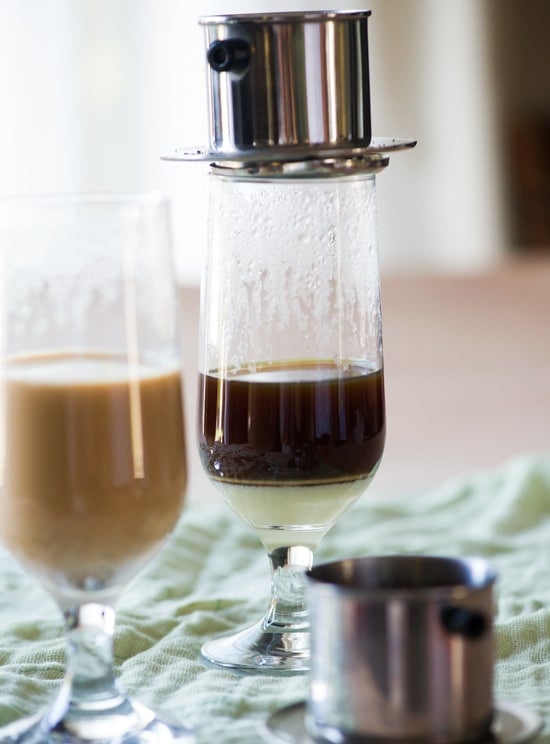 If you want to customize each glass and have time to brew it the old fashioned way, use a Vietnamese iced coffee filter. It's cool to be able to watch the coffee drip into each glass. Here's our post about the coffee filter from our last Vietnam trip.
For a quicker, but still wonderful espresso version, fire up the espresso machine. There is also the added convenience for when you want to make it in bigger batches. Pull a bunch of shots then stir in the sweetened condensed milk to taste. You can even do this ahead of time if needed. Then when you are ready serve; ice, pour, and enjoy.
Now you have a couple options to make Vietnamese iced coffee for one or for a big party. Quick or slow a meditative. Have fun and drink up while the weather is still warm so you can hydrate yourself with lots of iced coffee!
-diane and todd
any iced coffee lovers out there?
More Beverage and Cocktail Recipes Here. 
Quick Vietnamese Iced Coffee Recipe
Yield: 1 Serving
Total Time: 5 min
This recipe is a quick version for those who have an espresso machine at home. For the classic recipe using a Vietnamese coffee filter, click here. Strength of coffee and sweetness will depend on your espresso and specific sweetened condensed milk brands. Adjust sweetened condensed milk to your personal taste.
We will often mix the sweetened condensed milk with some half and half to reduce it's sweetness a bit.
Ingredients:
2 Tablespoons (30ml) Sweetened Condensed Milk *see head note
2 ounces (60ml) Espresso
Ice
Directions:
Pour the sweetened condensed milk in a glass. Add the hot espresso and stir to combine.
Taste and adjust to preference. Add ice and serve.
Hello! All images & content are copyright protected. Please do not use our images without prior permission and do not re-publish this recipe. Simply link back to this post for the recipe. Thank you.
Recipe Note for Salt: All recipes containing salt are based on kosher or sea salt amounts, not table salt. If using table salt, reduce the amount used to taste.