Easy Thai Coconut Curry
This easy curry recipe with coconut milk is super versatile. Add your favorite ingredients and make to your own personal taste.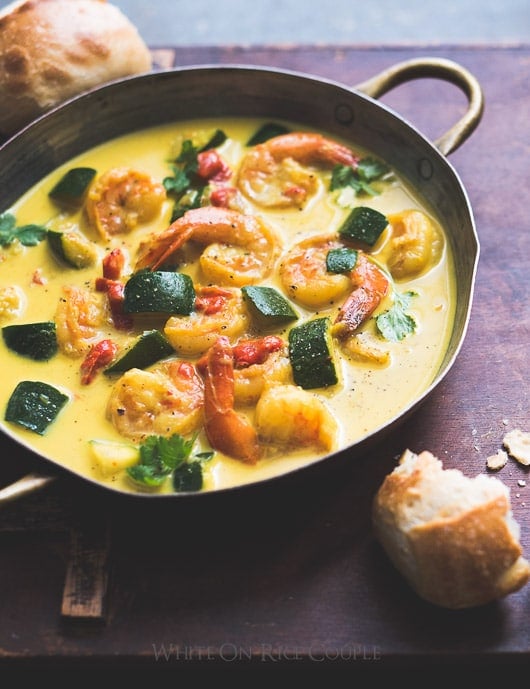 Zucchini Shrimp Coconut Curry Recipe
We've known folks who said "I don't like curry". Are you one of those folks? If so, we should talk because maybe there's a missing link here that could possibly sway you over to the curry-lovers side. There's so many different types of "curry" that no curry is ever created equal. In fact, the term "curry" is such a generic term for a beautiful kaleidoscope of spices used all over the world. We use it today to collectively describe a dish as having awesome flavor and of course, color.
Every "curry" or combination of spices is different and so are the flavors. Maybe you had a curry that had a concentration of a spice that didn't appeal to you? Or maybe it was too flavorful that gave you heart-burn. Trust us, we're all in the same boat. There are some curry combinations that we just can't eat because they're too strong, resulting in heart-burn that forces us to walk around the block a few times just so our meal can digest.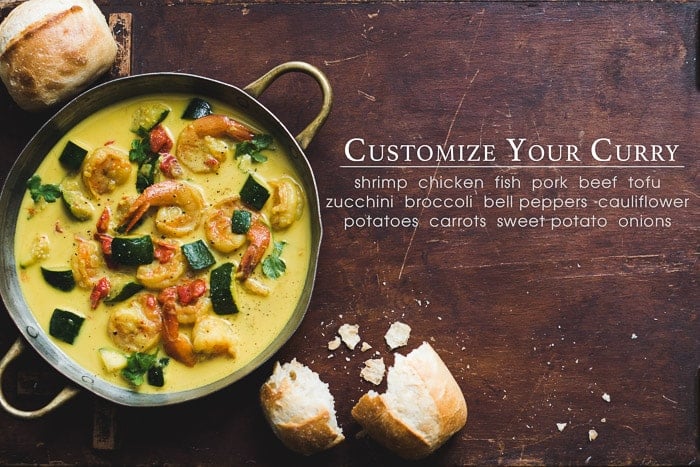 We empathize with all you curry-avoiders. But it doesn't mean that you should avoid curry all together. There's mild versions and recipes that give you just enough hint and subtle flavor to get you excited for the next bite. Let's not give up on curry completely. Life is better with a bit of spice.
What we propose is to start small and slow. Every recipe can be adjusted to taste and make it your own with what ever you want in any combination that works for you. This coconut curry recipe we made last year for our zucchini project is one of those that is the perfect starting point to customize the flavors to your personal taste buds.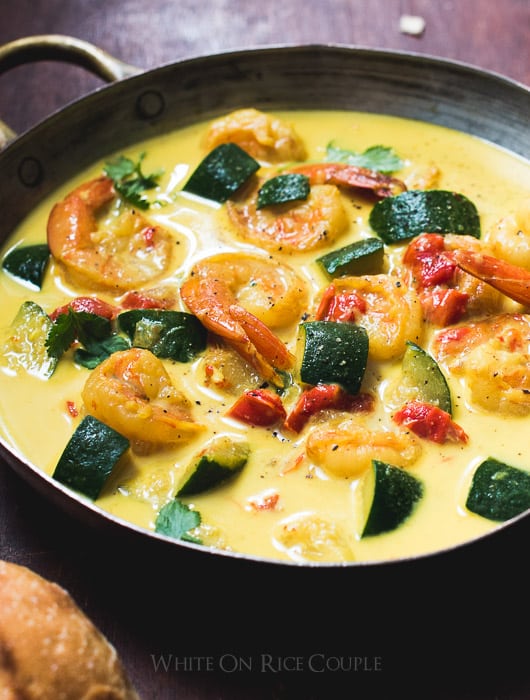 There's something for everyone in this curry recipe. Don't like shrimp? Add more veggies, chicken or your favorite protein. Like more flavor? Add more curry powder, garlic and spice. This recipe is easy and perfect to make if you're a newbie.
This zucchini shrimp coconut curry is our go-to curry recipe and every time we make it, it's never the same twice. That's the beauty of curry because the possibilities are endless and with that, hopefully it'll be able to have something special for everyone to enjoy.
hugs,
diane and todd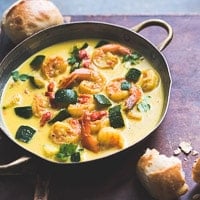 Easy Thai Coconut Curry and Shrimp & Veggies
Always a weeknight favorite, this quick and easy curry is loaded with chunks of zucchini and simmered in a flavorful coconut curry. Replace the shrimp with chicken or add extra zucchini and other vegetables for a hearty curry. Customize this curry to your personal taste. Serve with zucchini noodles instead of rice, bread or pasta for a healthier variation.Each brand of curry will have a different spice level and flavor profile. Adjust the cayenne and curry to your preference.
Ingredients
1 Tablespoon (15 ml) vegetable oil
1/2 medium onion , minced
3 cloves garlic , minced
1 inch (2.5 cm) knob ginger , minced
14 ounces (397 g) coconut milk
2 Tablespoons (30 ml) curry powder
1/4 teaspoon (2.5 ml) cayenne powder optional, or to personal taste
1 cup (240 ml) chicken stock
1-2 Tablespoons (15 ml) fish sauce
3/4 pound (340 g) zucchini , (1 med. zucchini) chopped
1 small bell pepper , diced
1 pound (454 g) shrimp , peeled and deveined
chopped cilantro or fresh basil for garnish , optional
Kosher salt , to taste
black pepper , to taste
Nutrition Information per Serving
Calories: 402kcal, Carbohydrates: 12g, Protein: 28g, Fat: 27g, Saturated Fat: 22g, Cholesterol: 287mg, Sodium: 1343mg, Potassium: 721mg, Fiber: 2g, Sugar: 4g, Vitamin A: 780IU, Vitamin C: 46.5mg, Calcium: 217mg, Iron: 7.1mg
We are a participant in the Amazon Services LLC Associates Program, an affiliate advertising program designed to provide a means for us to earn fees by linking to Amazon.com and affiliated sites.