Skillet Parmesan Mushrooms
We're obsessed with this skillet parmesan mushrooms recipe. Perfect as a vegetarian side dish, this simple mushroom recipe is a great for any day of the week. Make a double batch because they're that good!
Skillet Parmesan Mushrooms
Previously, our popular garlic mushrooms with onions and white wine inspired us to share this easy recipe. The best part about this recipe is that you can make it your own. Use any type of spice or flavoring that you like and adjust the seasonings to your personal taste. We love adding extra garlic and sometimes some spinach in it too. Extra squeeze of lemon juice adds a bright flavor that takes these mushrooms over the top.
Video: Parmesan Mushrooms Recipe
What types of mushrooms can you use?
There's definitely many options for mushrooms. The varieties are endless and you can use pretty much any variety you like. Just make sure to sauté the mushrooms so that all the moisture releases. Some mushrooms have a higher water content than others.
white button mushrooms
baby Bellas
larger portabellas
cremini mushrooms
oyster mushrooms
Here's a list of interesting mushrooms varieties. Hope you enjoy our skillet parmesan mushroom recipe!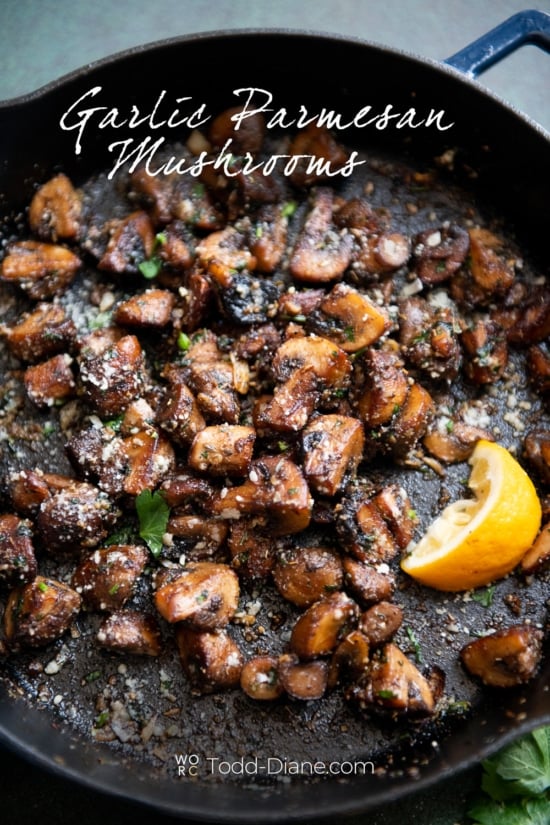 Tips on how to make skillet mushrooms
The key factor is making sure to cook out all the moisture in the mushrooms. Don't cook them to where they're all dried out, but if you cook out enough of the moisture, the mushrooms won't be soggy. You want the mushrooms to have a good sear on medium/high heat or high enough so that the mushrooms don't burn. Lastly, if you're cutting mushrooms make sure to have then all about the same size so they can all cook evenly.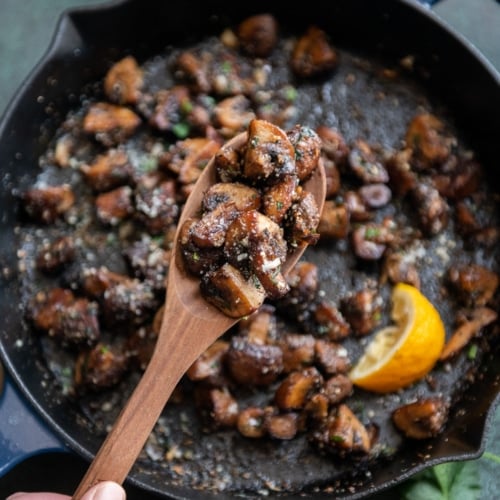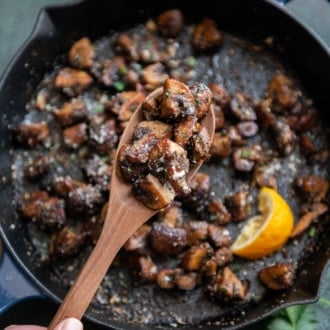 Skillet Garlic Parmesan Mushrooms
Feel free to use whatever fresh mushroom you prefer. Just clean them and cut or tear them into bite-sized pieces (mushrooms like oyster mushrooms are sometimes easier to just tear into your desired size). For cleaning the mushrooms, we prefer to use a dry pastry brush or slightly dampened cloth to brush off any dirt which may be on the mushrooms.
Ingredients
16 ounces (454 g) small button or cremini mushrooms
4 Tablespoons (60 g) butter , divided
1 Tablespoon (15 ml) Worcestershire
1/2 teaspoon (2.5 ml) dried oregano
1/2 teaspoon (2.5 ml) onion powder
1/2 teaspoon (2.5 ml) salt , or more to taste
fresh cracked black pepper
3 cloves garlic , minced
3 Tablespoons (45 ml) fresh grated Parmigiano-Reggiano (or similar cheese)
2 Tablespoons (30 ml) chopped parsley
lemon wedges (optional)
Instructions
Brush the mushrooms clean. Trim the bottoms of the stems of the mushrooms if dried out. Keep the mushrooms whole, or if they are large, cut them into bite sized pieces.

Heat large skillet over medium-high heat. Add 2 Tablespoons of the butter then add mushrooms. Cook and stir mushrooms until they are browned & start to caramelize, about 5-8 minutes.

Add remaining 2 Tablespoons of the butter, let it melt a bit, then add the Worcestershire, dried oregano, onion powder, salt, pepper and garlic. Cook until garlic is lightly caramelized and softened, about 1-2 minutes.

Remove from heat then stir in parmesan cheese and parsley. Season to taste with additional salt and pepper if desired. Serve warm with lemon wedges to squeeze on top of mushrooms (optional).
Nutrition Information
Calories: 217kcal, Carbohydrates: 13g, Protein: 6g, Fat: 17g, Saturated Fat: 10g, Polyunsaturated Fat: 1g, Monounsaturated Fat: 4g, Trans Fat: 1g, Cholesterol: 44mg, Sodium: 672mg, Potassium: 548mg, Fiber: 4g, Sugar: 4g, Vitamin A: 741IU, Vitamin C: 5mg, Calcium: 89mg, Iron: 1mg
We are a participant in the Amazon Services LLC Associates Program, an affiliate advertising program designed to provide a means for us to earn fees by linking to Amazon.com and affiliated sites.