Creamy Mushroom Gravy Scalloped Potatoes
Sometimes if family food tradition works, it's hard to let it go even for one meal. If it's continually delicious and always applauded at the feasting table, changing habit is tough. Our classic potatoes au gratin recipe comes to mind and has been a staple at our holiday table for over 20 years.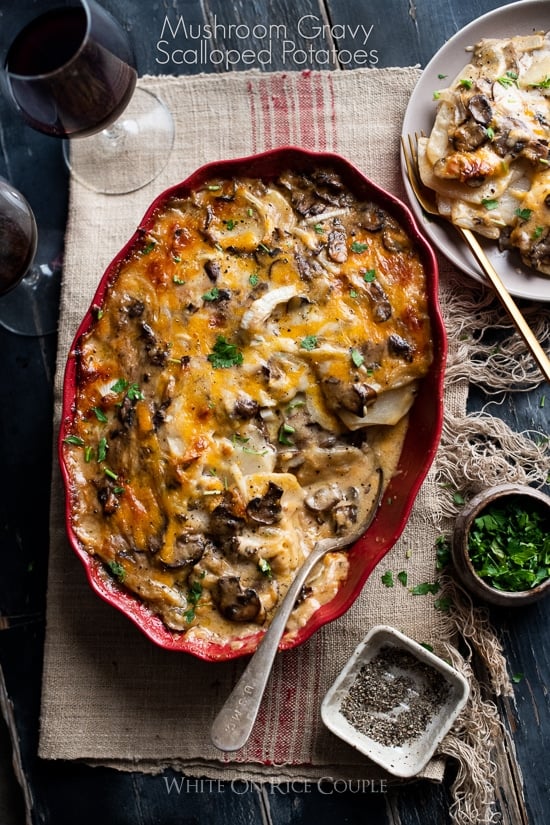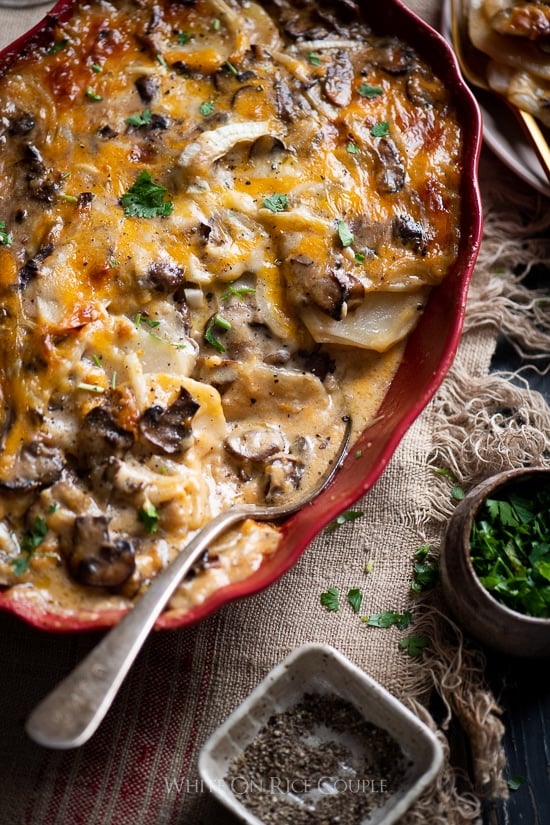 It's a habit that's hard to replace because it's always the star of the menu and everyone asks for multiple helpings. When Thanksgiving comes around the family doesn't ask much about the menu. The only thing they want to make sure of, is if Todd's potatoes au gratin is making an appearance again. Our friends and readers who made our potatoes au gratin said the same thing about how obsessed they are with them.
Video Creamy Mushroom Gravy Scalloped Potatoes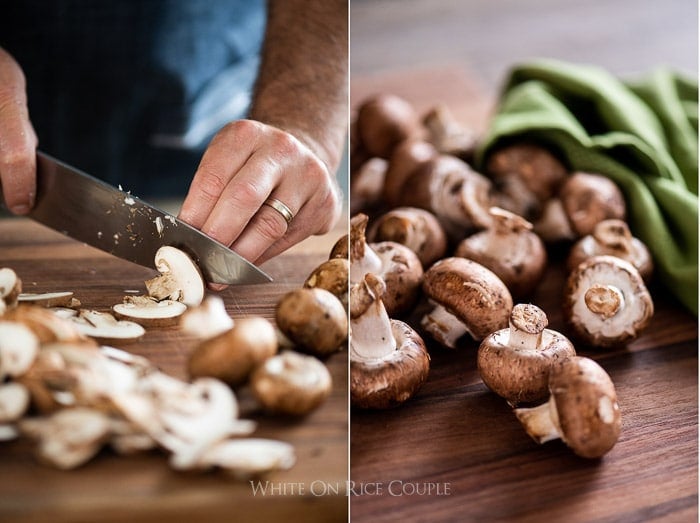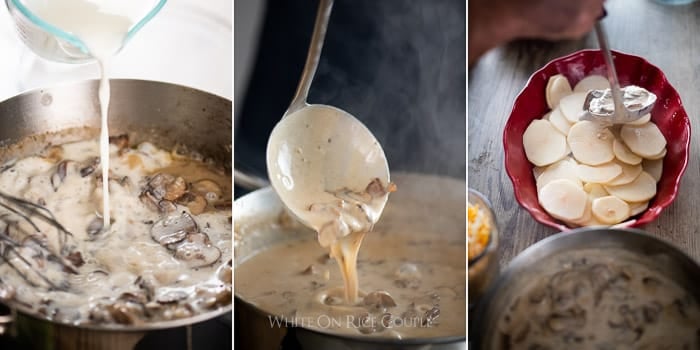 Alas, we're wanting to intervene and not necessarily break from the potatoes au gratin tradition (chaos would ensue for sure) but rather to add a little more potato variety to the turkey and all the trimmings. Diversity at the table has always been a major theme at our table in so many ways. So offering a second option is a way to keep moving forward and progressing to make our menu exciting and interesting.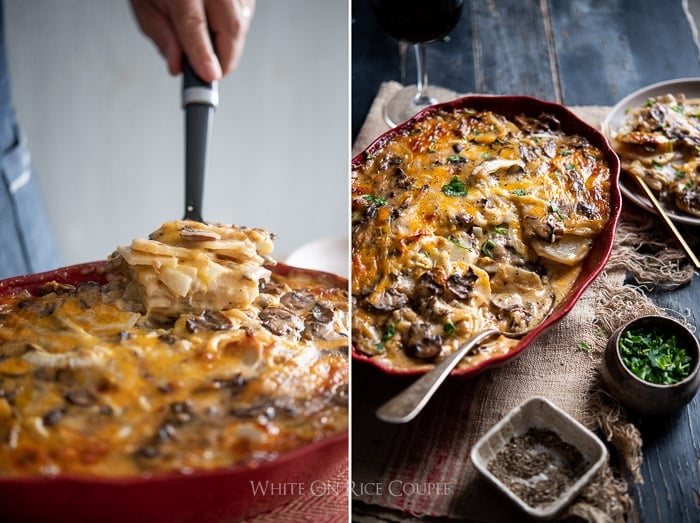 Scalloped Potatoes Cooked in Mushroom Gravy. Yum.
We're talking about making this mushroom gravy scalloped potatoes again. It's another rockstar potato dish that oozes of creamy brown gravy and chunks of savory mushrooms. It's fantastically creamy, earthy and savory in every bite. The layers of tender potato and mushroom gravy makes everyone who has had a bite scream out for "where has this been all my life?!" So finally, this monstrous mushroom gravy scalloped potatoes isn't for everyone.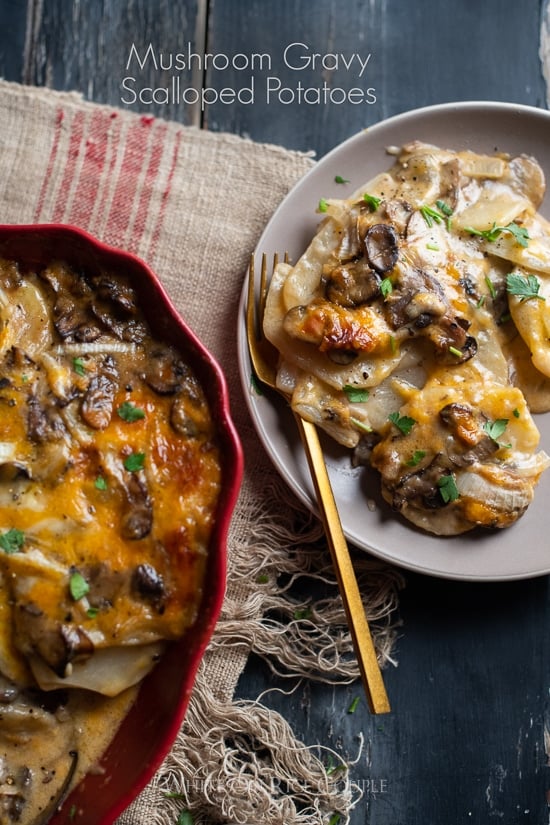 Mushrooms, love em or hate em?
Mushrooms are a peculiar vegetable because it has a love hate relationship with everyone. You either love it or hate it. But if you're a lover of mushrooms, you'll probably be reaching for multiple servings. And if you're a mushroom hater, you can always have more of the classic potatoes au gratin.
When it comes time to sharing our feast again, there will be something for everyone. And this new kid on the block of mushroom gravy scalloped potatoes will have it's new raving fan base. It's true that it's always about the potatoes!
Enjoy,
diane and todd
Here's our complete collection of potato recipes including our popular smashed potatoes with curry sauce. Also, check out more easy and awesome recipes: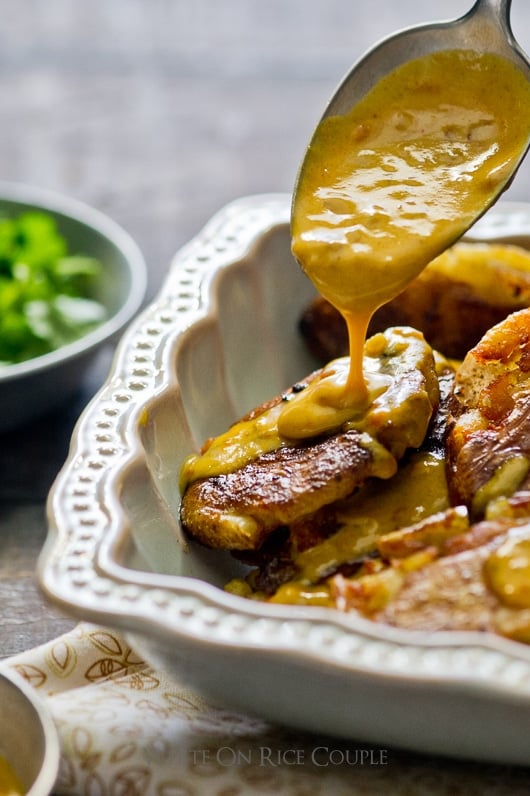 Recipe was originally published in 2018 and was updated in 2019.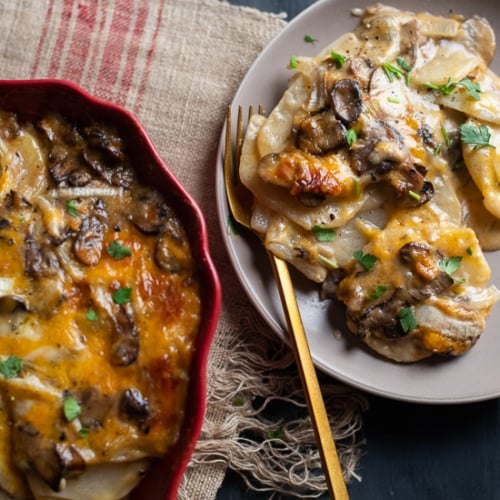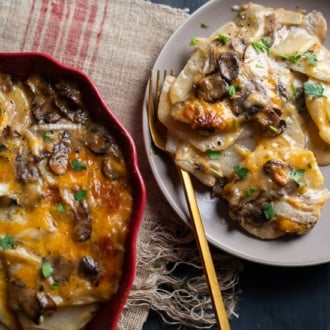 Creamy Mushroom Gravy Scalloped Potatoes
For even cooking of these potatoes, to make sure to slice the potatoes thin and most importantly, with consistent cuts. The casserole won't cook evenly if you have a mix of thin and thick slices. Caution when using a mandoline
(we highly recommend using a cut-safe glove with a mandoline)
or sharp knife. Yukon Gold potatoes are our favorite and cook more tender than Russets.
Ingredients
for the potatoes:
3 pounds (1.35 kg) Russet or Gold Potatoes , peeled and sliced thin
2 cups (224 g) shredded Cheese (cheddar, parmesan or goat cheese) , divided
1 medium (1 medium) Onion (sweet onion is best!), sliced thin
for the mushroom gravy
1/2 cup (114 g) Butter , divided (one stick)
16 ounces (454 g) Mushrooms , sliced
3 cloves (3 cloves) Garlic , minced or crushed
1/3 cup (42 g) Flour
1 cup (240 ml) Broth (beef, chicken or vegetable)
2 cups (480 ml) Milk
Kosher Salt , to taste
fresh cracked Black Pepper , to taste
Minced Parsley , optional garnish
Instructions
Preheat oven to 375°F. Butter an 9"x13" baking dish. Set aside.

Make the gravy: In saucepan, melt half of butter (1/4 cup) over medium-high heat. Add garlic, cook until softened and then add mushrooms and cook until mushrooms are golden brown and excess mushroom liquid evaporates, about 5-10 minutes. You really want to have the mushroom release and cook off as much moisture as possible.

Add remaining (1/4 cup) butter and cook until melted. Stir in the flour, whisking to remove lumps. Add about 1/2 cup of broth, whisking until incorporated.

Pour in the remaining broth and milk. Whisk until well combined. Season with salt and pepper, to taste (the saltiness and flavors will concentrate some when it reduces down).

Reduce heat to medium, stirring often, simmer until slightly thickened, about 15 minutes. Check for seasoning and salt again if needed. Remove from heat and set aside.

Layer 1/2 of the potatoes in the prepared baking dish, making sure to separate slices. Top with half of the gravy. Layer half of the sliced onions. Layer about 1/2 of the cheese over the potatoes.

Top with the remaining potatoes (making sure to separate slices). Top with remaining gravy, onions and cheese.

Cover the pan with aluminum foil. Bake for 1 hour, then remove foil and bake uncovered for about 25-30 minutes or until top is golden and potatoes are tender. Garnish with minced parsley. Serve warm.
Notes
NOTE: If you're baking in a dish that's smaller and taller than a traditional 9"x13" dish, then it might take longer to bake the potatoes because the volume of potatoes is thicker and higher.
Nutrition Information per Serving
Calories: 330kcal, Carbohydrates: 26g, Protein: 12g, Fat: 20g, Saturated Fat: 12g, Cholesterol: 59mg, Sodium: 393mg, Potassium: 811mg, Fiber: 4g, Sugar: 4g, Vitamin A: 705IU, Vitamin C: 17.6mg, Calcium: 219mg, Iron: 5mg
We are a participant in the Amazon Services LLC Associates Program, an affiliate advertising program designed to provide a means for us to earn fees by linking to Amazon.com and affiliated sites.