Lemon Pepper Chicken with Cream Sauce
Skillet chicken cooked with lemon pepper seasonings and served with a cream sauce is a fantastic simple meal. There's so many ways to serve this awesome dinner.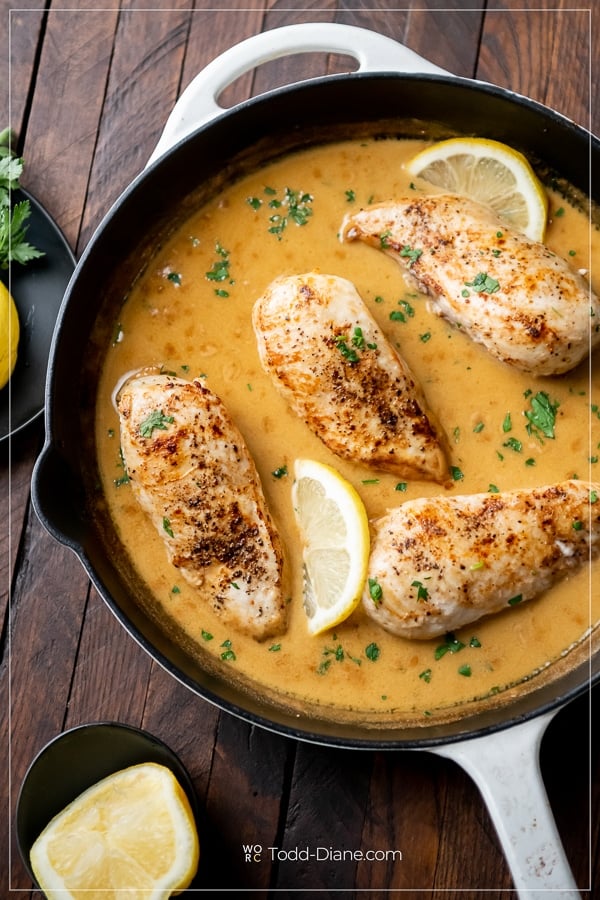 Lemon Pepper Chicken
As you already know, we're obsessed with citrus. It's such a versatile fruit that fills our garden and kitchen all year round. From cocktails to sauces and cooking, we eat and drink citrus every day. This lemon pepper chicken is a result of our obsession, especially when we're needing a simple dinner. All cooked in a skillet, this is a favorite weeknight meal that always hits the spot. The bright and amazing flavors of our lemon cream sauce is another awesome recipe in itself. You can use it on veggies, for dipping or eggs. Yes, this lemon pepper sauce is awesome on poached eggs, scrambled or anytime you need a breakfast or brunch sauce.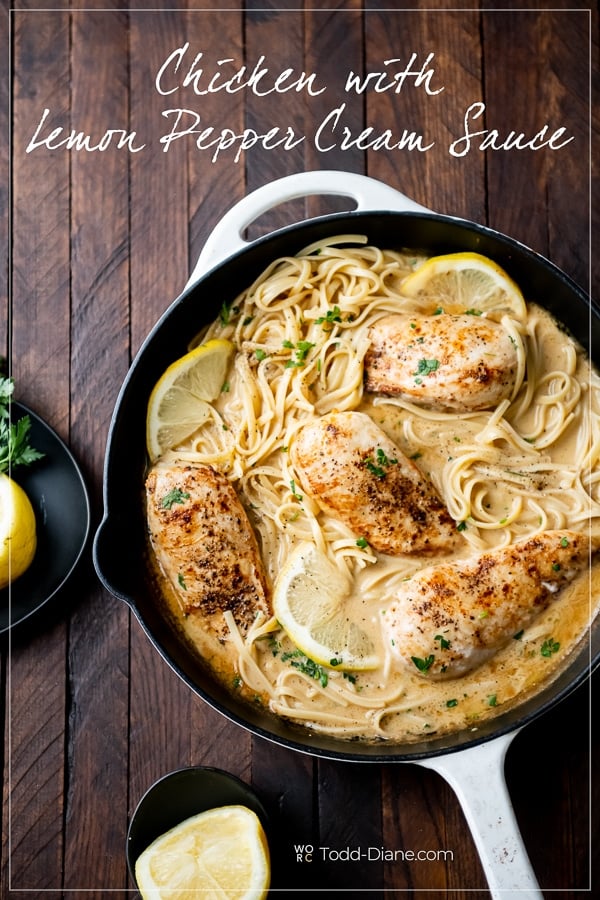 Video: Skillet Chicken with Lemon Pepper Cream Sauce
Serve it Low Carb (Keto) or with Pasta
When we're really hungry, we'll serve this lemon pepper chicken with pasta. It's a fresh way to enjoy pasta and sauce with bright flavors of lemon juice. Sometimes we'll have a few slices of grilled bread and just dip it into the sauce while eating the chicken. There's lots of options to enjoy this as a low carb or hearty meal. Regardless of how you serve it, we guarantee it'll be on your regular rotation. It's too easy to not want to make and the flavors will make you crave more of the lemon pepper cream sauce. If you have a few lemons lying around that need to be used, make the sauce! It's worth making an extra batch of to save for later. You won't regret it.
Enjoy,
diane and todd
More of our Chicken Recipes Here and Citrus Recipes Here.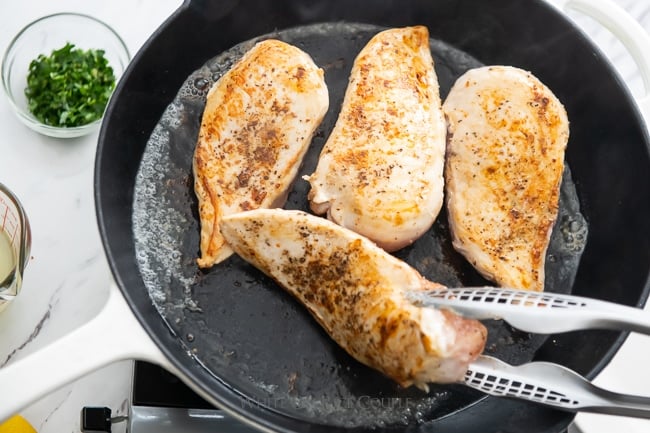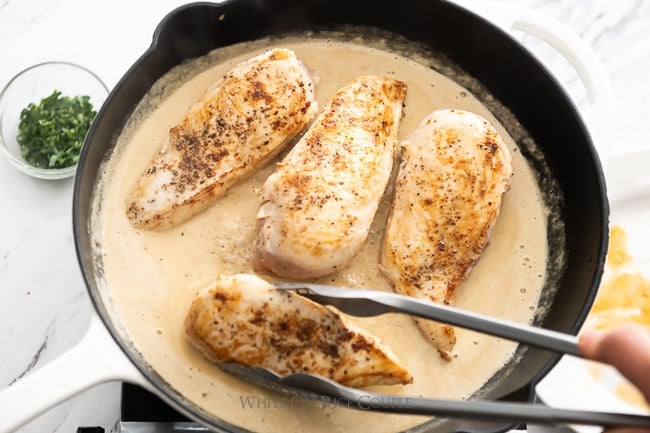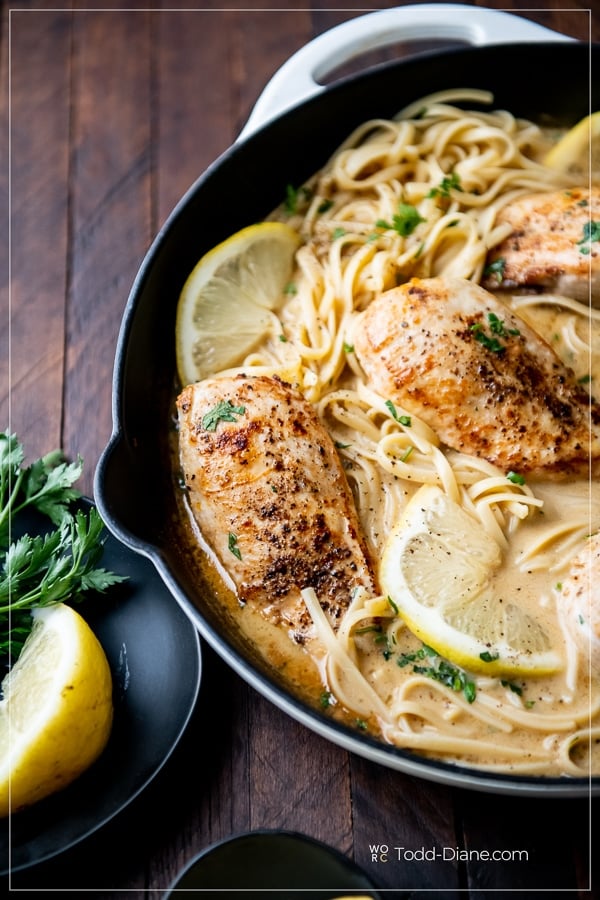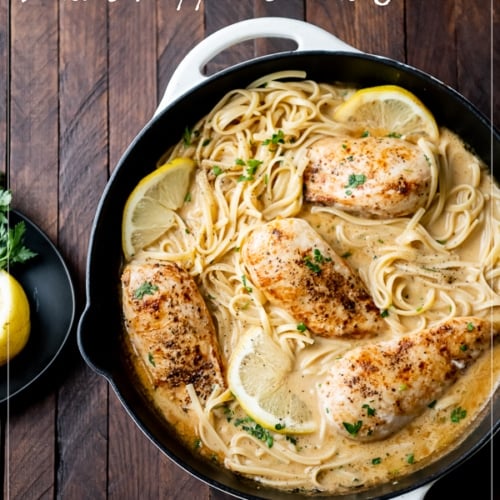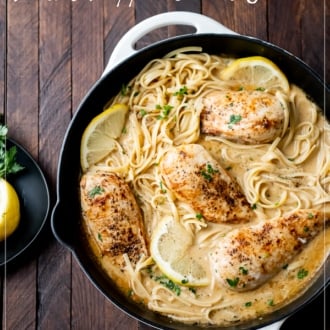 Chicken in Lemon Pepper Cream Sauce
If chicken breasts are very thick with rib meat attached, you should slice them lengthwise so that they're thinner. This will make cooking them quicker. If you want to use thick chicken breasts, then make sure to cover the chicken and cook for longer and keep checking to make sure they're cooked through.
Ingredients
For the Chicken
2 pounds (910g) boneless skinless chicken breasts , sliced thin (or chicken thighs)
2 Tablespoons olive oil or butter
salt
black pepper
(Optional) smoked paprika , to taste
(Optional) ground cumin , to taste
For Lemon Pepper Sauce:
2 Tablespoons (30 ml) butter , or olive oil
4 cloves garlic , minced or crushed
3/4 cup (180 ml) heavy whipping cream (NOT the same as half and half)
1/2 cup (120 ml) chicken broth
2 teaspoons (10 ml) Worcestershire sauce
zest of 1 medium lemon
3 Tablespoons (45 ml) fresh lemon juice
2 teaspoons lemon pepper seasoning
salt , to taste
cracked black pepper , to taste
3 Tablespoons minced parsley , optional garnish
Nutrition Information per Serving
Calories: 541kcal, Carbohydrates: 5g, Protein: 50g, Fat: 35g, Saturated Fat: 16g, Cholesterol: 221mg, Sodium: 320mg, Potassium: 959mg, Fiber: 1g, Sugar: 1g, Vitamin A: 899IU, Vitamin C: 9mg, Calcium: 53mg, Iron: 1mg
More easy recipes:
We are a participant in the Amazon Services LLC Associates Program, an affiliate advertising program designed to provide a means for us to earn fees by linking to Amazon.com and affiliated sites.