Air Fryer Turkey Recipe ( Whole Turkey with Gravy )
Juicy and amazing air fryer turkey is easier than you think! If you need more oven space for Thanksgiving or Holiday meals, try air frying a whole turkey. The results for this air fried whole turkey is fantastic and best of all, the gravy is made in the same glass vessel. It's simple and the turkey is flavorful and juicy. Trust us on this one!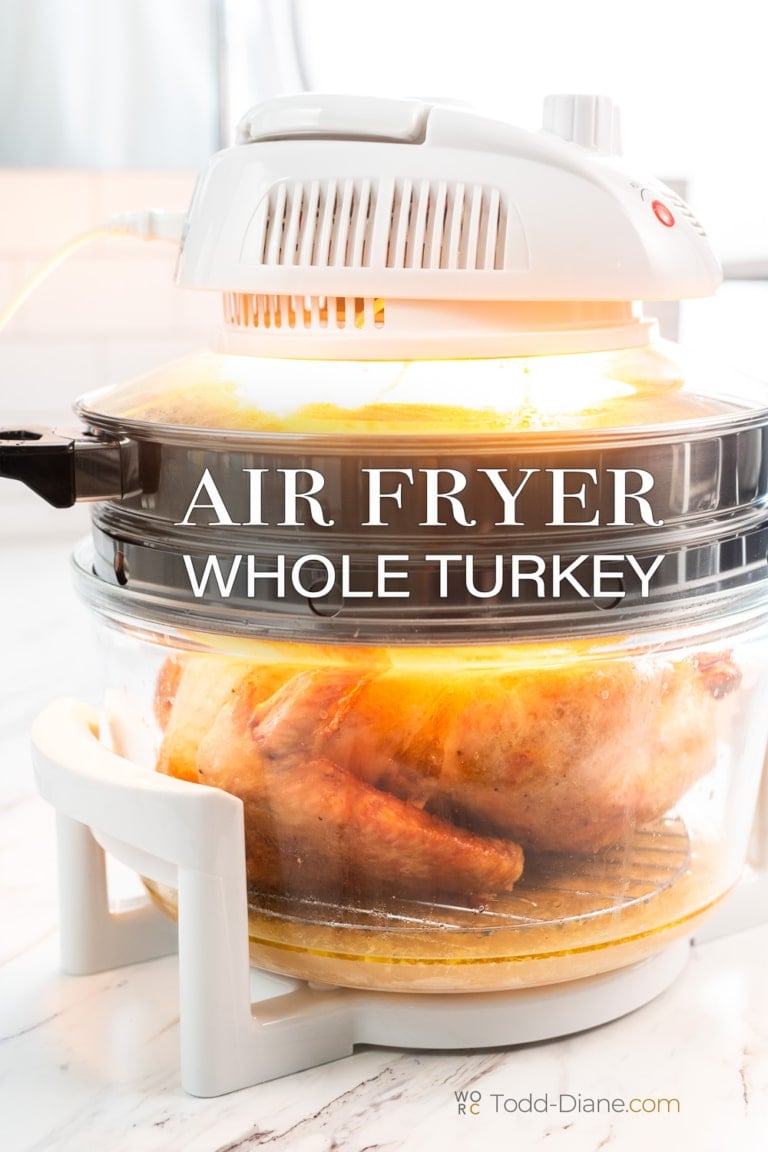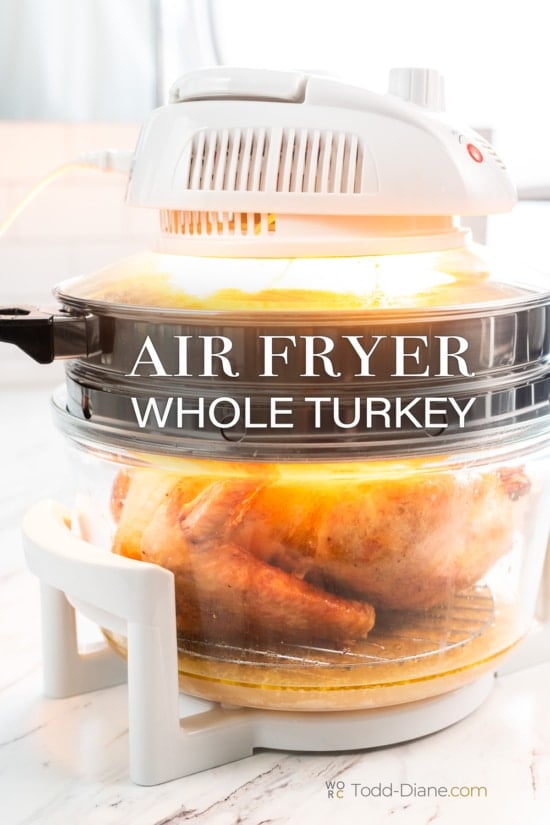 Can You Air Fry a Whole Turkey?
Using an standard 3-6 quart air fryer for simple smaller dishes and meals. But is it even possible to cook a whole turkey in the air fryer? The answer is an enthusiastic YES! For Thanksgiving we've cooked a turkey by air frying it and the results are so amazing. Everyone who tastes our turkey with homemade gravy that's cooked in the air fryer are blow away. And best of all, everyone leaves wanting to buy an air fryer for their next turkey. But it's not the standard 3-6 qt air fryer, it takes a unique one to do it right.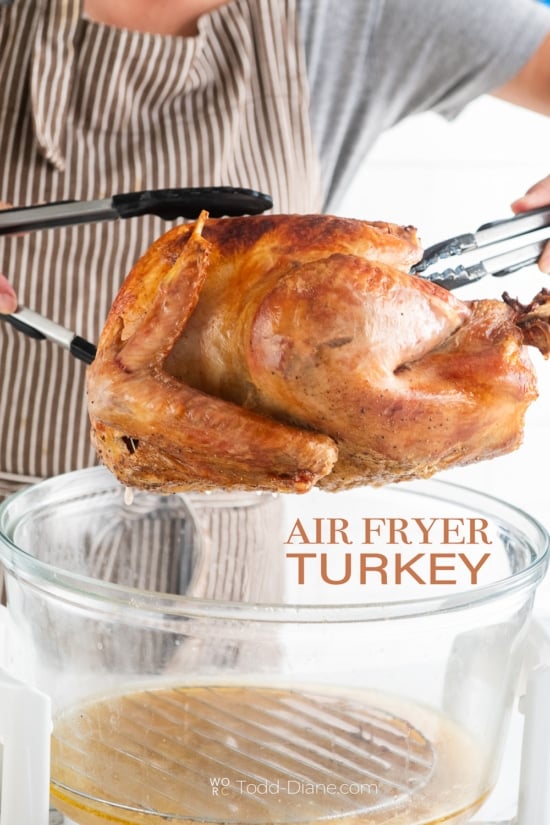 Video: Air Fryer Turkey with Gravy
What Air Fryer is Best for Air Frying a Whole Turkey?
There's several different types of halogen heat air fryers out on the market and they all work about the same. We own two models and tested both. The results were the same when air frying turkeys that are up to 14-16 pounds.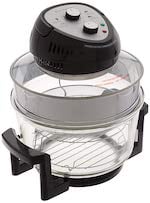 This isn't the only way to cook a whole turkey and there's many types of oil less turkey fryers on the market. The air fryers for cooking this turkey is with a convection technology that uses circulating hot air from a halogen infrared light. This method is like cooking the turkey in a small convection oven. The circulating hot air cooks the turkey evenly, with very little oil, and faster for a crispy skin turkey! These plug-in appliances cooks the turkey without any oil and the results are a juicy and healthy turkey!
Cooking a Whole Turkey Indoors or Outdoors
This style of air fryer is perfect for air frying turkeys inside. The expansion ring puts its capacity at 16-18 qts. (large enough for a 14-16 lb. turkey. See recipe below for air frying a turkey in this style of air fryer (included a gravy recipe).
For outdoors only. These propane style air fryers cook the best whole turkeys. Here's the recipe for air frying a turkey in this style air fryer.
Checking if the Turkey is Done
There are several ways to test if a turkey is cooked through. We prefer using a meat thermometer, but you can always just do a visual check. Make sure not to check until the turkey is at least 85% through it's cooking time. If you check too early and often, you'll lose a lot of your cooking heat and it will throw off the cooking time.
Check the temperature with an instant read thermometer at the thickest parts of the thigh, wings and breast. Make sure the thermometer in the meat and close to but not touching the bone. Recommended temperature is 165°F/74°C.
For checking without a thermometer: piece those same areas (the thickest parts of the thigh, wings and breast) with a fork or thin knife. If the juices run clear and are no longer pink or reddish, then it is a good indication that the turkey is done.
Is Air Fryer Turkey dry or juicy?
There's lots of curiosity about the juiciness of air frying a whole turkey. We've tested both oven and air fryer methods and the air fryer definitely cooks a turkey to be juicy. Only way it would turn out dry is if you cooked it too long or you waited too long to eat it. Doesn't matter what technique you use. If you over cook anything it will be dry. But the air fryer method doesn't make the turkey any drier than an oven method, as long as you follow the technique we teach in the air fryer turkey recipe box below.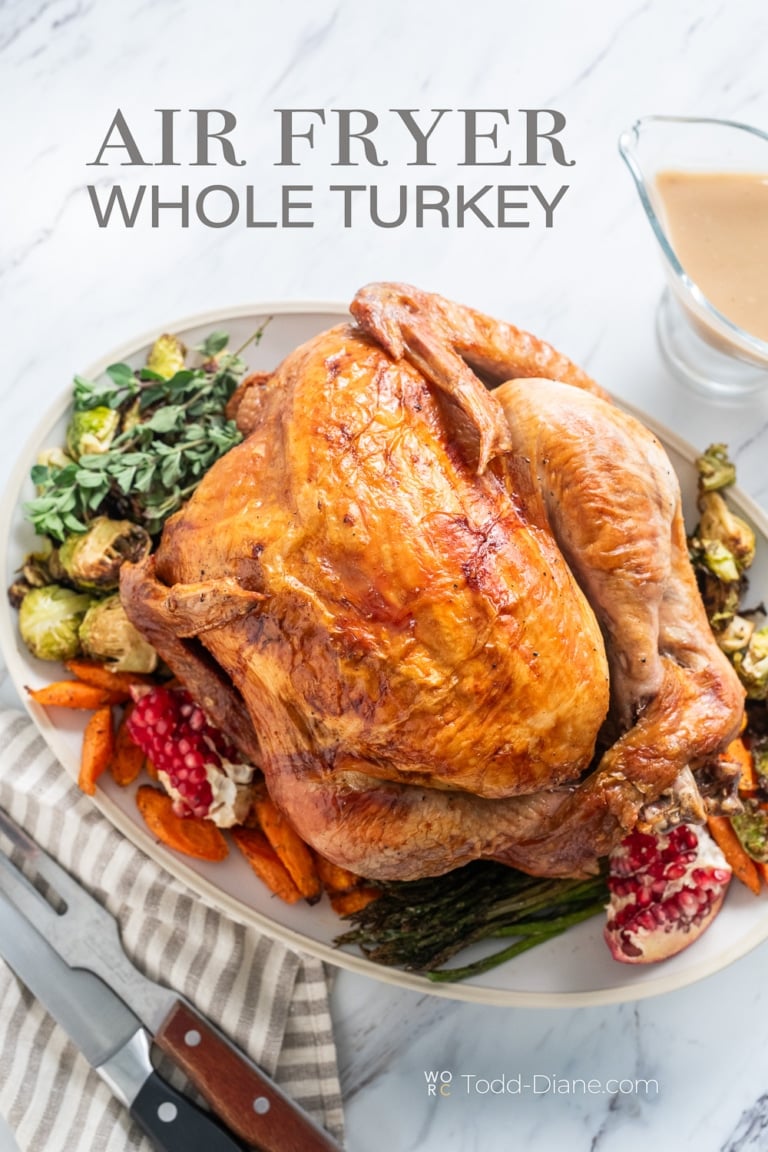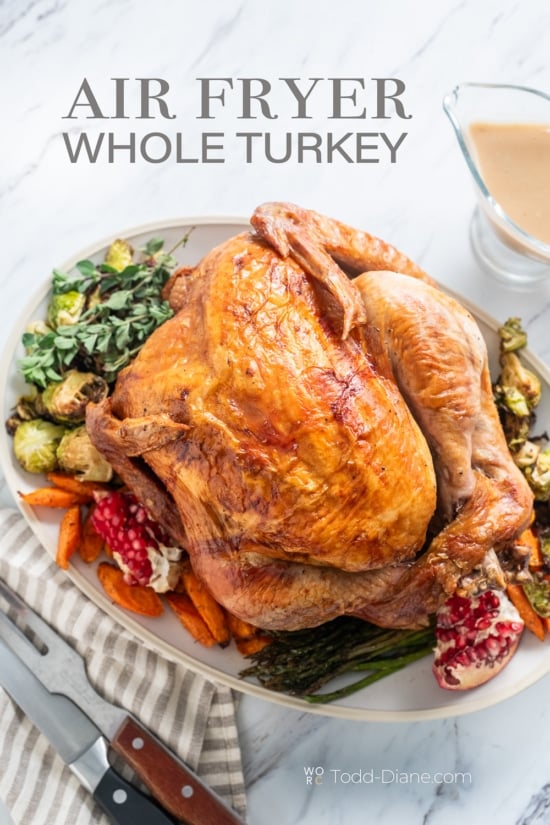 Why would you air fry a turkey vs oven bake?
Don't have a lot of oven space to cook multiple items? then the air fryer method is a great solution for small kitchens with minimal oven space.
Air frying a turkey over oven baking is helpful if your traditional oven is used for cooking other dishes. Often times during holiday cooking the traditional oven is already being used for cooking other side dishes.
If you want to cook a whole turkey in the air fryer, you can easily set up the air fryer on another table or even outside. This helps free up the oven for other uses, while the air fryer can just focus on cooking the whole turkey.
What size whole turkey can you air fry?
With the halogen style air fryers that we talked about, you can air fry up to a 16 pound turkey. Anything larger than 16 pounds is too big for the glass bowl. If you want to cook a turkey larger than 16 pounds, it's best to use the conventional oven method.
Does the turkey skin get crispy?
Absolutely yes! The hot circulating air really cooks the skin to a nice crisp and at the same time, keeps the turkey juicy on the inside without drying it out. The temperature is low enough to cook the turkey all the way through and keep it juicy, while still maintaining a nice crisp on the outside.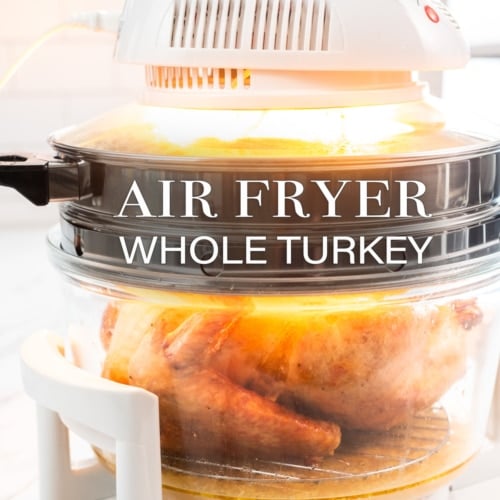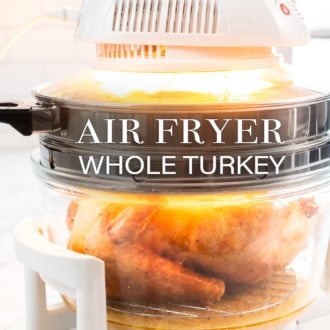 Air Fryer Turkey with Gravy
It is important to make sure the turkey is fully thawed on the inside before air frying. If not, it won't cook evenly. The outside will become overcooked while the inside is still undercooked. Cooking times will vary depending on size of turkey. Whole, thawed turkey usually cooks at a rate of 15 min./lb. This recipe is for a halogen style air fryer with an expansion ring. Usually they are 16-18 quart sized air fryers.Gravy portion makes about 4 cups of gravy. You can always skip the gravy part, but it seems like such a waste not to use all the delicious broth & drippings.
Ingredients
14 lb. (6.35 kg) raw, thawed whole turkey
6 Tablespoons (85 g) butter , cut into slices
4 cloves garlic , thinly sliced
1 Tablespoon (15 ml) kosher salt , or to taste
Fresh ground black pepper , to taste
oil , to coat turkey
1 1/2 cups (360 ml) chicken broth , divided
3/4 cup (100 g) all-purpose flour , for the gravy
Nutrition Information per Serving
Calories: 336kcal, Carbohydrates: 6g, Protein: 52g, Fat: 10g, Saturated Fat: 5g, Polyunsaturated Fat: 1g, Monounsaturated Fat: 3g, Trans Fat: 0.2g, Cholesterol: 168mg, Sodium: 1003mg, Potassium: 552mg, Fiber: 0.2g, Sugar: 0.3g, Vitamin A: 244IU, Vitamin C: 0.3mg, Calcium: 31mg, Iron: 2mg
Want to Air Fry a whole turkey for Thanksgiving or the holidays? Practice first!
You must practice first before you cook for the big holiday! We suggest buying the air fryer and cooking a whole chicken first. Get practice by getting the feel of how everything works, including how to flip the chicken and make the gravy. That way, you can ensure there's little mistakes that can happen on the day you're cooking the turkey. The chicken will definitely cook quicker than the turkey, but at least you get a test run of what it takes to cook the turkey, including getting practice on making the precious gravy.
What about the bacon-wrapped method? Don't do it.
There's a lot of different techniques out there, including the popular bacon wrapped turkey. We don't suggest using this bacon method in the air fryer because the bacon will burn before the turkey is cooked through. The hot circulating air will be too close to the bacon and you'll have an unnecessary grease fire with all that bacon fat being too close to the heating elements.
Homemade Gravy is best!
What we love about this method is that you can make homemade gravy right in the glass bowl. This is so easy and it can all be finished while the turkey is resting. But like we mentioned above, practice first by cooking a whole chicken. The practice will make you prepared for the big day.
How to Air Fry Turkey to be Juicy?
We have an extensive step-by-step recipe photos below in the recipe box. We also have a video to watch as well. Follow our images and video as guidance. We tried our best to walk you through this process. Have fun and enjoy this air fryer turkey recipe! If you tried this method please let us know in the comments below. We'd love to hear how your results were and if it came out delicious!
More Air Fryer and Turkey Recipes:
We are a participant in the Amazon Services LLC Associates Program, an affiliate advertising program designed to provide a means for us to earn fees by linking to Amazon.com and affiliated sites.