"Inside a Watermelon" Margaritas – Fresh & Perfect For A Crowd
Watermelon margaritas don't have be boring. Our quirky version is fun and entertaining.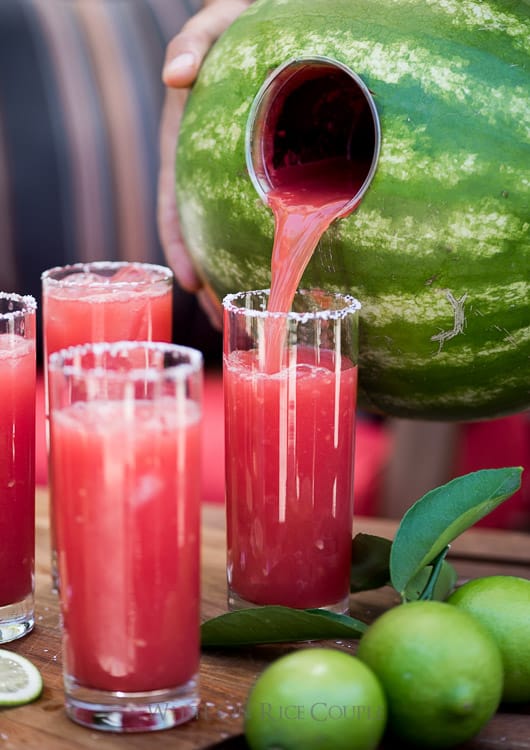 Our love for fresh watermelon this time of year grows as the watermelons become more sweet as they ripen on the vine. We went as far as to share our tip on spanking a watermelon to find the ripest and juiciest one. This technique has definitely helped us during our raging watermelon cravings while enduring this humid Southern California summer. But nothing is as fun and funny as this "inside a watermelon" juicing technique that we saw on buzzfeed and our friend Deb's post on Facebook. This recipe for making watermelon margaritas is perfectly legit. Don't let the electric mixer blades fool you. Guys are even using drills and coat hangers!
Refreshing video of our amazing inside a watermelon margarita recipe: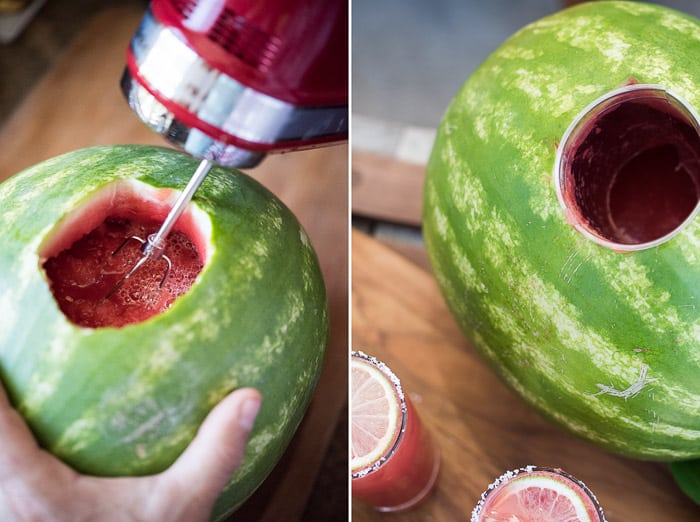 Fresh watermelon, good tequila, homemade simple syrup, orange bitters and fresh lime juice is all you need. Why this technique is so fabulous because it's actually really fun and it's perfect for fueling a thirsty crowd. And best of all, it's a conversation piece, a crowd pleaser and will bring a load full of belly laughs when everyone finds out how you made it. Food should always be fun with friends, especially when there's margaritas involved. Sure, it's much easier to make it the traditional way where you muddle the watermelon inside the glass or make it all in a blender. But if you want a good laugh and some entertainment at your next party, this inside a watermelon margarita version is hilariously fun.
Have fun and drink safely ! -diane and todd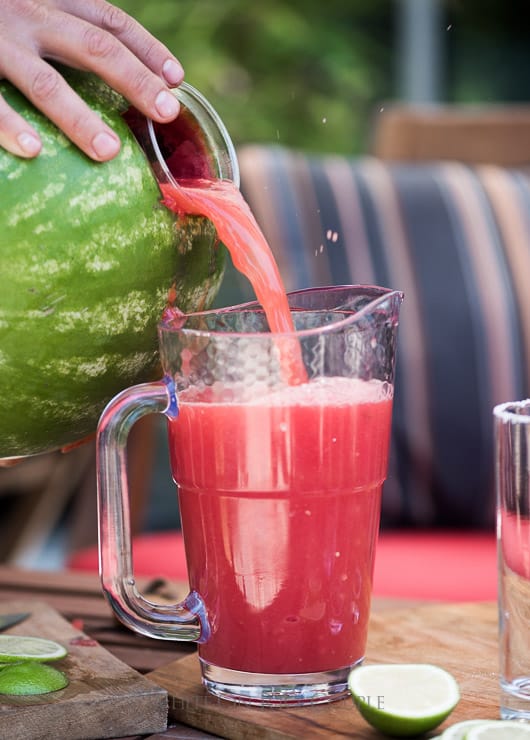 You can also pour into a pitcher & serve from there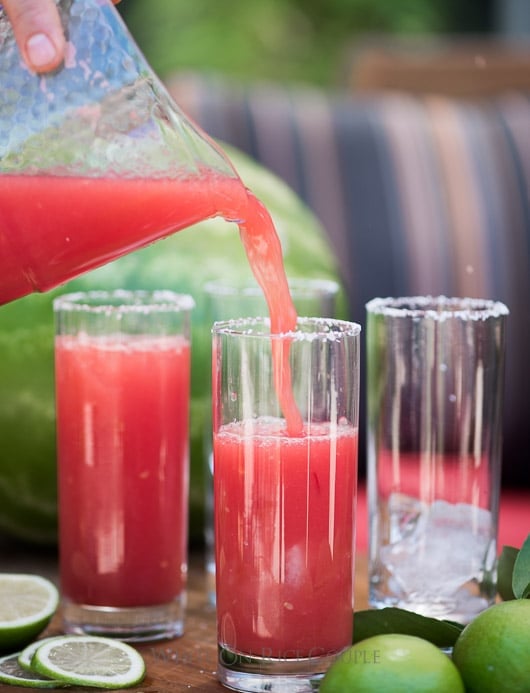 perfect to serve for a crowd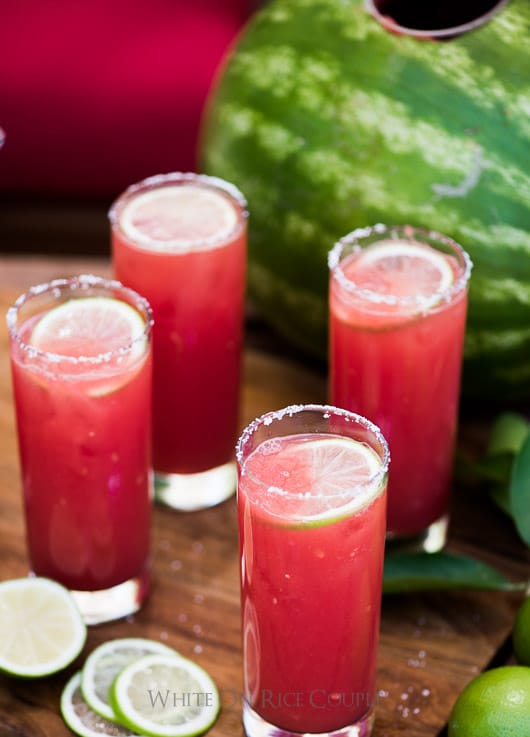 refreshing for those hot Summer days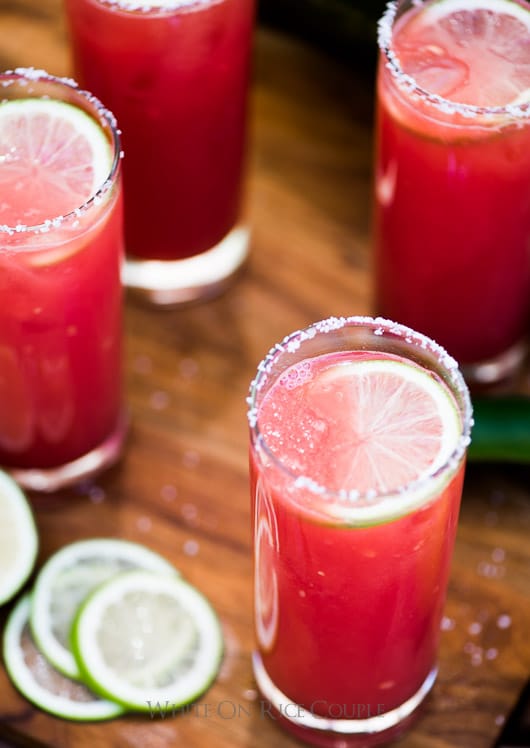 Check out our Cocktail Recipes Here and our Complete Whiskey Guide.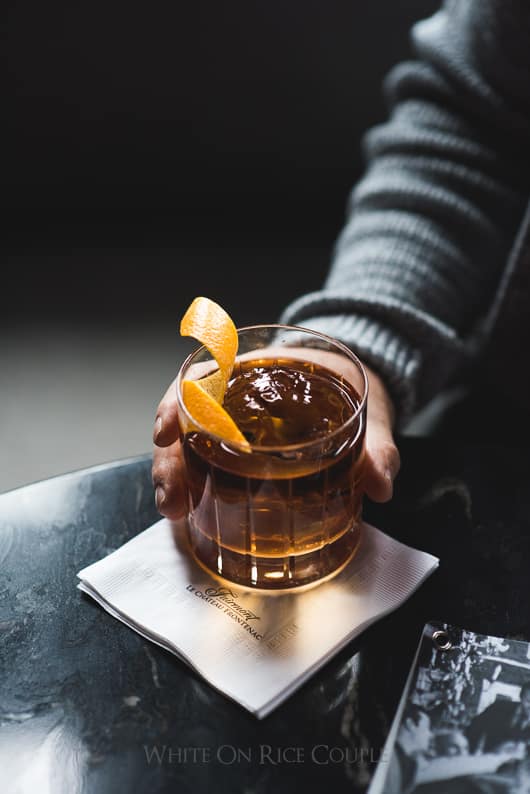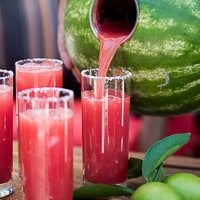 Inside-a-Watermelon Margaritas
Chilling the watermelon the night before will give you a quick chill on the margaritas. The ingredients are to taste, so add as much as you like based on your personal taste preference. And, of course, adjust as needed for different sized watermelons. A watermelon about 10-12 pound will be a good size that will allow the beater blades from the hand mixer to reach all the way through and around the inside of the watermelon. If your watermelon is any larger, you might need to use an immersion blender with a longer reach or use the drill and coat hanger method. Watch the video on our blog write up to see how we made these. If you want to use triple sec then don't use the orange bitters & simple syrup combination. Add your triple sec to taste.
Ingredients
1 seedless, ripe watermelon (about 10-12 pounds (4.5-5.5 kg). Anything larger, the beater blades won't reach inside to blend)
3/4 cup Tequila (or to taste)
1/3 cup fresh lime juice (or to taste)
1/4 cup simple syrup (see Notes at end of recipe)
1/2 teaspoon orange bitters (or to taste).
sea salt for rimming glasses(optional)
lime slices for garnish (optional)
ice
one 6-8 ounce paper or plastic cup
Directions
Carefully cut a hole in the watermelon large enough to fit your beater blade. Push the blade into the watermelon hole and slowly blend the watermelon interior into juice. Make sure to scrape all the way to the sides and bottom of the watermelon to maximize juice.

Ladle out about 1 cup of watermelon juice to make room for the rest of the liquid ingredients. You can reserve the 1 cup of removed juice and make a separate margarita later.

Add tequila, lime juice, simple syrup and orange bitters. Insert the beater blades back into the watermelon to mix the margarita and combine all the ingredients.

Cut out the bottom of a paper/plastic cup. Cut out a section of the cup so it fits into the watermelon hole to use as a spout to pour. If necessary, round out the hole in the watermelon so the cup fits smoothly against the edges and insert the cup into the watermelon hole.

Rub some lime juice on rim of glasses and roll rim in sea salt (optional). Add ice to glasses and top with watermelon margarita and lime garnish. Enjoy!
Recipe Notes
Simple Syrup Recipe:
Basically equal parts water and sugar dissolved together. We'll usually make a bigger batch and use as needed.
2 cups (480ml) Water
2 cups (400g) Sugar
Combine water and sugar in a medium saucepan. Heat until sugar is completely dissolved. Set aside to cool. After cool, store in refrigerator until ready to use.
Did you make this recipe?
Let us know what you think!
Leave a Comment or share a photo on Instagram with the hashtag #whiteonricecouple.
We are a participant in the Amazon Services LLC Associates Program, an affiliate advertising program designed to provide a means for us to earn fees by linking to Amazon.com and affiliated sites.