Sriracha Bloody Mary & having fun with garnishes
This Sriracha Bloody Mary Recipe post was one of our first recipe posts back in 2009. It's an oldie but goodie!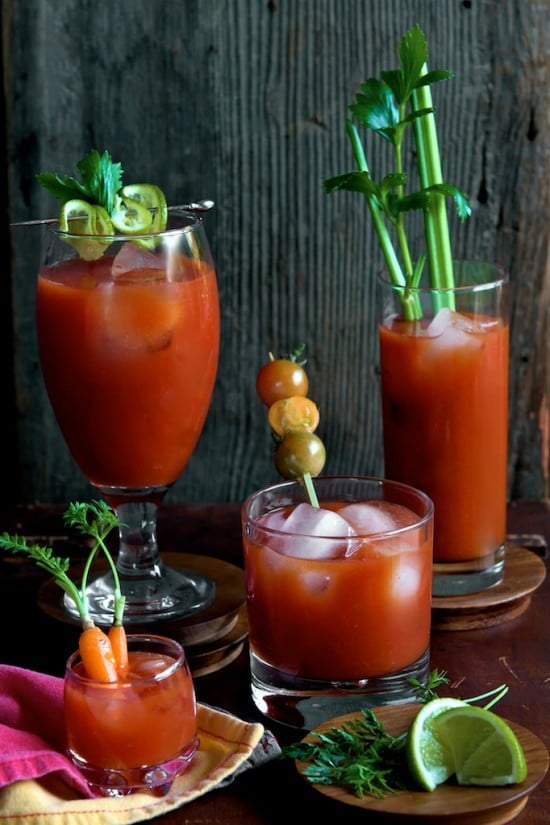 Spicy Sriracha Bloody Mary
So it appears we're on a culinary journey to create a small, but sinfully spicy collection of sriracha infused recipes. And loving every minute of it! Playing with a bottle of hot sauce has never been so hot and gratifying. Previously, we've shared our homemade sriracha-style chili hot sauce recipe, an addicting creamy spicy hot sauce mayo that you can lather on just about anything, and a party pleasing recipe for hot sriracha chicken wings!
With many other hot sauce recipes in queue, we've been experimenting with so much sriracha hot sauce, everyone thinks we're drinking the bottle of red gold!
Oh, wait! Drink it? What a great idea!
A Sriracha Bloody Mary recipe is now born and ready to blow the socks off anyone who is a self-proclaimed sriracha and Bloody Mary addict.
What Hot Sauce to Use?
Using your favorite hot sauce to replace the conventional Tabasco hot sauce used in most Bloody Mary recipes, this sriracha addition will leave you with an equally quenching, but slightly brighter spicy flavors from your traditional Bloody Mary. There are many recipes for Boody Marys out there, so you can stick to your tried-and-true favorite Bloody Mary recipe and all you need to do is squirt in the sriracha instead of the Tabasco.
The Asian inspired tangy heat from the sriracha is definitely different, but subtle and bright enough to excite your Bloody Mary taste buds with something new.
We're game for experimenting with cocktails of all sorts, just look in our garden and you'll see the proof. Our 13 citrus trees are not just for straight eating, friends. Nor are the citrus for visual garden pleasure. There's a plan and purpose for each citrus tree and the most important use for all the citrus trees are for cocktails!
Cocktail garnishes are something we're really fascinated by because having a great garnish can really make folks swoon over a cocktail. So although most of the garden is still in it's Winter hibernation, we were able to find some great little specimens still growing from Summer!
Different Cocktail Garnishes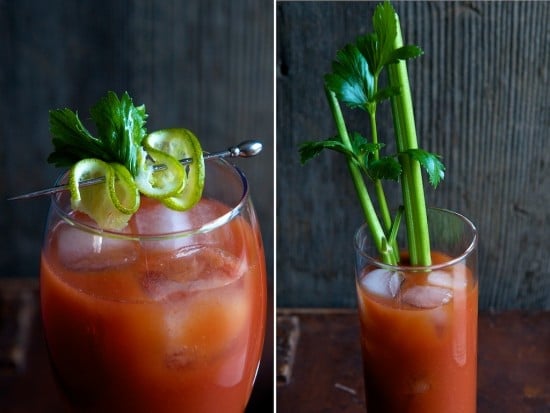 Above: (L) a thin wedge of lime ribboned with a celery leaf. (R) thin, tender stalks of celery with the leaves attached Below: (L) baby carrots for the perfect shot of Bloody Mary! (R) some skewered cherry tomatoes (do you believe we still have tomatoes growing in December??! Although it's too cold for them to ripen, they're still exploding)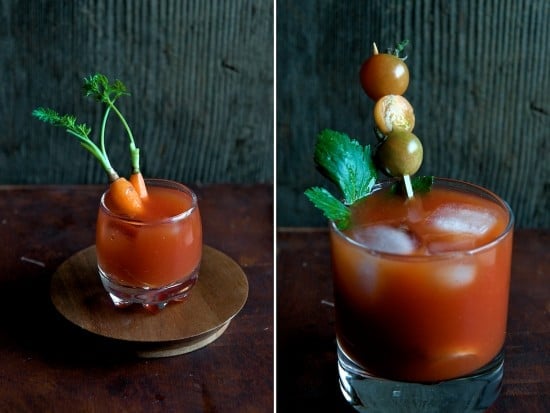 Have fun at your next brunch or party with a big pitcher of this Sriracha Bloody Mary and definitely don't forget to get creative with your garnishes. Make everyone drool and swoon with excitement over so much beauty in a glass.
Let's Drink!
Diane and Todd
More of our Sriracha hot sauce inspired recipes :
Check out our Cocktail Recipes Here and our Complete Whiskey Guide.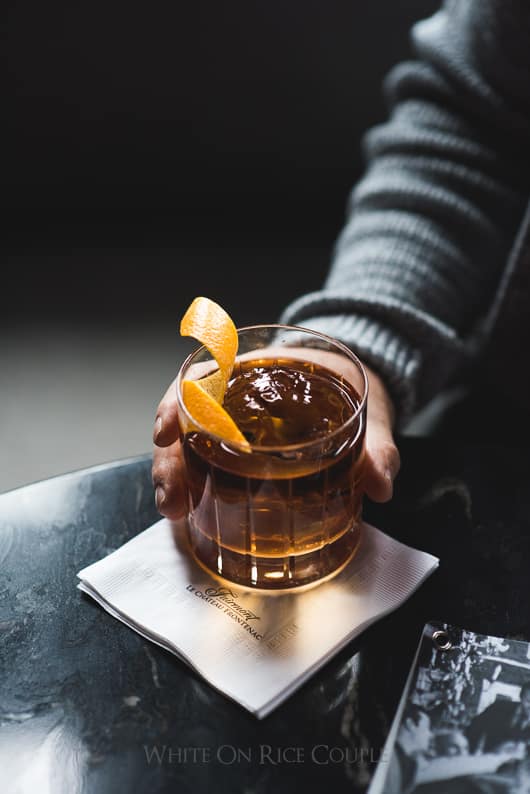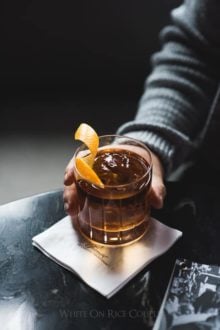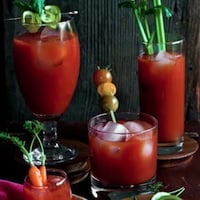 Sriracha Bloody Mary Recipe
If you plan ahead, infuse fresh horseradish into the vodka for 5-7 days before hand, otherwise use freshly grated horseradish or creamy prepared horseradish.
Ingredients
1/4 cup (60ml) Vodka (2 ounces)
1/2 cup (120ml) Tomato Juice (4 ounces)
2 teaspoons (10ml) fresh Lemon Juice
1/4 teaspoon freshly grated Horseradish or Creamy prepared Horseradish *see note above
1/4 teaspoon Celery Salt
1/2 teaspoon Sriracha Sauce (or more to taste)
1/2 teaspoon dashes Worcestershire Sauce
Instructions
Combine all the ingredients into a serving glass (vodka, tomato juice, lemon juice, horseradish, celery salt, sriracha sauce, and Worcestershire sauce). Add ice and stir to chill and combine ingredients.

Garnish - There are a ton of variations. Go with what you prefer... Celery Stalk, Lemon Wedge, Lime Wedge, Pickled Green Tomatoes, Cherry Tomatoes, Olives (add a little olive juice for a dirty Bloody Mary), Baby Carrots, Cocktail Onions...
Nutrition Information
Calories: 156kcal, Carbohydrates: 6g, Protein: 1g, Fat: 1g, Saturated Fat: 1g, Sodium: 820mg, Potassium: 295mg, Fiber: 1g, Sugar: 5g, Vitamin A: 513IU, Vitamin C: 27mg, Calcium: 16mg, Iron: 1mg
We are a participant in the Amazon Services LLC Associates Program, an affiliate advertising program designed to provide a means for us to earn fees by linking to Amazon.com and affiliated sites.