Beet Greens and Goat Cheese Crostini- Eat your greens
Our biggest apologies to all you friends who are still frozen under snow or drenched with rain. This beet greens and goat cheese crostini recipe isn't to gloat about our wonderful sunshine and blue skies. It's about reminding you to enjoy eating your beet greens.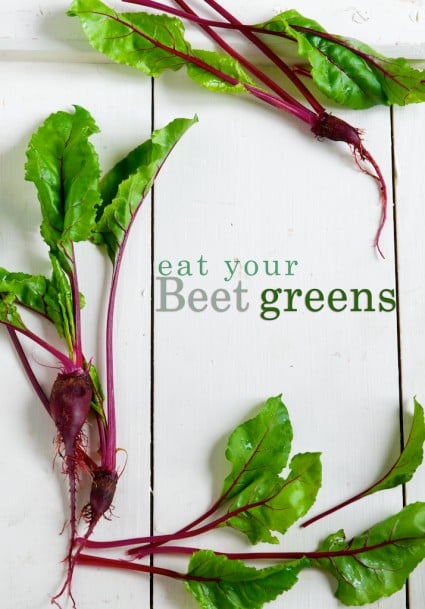 Beet Greens Crostini Recipe
When spring arrives the joys of consuming spring greens and tender vegetables are sure signs to celebrate the season. Our garden is dotted with tender, teeny-weeny beet roots right now and during this stage of growth, we don't wait for the beets to get bigger. There's plenty more beets roots to be left alone to grow, but for now, all the tender stuff is harvested for the beet greens!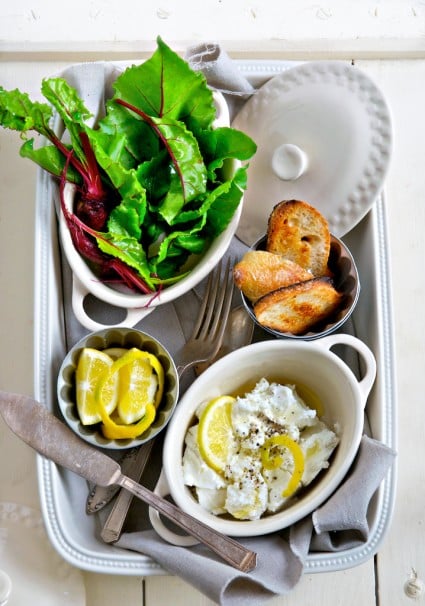 Healthy Beet Greens
Beet greens sauteed in simple olive oil, or tossed in a crisp green salad are just a few great recipe ideas for keeping you from tossing away these valuable tops. Unfortunately, some of the beet greens in grocery stores can be too tough and fibrous, so you'll have to blanch them in hot water first. Or if you're going to use the beet greens in a salad, you might have to remove the center, tougher ribs of the leaves and just eat the outer leaves.
But when spring comes, normally beet greens sold at farmers markets are tender and completely edible! Better yet, if you have the garden room or a big pot and the patience to wait a few weeks, you can harvest your own tender beet greens! Growing them yourself is surely the way to enjoy eating from garden to table this spring.
Our garden is plentiful with baby beet roots and tender greens because we've been fortunate to get an abundance of rain this year, followed by gorgeous days of warm sunshine. The beets are stretching their limbs and leaves out of the soil faster than we an keep up with them.
Goat cheese and beet greens salad
Simple goat cheese and beet green salad is normally what we always prepare with our first harvest of the year, but today, we decided to change it up a bit and make a wonderful little appetizer. Here's our beet greens crostini as a result of our cravings.
Toasted bread, with a generous swipe of goat cheese, topped with some simple balsamic roasted beet roots and fresh beet greens is what we're talking about today! It's easy, superbly fresh and simply spring. Need we say more?
Eat your beet greens,
Diane and Todd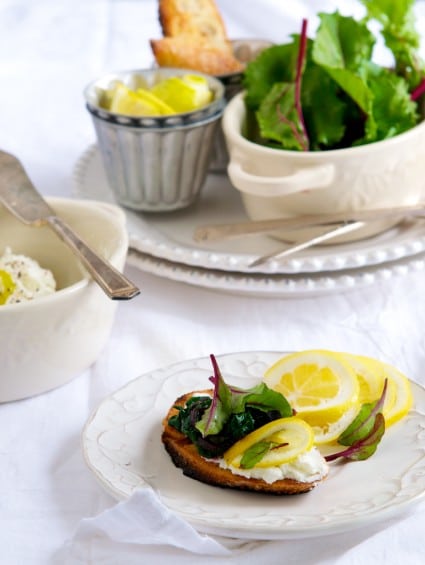 layer your crostini to your liking, but try a very thin slice of fresh lemon, awesome!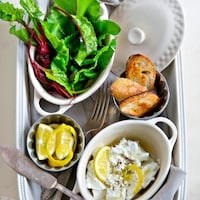 Balsamic Beet Greens & Goat Cheese Crostini
The best part of this recipe is that you can use the whole part of the beet root, including stems and leaves. Tender beet greens can be eaten raw or cooked if the greens are tougher.
Ingredients
2-3 Beets w/ Greens still on
1 Baguette , sliced thin (about 20 pieces), toasted in pan or oven
6 ounces Goat Cheese
Lemon Zest from 1 lemon
1 teaspoon fresh Lemon Juice
very thin slices of fresh Lemons (optional)
1/2 teaspoon Sea Salt
1 teaspoon Balsamic Vinegar , or more if needed
fresh cracked Black Pepper
Instructions
If roasting beets: Pre-heat oven to 375° F. Wash beets, trimming greens @1" above top of beet. Put beets in a baking dish large enough to lay beets in a single layer. Add 1/4" of water to dish, cover with aluminum foil and put in oven. (If you want a bit more tang, coat beets with some balsamic vinegar while roasting.) Roast until cooked through, 30 min - 1 hr, depending on size of beets. Test doneness by feeling the resistance of a toothpick when poked into beet. Remove from oven to cool.

After beets have cooled, rub off outer skin, then slice or dice to your preferred serving size. If you want to serve warm, quickly saute beets with a little olive oil or butter until heated. Season with sea salt and fresh cracked pepper. (Other serving options: saute some crushed garlic until lightly cooked then saute beets together; finish sauteed beets with a little balsamic vinegar; add some fresh chopped herbs when sauteeing beets-mint, basil, tarragon, etc; add a bit of fresh lemon or tangerine zest after sauteing beets.)

For cooking the greens: Wash and cut leaves and stems. Heat water to boil in a medium pot. Add stems and leaves to boiling water and quickly blanche them. Taste a piece of stem and leaves until they are blanched to your liking. Quickly drain greens and rinse with cold water. Add greens to bowl, squeeze out excess water, then add balsamic vinegar and salt to taste.

In bowl, combine goat cheese, fresh lemon zest and juice and fresh cracked black pepper. Combine well.

Spread goat cheese on crostini (toasted baguette slices) with goat cheese, thin layer of lemon sliced, thin slices of roasted beets and beet green greens (cooked or raw).
Nutrition Information per Serving
Calories: 200kcal, Carbohydrates: 24g, Protein: 9g, Fat: 7g, Saturated Fat: 4g, Cholesterol: 13mg, Sodium: 575mg, Potassium: 144mg, Fiber: 2g, Sugar: 3g, Vitamin A: 302IU, Vitamin C: 2mg, Calcium: 77mg, Iron: 2mg
We are a participant in the Amazon Services LLC Associates Program, an affiliate advertising program designed to provide a means for us to earn fees by linking to Amazon.com and affiliated sites.